For almost a decade, the cruise capital of the world hasn't even been able to host the largest cruise ships.  That's finally about to change, according to a tweet by @CruiseGuy.
Finally @RoyalCaribbean bringing #OasisClass #cruise ship to its home @PortMiami. Will #QuantumClass too? Details soon…

— Stewart Chiron (@CruiseGuy) June 28, 2016
Miami-Dade County and Royal Caribbean are expected to come to an agreement to build one of the country's largest ($247 million) cruise terminals at PortMiami.  This means that the cruise line's gigantic Oasis-class ships will finally be able to come home. This is still pending on a July 6 vote with the Miami-Dade County Commission.
Currently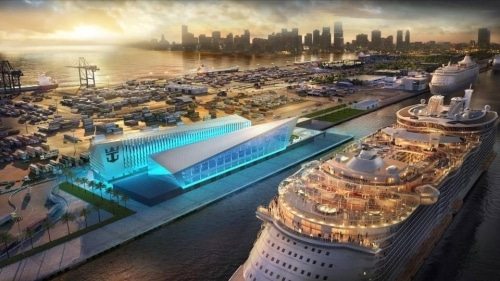 Currently, the two Oasis-class ships in the US sail from Port Everglades, which opened their facility to host the ships in 2009.  Royal Caribbean's third Oasis-class ship, Harmony of the Seas, will also sail from Port Everglades in November.  For PortMiami, the agreement brings to fruition the longtime hope that the port would soon be able to accommodate the 6,000-plus passenger ships.
New Facility
The facility will be called Terminal A, and is already nicknamed the "Crown of Miami" because of its crown shape that will be seen from the water, and its "M" likeness viewed from the east and west.  It will house an angular glass center, and a parking garage with about 1,000 spaces.  Once completed, it will have space for a 1,300-foot long ship (Oasis ships are almost 1,200 feet).
Royal's current PortMiami dock only fits 1,000-foot ships.  In renderings for the nearly 200,000 square foot building, it features floor to ceiling windows, and two giant, spinning chrome propellers as a maritime centerpiece.  New technology will be integrated there as well, expected to speed up passenger processing time to less than 10 minutes.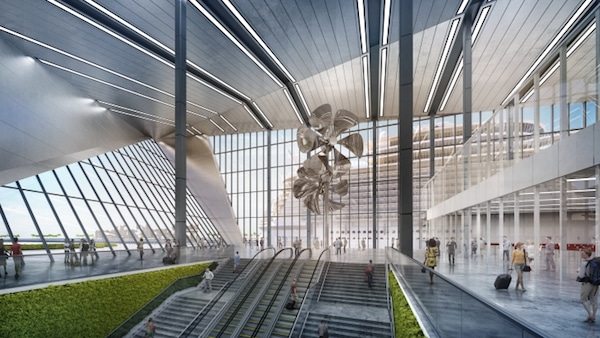 Stay Tuned…
Royal Caribbean hasn't yet announced which Oasis ship or ships will port at Terminal A.  Itineraries from Port Everglades are already set through April 2018.  The mega ships are expected to attract 1 million more travelers to PortMiami, for a total of 1.8 million Royal Caribbean guests a year.  The terminal is set to open in late 2018.
Renderings: Royal Caribbean