The world's largest and newest ship Harmony of the Seas is packed with new adventures. Here's a list of some of the top attractions.
1. The Ultimate Abyss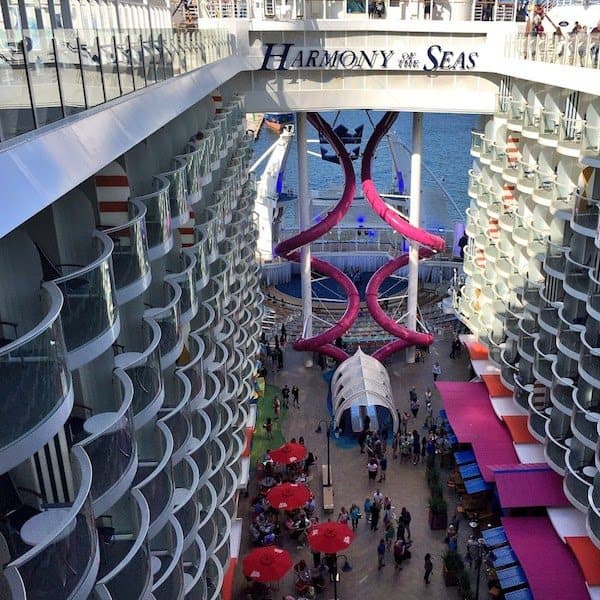 Grab a carpet, hold on tight, and take the 10-deck plunge on the tallest slide at sea. Make sure you smile and check out your photo when you're finished.
2. Rock Climbing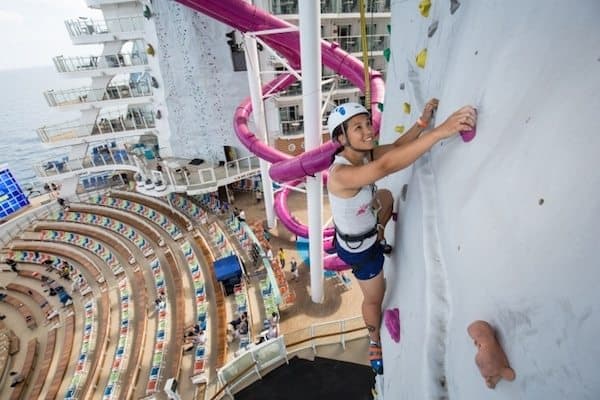 The back of the ship has two large rock climbing walls with available shoes. Make your way to the top which sits right below the crow's nest, and ring the bell.
3. FlowRider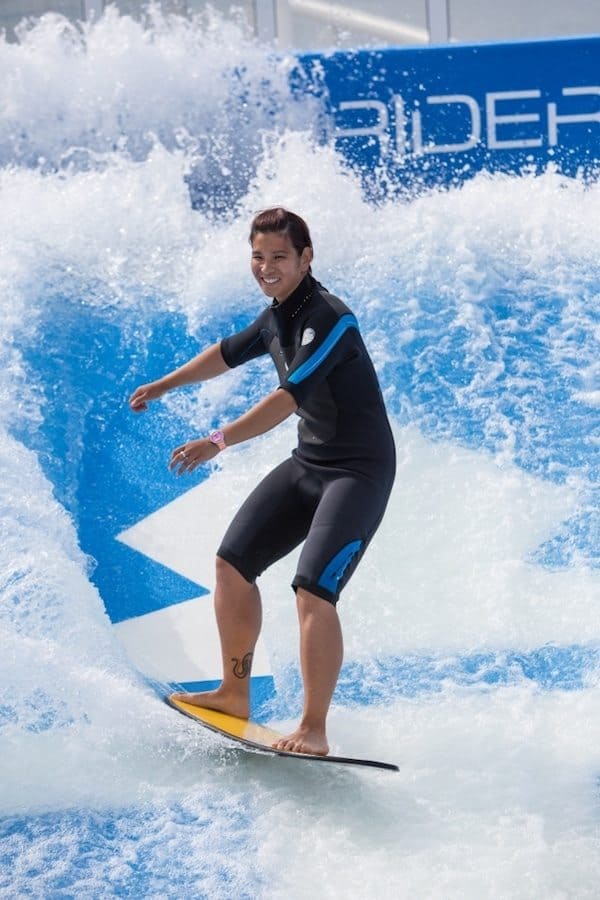 You don't have to be a professional wave rider to enjoy this experience. You can stand and ride the waves or simply boogie board. There are two wave pools located on the back of the ship.
4. Zip Lining
Take a scenic ride up high over the Boardwalk. The zip line starts at the back of the ship and although the ride is short, the thrill and views are spectacular.
5. The Perfect Storm Waterslides
Take a ride on all three water slides, Typhoon, Cyclone, and Supercell. These high-speed slides are the ultimate wet and wild experience!
6. Bionic Bar
Two robots take over the bartending scene at the Bionic Bar, located on deck 6. Have a seat and place your order on an ipad, the digital board will show you when your drink order is up and take you through the steps while it's being made.
7. Rising Tide bar
Step into the Rising Tide Bar on Deck 5 or 8, grab a drink, sit back, and relax as the bar goes up or down giving you a fantastic view of the Promenade. Great for people watching, the bar departs every 30 minutes.
8. Solarium
photo: Royal Caribbean
This adults only area located in the back of the ship is the perfect getaway spot. Grab some food in the Solarium Bistro, relax on a lounge chair, or take a dip in one of the many whirlpools. Did I mention it was for adults only?
9. Boardwalk
Home to the AquaTheater and the beautiful hand-crafted Carousel, the Boardwalk is full of games, bright lights, and good times. Be sure to catch one of the spectacular acrobatic water shows and grab a hot dog at The Dog House.
10. Central Park
Take a stroll through the Central Park neighborhood and enjoy all the greenery, shops, and cafés the park at sea has to offer.
11. Wonderland
photo: Royal Caribbean
Take your taste buds for an adventure as you travel down the rabbit hole to Wonderland. The imaginative cuisine along with the unique design and service lead to the ultimate dining experience.
What attractions are you looking forward to the most on your sailing aboard Harmony of the Seas?
By: Jennifer Martin
Pin this: