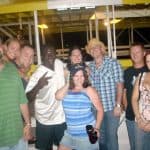 I was asked this question the other day:
Is it hard meeting people on a cruise ship?
My answer: Absolutely not!
From formal dinners to excursions, you are put into so many different social atmospheres on your cruise. 
We will use a cruise I took back in 2005 as an example. Three of us took the cruise out of Jacksonville, Fla., on the Carnival Celebration (since then sold). We were all friends but all clearly wanting to go in separate directions.  Before we even left dock we all met a separate group of folks and wound up hanging out with them for the entire trip. We would all run into each other the whole trip in the karaoke club, the casino, or late at night on the lido deck.  I'm not saying something like this will happen every cruise but chances are great…. everyone sails for one reason: to relax.
The people you meet at sea are the friendships that last a lifetime.
Don't be surprised if next year you are taking a cruise with the people that you just met.