Tucked in the aft corner of Carnival Sunshine, just off the Havana Bar is quite possibly one of the best dining values at sea, Ji Ji's Asian Kitchen, where for $12 per person ($5 for kids) you can enjoy a four course meal that will leave you wanting to dine there another night.
China, Mongolia, the Philippines, Indonesia, Singapore, and Vietnam's regional cuisines are the inspiration for Carnival Sunshine's brand new, full service restaurant, Ji Ji's Asian Kitchen.
The Experience
Elegant surroundings and clever decorative touches such as hanging light fixtures and Chinese prayer rolls provide ambiance in the restaurant.
After checking in at the host stand you are seated in the restaurant where you are brought out some complimentary bread and sauces, followed by the server taking your drink order and the ordering process.
Hear reviews of Ji Ji's Asian Kitchen on our Carnival Sunshine episode of Cruise Radio.
The menu is laid out simply and the head of the table orders everyone's food at the table. How it works is the server rolls the dice and it lands on a lucky number. Everyone at the table goes around rolling the dice until someone lands on the lucky number.
Food
Seven different appetizers, seven different entrées, and an assortment of classic sides and soups with a new twist make up the menu.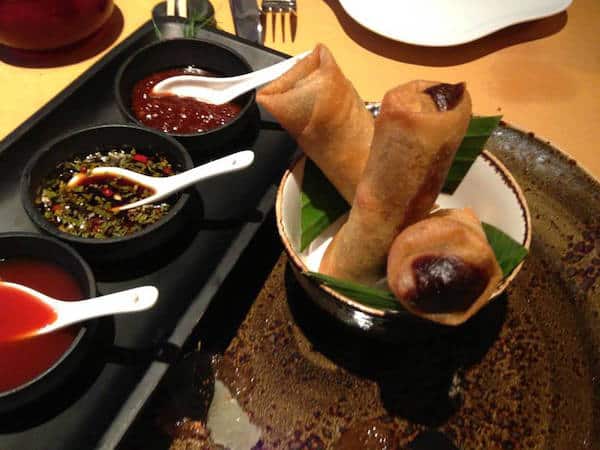 A sample of the menu:
▪   Nanjiing-style duck appetizers
▪   Chicken spring rolls
▪   Slow-braised Wagyu beef short rib with watermelon radish
▪   Chicken & Cilantro Root Soup
▪   Sweet & Sour Fragrant Shrimp
▪   Hakka Style Noodles
See the full menu of Ji Ji's Asian Kitchen here.
Words can't describe how great this venue is and I'd put it up against a PF Chang's or any land-based Asian fusion venue. There simply isn't a better value at sea.
Reservations Suggested
It is suggested that you make reservations in Ji Ji's Asian Kitchen, because once word gets around, it does book up pretty quickly. On our sailing we had the opportunity to dine three times. Each time we dined (without reservations) it was harder and harder for us to get in. In fact, they kept trying to book us for another night and we kept saying we weren't coming back, and we always did.
Free Lunchtime Offerings
Ji Ji's is free at lunch offering a noodle bar with vegetables and meats, usually open until 2p on port days and a little later on sea days.
Carnival Sunshine will be homeported in the Mediterranean until October, then heading to New Orleans until April 2014, then Port Canaveral.