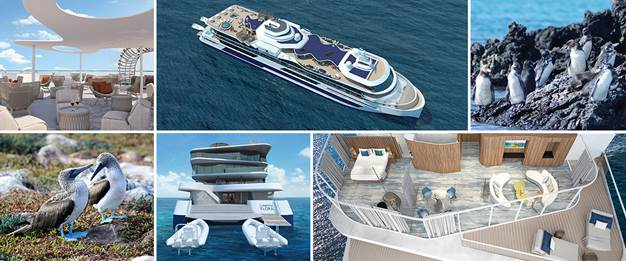 Celebrity Cruises has unveiled another revolution in ship design: Celebrity Flora which will sail around the Galapagos Islands.
One of the most energy-efficient ships of its size in the archipelago, the 100-guest vessel will offer seamless sea-to-shore transportation and include anchoress technology that keeps the ship in place without damaging the sea floor.
Destination Focused
The natural beauty and diversity of the islands, as well as the uniqueness of the species that live there have piqued the curiosity of adventurers for centuries. The region has a large number of flora and fauna that don't exist anywhere else in the world, making the Galapagos one of the most unique places on the globe.
Celebrity Flora will feature the cruise line's outward-facing design, and will virtually erase boundaries to bring the destination closer to guests. Educational, research-based programming will give travelers a chance to continue learning about the wildlife-rich islands.
The Marina is the primary point of access to the ship and can accommodate up to three Zodiacs at once, reducing transport time to land for the guests. While onboard, passengers can unwind in the Sunset Lounge, relax in the open-air hideaway with 360-degree views called The Vista, and enjoy the floor-to-ceiling windows in the Observatory. Darwin's Cove and the Naturalist Center provide a wealth of information on the destination, and Discovery Lounge will hold Naturalist presentations and excursion information. Guests can also participate in guided astronomy tours or enjoy the starry skies on their own from the Stargazing Platform.
Breakfast, lunch, and dinner are served daily in the Seaside Restaurant. The Ocean Grill offers a casual dining space with panoramic views and Dinner Under the Stars, or guests can enjoy dining in their stateroom.
Accommodations & Environmental Stewardship
Celebrity Flora boasts all-suite accommodations with oversized bathrooms and Infinite Verandas. Personal suite attendants will tend to travelers' every need. The ship's two Penthouse Suites are the largest in the Galapagos, with separate indoor and outdoor living areas, customizable lighting and shades, and a telescope. There are also Royal Suites, Ultimate Sky Suites with Infinite Veranda, Premium Sky Suites with Infinite Veranda, and Sky Suites with Infinite Veranda.
The ship boasts a new advanced propulsion system, hull configuration, and specially designed diesel engines that set it apart from other ships in its class. Flora also has a dynamic positioning system that allows it to stay in position without anchoring, with zero speed stabilizers that promise smooth sailing throughout the entire journey.
The ship also offers in-room water filtration stations and convert sea water and air conditioning condensation into pure, fresh drinkable water, which reduces the need for plastics onboard.
Celebrity Flora wil sail from Baltra year-round, making her first voyage on May 26, 2019. Bookings are now open for the ship's alternating seven-night inner and outer loop itineraries.
Photos: Celebrity Cruises
SaveSave