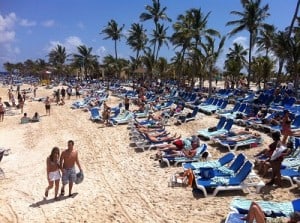 Today we checked out Norwegian Cruise Lines' private island, Great Stirrup Cay. The island is located in the Berry islands and has some pretty cool history behind it. Norwegian bought the island from Belcher Oil Company in 1977, making them the first cruise line to have their own private island. The island doubled as an Air force radar tracking station up until 1991.
I started my day at breakfast and forgot to get a tender ticket so I eventually made my way to midship to pick up tender ticket number eight, it only took about 10-minutes for them to call. The tender process was streamlined and very easy. The double decker tender boat was at full capacity as we headed off to the island.
When I was there in 2010, they beached the tender boat, since then they cut a channel and dock the boat in a cut.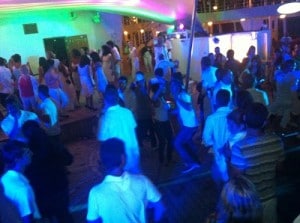 The island resembles Royal Caribbean's or Carnival's private-island. There's a bunch of little shops right when you get off, freshly planted palm trees, new cabana-like structures, live music and a long strip of white sandy beach. I hung out with some friends I made on the ship and stayed on the beach for about three-hours before getting good and burnt.
The food on the island was much improved and can hold a candle to any of the other cruise lines private island. I was talking to the captain of Norwegian Sky earlier today, Captain Ron, and he told me they recently revamped the whole food process and you can tell. The food was much improved from when I was there two years ago and enough food lines to where you were weren't waiting all day long.
The last tender back to the ship was at 4:30, so I took the 3:30 one so I wasn't one of the last folks that had to wait.
For dinner we dined with the captain. He is the only US captain in the Norwegian fleet. We had a good conversation and he was very down to earth, talking about music, tv and non-shop topics.
The Norwegian-signature "Hot White Party" kicked off at 10:30pm and went til 12:30am, there was a couple hundred people out there having a good time. We arrive in Nassau, Bahamas tomorrow morning at 8am and the weather is supposed to be amazing. Can't wait!
Video of Great Stirrup Cay:
Stay tuned!
Subscribe to our Cruise News Updates.