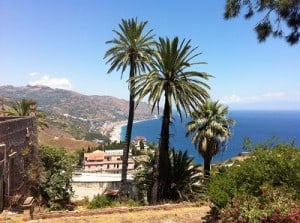 The Mediterranean Sea has always been one of the hotspots of the world, where everything important seemed to converge and where ancient empires have risen and fallen through the ages. Today, the Mediterranean has become one of the top tourist destination of the world, with millions of travelers visiting its magnificent islands and amazing shores. Many of these visitors come by sea onboard massive cruise ships that visit the most important and interesting places of this enticing place. Among these cruise destinations of the Mediterranean, there is an island that has everything one could dream of, from a rich history to a diverse cultural heritage and from a breathtaking nature to welcoming and warm people. This island is Sicily and it lies off the southern tip of the Italian Peninsula, from which it is separated by a narrow strait.
Sicily has become one of the favorite travel spots of the Mediterranean, mainly during the spring and autumn, when temperatures are moderate and pleasant. Through the history, the island has passed from the Greek to the Romans and from the Arabs to the Normans, finally becoming one of the 20 regions of Italy. Its rich past make it the perfect cruise stop for most of the lines that sail the Mediterranean. There are countless wonders and amazing places to discover in Sicily and while your cruise stops in one of the ports of the island, there is a diverse choice on what to see and do. First of all, each port of Sicily bears an amazing cultural heritage, from Palermo to Agrigento, from Catania to Syracuse and many other. Without doubt, the most popular attraction of the island is the imposing Etna volcano, the greatest active volcano of Europe and there are plenty of tours that take traveler to discover this natural wonder.
HEAR OUR BROADCASTING OF THINGS TO DO IN MEDITERRANEAN PORTS.
Cruise passengers can choose among an overwhelming number of diverse landmarks of Sicily, such as the Valley of the Temples in Agrigento, the old city of Cefalu, the amazing beaches and nature of the Aeolian Islands, the monuments of Syracuse, the amazing city of Taormina, the magnificent Nebrodi Mountains and many others. Sicily is also famous for its wine and cuisine, with traditional Sicilian dishes being almost mandatory for any visit on the island. For longer stays of a cruise ship in Sicily, there are unforgettable tours that will take visitors deep into the authentic mainland of the island, discovering small traditional villages and idyllic secret natural treasures. If there is a place on the Mediterranean Sea that no cruise ship should miss, this is Sicily.
Subscribe to our Cruise Updates.
Related articles