Fathom has officially sailed for the very first time into Cuba – Havana to be exact.  This is the first time in over 50 years that a US cruise line has sailed from here to Cuba, so it's a pretty exciting day.  This is also the first time in decades that Cuban-born individuals have been able to travel by sea back to their place of birth.
Travelers with the cruise line were greeted by a festive celebration as they arrived in Havana – which is just the first of three ports that Fathom's Adonia will visit as part of the week-long voyages.  Following this week's inaugural sailing to Cuba, the ship will begin operating their Cuban itineraries every other week; alternating with the Dominican Republic.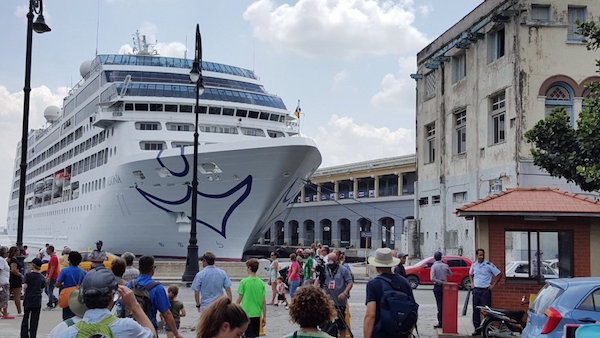 Fathom's Voyages to 3 Cuban Ports
During each sailing, the Adonia will visit Havana, Cienfuegos, and Santiago de Cuba.
Travelers aboard a Fathom cruise will enjoy authentic Cuban and Caribbean-inspired food, music, movies, dancing, and more.  Onboard programming will include a wide range of activities, ranging from an intro to Cuban history, customs, and culture, geographic-inspired entertainment, personal enrichment activities, and conversational Spanish lessons.
Seven-day itineraries aboard the Adonia will depart PortMiami on Sundays.  The ship will arrive in Havana on Monday morning.  Prices for Cuba cruises start at $1,800 per person, and will vary by season.