Carnival Corporation has unveiled the Ocean Tagalong, a customizable digital companion that will interact with guests on Ocean Medallion-capable ships, as well as represent them in interactive games.
Tagalongs are part of the company's new OCEAN experience platform that makes its debut aboard Princess Cruises' ship Regal Princess in November at Port Everglades.  The platform will bridge the digital and real worlds to deliver a whole new level of personalized service for guests.  The tagalong is the latest in a series of features being invented for that purpose.
When travelers create a profile within the Ocean Compass – accessible this fall on ocean.com – they will be invited to create their own tagalong.  The digital companions will follow them from registration all the way to the end of the voyage, and will also rejoin them on future cruises.  Everyone who creates an Ocean profile can personalize a tagalong – bookings won't be required.
Guests can choose from three sea creatures: sea turtle, seahorse, or butterfly fish.  They can they further customize them by body shape, color, pattern, marks (like tattoos), and more.  Once created, the animated tagalongs will appear online in the guest's profile and in interactive PlayOcean games online, as well as  interacting in Ocean Portals found onboard Medallion Class ships.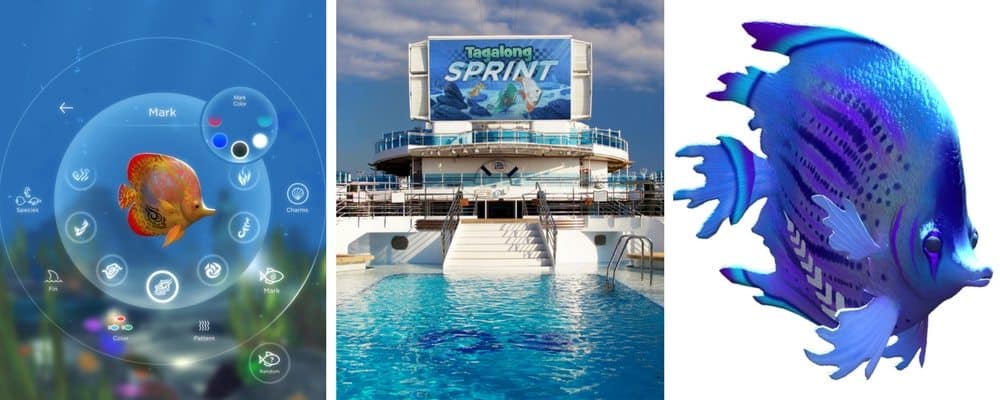 The tagalongs will take center stage in the social gaming experience Tagalong Sprint, which pits guests' digital companions in a fun race across the ocean floor.  Travelers will tap their compass devices to see who can speed across the finish line first in the rhythm-based group game played on large digital displays on the ship.
For more information on Ocean Medallion cruises with Princess, click here.