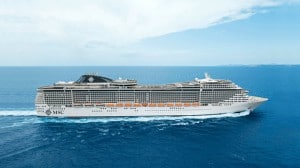 The General National Maritime Transport Company (GNMTC) of Libya is getting ready to file a case against a European shipbuilder STX to recover a vessel they lost when defaulting on payment.
The ship, which was originally ordered by one of Kaddafi's sons, was purchased in 2012 by MSC Cruises after the Libyan government defaulted on payment. The project was sidelined in 2011 and the hull was eventually sold to MSC Cruises. The ship is now floating and in service as MSC Preziosa.
According to the African Post, "The ship is worth more than half a billion dollars and was first ordered by GNMTC in 2010 but the contract was rescinded by the shipbuilder, STX Europe, during the revolution claiming that payments were no longer respected. The Libyan contract regarding the cruise ship used to be under the control of one of Kaddafi's sons."
Will this even happen? "When you default on a contract, you default on a contract. Maybe with the new regime they are just trying to get some headlines," said Stewart Chiron the Cruise Guy.
There has been no official statement from the Libyan Government yet.
Subscribe to our Cruise Updates.
Related articles