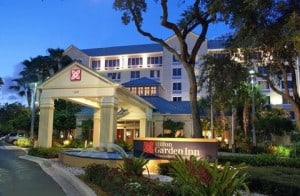 By: Scott Lara
Scott is a contributing guest while Doug is away on his seven-night Alaska cruise. 
For many years, my wife Marty and I would just drive from our home in Jacksonville, Florida to Port Everglades the morning of our cruise to catch the ship. Never again. Traffic on I-95 can hold you up for hours and we don't want to miss the ship.
Our pre-cruise hotel this sailing is the Hilton Garden Inn Ft. Lauderdale Airport-Cruise Port.
The Property
The lobby is open and inviting. The front desk staff were VERY friendly and helpful. Since we are catching the shuttle to the cruise port, I was directed to an area where a young lady gave us all the information about transportation.
I don't know about you, but I'm sick and tired of the typical continental breakfast which boasts a muffin and a 2 ounce cup of orange juice. The full cook-to-order breakfast here at the Hilton Garden Inn is a refreshing change to the continental breakfast!
The Room
Our room was large (Marty said she wished our cabin on the Holland America Eurodam was this large) which included a mini-fridge, flat screen TV, microwave oven, office area with desk, plenty of electrical outlets, great lamp etc.
Marty and I did like the "Rain kissed Leaves" Bath and Body works shampoo in the room. Nice touch. The bathroom was large and had an incredible showerhead.
Can't forget the free wifi. We can't live without great wifi!
Cruise Parking
One thing I loved about the property is the park and cruise package. You can stay up to two weeks, include a pre- or p0st-night stay and a free continental package. You just have to contact the hotel directly and ask for it. Transportation to and from the cruise pier is always a plus too. A lot of hotels will just drop you off but the Hilton Garden Inn is full service.
The next time you are considering a pre-cruise hotel, be sure to reserve your stay at the Hilton Garden Inn Ft. Lauderdale Airport-Cruise Port. You will love it, just like Marty and I did.
Pin this!