Modern cruise ship spas are just as luxurious, if not more-so, than most spas found on land.  They have everything from massages and body wraps to full thermal suites, not to mention their full-service salons and fitness classes.
There's pretty much something for everyone, so let's take a closer look at seven cruise ship spas.
1. Royal Caribbean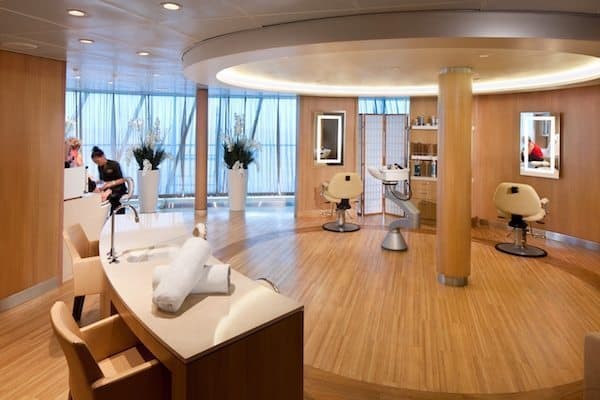 Royal Caribbean offers a full-service spa aboard their ships called Vitality Spa. They offer a little bit of everything here, from facials, body wraps, and scrubs, to acupuncture, botox, and teeth whitening.
When it's time to wind down, you can go for a massage, either by yourself, or with your partner for a soothing couple's massage.  If you're looking to refresh your look, there's also a hair salon as well as nail services, including manis and pedis.
Teens haven't been forgotten when it comes to Royal Caribbean's relaxing spa experience!  Vitality offers a special menu of treatments and services for them, called YSpa.  Some treatments just for teens include an Acne Attack facial, Sole Mate pedicure, and a Beach Babe deep conditioning hair treatment.
On select ships, Vitality Spa also includes a thermal suite complete with shower rooms, a sauna, a steam room, and heated stone loungers.
To learn more, click here.
2. Carnival Cruise Line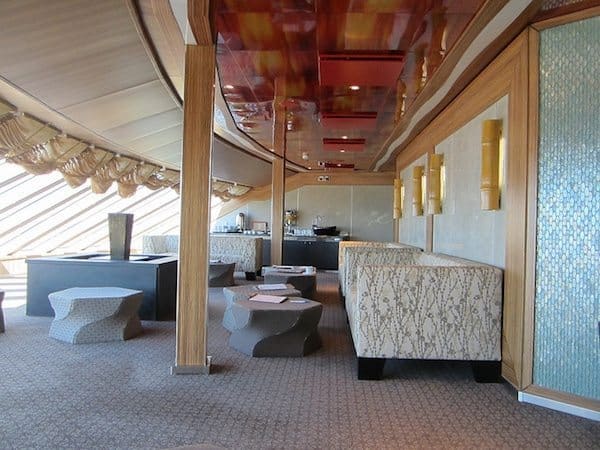 Carnival offers a wide array of spa spaces and treatments. Step into Cloud 9 Spa, and you'll instantly feel more relaxed. It offers a thalassotherapy pool complete with soothing jets, as well as saunas, steam rooms, and heated tile loungers.
Onto the treatments — this spa has it all. You can get a facial, a body wrap, hot stone and deep tissue massages, and so much more. The cruise line also offers a medi-spa, with treatments such as botox being done by their licensed doctors onboard, as well as acupuncture treatments by a licensed acupuncturist.
If you're looking for a new 'do' or want to treat your hands and feet, there's services for that too. The spa offers a full-service hair salon, as well as a nail salon. The men can't let the women have all the fun, there's stuff for them, too!  They can get shaves, hair coloring, and haircuts as well.
For teens, there's the ZSpa. It includes special treatments available only for them, as well as specialized fitness classes and indulgence programs. They can get manis, pedis, or a stylish new haircut.
To learn more, click here.
3. Princess Cruises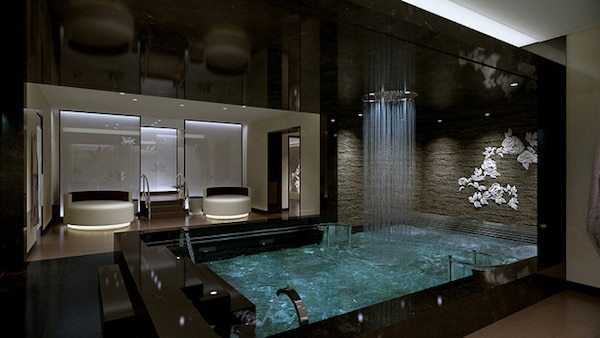 Princess' onboard spa is called Lotus Spa, and here, you'll find a little bit of everything. They offer aroma stone therapy, body wraps, facial wraps, cellulite reduction, hydralift facials, and a whole lot more. There are massages, including couple's massages, and a warm jet pool.  Overall, the Lotus Spa offers over 50 health and beauty treatments, so there's something for everyone.
They also have facials and shaves for men, as well as haircuts and color treatments at the salon. When it's time to pamper your fingers or toes, Princess has got you covered. They offer manicure and pedicure services, so you'll always be looking your best.
If you want to take a pilates or yoga class, they offer those, too.  And, you can schedule private training sessions in the fitness center to burn those extra calories you're probably eating!
For more information, click here.
4. Disney Cruise Line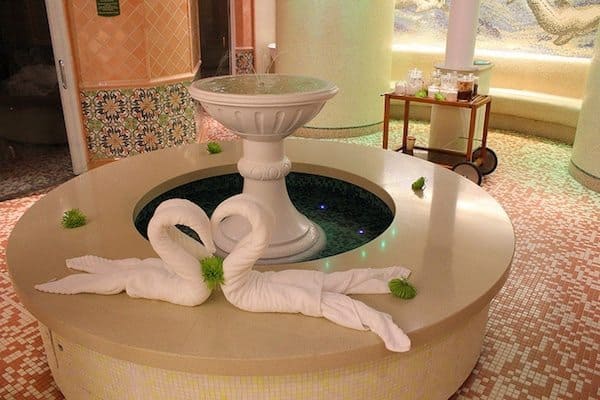 Disney Cruise Line offers the luxurious Senses Spa & Salon aboard all but one of their ships (Disney Wonder has a similar spa with a different name). Guests can pamper themselves with a multitude of treatments here. They offer massages such as a Bamboo Massage, Aroma Stone Therapy, Swedish Massages, couples massages, and more. The spa also offers cleansing, hydralift, and oxydermy facials, so there's something for everyone!
Those looking to enjoy a thermal suite will find it at The Rainforest at Senses Spa. It includes tropical showers, a sauna, steam room, heated stone loungers, and more.
Senses also has the usual hair salon, as well as manis and pedis for pampering your digits.  Men haven't been forgotten either.  In addition to being able to have massages and treatments, they can also head to the spa for a luxurious shave.
For teens ages 13-17, there's Chill Spa. Decorated with bright, but calming colors, this spa is perfect for the teen that wants a bit of relaxation. They offer massages, including mother/daughter and father/son ones, as well as a hot chocolate wrap, Tantastic Body Bronzer, Fruity Facial, and Surfers Scrub. When it comes to mani/pedi time, Disney has got teens covered.  Chill Spa offers fun treatments like an Ice Cream Manicure, a Sole Mate Pedicure, or a Magical Manicure.
They also offer the usual salon services like haircuts and updo's as well.
For more information, click here.
5. Norwegian Cruise Line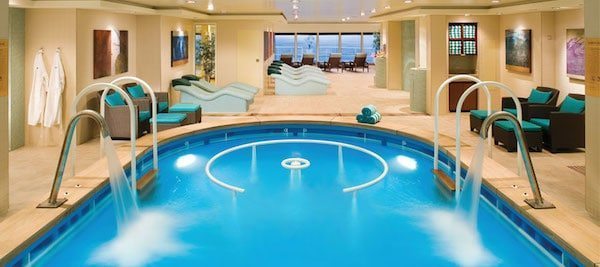 With over 50 treatments offered, guests looking for a relaxing spa session will not be disappointed on Norwegian Cruise Line. In Mandara Spa, you'll instantly feel more relaxed.  Guests can choose from seaweed, swedish, hot stone, couples, bali-press, four-hands massages, and more.  There is literally a massage to suite everyone's needs or preferences.
Travelers can also get a variety of facials, as well as body wraps. For fans of acupuncture, they've got that too, as well as a special introductory session for people who are just curious about the ancient practice.
As usual, Norwegian's spa also includes a salon that can give you a blow-out, updo, or a fun new hair color.  There's also manis and pedis to keep your fingers and toes in tip-top shape.  For men, Mandara Spa also offers shaves, as well as deep cleanse grooming and a face, scalp, hand, and arm massage.
For guests that are really spa and relaxation focused, there's a special pass that allows you extra perks during your voyage.  The Thermal Suite is a pass that allows you to enjoy heated ceramic lounge chairs, a Thalassotherapy pool, hot tubs, a sauna, and tropical rain showers.  Breakaway, Escape, and Getaway also offer a salt room.
For more information, click here.
6. Celebrity Cruises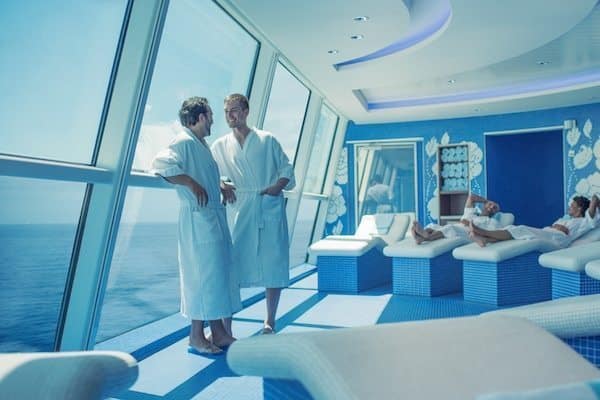 Celebrity Cruises offers Canyon Ranch SpaClub aboard their ships, in partnership with the Canyon Ranch wellness resorts company. It offers a variety of facials, oxygen boosts, peels, and vitamin therapies. And of course, like any other spa, there are a variety of massages to choose from, including aromatherapy, deep tissue, tension zone, stone massages, and more.
This spa is quite extensive, also offering acupuncture, scalp treatments, and body wraps and scrubs. In addition, there's the usual fitness classes, hair salon, and mani/pedis for guests to enjoy.
For more spa pampering, you might want to consider buying a Persian Garden pass, which provides two types of saunas, a steam room, and sensory showers. With a lounge, robes, towels, and refreshments provided, you really don't have to worry about a thing.
For teens, there's a division of the Canyon Ranch Spa just for them, called Teen Bliss.  Teenagers can get treatments such as teeth whitening, eyelash extensions, and spray tans.  There's also massages, a hair salon, facials, mani/pedis, and fitness classes tailored just for them.
For more information, click here.
7. Holland America Line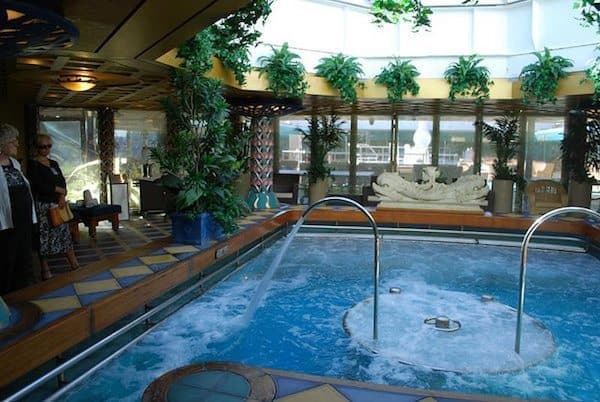 Holland America Line does not cut corners when it comes to pampering their spa guests.  The Greenhouse Spa & Salon features a variety of treatments and luxurious fit for anyone.  They offer a variety of massages, as well as therapeutic water treatments and a hydrotherapy pool bubbling with warm sea water.  There's also a heated ceramic lounge, a fitness studio with classes to choose from, and a number of skin, body, hair, and nail treatments.
For guests who want to go the extra mile with the luxuries, spa suites and staterooms are available. They feature amenities such as yoga mats, complimentary fresh fruit, bathrobes, magnifying mirrors, free shoeshine service, and more.
For more information, click here.
READ MORE: Review: Carnival Breeze Cloud 9 Spa
Pin this!