Earlier this month, I had the opportunity to attend the christening ceremony of MSC Cruises' new ship MSC Seascape in Manhattan.
As part of the event, I spent about a day and a half on the ship, spending a night on board and running around exploring what it has to offer. Though it wasn't a regular cruise, I did form some impressions of the vessel.
As a note about my experience with MSC's Seaside class, I sailed a regular cruise on the very first ship in the class — MSC Seaside. This month was my first time experiencing the evolution of that class, as Seascape is part of the Seaside EVO class. While others may focus on the similarities and differences between this ship and her predecessor MSC Seashore, my first impressions will be with this ship as my first experience with the EVO class entirely.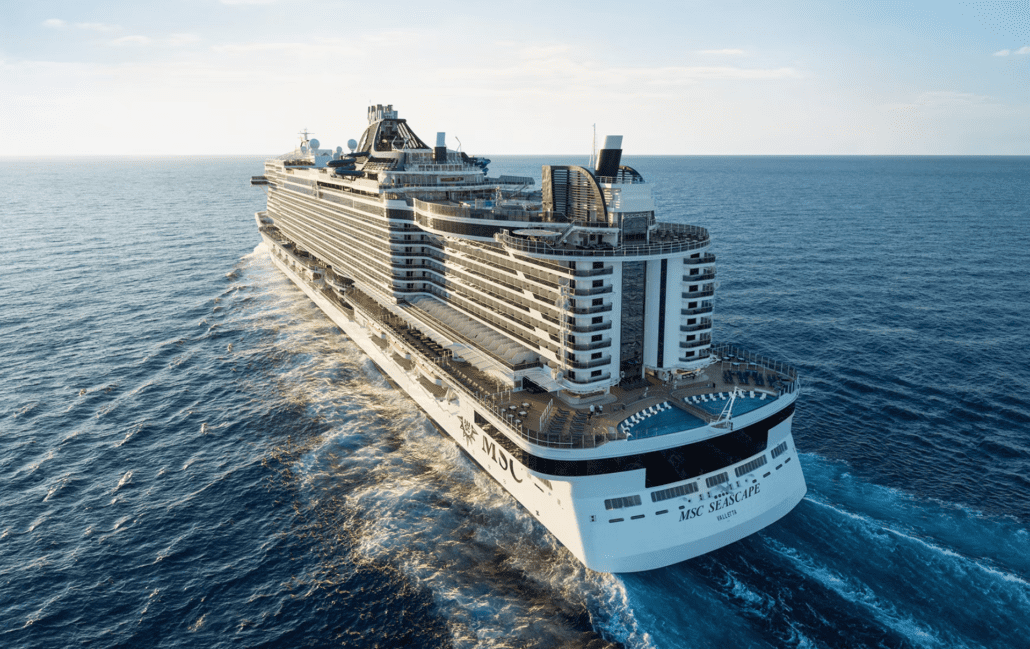 1. There are lots of spots to take a dip.
If you love swimming and have been dubbed a "fish" by your family and friends, MSC Seascape is a great ship for you. In addition to the main lido deck pool, there's the family-focused Jungle Pool with a retractable roof and the stunning Infinity Pool at the aft.
There are also hot tubs scattered around the ship, including on the main pool deck, in the Yacht Club, and in the massive Aurea Spa. Some suite staterooms even have hot tubs on their balconies.
I'm personally a huge fan of the water and love it when ships have lots of places to swim and relax in a hot tub. Infinity pools are a huge cruise ship trend right now, and MSC does theirs really well with a large, curved design that complements the shape of the Bridge of Sighs above it. And having the dedicated Jungle Pool for families with kids just makes sense, especially since the Pirates Cove Aquapark and kids' clubs are right nearby.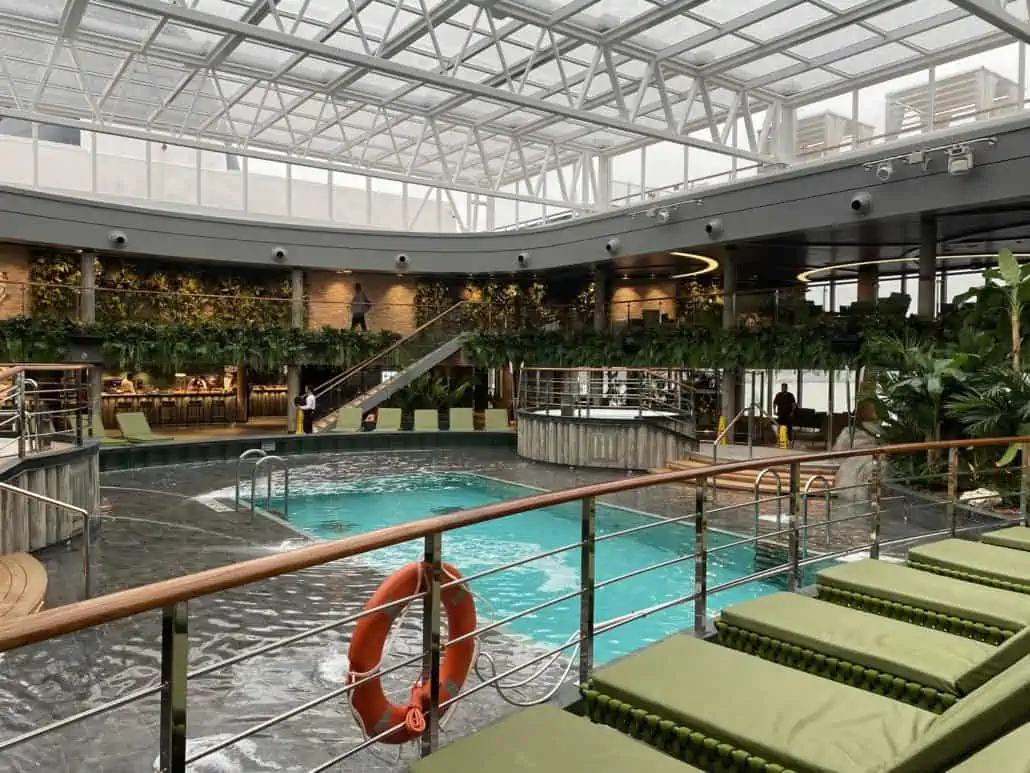 2. I love the specialty restaurant grouping.
When I first boarded MSC Seascape and realized that nearly all of the specialty restaurants were grouped together in a spot called Chef's Court on deck 8, I wondered if that was a good thing — mostly because I tend to think that spreading out similar features on ships is better because it disperses the crowds.
But the more I thought about it, the more I think it's genius to put these venues in one spot. Crowd dispersement for specialty dining isn't the same concern that, say, it would be for a swimming pool. And having them in one area makes it so easy because if you had dinner in Butcher's Cut last night and are doing Teppanyaki tonight, you already know where you're headed.
Plus, there's a warm, cozy cocktail bar just inside the doorway to Chef's Court — perfect for meeting up with your friends and grabbing a pre or post-dinner cocktail.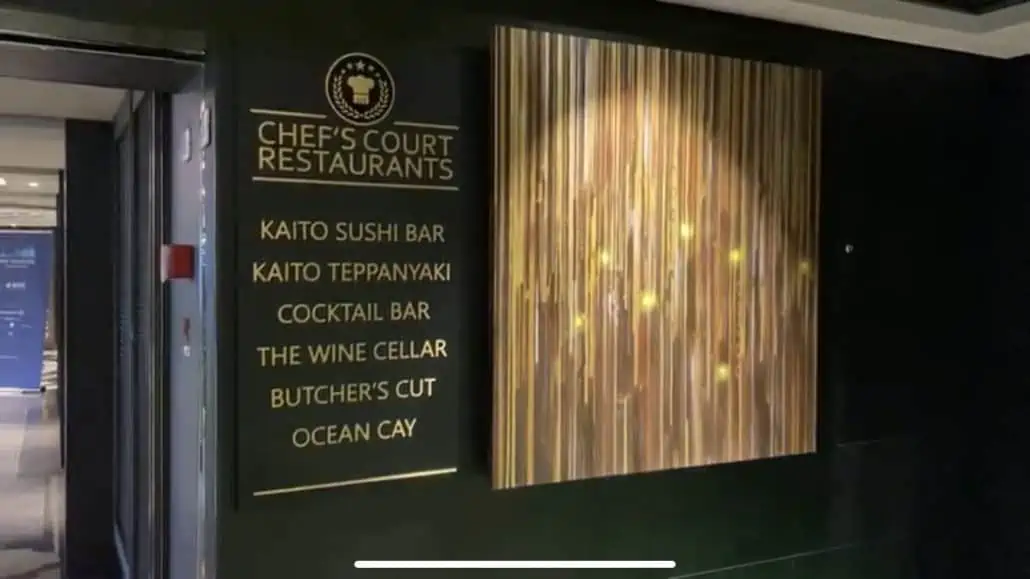 3. ROBOTRON is a worthy addition, but I'm not sure it's worth the cost.
The big addition to MSC Seascape that sets her apart from sister ship MSC Seashore is a top-deck attraction called ROBOTRON. The robotic arm swings three riders around and upside down to the beat of various songs, set against the backdrop of an LED screen and complete with views of the ocean and pool deck below.
Each ride is three minutes long and there are three intensity levels, so most everyone can ride and still be comfortable.
I think this ride is a fun addition to the ship, especially since it doesn't seem to be as much of a noise intrusion as, say, the go karts can be on NCL and the roller coaster can be on Carnival. However, I'm not sure it's worth its $11 cost. The unexpected aspects of the ride are fun because you don't know exactly which direction you'll be swinging next unlike say, a roller coaster where you can literally see what's ahead. But at the end of the day, I'd say it's not quite as thrilling as other types of rides, either.
If you think the price is worth a try, go for it. But don't go in expected the biggest thrill ever, because I don't think you'll find that in ROBOTRON.
As a tip, I'd recommend riding at the first opportunity during your cruise to ensure you get at least one ride since the crew don't operate ROBOTRON if it's too windy out.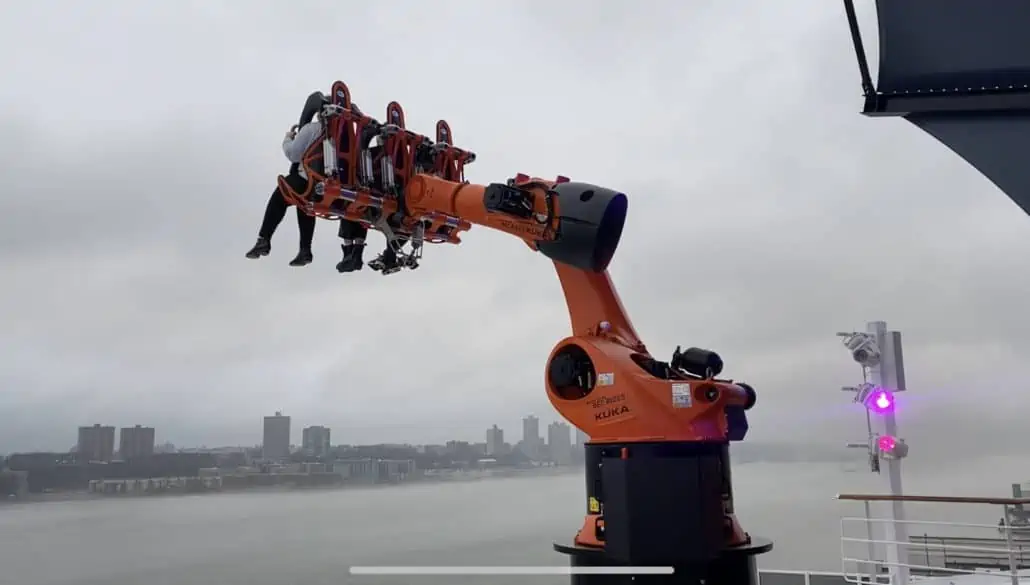 4. Smart elevators are, well, smart.
I'm pretty sure I'm behind the times when it comes to smart elevators, because I know other ships have already been using them and I just haven't sailed those yet. So while you take that into consideration, I'll tell you that I'm quite impressed with my first smart elevator experience on MSC Seascape.
If you are also new to smart elevators, let me quickly explain how they work. Instead of hitting an 'up' or 'down' arrow at the elevator bank, you use a screen to select the exact deck you're headed to — before the elevator even arrives.
Once you choose, it will tell you — out loud — which elevator you'll be taking (A, B, C, or D) and approximately how long it will take to get there. After stepping inside, you don't have to choose the floor or do anything because you already did that before the elevator arrived. This computerized, smart way of doing elevators seemed very efficient to me and I can see easily why it's catching on across the cruise industry.
Sometimes, during extremely busy times such as embarkation or at the start of a big atrium party, the elevators would be in such high demand that the screen would inform you that an elevator wouldn't come for a few minutes. This is frustrating but also extremely helpful because if you don't want to wait that long, you know right away and can either head to another elevator bank or take the stairs.
Overall, I'm 100 percent in on smart elevators and can see this becoming the standard across the cruise industry.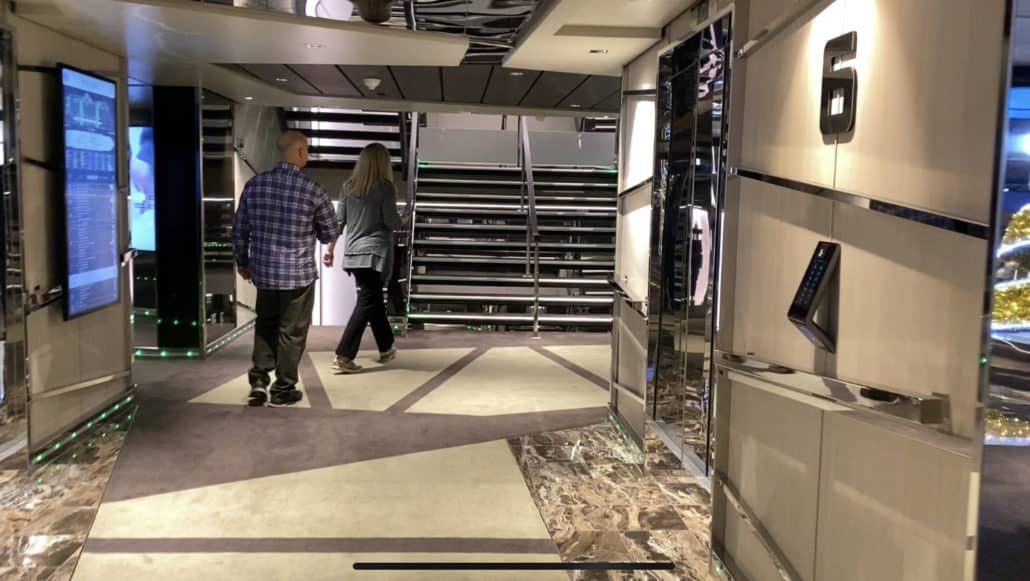 MORE: A Photo Tour of Ocean Cay MSC Marine Reserve
5. It's full of sparkle and shine.
If you've sailed with MSC Cruises before, you are already familiar with the glitz and glamour that they incorporate into each of their vessels. MSC Seascape continues the trend; while I was on board a friend and I were talking about how we'd never seen so many shiny surfaces on a single ship before.
You've got the dazzling Swarovski crystal staircases, a focal point on many MSC cruise ships. Each stairstep features thousands of dollars worth of crystals, and it's practically an MSC rite of passage to take a photo on one of these staircases. (Did you even sail MSC if you didn't?)
In general, the atrium — one of the spots where these staircases are located — is full of reflective surfaces that shine with various colors depending on the time of day and what event might be happening there.
Another glitzy photo op can actually be found in the aforementioned smart elevators, which feature mirrored walls. The hallway between the atrium and Venchi and the rounded hallway leading into Le Cabaret Rouge are other shiny, photo-worthy spots too.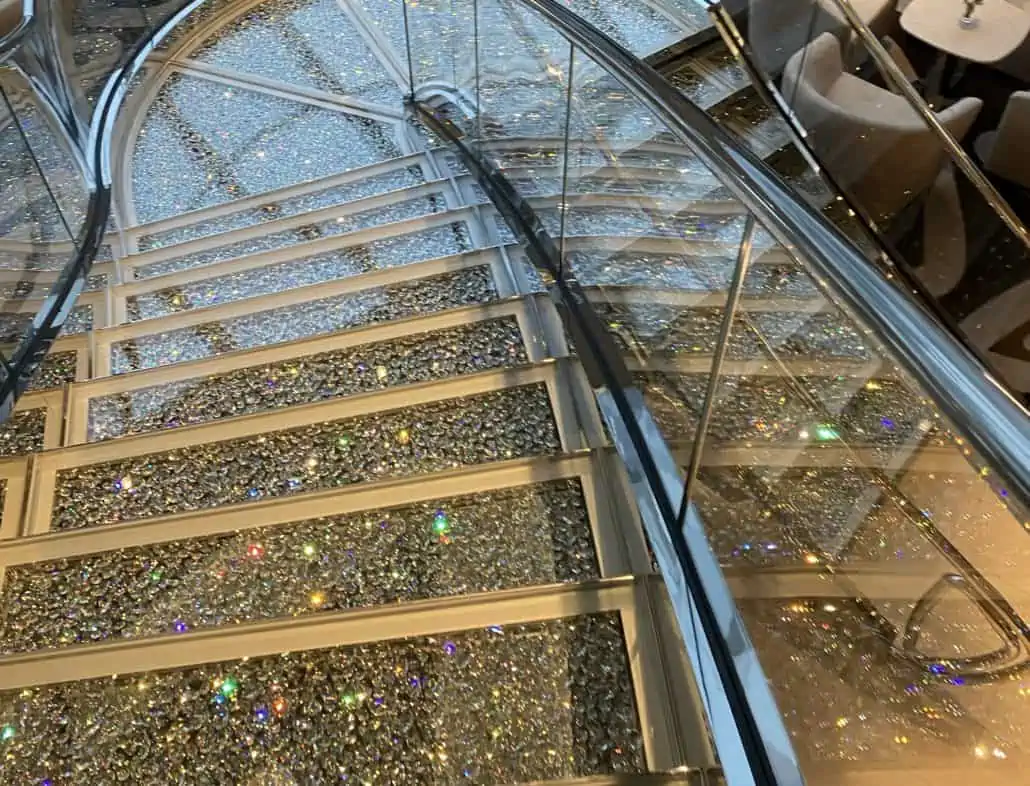 6. The buffet space is ginormous.
MSC Cruises' original Seaside-class ships have a regular buffet and then a second family buffet, but MSC Seascape has one enlarged buffet instead. I'm neutral about the decision to have just one buffet on these EVO ships. The family buffet is great, but Seascape's buffet is located right off the family-friendly jungle pool and it is massive.
Like with most cruise ship buffets, the Market Place Buffet has two sides, one of which might be closed during slower times of day.
I found the layout to be incredibly well-designed, with people able to walk around easily and find the food they wanted. There are lots of food stations (including the ship's yummy pizza), and I can't imagine anyone going hungry there.
While my time on board was a special circumstance with fewer guests than a normal cruise would have, I still don't believe that finding a table is going to be much of an issue for passengers on a normal sailing. The entire buffet space was very impressive to me, and I think guests will find its design easy to navigate with plenty of space for enjoying a meal.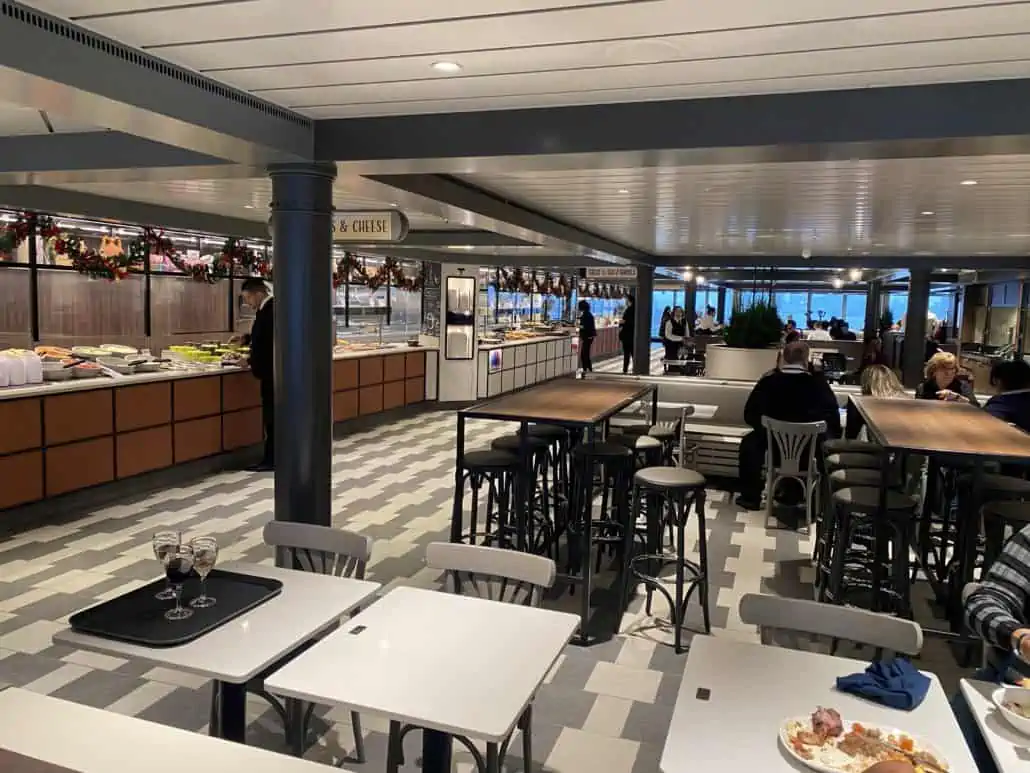 7. There's a lot for kids to do.
MSC Seascape is absolutely brimming with amenities for kids and families. I already mentioned the Jungle Pool, which features a glass roof that can slide closed during inclement weather. Just off the Jungle Pool are all of the kids' clubs, ranging from spaces for babies and their parents all the way up to teenagers. Just as a note: if you're sailing this ship and have kids who love LEGOS, make sure they spend time in the kids' club. MSC has a partnership with LEGO and there are multiple LEGO-themed spaces.
Also nearby is the Pirates Cove Aquapark, which is a pirate and ocean-themed water play space for younger kids complete with a rope bridge, slides, sprayers, and dumping buckets. The ship also features multiple water slides for the whole family, which start at the top of the ship near the sports court and end next to Pirates Cove.
I was also impressed with the ship's arcade, which features traditional arcade games alongside a number of virtual reality games — including a Formula 1 simulator. A big pro about this space to me is that it's got windows. Usually cruise lines tuck the arcade into an interior room simply because when you're playing games, you don't really need a view. This is fine, but the oceanside spot MSC chose for the arcade here is a welcome design feature.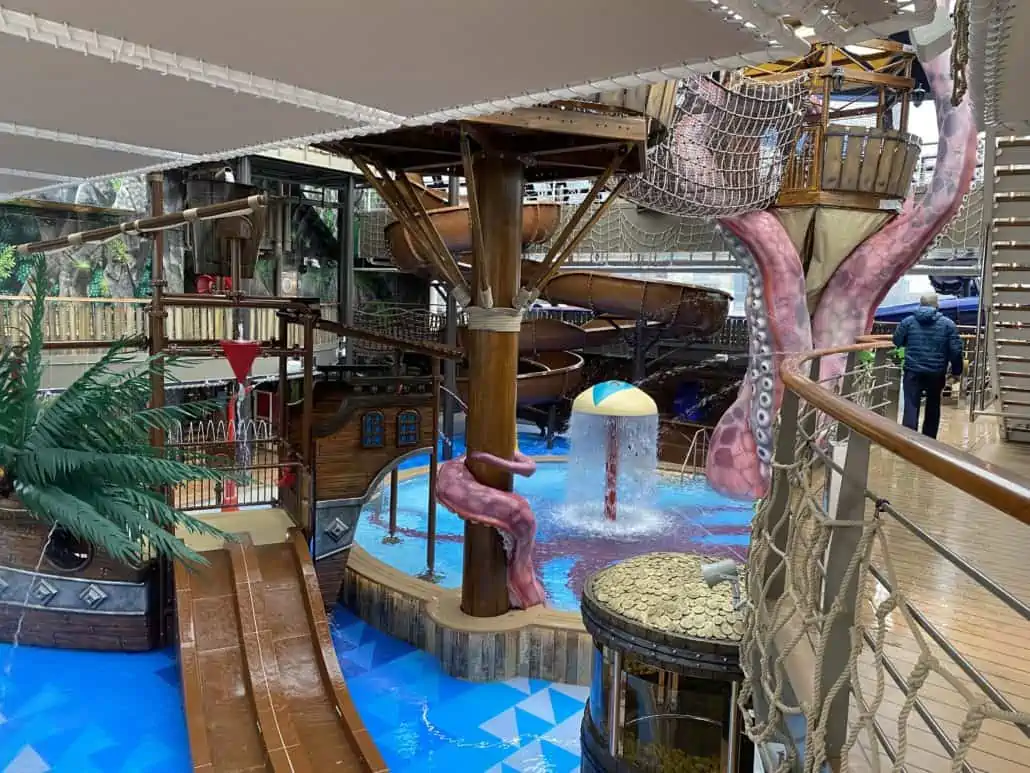 READ NEXT: Smallest to Largest: MSC Cruises' 21 Ships Organized By Size
Pin it!