Celebrity Cruises' 2019 Alaska cruise season will feature 13 destinations with over 40 extended port visits on three ships in the region: Celebrity Solstice, Eclipse, and Millennium.
Celebrity Eclipse
Embark on round-trip sailings from Vancouver through the Inside Passage, visiting Ketchikan, Juneau, Hubbard Glacier, and more. Guests aboard the ship can settle in with a blanket and some hot chocolate at The Lawn Club and watch the scenery go by. These sailings have been previously only offered aboard Celebrity Cruises' Celebrity Infinity.
The ship will also be visiting the Pacific Coast in 2019. Sailing roundtrip from Los Angeles, from Los Angeles to Vancouver, or from San Diego to Vancouver on a variety of seven to nine-night Pacific Coastal cruises. The season will feature 10 destinations including Monterey, Santa Barbara, and Catalina. Overnight stays in San Francisco mean that travelers can explore all of the city's must-sees, including the Golden Gate Bridge and the Painted Ladies.
Celebrity Millennium
Those looking to venture further into the expanse of the area can enjoy alternating open-jaw sailings out of Vancouver or Seward, Alaska aboard Celebrity Millennium.
Fresh from her expansive revitalization, the ship will return to Alaska with completely redesigned staterooms and renovated public areas for guests to enjoy along the Seward to Vancouver (or vice versa) route.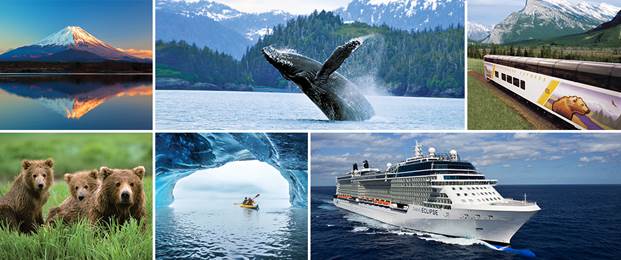 Celebrity Solstice
Once again, Celebrity Solstice will embark from Seattle for a roundtrip adventure that visits Victoria, Ketchikan, Skagway, Juneau, and traverses Tracy Arm Fjord. Under the night sky, guests can enjoy A Taste of Film, which pairs films that evoke a specific cultural, culinary, or destination experience with cuisine that brings the scenes to life through the taste buds.
Celebrity Cruises Cruisetours
Those looking for a more in-depth Alaskan experience are invited to embark on a Celebrity Cruises Alaska Cruisetour; a cruise voyage paired with a guided land tour deep into the heart of Alaska. With 11 cruisetours to choose from ranging from 9-13 nights, Celebrity Cruises offers Alaskan adventures to suit everyone's preferences.
The Celebrity Canadian Rockies Cruisetour invites guests into the heart of the region, with an overnight rail journey aboard VIA Rial's legendary train "The Canadian." The route between Jasper and Vancouver offers daylight views of the mountains, which guests can take in from the domed cars, parlor cars, and their own private cabin. Travelers can choose from two different Canadian Rockies Cruisetour options ranging from 12-13 nights.
Celebrity Cruises' Captain's Club members have early priority access to begin planning their 2019 and 2020 vacations, two days before they open to the general public on Thursday, November 30, 2017.
SaveSaveSaveSave