Norwegian Prima has totally changed the dining experience with the introduction of Indulge Food Hall.
With 11 different eating options, it's a great spot to sample a variety of foods or to make a meal of one favorite type of cuisine. But what's included in the price of the cruise? What costs extra? And given that there are so many different options, how does ordering food actually work? We're here to answer all your burning questions!
What is Indulge Food Hall?
Located on Deck 8 aft, the spacious, nicely laid-out area is almost like a buffet in that there are numerous options all in one area. Although truth be told, what it most resembles is the mall food courts many of us hung out at as a child! Except instead of Sbarro's and Pizza Panda, the offerings here are more upscale.
It's also important to note that with the exception of Starbucks and Coco's — where you can purchase gorgeous, decadent desserts — everything in Indulge Food Hall is complimentary.
Your first task is to decide if you want to concentrate on the food offered by one particular restaurant, or sample foods from a variety of the eateries. Why does this matter? Well, it will make a difference in your seating choice.
For example, let's say that you want to stick to Indian food. Find Tamara and take a seat at the counter around the open kitchen. You will notice iPads on the counter. Grab one and start selecting your menu choices. Don't forget to add the beverage of your choice. Like magic, your selections will be delivered to you right at the counter.
If, on the other hand, you want to mix and match dishes from the different eateries, be sure to sit at a table more in the center of Indulge Food Hall. At these tables, the iPad will show the menus from every restaurant. (Keep in mind that they won't really arrive in any given order, so don't necessarily think in terms of appetizers and main courses. Instead, think of it more as a tapas bar.)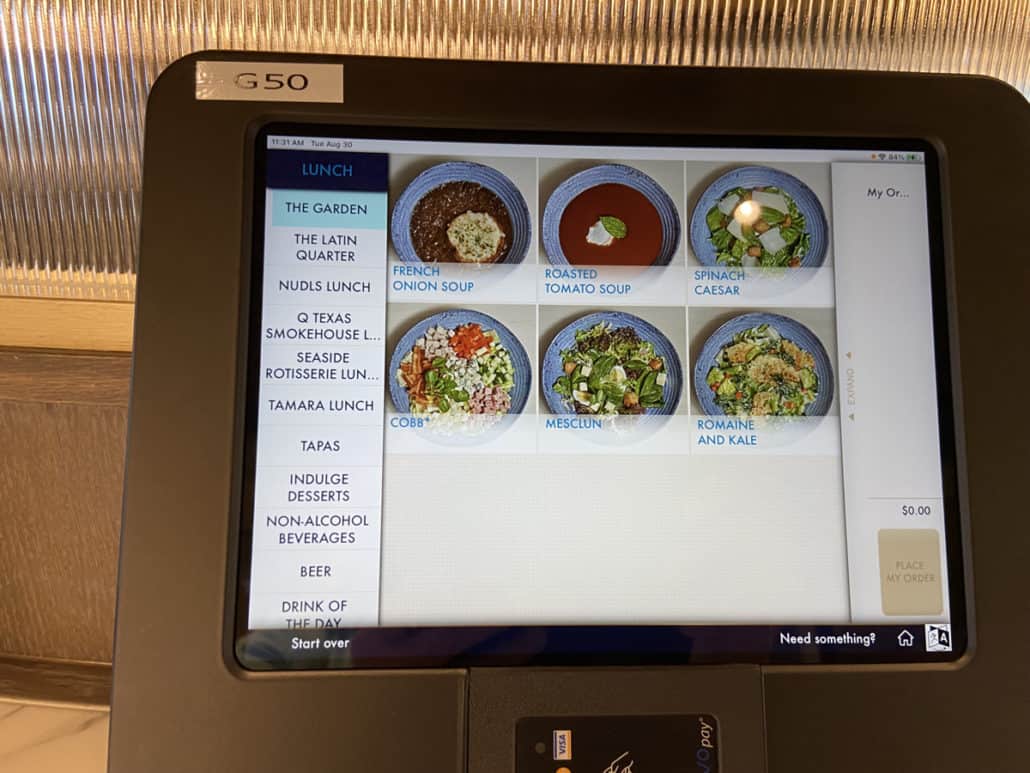 I tried this for lunch one day. Oh, I should mention that Indulge Food Hall serves breakfast, lunch, and dinner. For my lunch, I chose guacamole from The Latin Quarter, tagliatelle from Nudls, and chicken korma from Tamara. Ordering went fine, but my minor problem was that I wanted to eat al fresco and enjoy the beautiful Irish weather.
It would have been difficult for me to carry all three dishes out to the deck, once my beeper notified me that all of my dishes were ready. (This is where having a dining companion definitely comes in handy, as you can take turns going to pick things up while the other watches the table!) A very helpful server told me to find a seat on the deck and he would bring my dishes as they were ready. Before I even left the inside area of Indulge, my beeper alerted me that one of my dishes was ready for pick-up. I grabbed that dish and went outside. My helpful server brought out the other two dishes.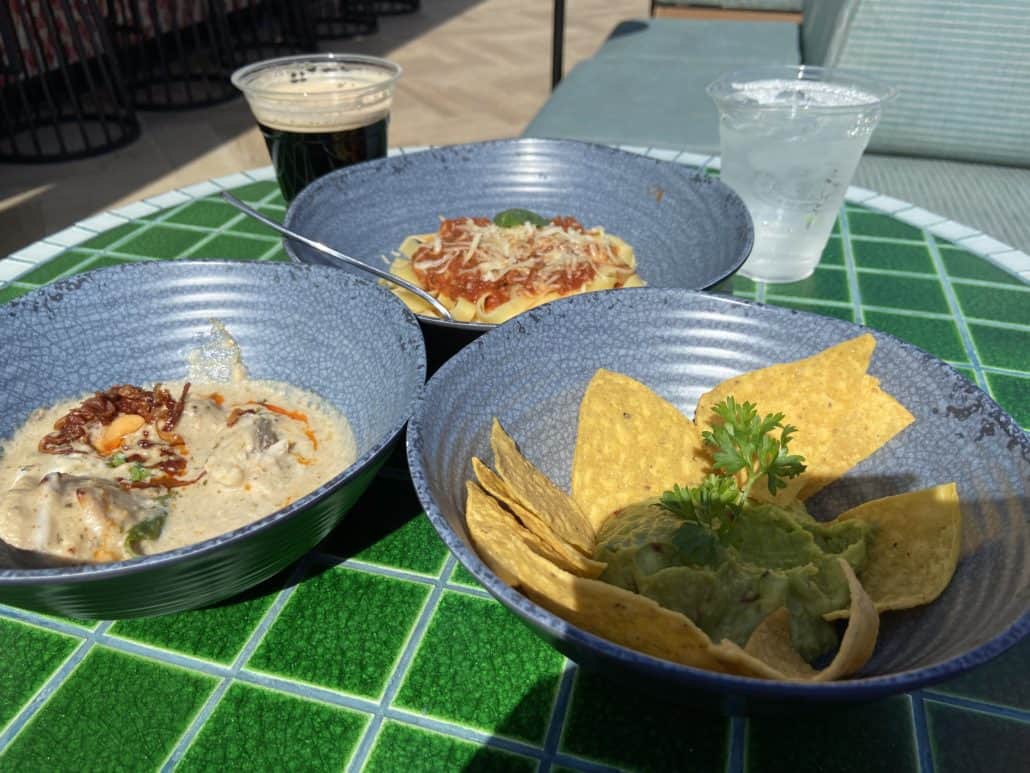 It was not busy at this time because many passengers were on shore excursions. I don't know if I would have had a personal server if Indulge Food Hall had been busy. It would be nice if there were some iPads in the outside dining area so that ordering and especially retrieving food would be an easier feat.
MORE: 7 Cruise Ship Venues That Serve Fresh Juice
What Restaurants Will You Find Here?
There are 11 options to choose from in Indulge Food Hall. Do note that the menus change between the three meal times, but stay consistent for a particular meal time. In other words, the menu is the same at dinner throughout the cruise, but that menu is not exactly the same as the one you'll find at lunchtime.
I didn't have time to try every meal or every eatery. I will admit that I did go to Tamara several times just because it was such a great experience. Which of the following would you choose?
Nudls – As the name suggests, this is the place to be if you are in the mood for noodles of all types. I tried the tagliatelle for lunch, but dishes like Pad Thai and mac and cheese were also options.
Q – If you have sailed on other Norwegian recent ships, you may have tried Q Texas Smokehouse. Expect to find a variety of BBQ dishes served here. Pulled pork and barbecue chicken sandwiches are just two of the options offered at lunch. For dinner, try the Pitmaster Platter, an assortment of meats.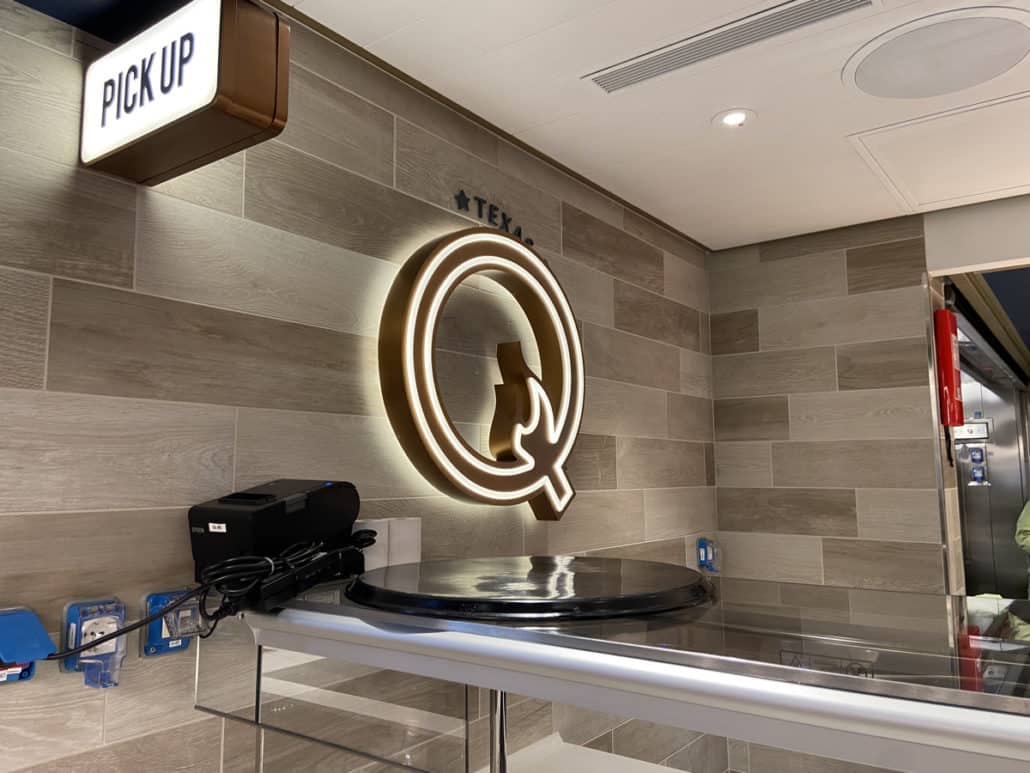 Seaside Rotisserie – When I first saw the name of the restaurant, I assumed it was a seafood place. I was wrong! As soon as I noticed that pineapple was on the menu, I equated this place with Moderno on other ships. I guess that I should have focused on the "rotisserie" part of the name. A variety of meats twirl around on the giant skewers. Lunch options include beef shish kebab, vegetable kebab, and chicken legs. Dinner offerings range from duck to lamb chops and tenderloin.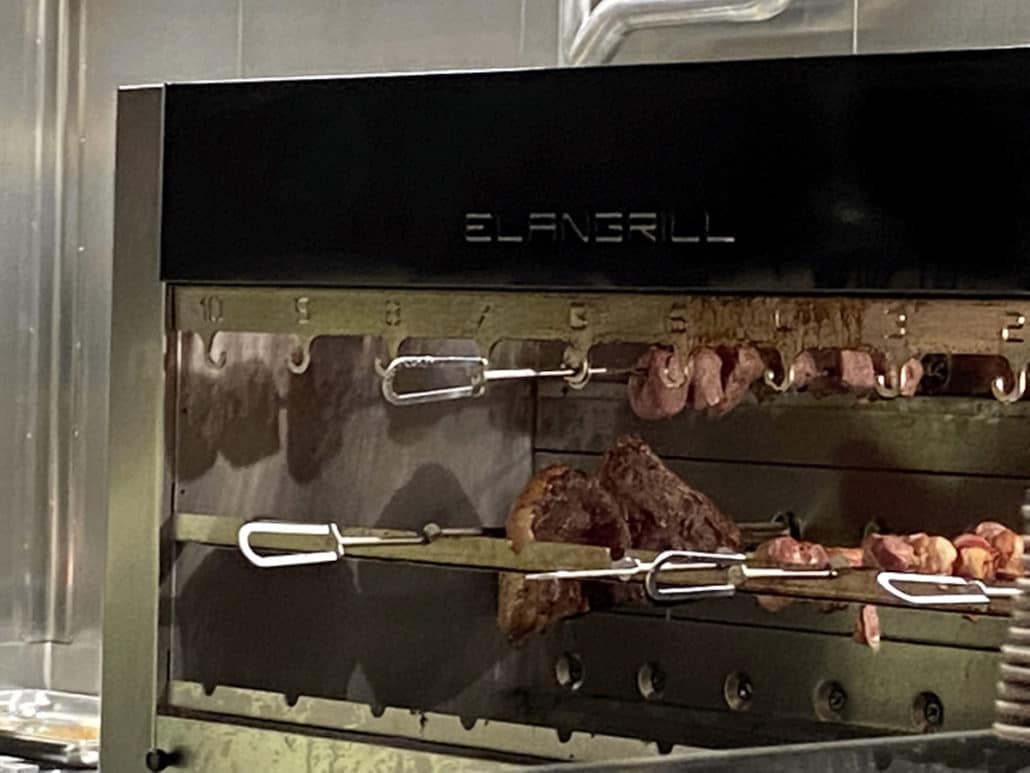 Tamara – Noticing the number of Indian chefs on the ship, it's no surprise that the food at Tamara is worth a try. The kitchen is open and diners at the counter can watch the antics of the servers and interactions with the chef. The cooked-on-demand garlic naan was delicious. A dinner favorite was the short rib dosa and chicken tikka masala. At lunch, I tried the chicken korma.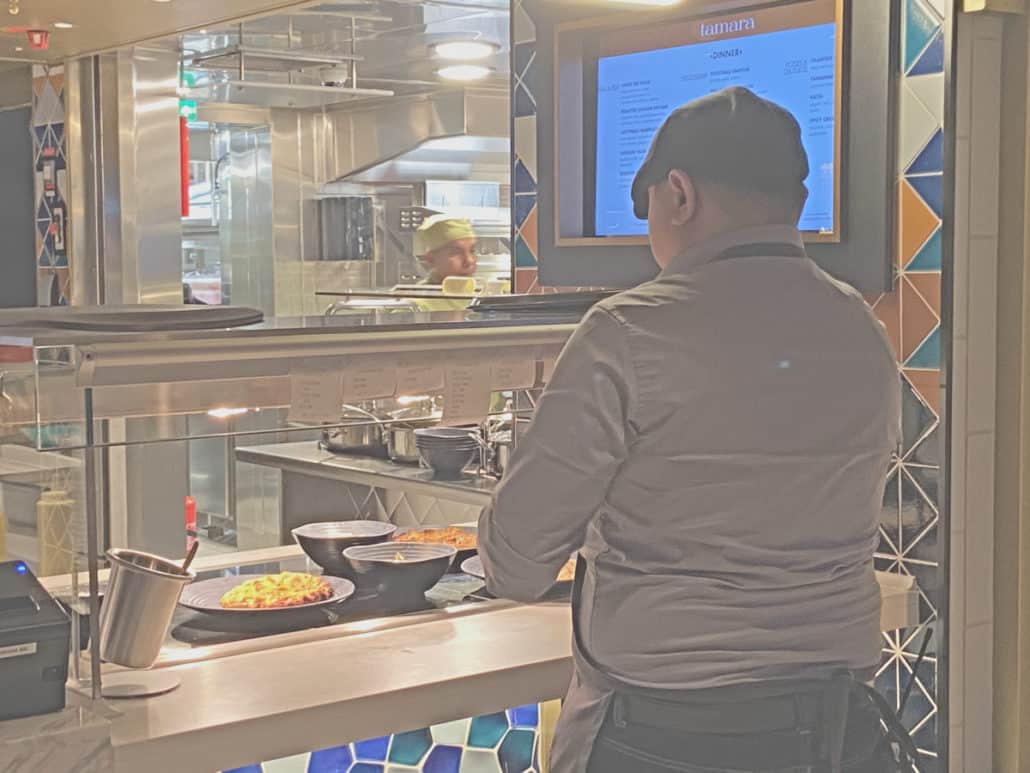 Tapas – This menu here doesn't change too much between lunch and dinner. If you just want a snack, this is a good option. Menu items include cheeses, country bread, chorizo, and jámon (dry-cured ham).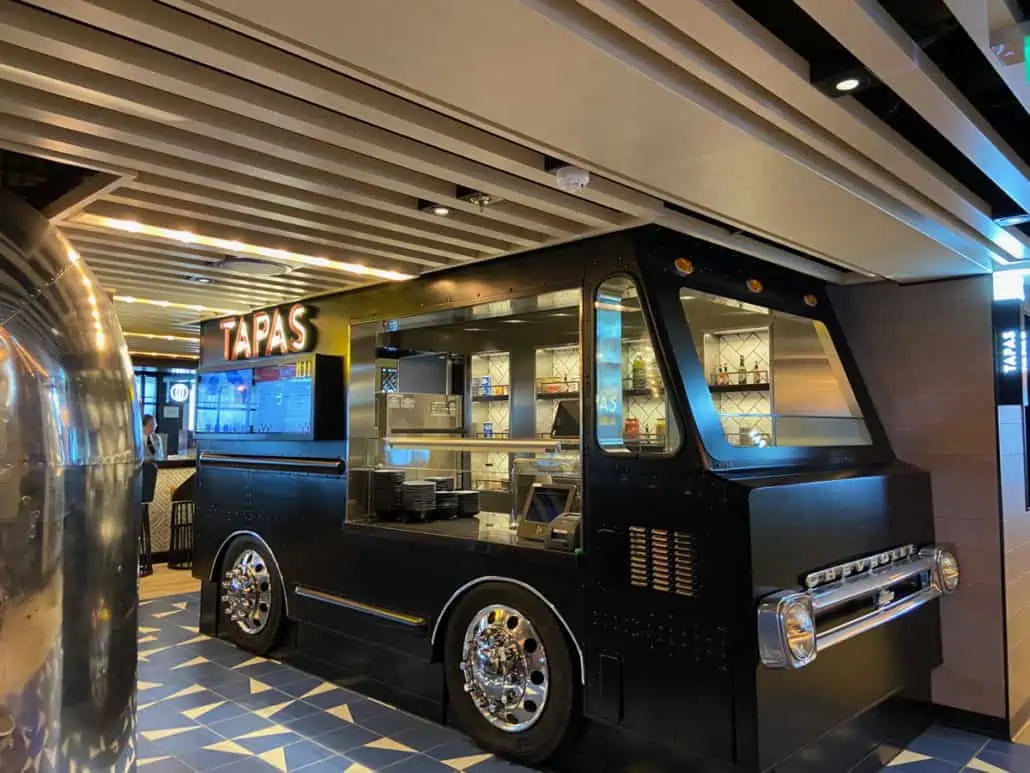 The Garden – If you are looking for a salad, this spot should be at the top of your list. Soups and several salads with protein options are available at both lunch and dinnertime, when the menu is the same.
The Latin Quarter – This food truck-style restaurant dishes out tostadas, seafood cocktails, guacamole, and nachos. It's the perfect venue for a snack or appetizer.
Coco's – A favorite on other Norwegian Cruise Line ships, this sweet shop offers a variety of decadent treats. Crepes, ice cream, gelato, milkshakes, and more are offered at prices ranging from around $3 to $8.
Just Desserts – If you are looking for desserts that are included in your fare, this small stand might fit the bill.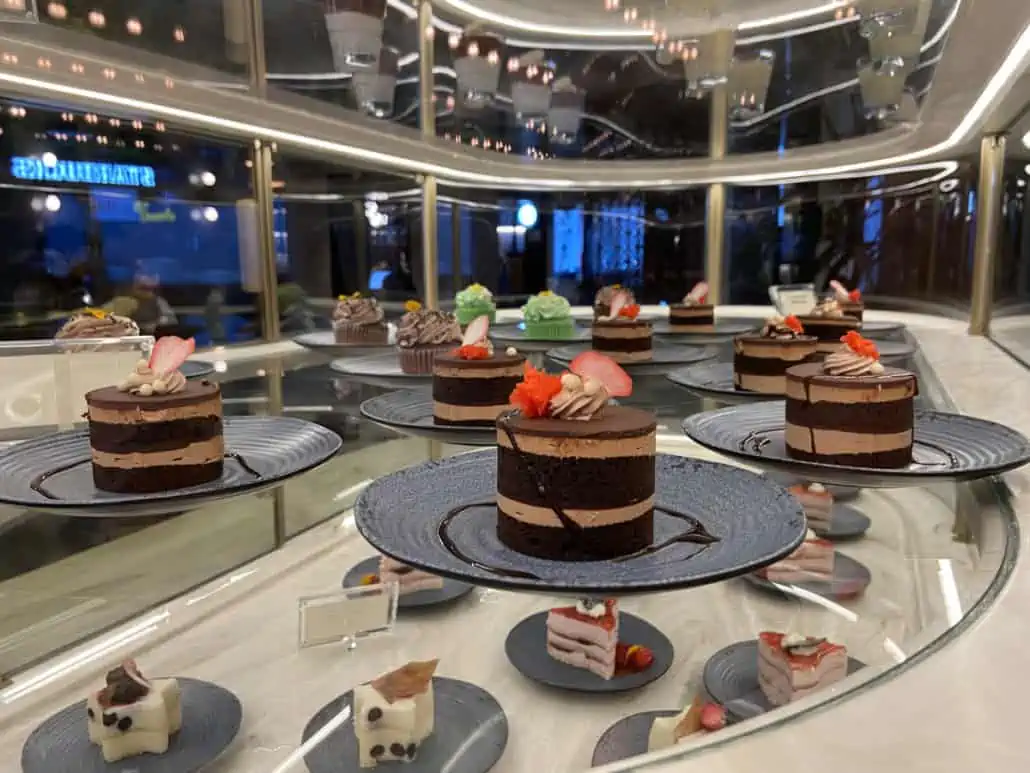 Just Ice Cream – Another small cart with a variety of ice cream, the cold treat from this cart is also included in your fare.
Starbucks – There isn't a Starbucks on every corner on Prima, but this second ship location in Indulge Food Hall has all of your favorites. As with all Starbucks locations on NCL, everything comes at a cost. (If you're going to be a regular visitor, it might be worth checking out the line's new Unlimited Starbucks Package.)
Indulge Food Hall is a great concept, but unless you have a big appetite, it would be difficult to try every dish. I opted to go sometimes just for an appetizer. This is literally the perfect dine-around option. Don't worry if you prefer a meatless meal, as there is a vegetarian option in most of the restaurants.
If there is any drawback, it's the size. There are not that many seats, but I never had a problem finding a place to sit. Plan ahead and avoid peak dining times. Indulge Food Hall is located on deck 8 behind 24-hour venue The Local Bar & Grill.
All photos by Theresa Russell
Catch up on my other Norwegian Prima articles:
Pin it!