Cruise lines have emphasized their wellness offerings on board, which include everything from fitness classes and spa services to healthier restaurants and wellness-focused stateroom amenities.
In this article, we've focused on freshly pressed vegetable and fruit juices. So read on if you want to know more about the eight cruise ship venues serving fresh juice and a few bonus options.
1. Vitality Café — Royal Caribbean
Ships: Oasis, Allure, Harmony, Symphony, and Wonder of the Seas
Royal Caribbean's Oasis-class ships have a dedicated juice bar called Vitality Café, just outside the spa. Guests can build their juice by choosing fruits, vegetables, add-ins (milk, peanut butter, protein, etc.), and supplements they want, as well as a few protein shakes to choose from. Juices on the menu include, but are not limited to:
Morning Glory: beetroot, carrot, orange
The Mean Green Juice: cucumber, green apple, celery, spinach
Immune Booster: orange, lemon, ginger
Healthy Heartbeat Juice: green apple, carrot, ginger, beetroot, lemon
Adios Coffee: apple, carrot, green tea, honey, lemon, and orange
The cost of Vitality Café's protein shakes and juices may vary depending on the ship or region, but expect to pay around $5 to $9 per beverage.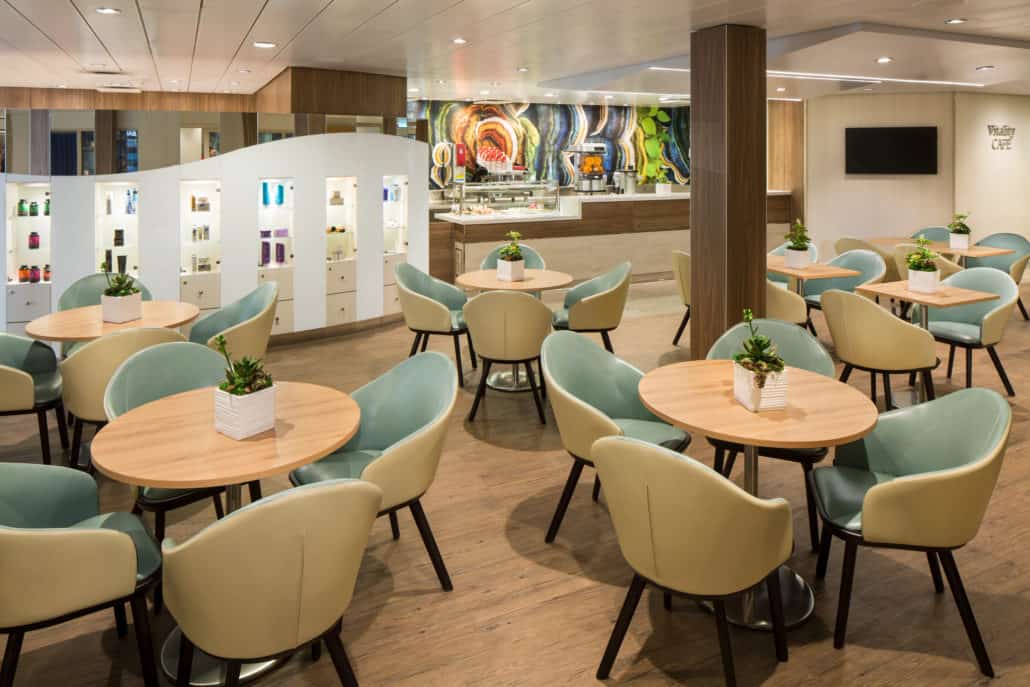 2. Senses Juice Bar — Disney Cruise Line
Ships: Disney Dream and Disney Fantasy
Senses Juice Bar is located in the Senses Spa area, which includes spa treatments, a salon, a thermal suite, and the ship's fitness center. The juice bar has several smoothies and juices to choose from, including but not limited to:
X-Press: Restore Harmony and Balance: strawberry, avocado, mint, red beet, apple, goji berries
My Go Green: spinach, banana, avocado, lime, Soya milk, plain yogurt
Blast Off: Refuel: kiwi, mango, lime, matcha, blanched almond
Super Berry: blueberry, blackberry, raspberry, plain yogurt
Tropicale: strawberry, mango, orange
Juice Delight: carrot, coconut, passion fruit, Core Power vanilla
Though prices may vary, expect the above juices and smoothies to range from $5.25 to $9 each. Freshly-squeezed juices from just one fruit or vegetable are also available for $4.75 each, including carrots, oranges, and apples.
Tip: If you're looking for pressed juices on Disney Wish, you can find them at the Wishing Star Café.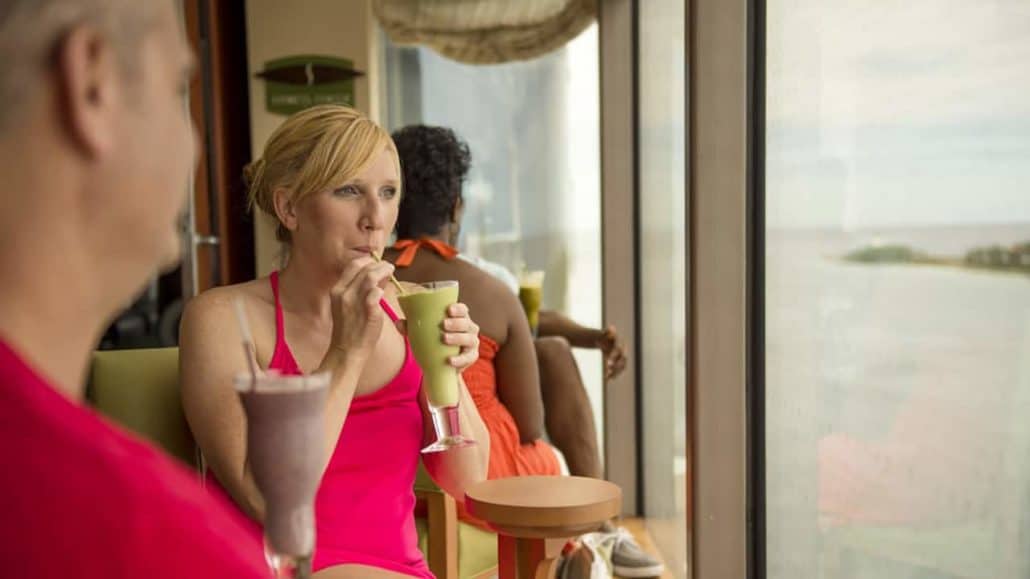 3. Spa Café + Juice Bar — Celebrity Cruises
Ships: Celebrity Summit, Millennium, Infinity, Constellation, Eclipse, Equinox, Reflection, Silhouette, Solstice, Edge, Apex, Ascent, and Beyond
Just outside Celebrity Cruises' spa is The Spa Café + Juice Bar, open from the morning through lunchtime. In addition to offerings like yogurt with toppings, bagels, açaí bowls, and smoothies, the casual, mostly self-serve venue offers a variety of freshly-pressed juices. Here are the options:
Roots: beet, strawberry, carrot, apple
Purple Rain: mixed berries, pear, apple, açai
Orange: orange, carrot, ginger
Piña Kale: pineapple, spinach, cucumber, ginger
Juice to Order: choose from the chef's seasonal selections
Everything at The Spa Café + Juice Bar is complimentary except the juices, which cost $5, and smoothies, which are $6.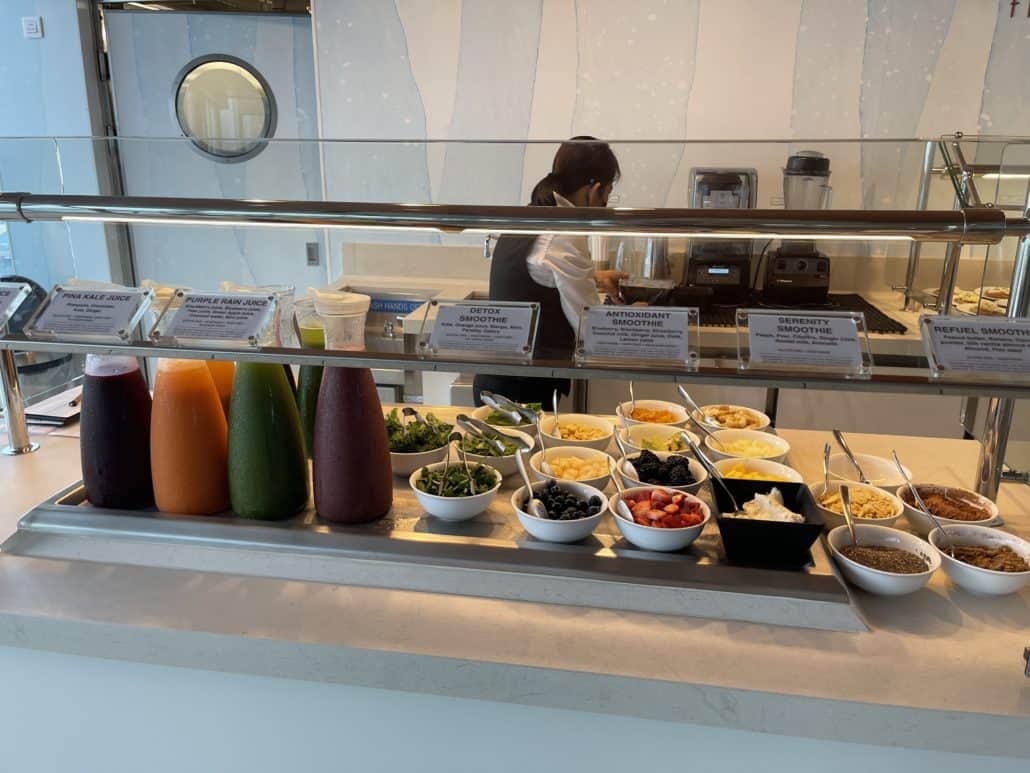 4. The Dock House — Virgin Voyages
Ships: Scarlet and Valiant Lady
Virgin Voyages focuses on wellness aboard its cruise ships, which translates into things like a large variety of indoor and outdoor workout spaces and equipment, as well as free fitness classes. It also translates into fresh juices that guests can order at The Dock House, which consists of an indoor bar and lounge space as well as an outdoor bar and sundeck with many seating options on deck 7 aft. Here are the juice options:
Tangerine: local Florida Tangerine
Grapefruit: local Florida grapefruit
Got the Beet: beet, apple, lime
Fresh Green: kale, cucumber, lime, ginger
I Can See Clearly Now: orange, carrot, ginger
Light Green: spinach, celery, cucumber, lemon, apple, ginger, parsley
Deep Green: kale, cucumber, cilantro, lime, celery, apple
Red: beet, carrot, apple, lemon, ginger
Orange: sweet potato, carrot, lime, orange
Healthy Shots are also available, including:
Unrooted Fresh Energy: turmeric, chili, baobab ($7)
Unrooted Good Gut: spirulina, ginger, baobab ($7)
House Celery Shot: celery, celery, and celery ($4)
House Ginger Shot: ginger, honey, and serrano ($4)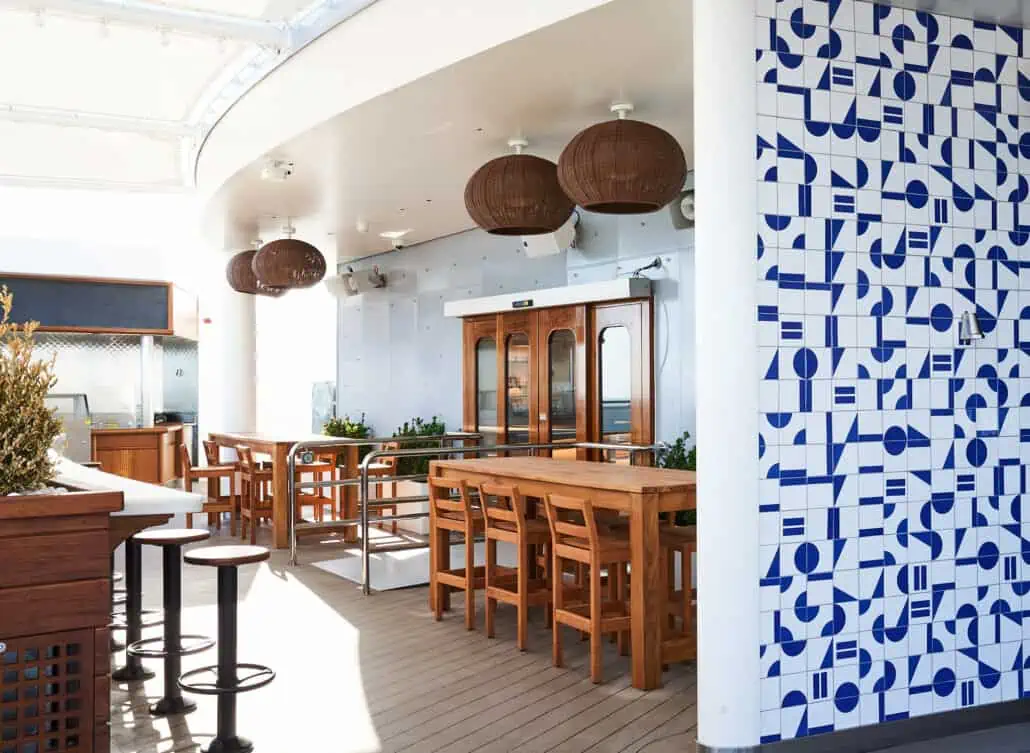 5. Sunshine Bar — Royal Caribbean
Ships: Anthem, Odyssey, Quantum, Spectrum, and Ovation of the Seas
Unlike the Oasis-class ships, Royal Caribbean's Quantum-class vessels do not have a dedicated juice bar. Instead, they have the Sunshine Bar in the Solarium, a popular enclosed pool deck for adults. The bar offers classic and unique cocktails, smoothies, protein shakes, and fresh juices.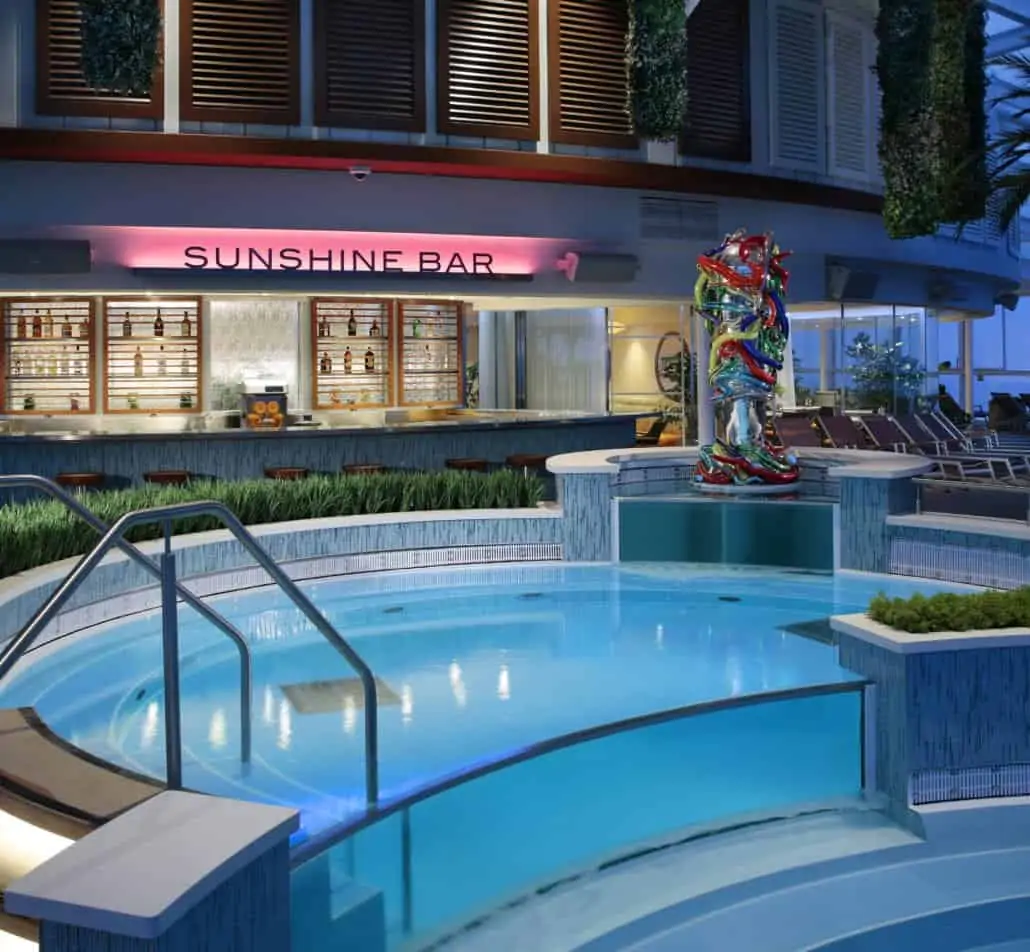 MORE: 8 Popular Cruise Ship Seafood Restaurants
6. Zest – Juice Bar — MSC Cruises
Ship: MSC World Europa
Zest-Juice Bar is located just outside the MSC Aurea Spa on MSC World Europa and offers a variety of freshly-pressed juices to choose from.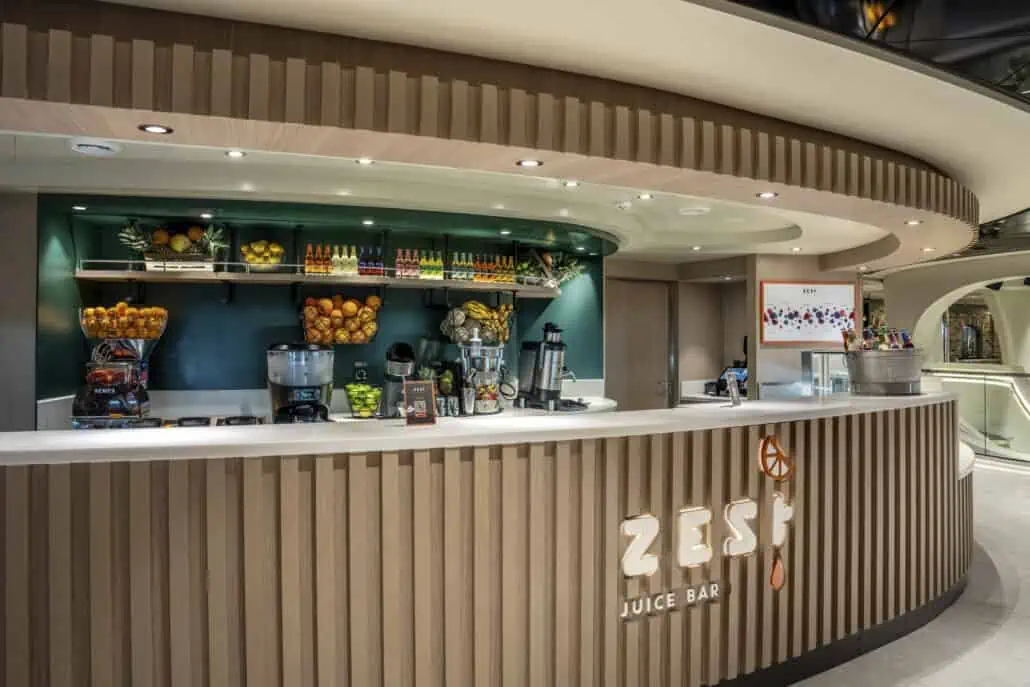 7. Caffè Vivo — P&O Cruises
Ship: Arcadia
Technically, Caffè Vivo is Arcadia's cozy little coffee shop, but crew members serve much more than coffee there. In addition to salads, bagels, noodles, cookies, and pastries, passengers can head to Caffè Vivo for smoothies and freshly-squeezed juices. Caffè Vivo is open from morning into evening.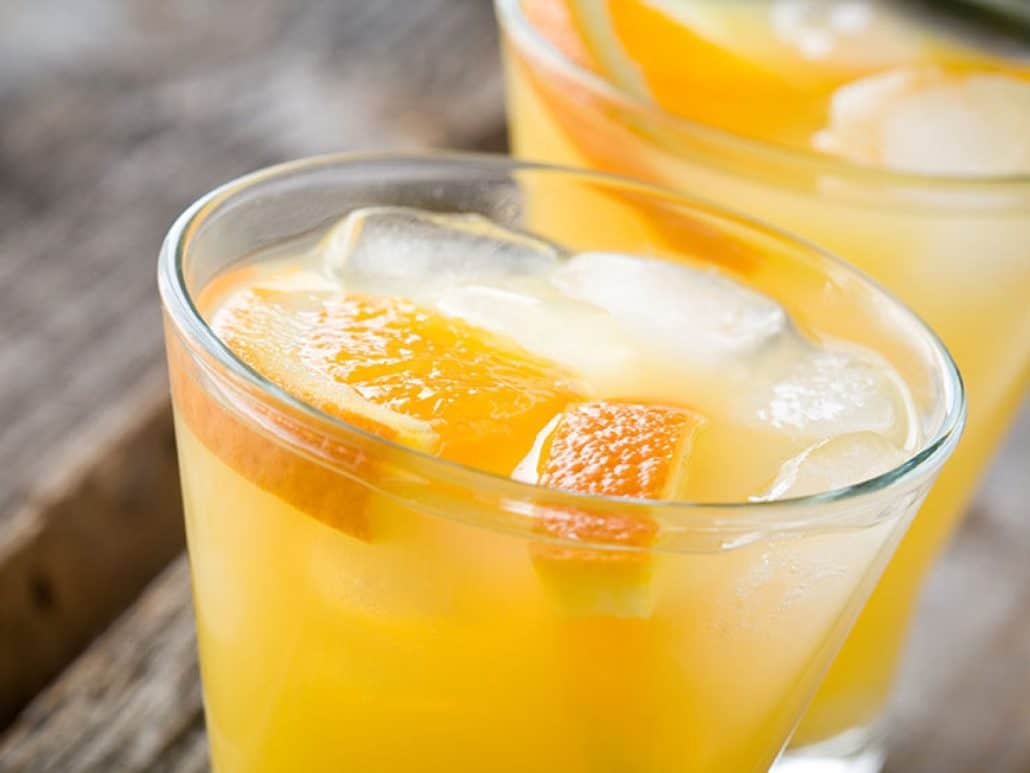 8. Buffets — Various cruise lines
This isn't a specific venue on a particular cruise line but rather a dining location that every cruise ship has. While not every buffet on every cruise ship will have fresh juice, many of them do.
These include buffets on Princess Cruises, Norwegian Cruise Line, Holland America, Royal Caribbean, and Viking ships.
If you want to have fresh juice throughout your voyage, do a walk-through of the entire buffet at the start of the cruise to see whether it serves juice. Just keep in mind that most cruise lines will charge you extra even though the buffet is free of charge.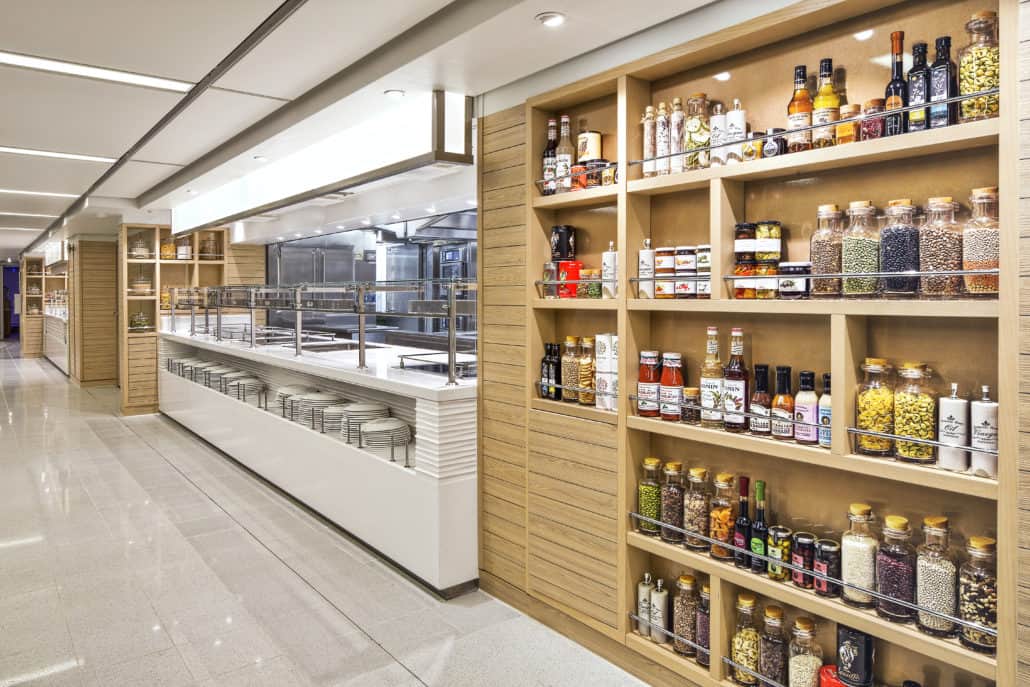 BONUS: Carnival's Seaday Brunch & more
Carnival Cruise Line's famous Seaday Brunch isn't a "venue" per see, but it does serve fresh juices. Though offerings may vary depending on the ship, they will likely have the following for $5 each:
1: carrot, orange, lime, cayenne
2: pineapple, ginger, lime, dates, turmeric
3: kale, romaine lettuce, apple, lemon
4: pineapple, apple, beets, ginger
5: apple, kale, spinach, parsley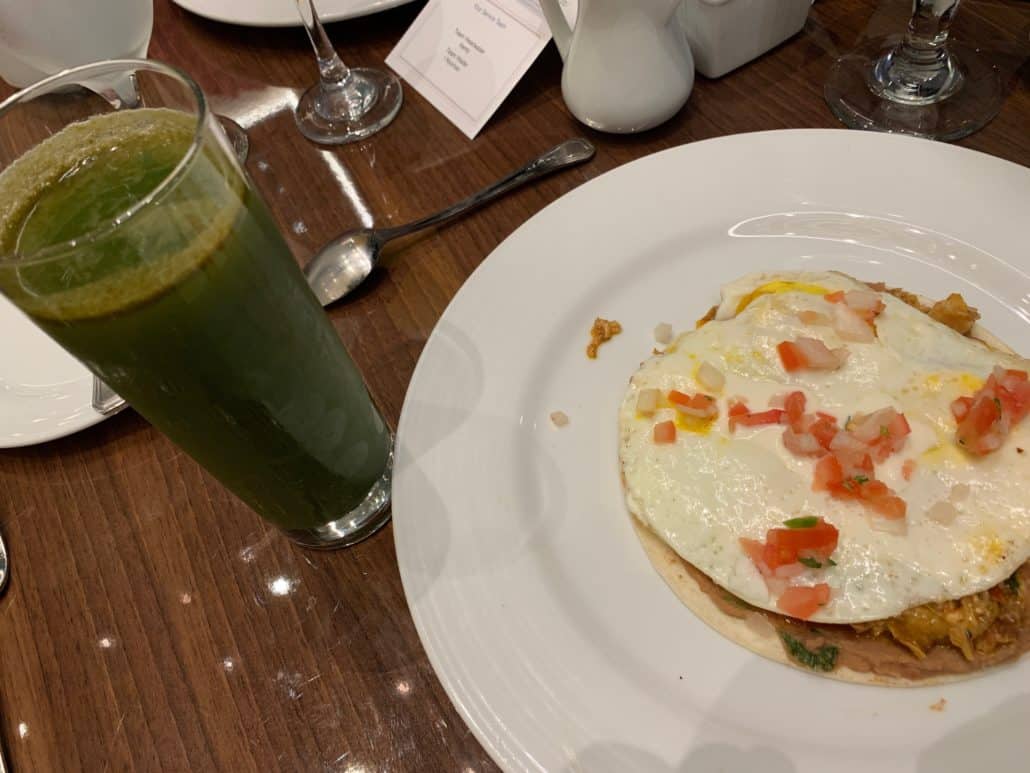 Final Thoughts
If you're sailing a cruise ship that wasn't included on this list and looking for fresh juice, don't be afraid to ask if it's available. Cruise lines are constantly updating their offerings, and many ships can prepare passengers' requests even if they aren't on a menu.
READ NEXT: 6 Unique Ways To Stay Active While on a Cruise Ship
Pin it!