Even folks who have sailed every ship in the Norwegian Cruise Line fleet will find completely new elements to enjoy on its newest vessel, the Norwegian Prima. When it comes to Norwegian Prima bars, there are plenty of longtime favorites, but guests will also find several new-to-Norwegian spaces and concepts worth checking out. What does each new space to offer? Read on for a taste… pun intended!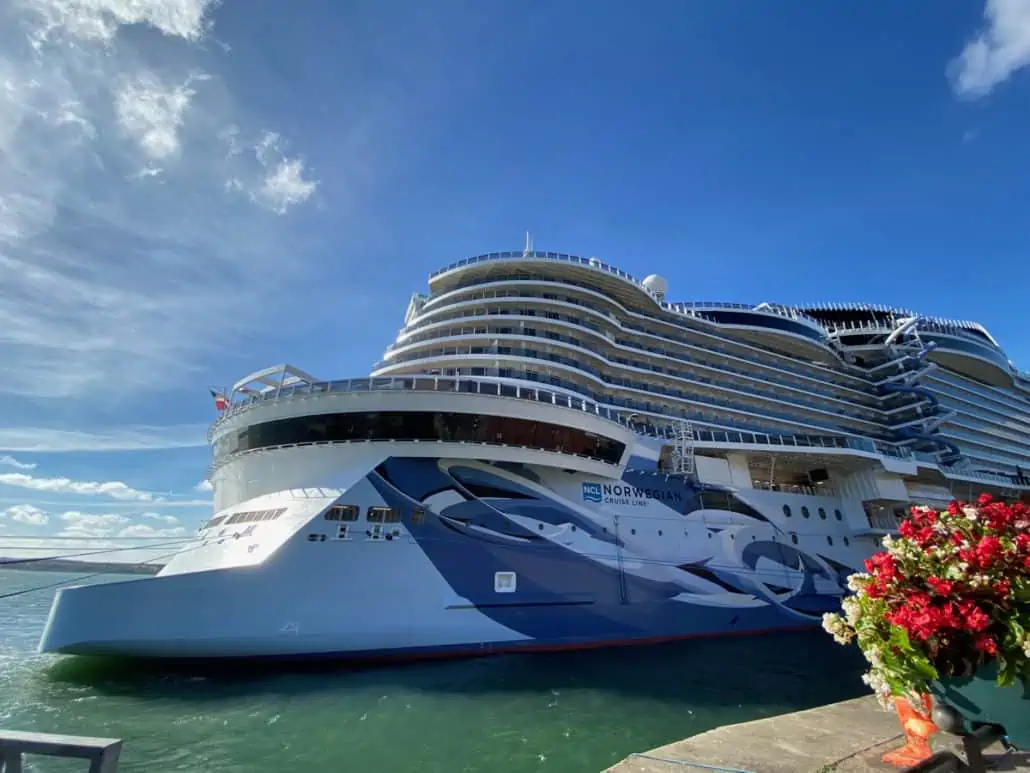 1. Metropolitan
Having experienced sustainable cocktails on another Norwegian cruise ship, I was eager to see what Metropolitan had on offer as part of the Sail & Sustain initiative. I already knew that these concoctions used a variety of "leftover" items from foods used at other venues around the ship. For example, the peels of a banana might be used to create a syrup, or the crown of the pineapple might be used as a garnish.
I grabbed a seat at this popular bar and perused a tablet that described all of the sustainable cocktails in detail. With so many choices, I asked another patron which he had tried and he recommended the Primadonna. I scrolled back to the description noting the ingredients: Flor de Caña ECO rum, homemade banana peel syrup, walnut bitters, and orange peel.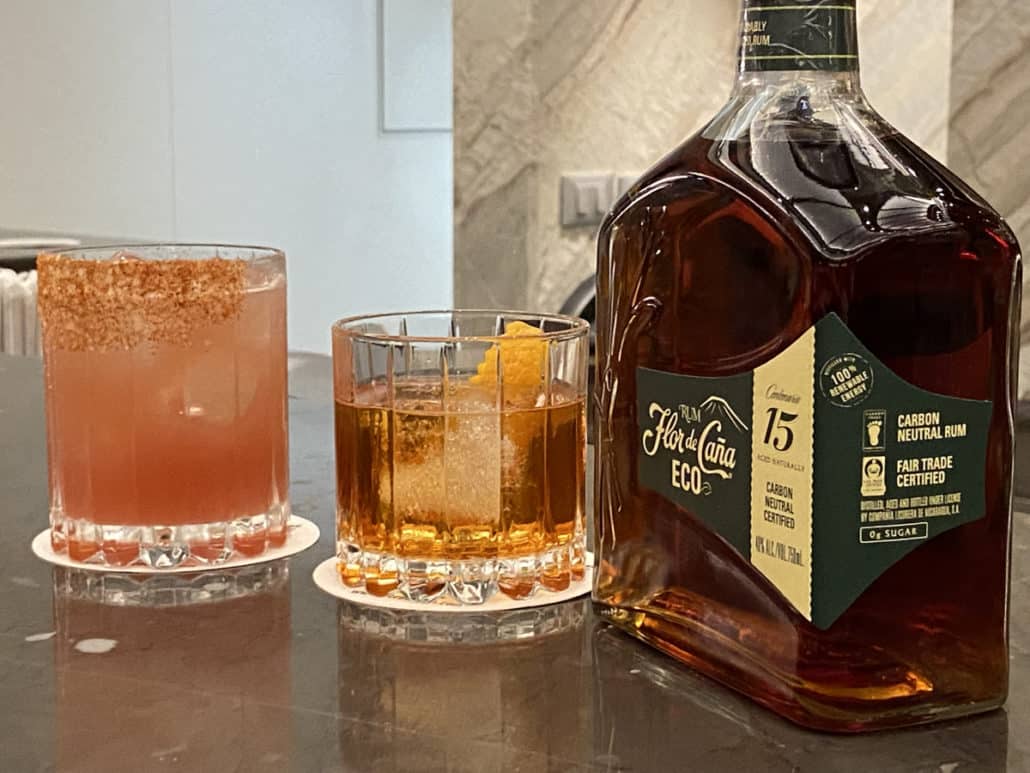 I'll admit that I wasn't a fan of the actual space in which the Metropolitan exists. While it's very modern, the crisp lines and color scheme had the vibe of an upscale doctor's office. I did, however, enjoy the design of these sustainable cocktails and tried several! Obvious as it seems, it's probably worth mentioning that the sustainable elements aren't plucked out of a garbage can. Rather, they come directly from the fresh fruit or vegetable that they are a part of and then processed.
Two favorites were the Croissant Mai Tai and Café Replay. The Mai Tai mixes rum, Cointreau, lime juice, croissant syrup, and cardamom together for a refreshing beverage. Café Replay is made from used coffee grounds transformed into a cordial and then mixed with vodka, Frangelico, bitters, and pineapple juice.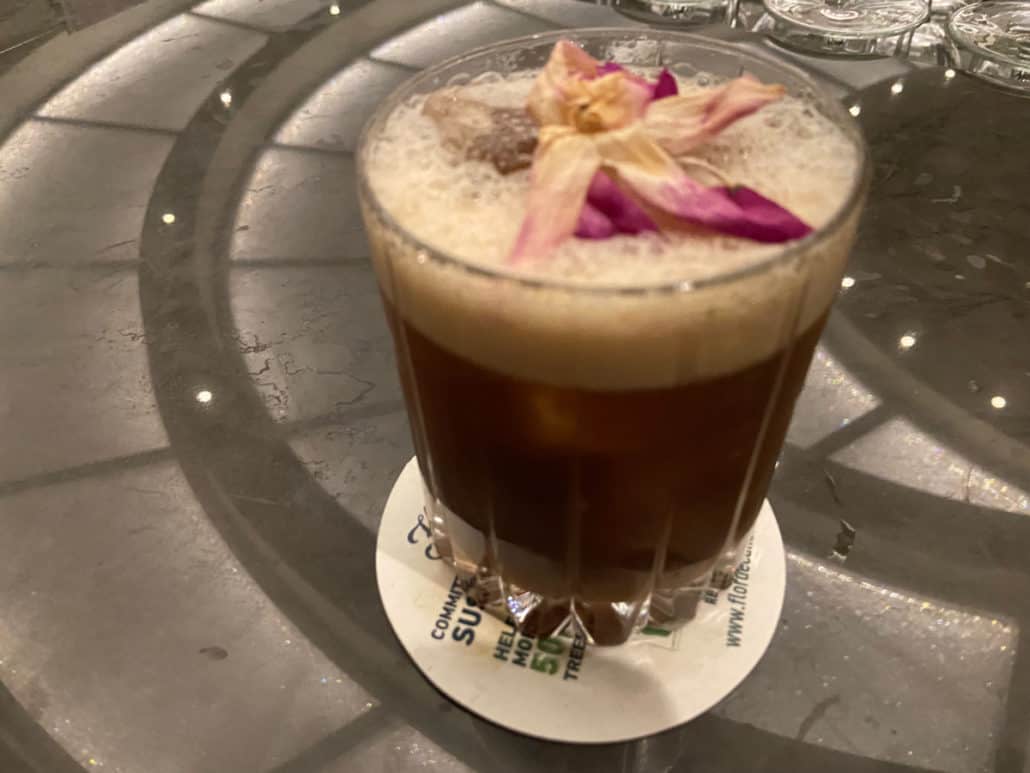 2. Belvedere
Next on our tour of Norwegian Prima bars is Belvedere, where gin is the star of the show. '66 by Norwegian organic gin is featured in several cocktails. Some of the offerings are bottled drinks, served in an attractive small bottle with an artistic tag. Of course, I had to try one with the gin — and a few others — just for good measure. My gin-based drink contained gin along with Chambord, fresh lime juice, and basil syrup. The '66 by Norwegian gin gives a new meaning to house gin.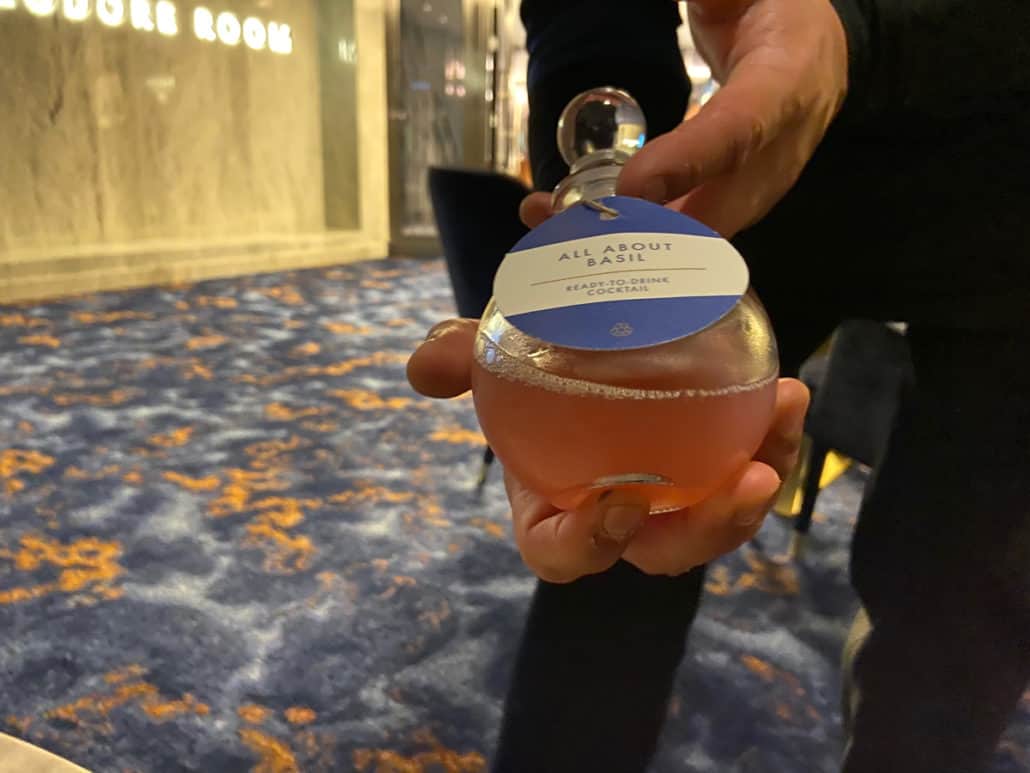 Another bottled drink, the Bourbon Myth, features bourbon, fresh lemon juice, rosemary honey syrup and ginger. Good news: These specialty drinks are included in the beverage package as they cost less than the $15 maximum. In addition to cocktails, Belvedere offers wines that can be included in the beverage package as well as some premium wines which exceed the allotted price. (When ordering drinks which cost more than is covered by the beverage plan, you're account is charged the difference in price.)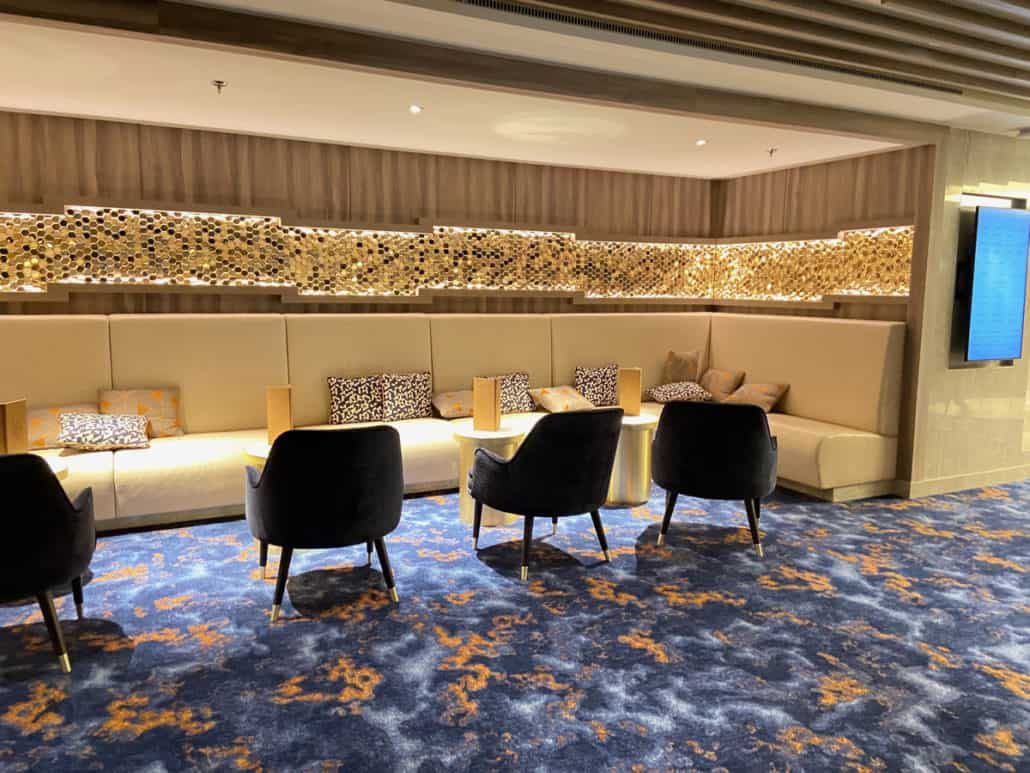 Belvedere itself is much more intimate than Metropolitan, although it can be a high-traffic area given that it is used as a cut-through to access some of the restaurants. Both Belvedere and Metropolitan were popular options throughout the cruise.
MORE: Our 10 Favorite Free Smartphone Apps For Travel
3. Soleil Bar
With its perfect setting on the aft deck, Soleil Bar includes another Norwegian drink specialty. In this case, it isn't a cocktail, but a beer. Brewed by Terrapin Brewery in Georgia, this beer is also known as '66 by Norwegian. This golden ale combines yuzu and mango.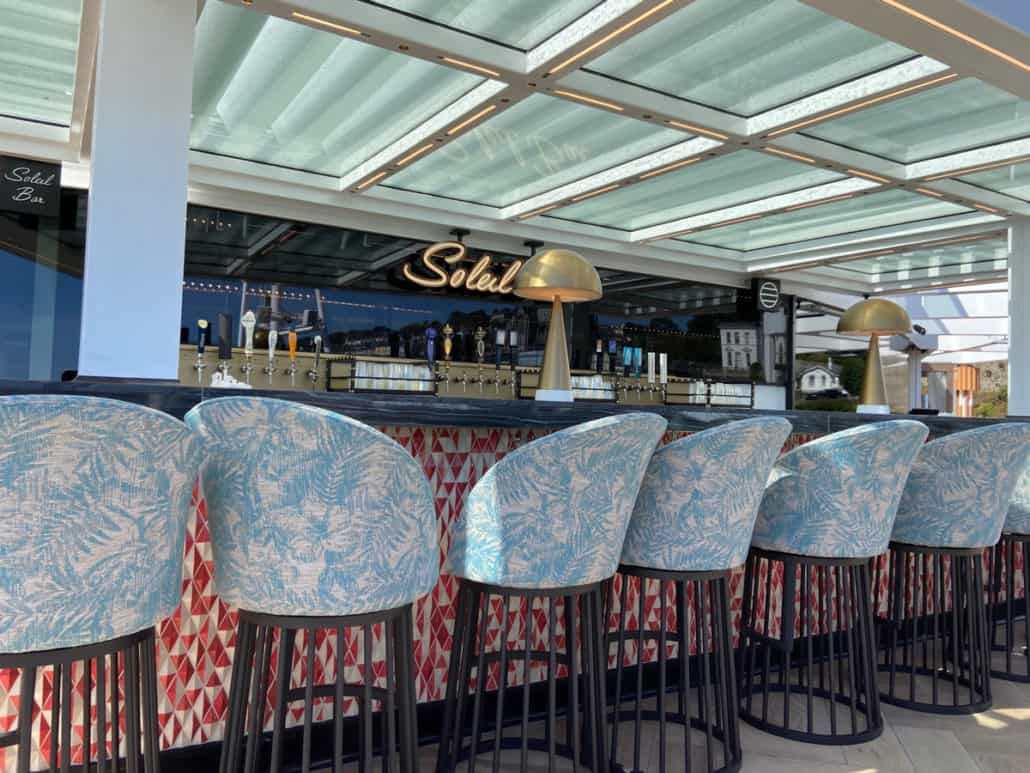 As its name implies, Soleil is on the sunny exterior of the ship, just outside and behind the Indulge Food Hall. With seating at the bar and plenty of seating options on the deck, it's a great place to enjoy a refreshment while enjoying a view of the wake. Because it is outside, drinks are served in plant-based glasses rather than in glass. I appreciated the multitude of tables for setting a drink down next to a lounger.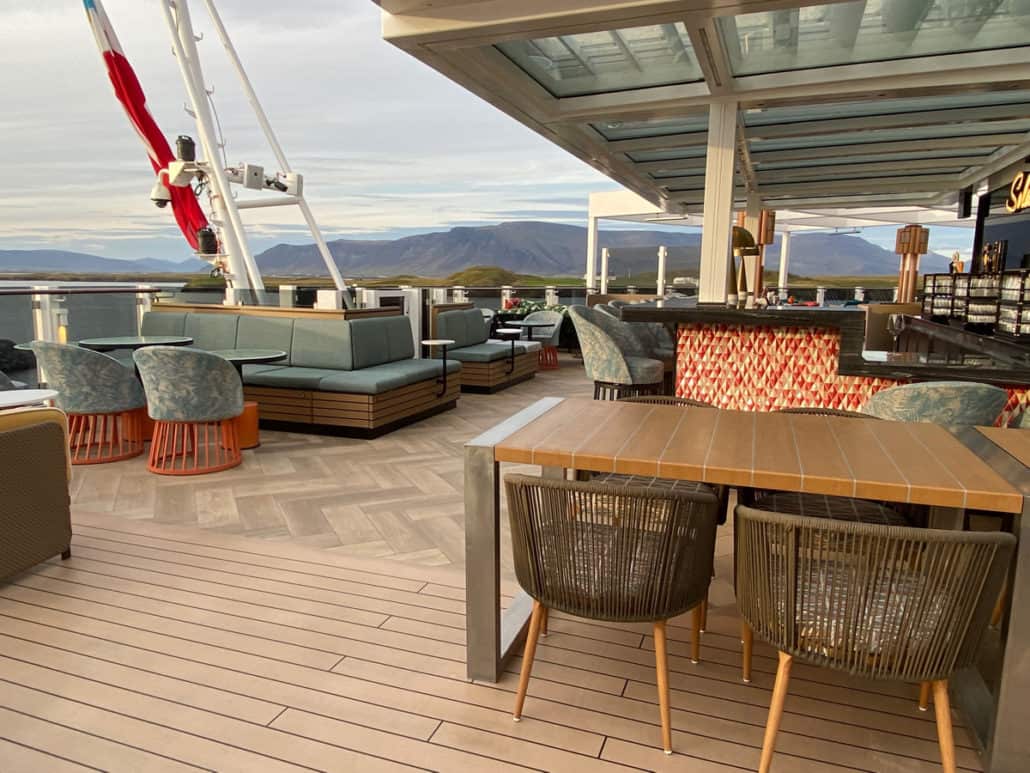 Soleil and our next stop on this tour, Luna, serve other cocktails plus beer, wine, and kombucha. Some special offerings here are the cocktails on tap from Liquid Kitchen® by Kathy Casey.
4. Luna
Just on the other side of the wall from Soleil, Luna is basically the same bar, yet inside the Indulge Food Hall area. Not only do Luna and Soleil share a wall, but also a menu. At this aft bar, the menu features a drink of the day from the Sail & Sustain offerings. Usually, these drinks cost $12, but as a drink of the day the cost drops to $9.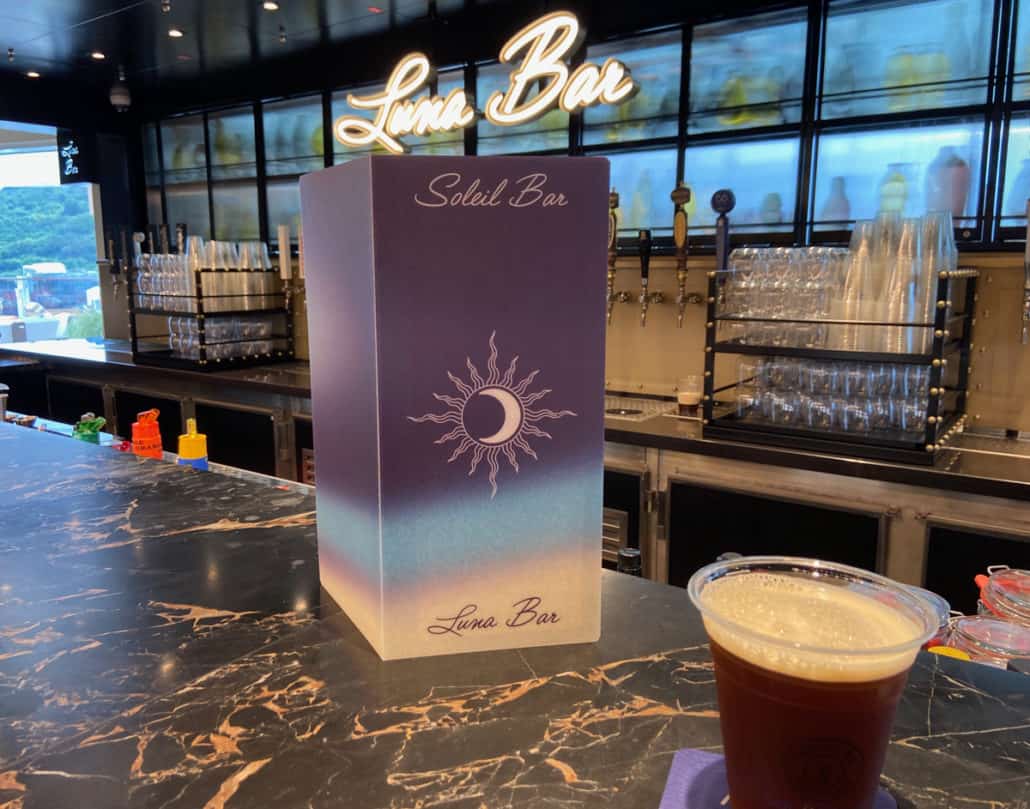 What I found very impressive about Luna and Soleil, as well as the aforementioned bars, is the knowledge of the bartenders. No doubt realizing that people would have questions, each knew about the process of how these drinks were made and what made them sustainable. The glasses and the coasters are plant-based or recycled and are part of the sustainability effort.
I had ordered a Watermelon Twist which included tequila, lime juice, watermelon rind cordial, and homemade chili liqueur with a spicy salt rim. What's not to like about that? The bartender explained the process of using the rind to create the cordial. These cocktails are pre-made in batches, so when they run out, you will be out of luck. Can you think of a better reason to start drinking early in the day?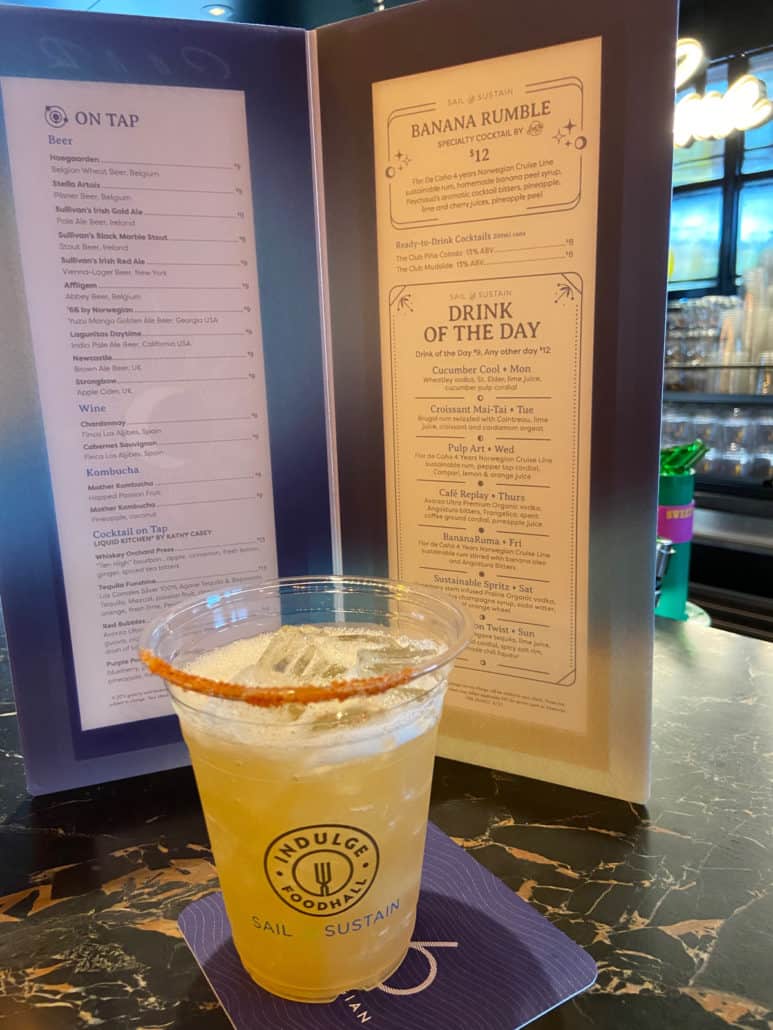 It would be so interesting to take a peek into the space where Norwegian creates the by-products for use in their sustainable drinks. I imagine a science lab setting with boiling beakers, white lab coats, and tubes running from reduced potions. All of this under the guidance of a wizard. Maybe I tried too many of those drinks.
5. Prima Speedway Bar
Way up near the entrance to the Prima Speedway and nearby Tee Time mini-golf, The Bull's Eye dart lounges, and the Stadium complex, the Prima Speedway Bar is located on the 18th deck. This bar has limited hours, so be sure to check the Freestyle Daily for opening times.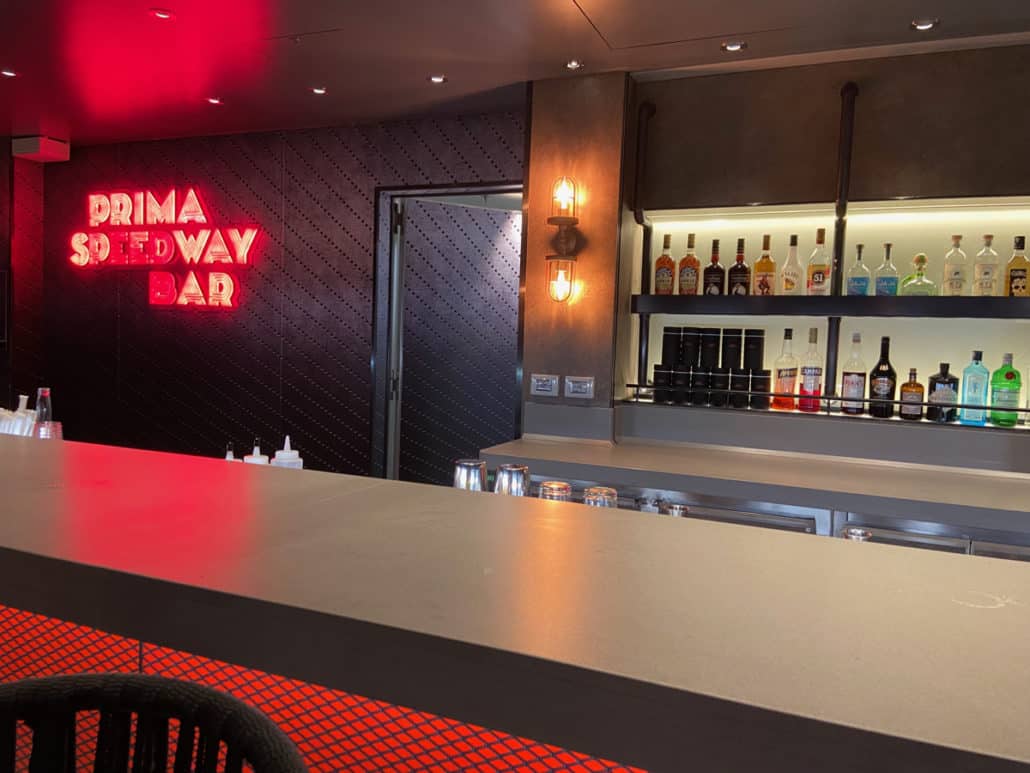 It's definitely the place to celebrate your winning game or race time. Options at Prima Speedway Bar include frozen cocktails by Kelvin Slush Company. Beer, seltzers, and the sustainable drinks of the day are also served here.
Fans of the Prima Speedway — or those who won their heat — might be interested in the souvenir cup. Who wouldn't want a Prima tire cup to take home?
These five bars on Norwegian Prima are worthy of a visit whether you go for pre-dinner cocktails, or post-show socializing. One other bar to make note of is the popular Whiskey Bar on Deck 8 on the way to the theater.
This bar bustled with activity most of the evenings. The bartenders are knowledgeable about the specialty whiskeys they serve. In fact, it's possible to sample some of the extra special whiskeys there.
With all of the many options for beverages on Norwegian Prima, it would take many sailings to try the variety of drinks offered. So much more than the typical bar offerings are available on Prima, and that makes discovering all that is new a worthwhile adventure.
Photos by Theresa Russell
READ NEXT: 18 Most Unique Cruise Ship Bars in 2022
Pin it!