In early July 2021, Carnival Horizon arrived in Amber Cove, Dominican Republic. It marked the first time a cruise ship had visited the destination since early 2020.
Cruise Radio's Doug Parker was onboard, and — of course — took lots of photos. Let's take an up-to-date peek at the port area.
That moment that we all love — seeing the ship move closer and closer to land and the pier!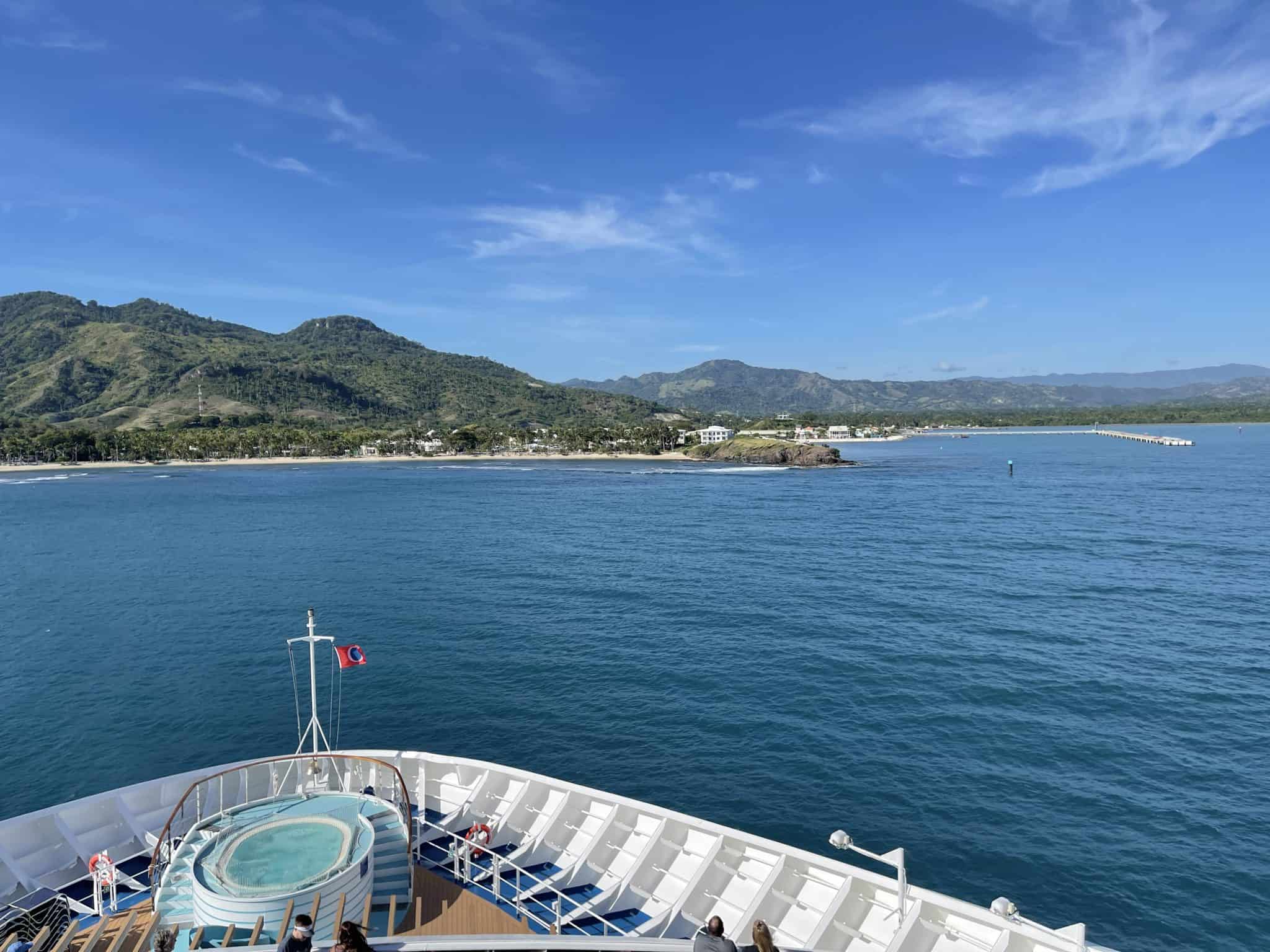 The ship was greeted with music and dancing right on the pier. What a welcome!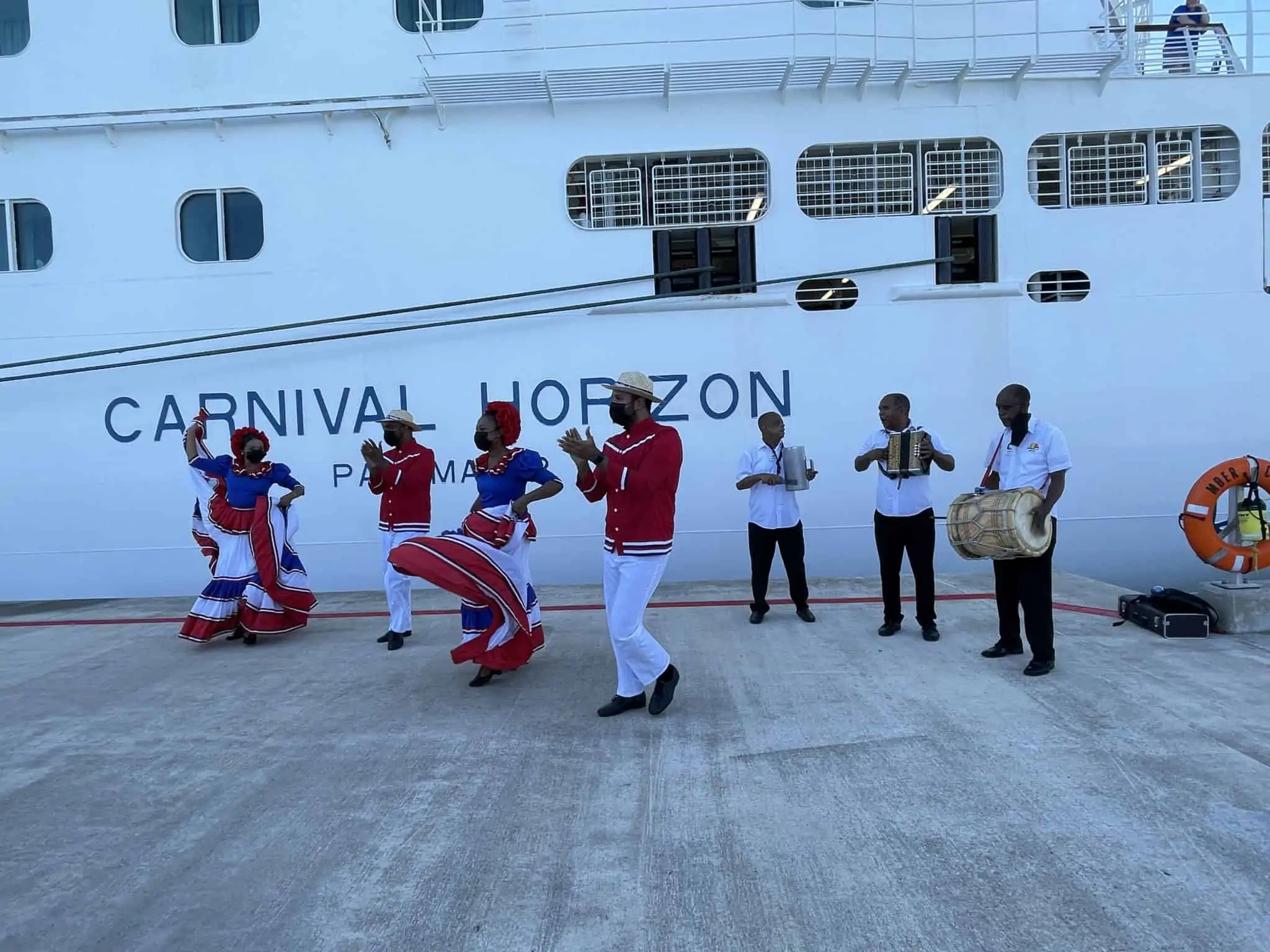 Heading into the port area. Amber Cove, located in the northern Puerto Plata province of the Dominican Republic, was developed by Carnival Corporation and completed in 2015. As far as a cruise port goes, it's still pretty new!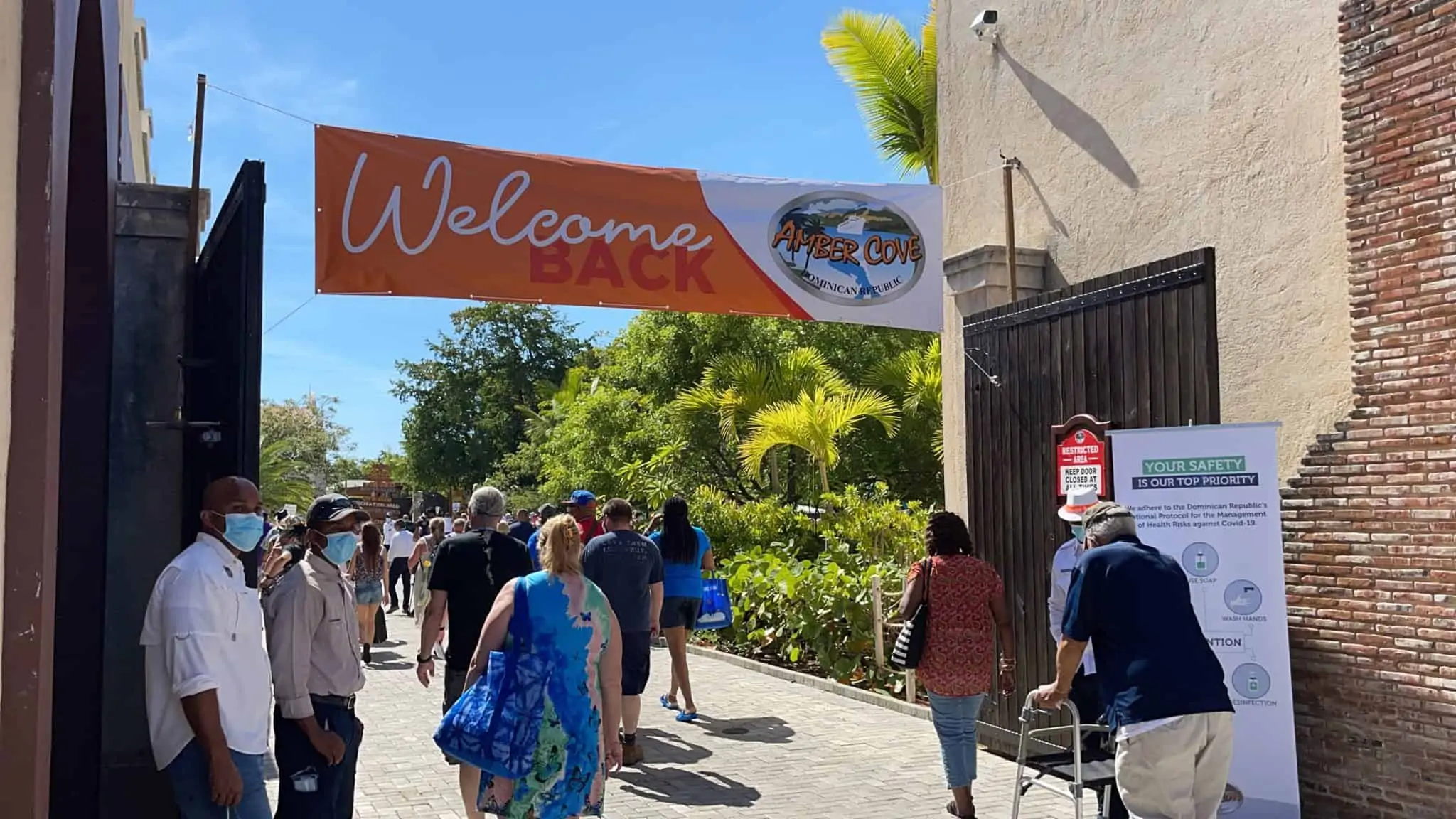 You have access to just about anything you'll need at Amber Cove.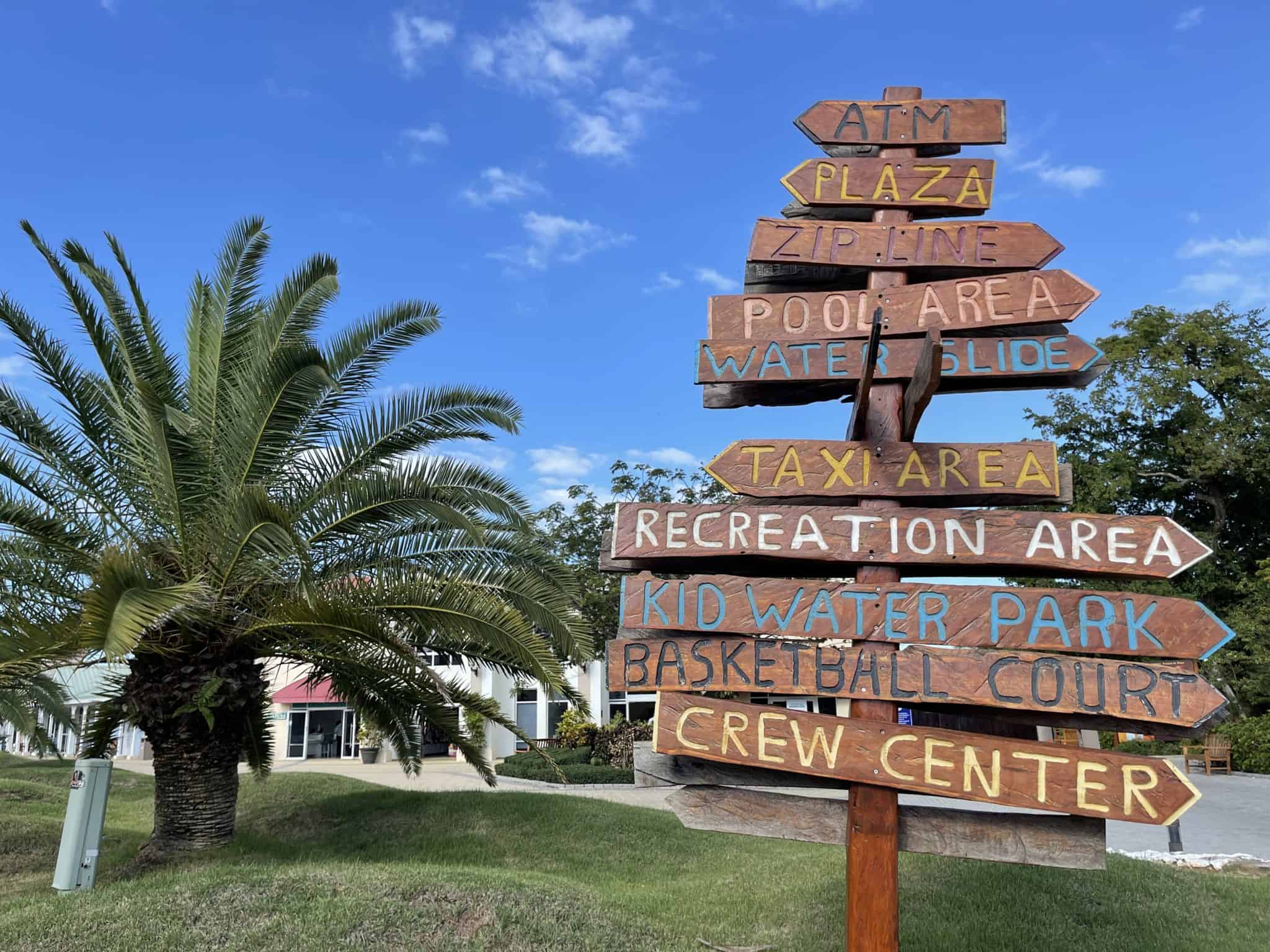 So many options, so little time!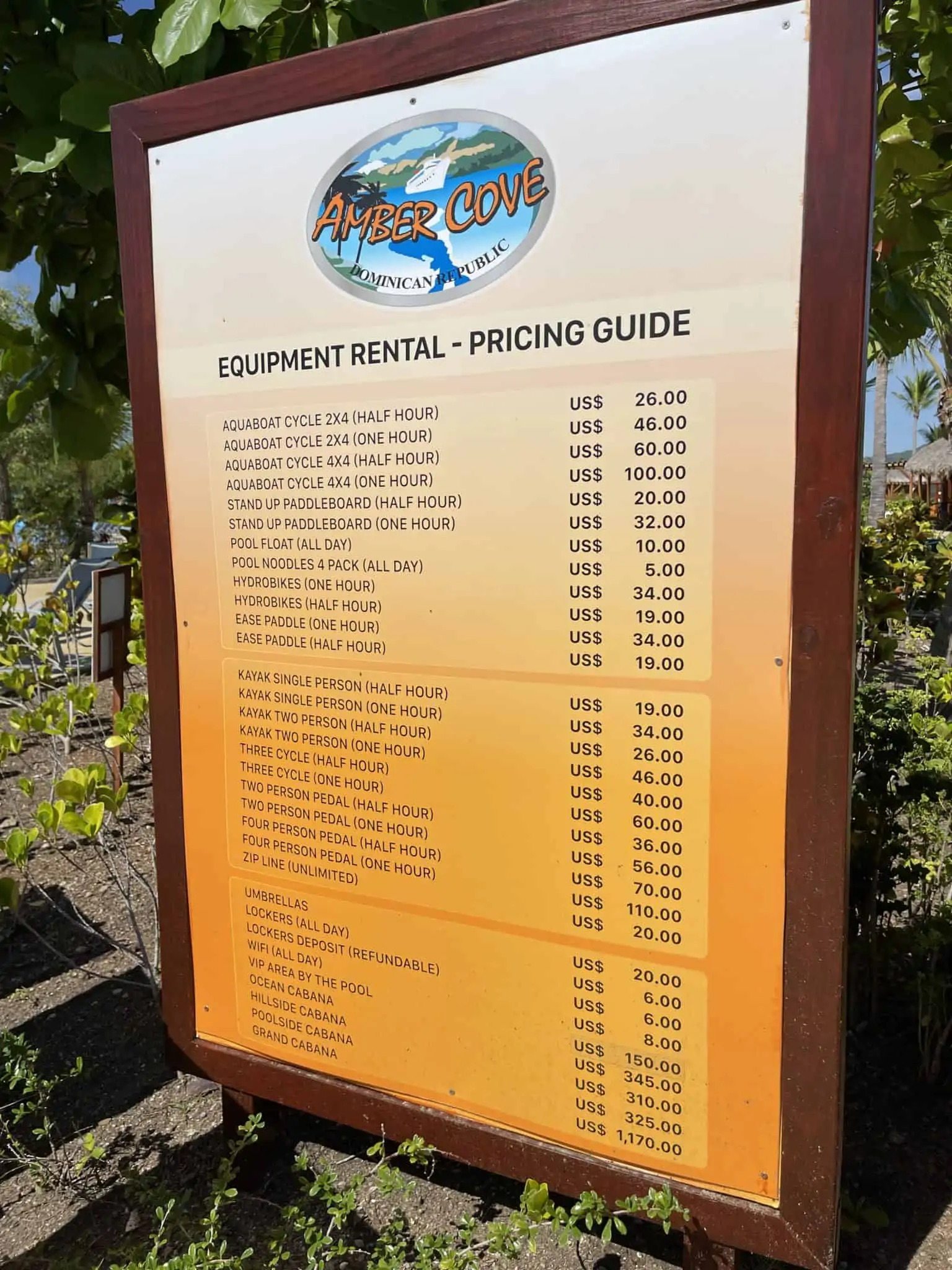 During this voyage, Doug's travel agent was also sailing. She got a Grand Cabana for herself and all of her clients that are on the sailing. Up to 20 people can use a Grand Cabana at Amber Cove.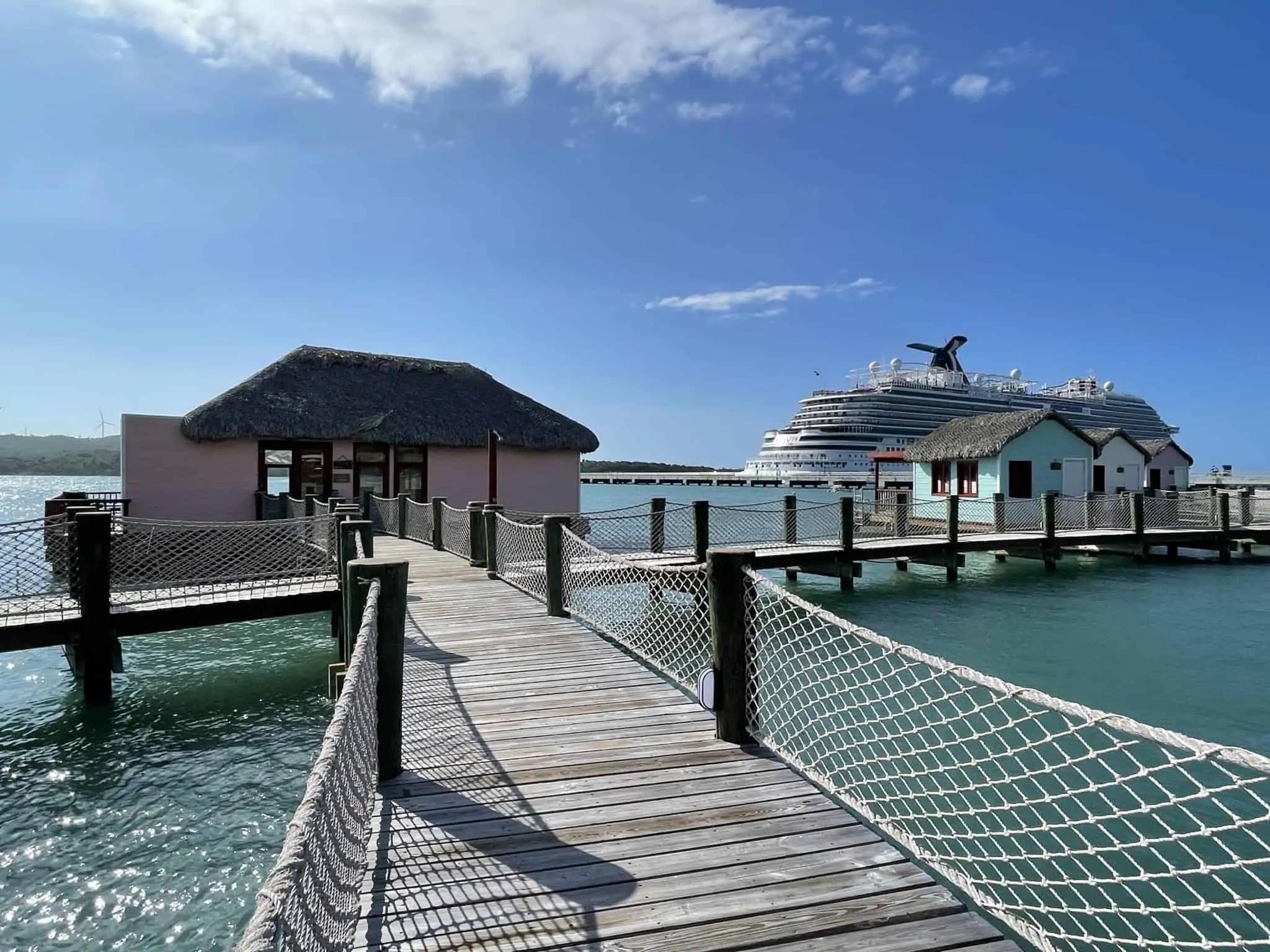 Walking towards the front door to the cabana.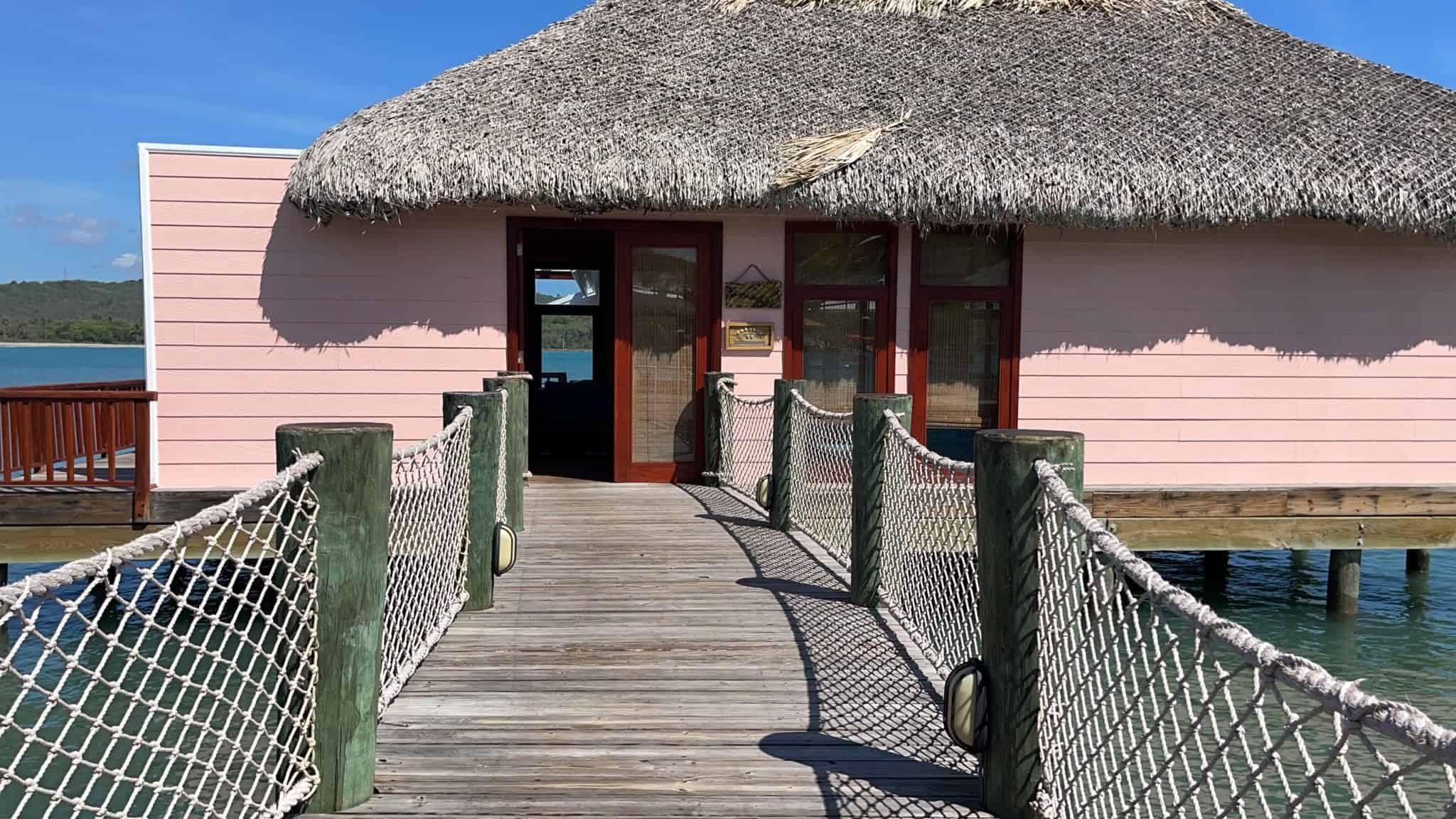 A peek inside the cabana…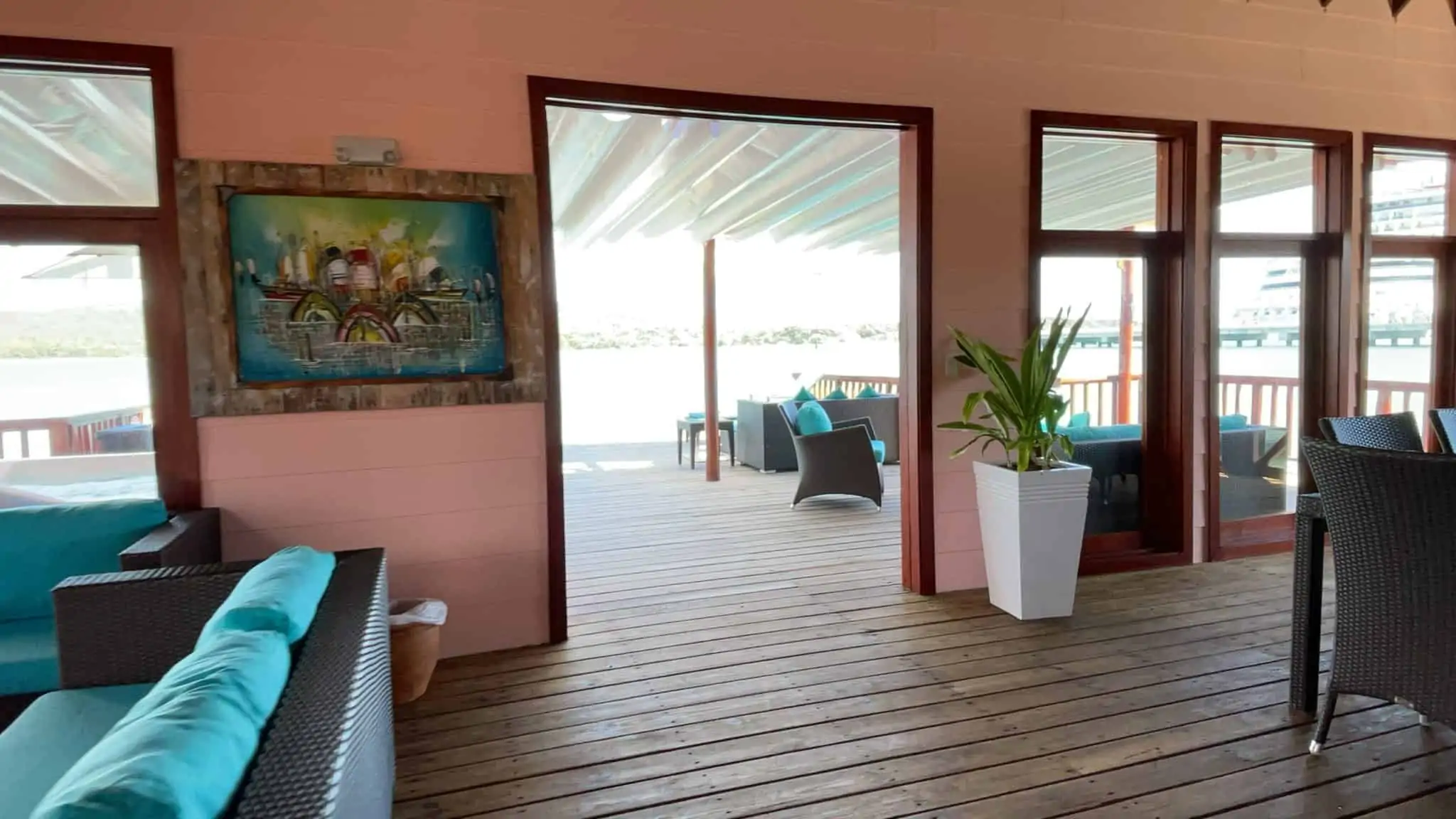 …. and a view of the ship from the huge deck!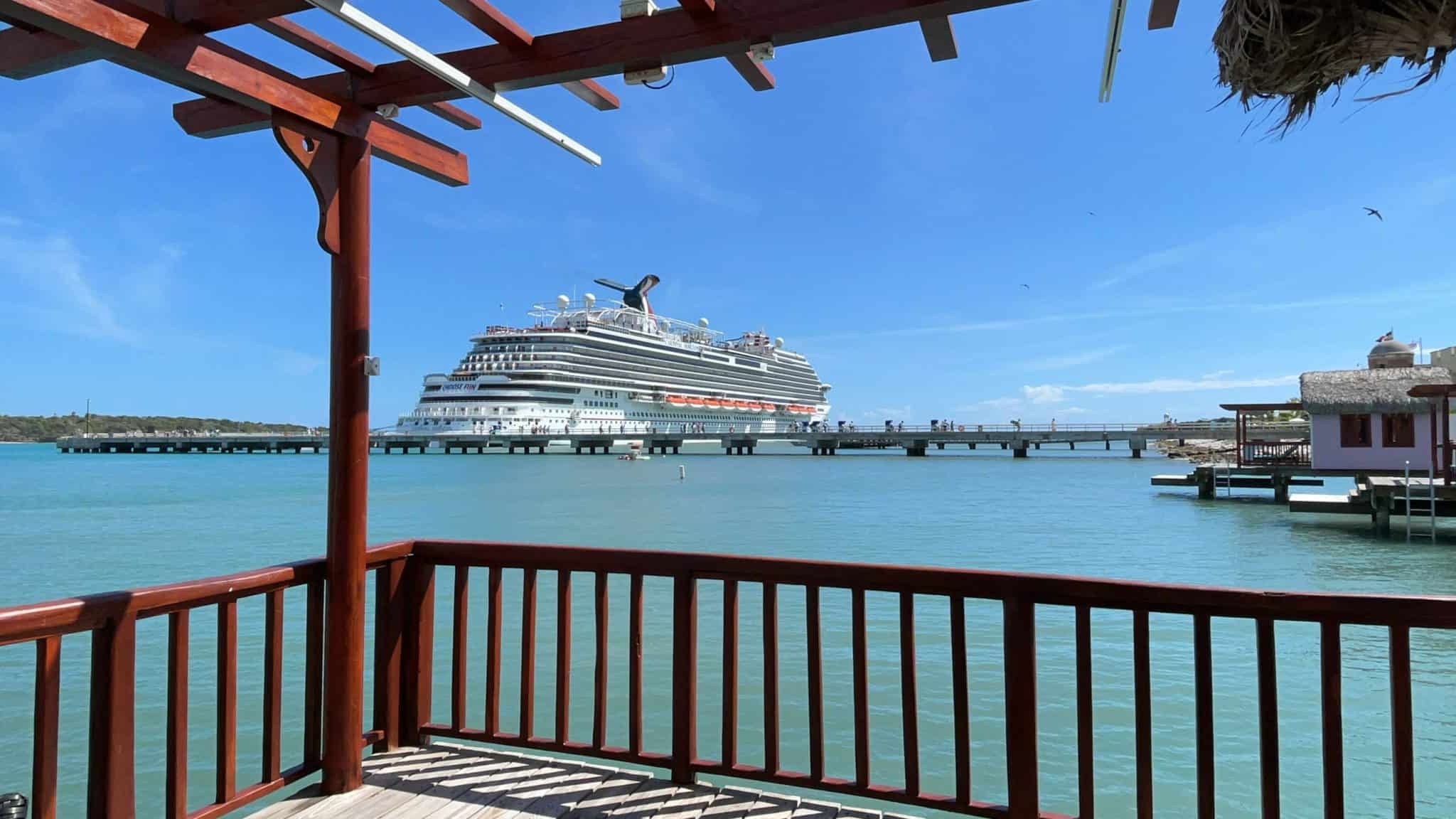 As the equipment rental sign in the photo above showed, there are different cabanas you can choose from for your own private space while in Amber Cove. Along with the Grands, there are also smaller Poolside and Hillside Cabanas, as well as smaller Ocean ones in the same area ours was.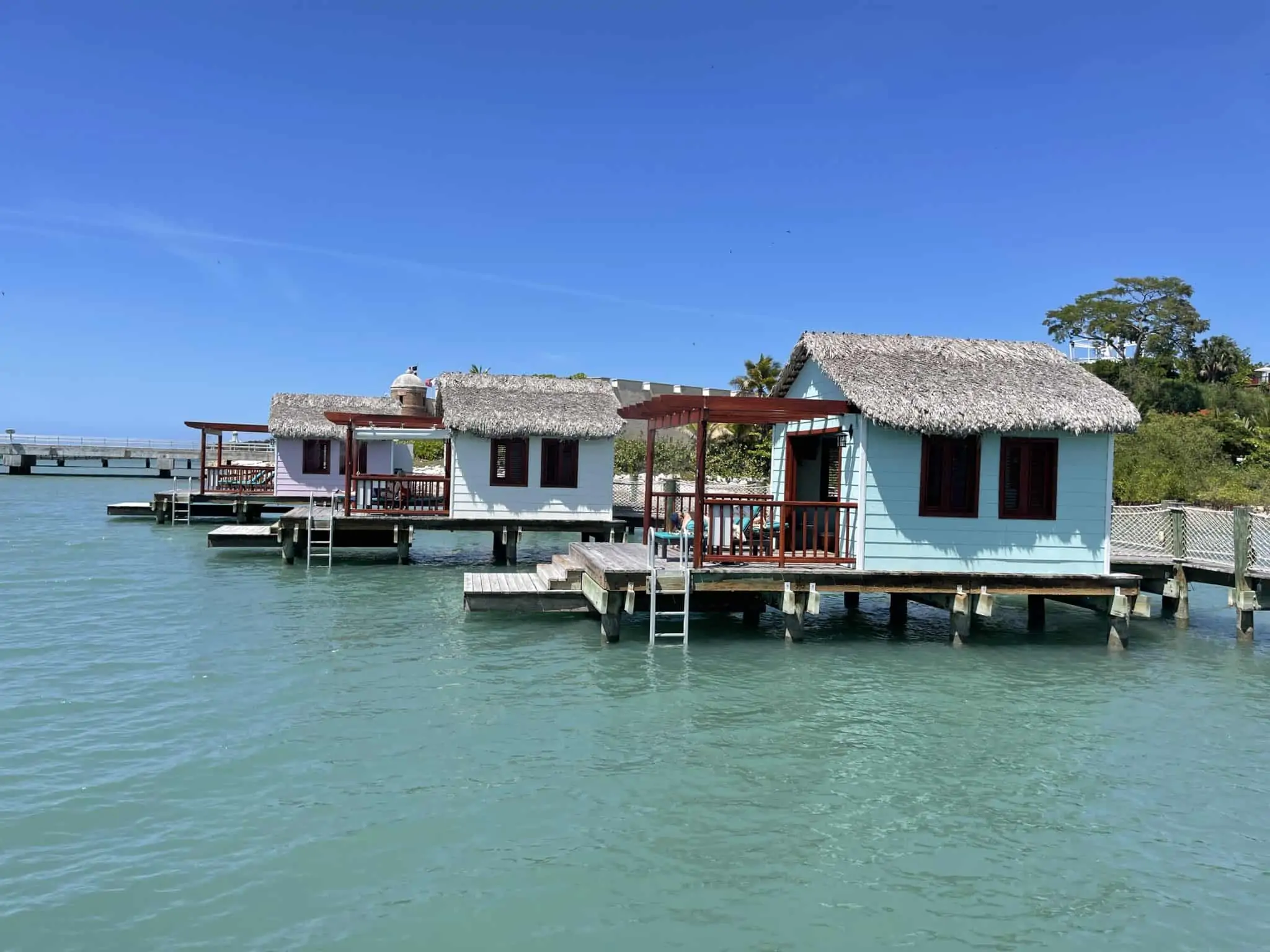 READ MORE: 5 Free Public Beaches in Nassau, Bahamas
Let's move onto some of the amenities that are offered here. Below is part of the main pool, lined with loungers both under umbrellas and in the sun.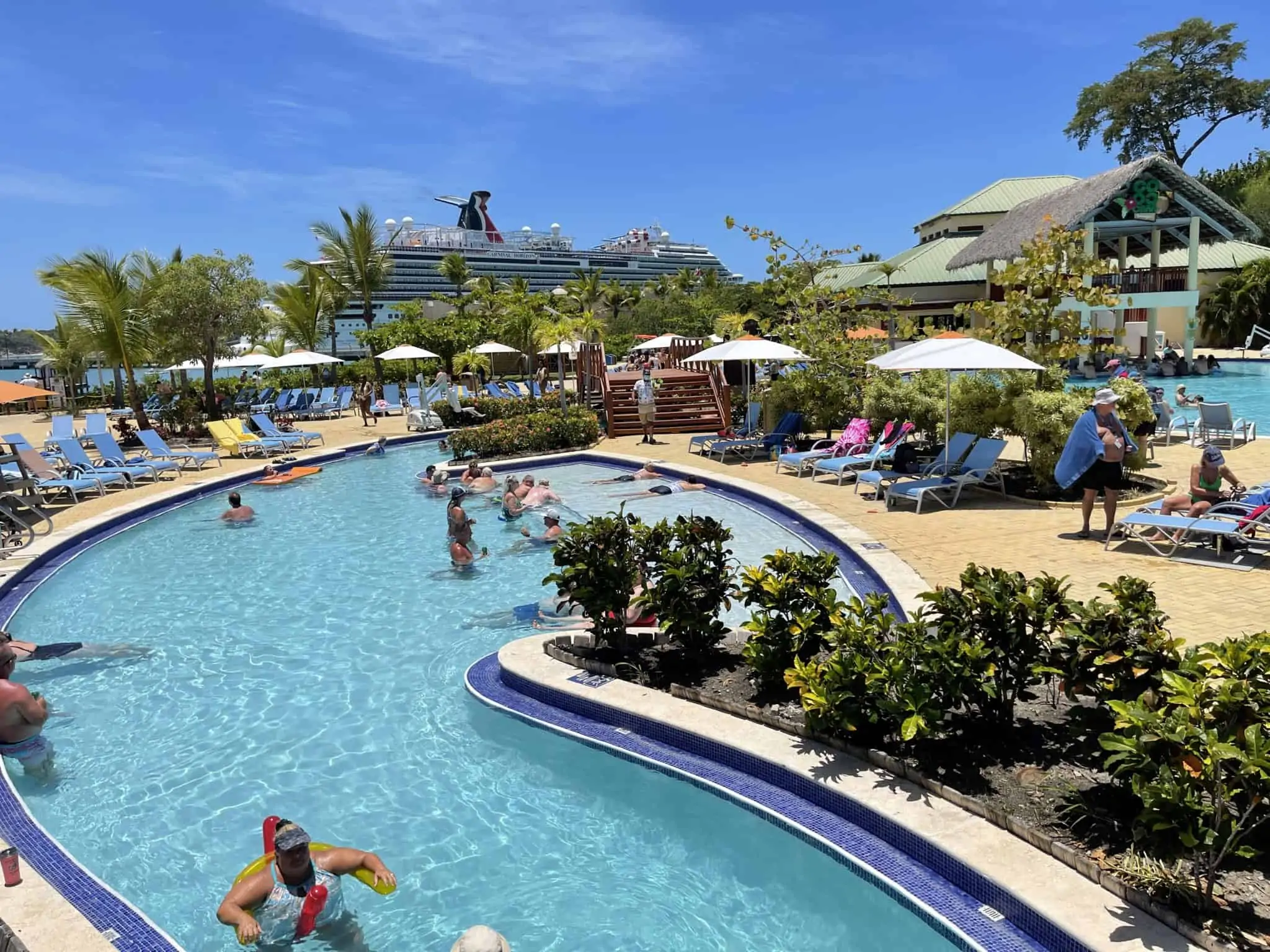 Here's another part of the same pool, which is connected to the one above. This is where the large swim-up bar is located.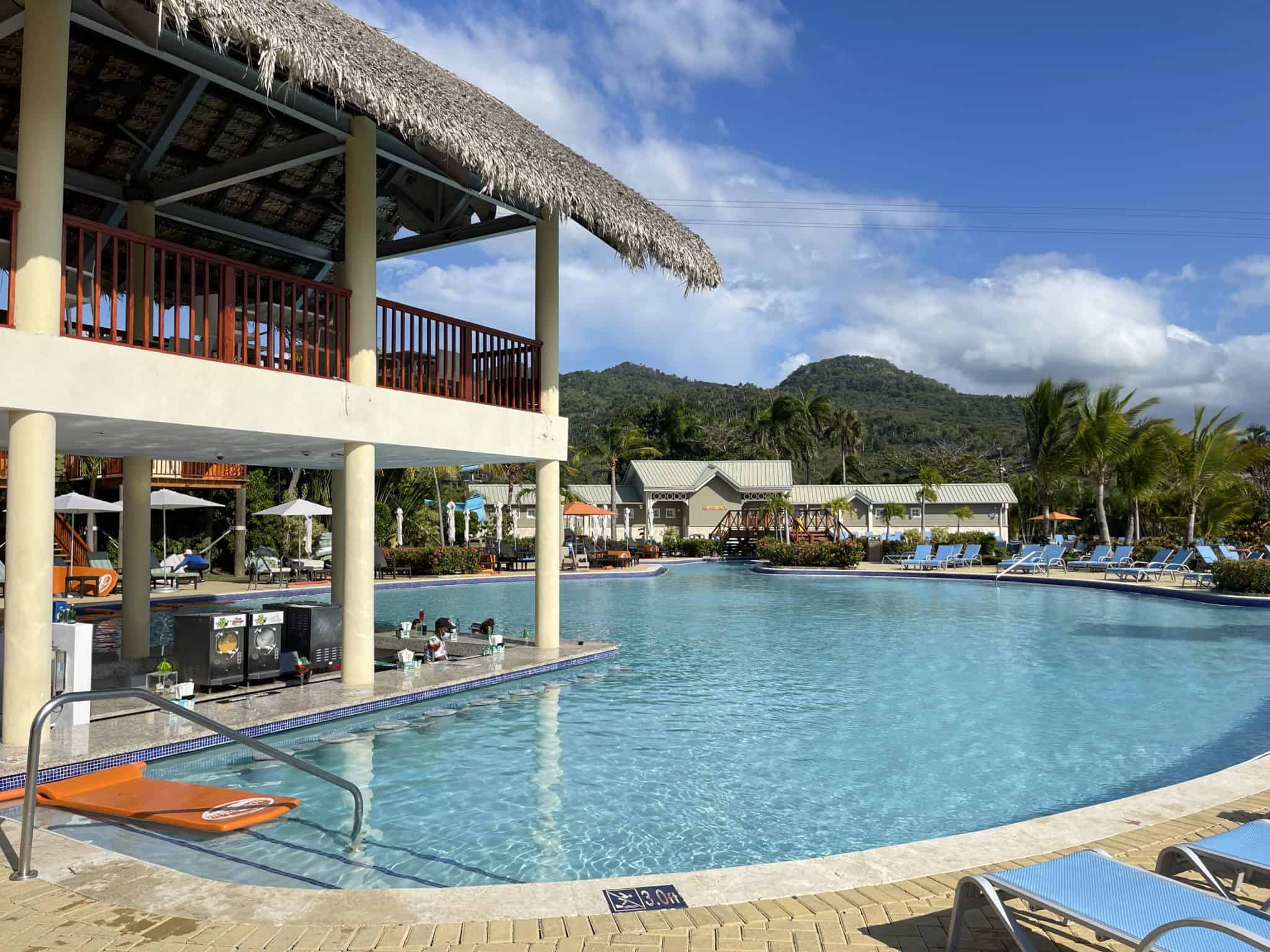 From this vantage point, you can see both of the two areas above, and see where they're connected with a little bridge to get to the other side.
Some people have said that Amber Cove reminds them of Grand Turk. And it definitely does bring to mind the Margaritaville at Grand Turk with the same type of expansive pool, loungers, and bar.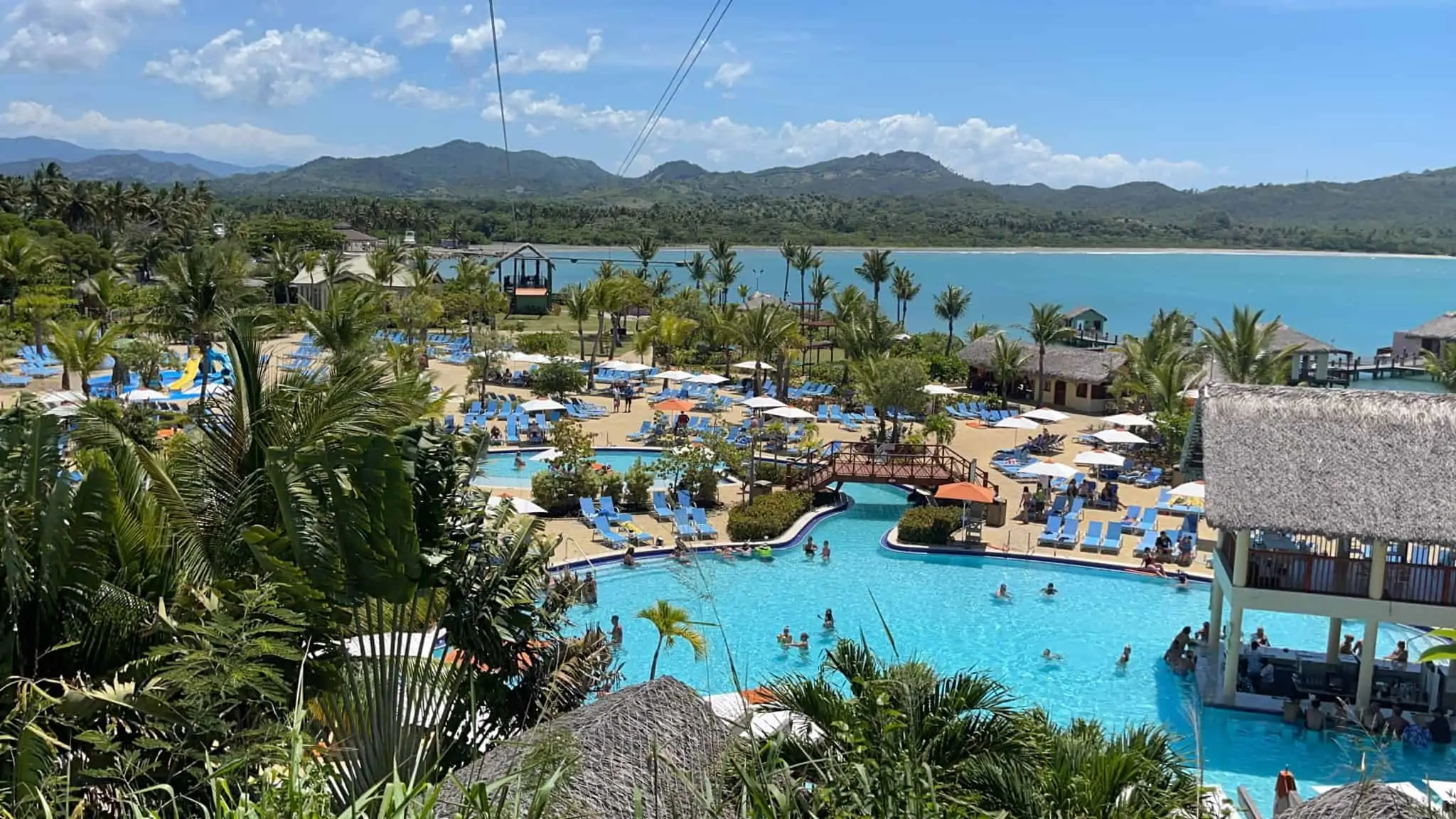 Did I mention that Amber Cove has waterslides? Because, yeah, it does.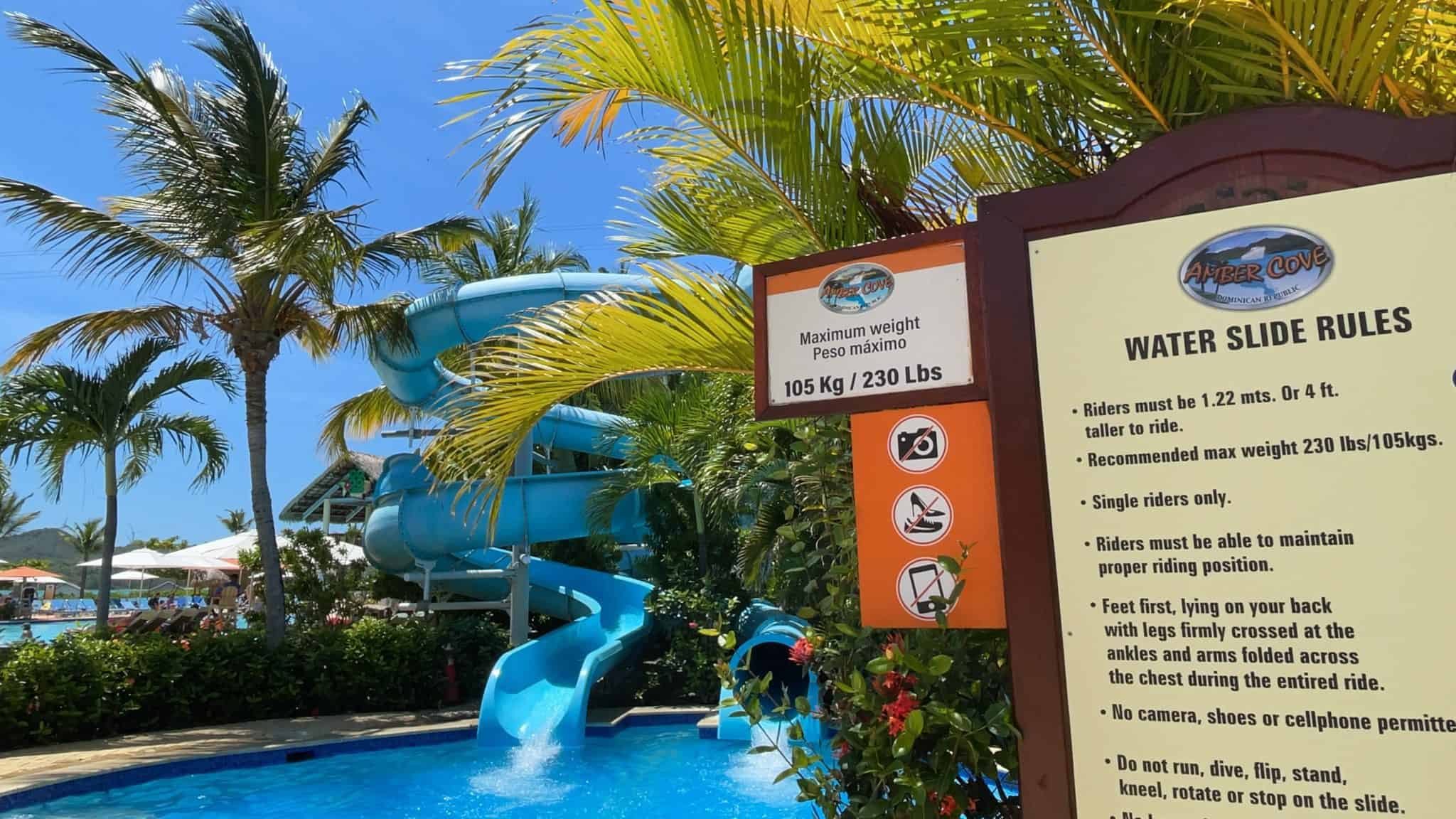 It also has a zip line for those who want the ultimate bird's eye view of the port!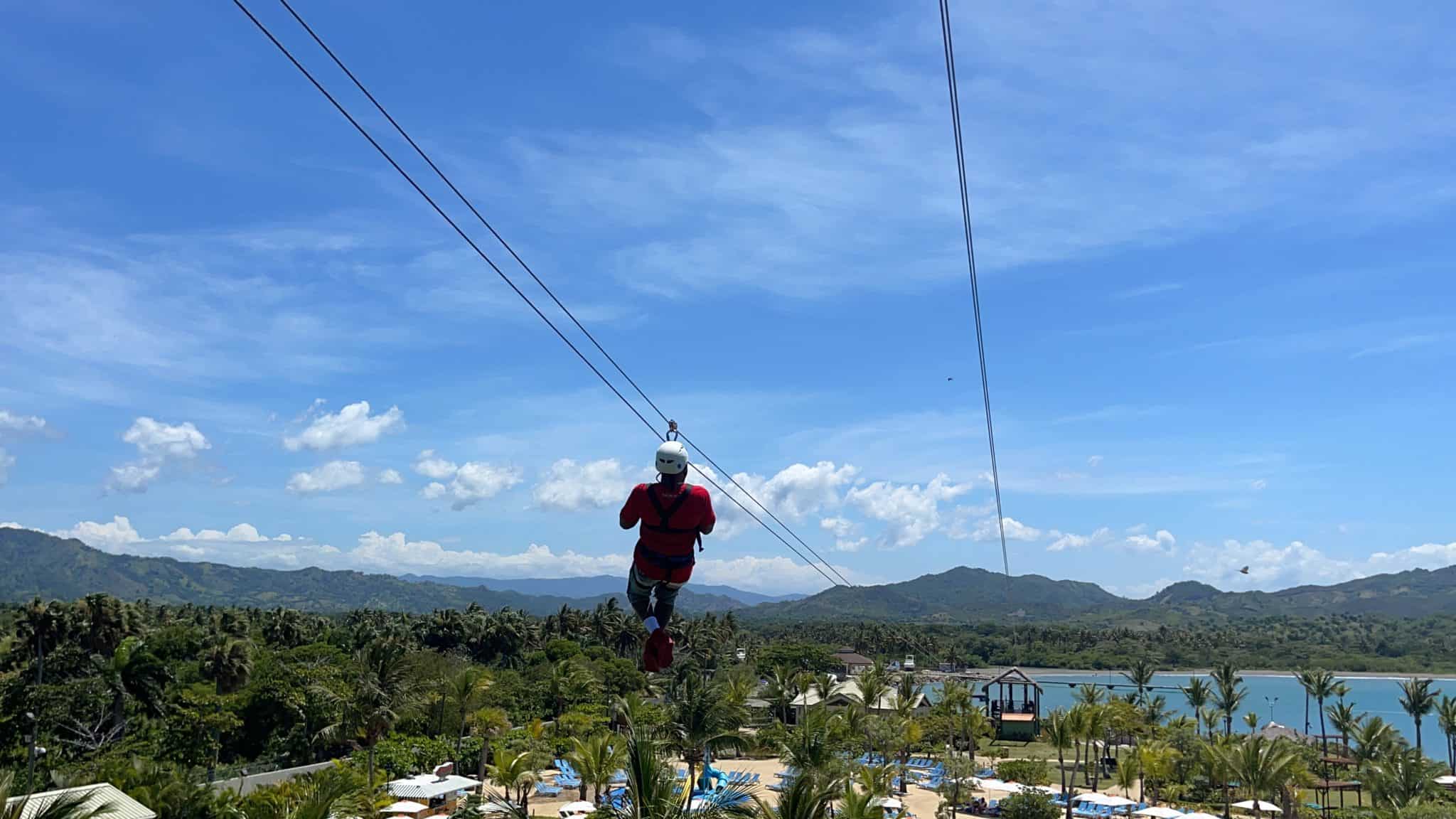 This part of the Dominican Republic has an especially beautiful landscape.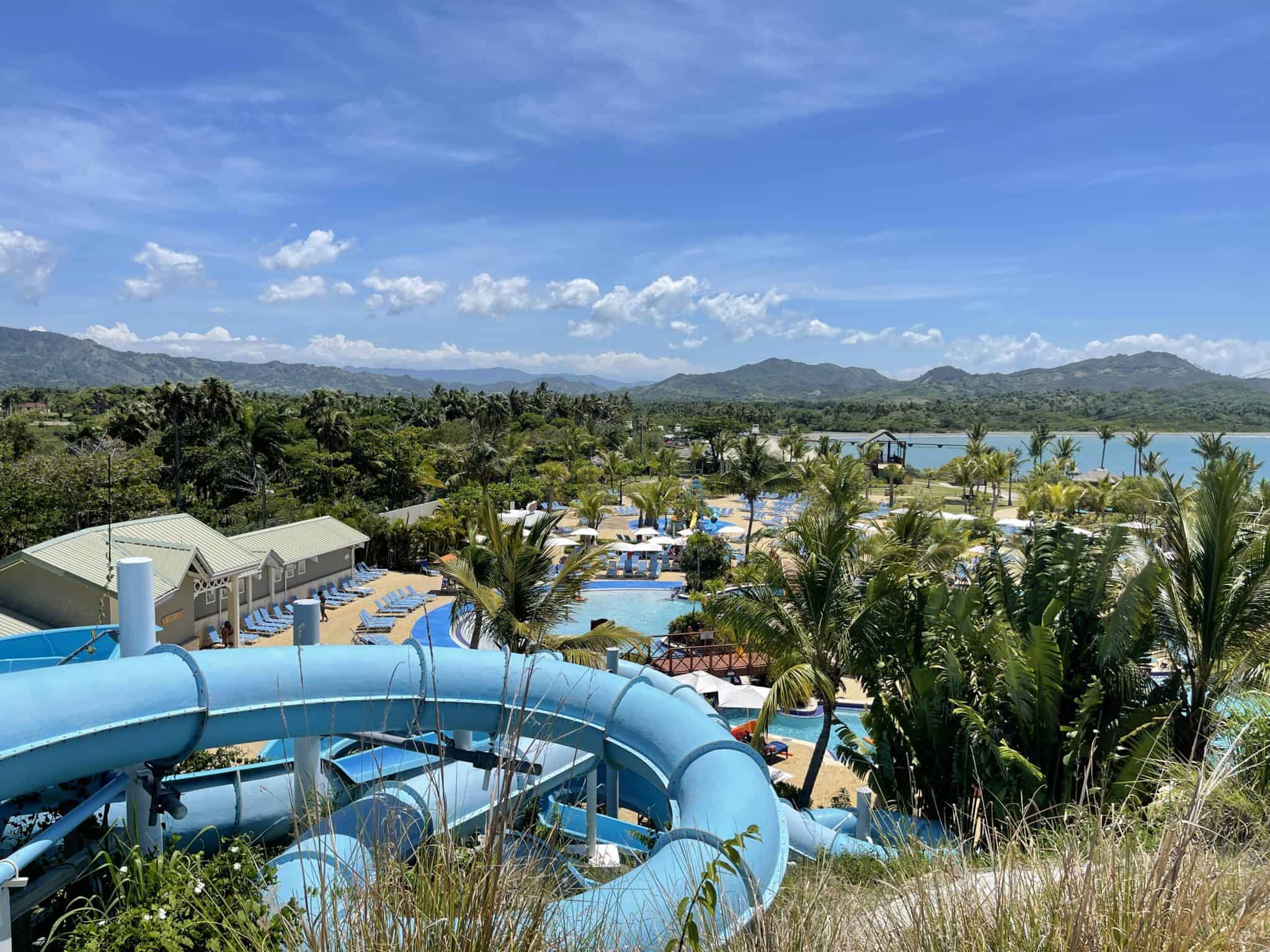 If you have little kids that may not be big enough for the regular water slides or the main pool, there's this cute little splash pad for them to enjoy.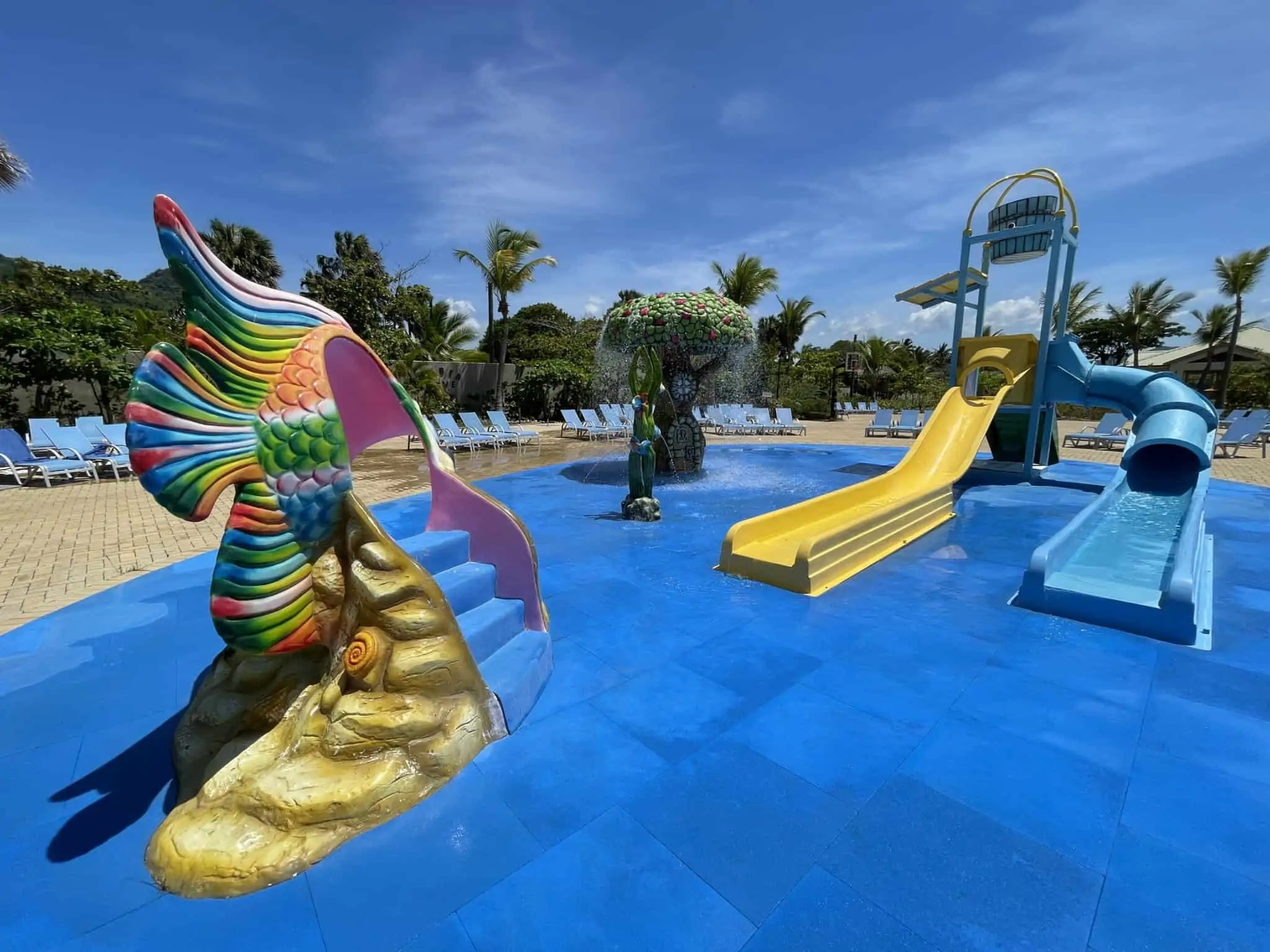 One of the restaurants and bars at Amber Cove is called Coco Caña, and it's a fan-favorite. The décor is definitely interesting to look at!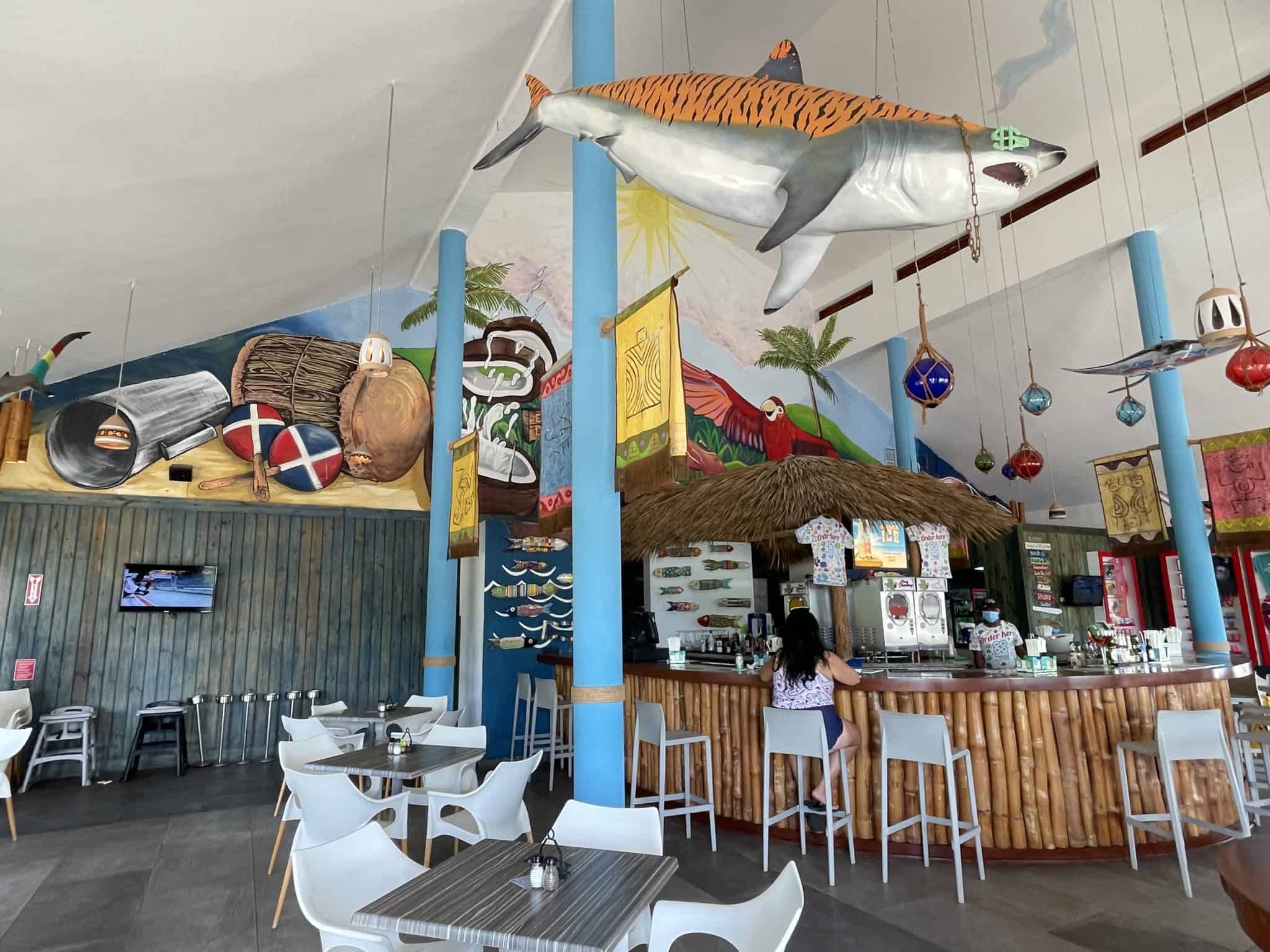 Here's another part of the port area, lined with shops.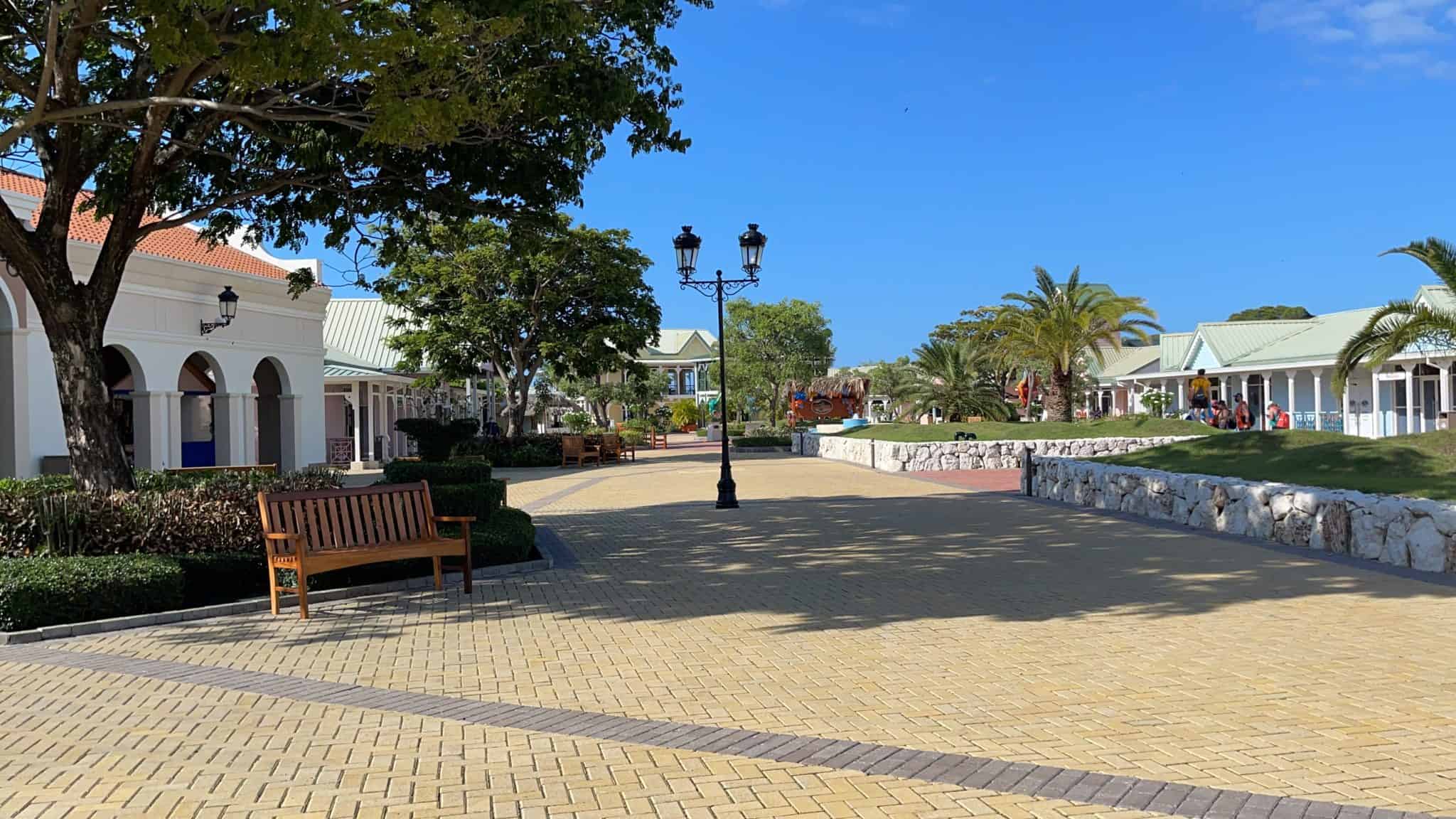 You can't leave Amber Cove without taking a photo of the sign, it would basically be a crime.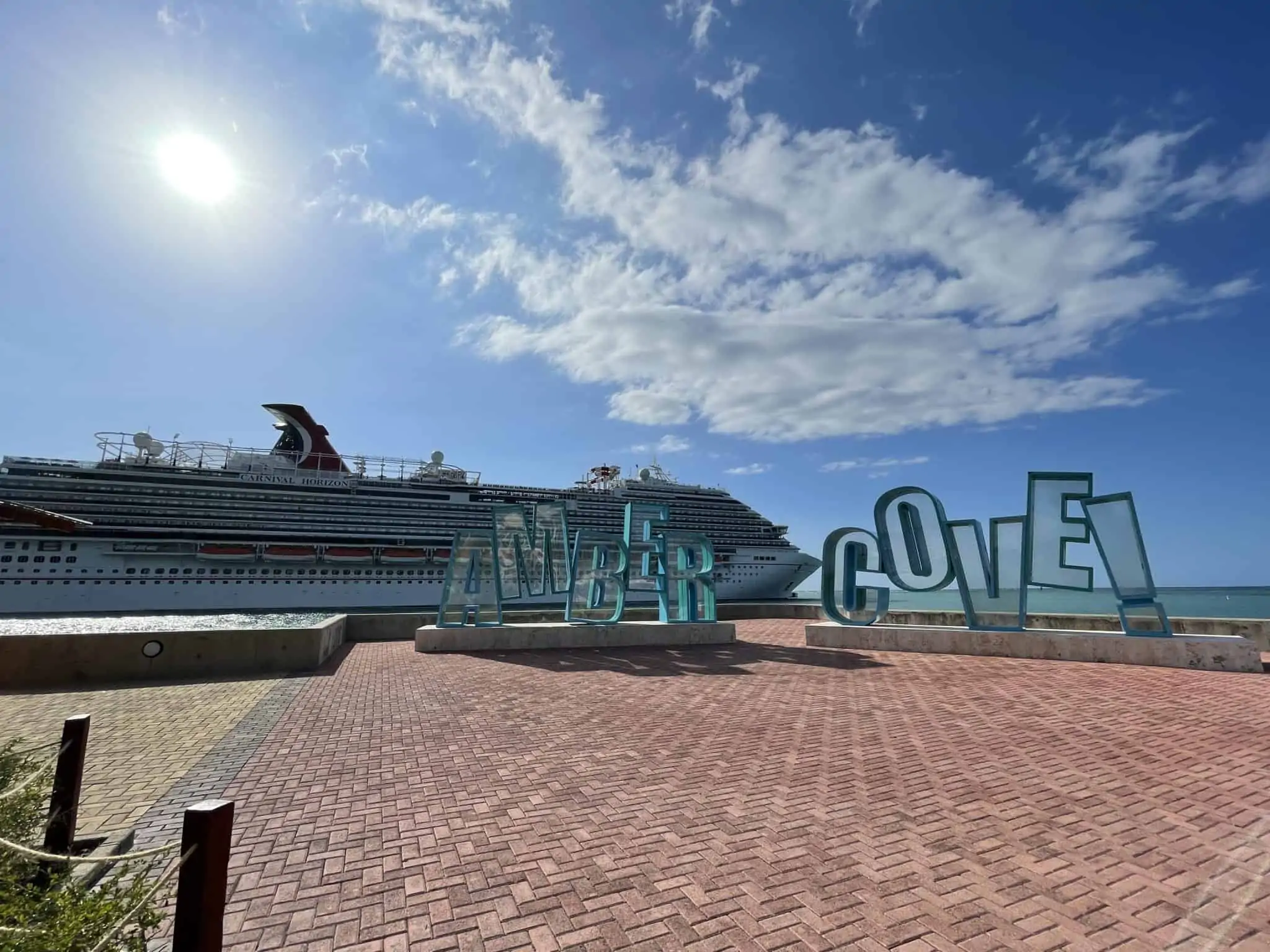 Hasta la vista, Amber Cove! Until next time!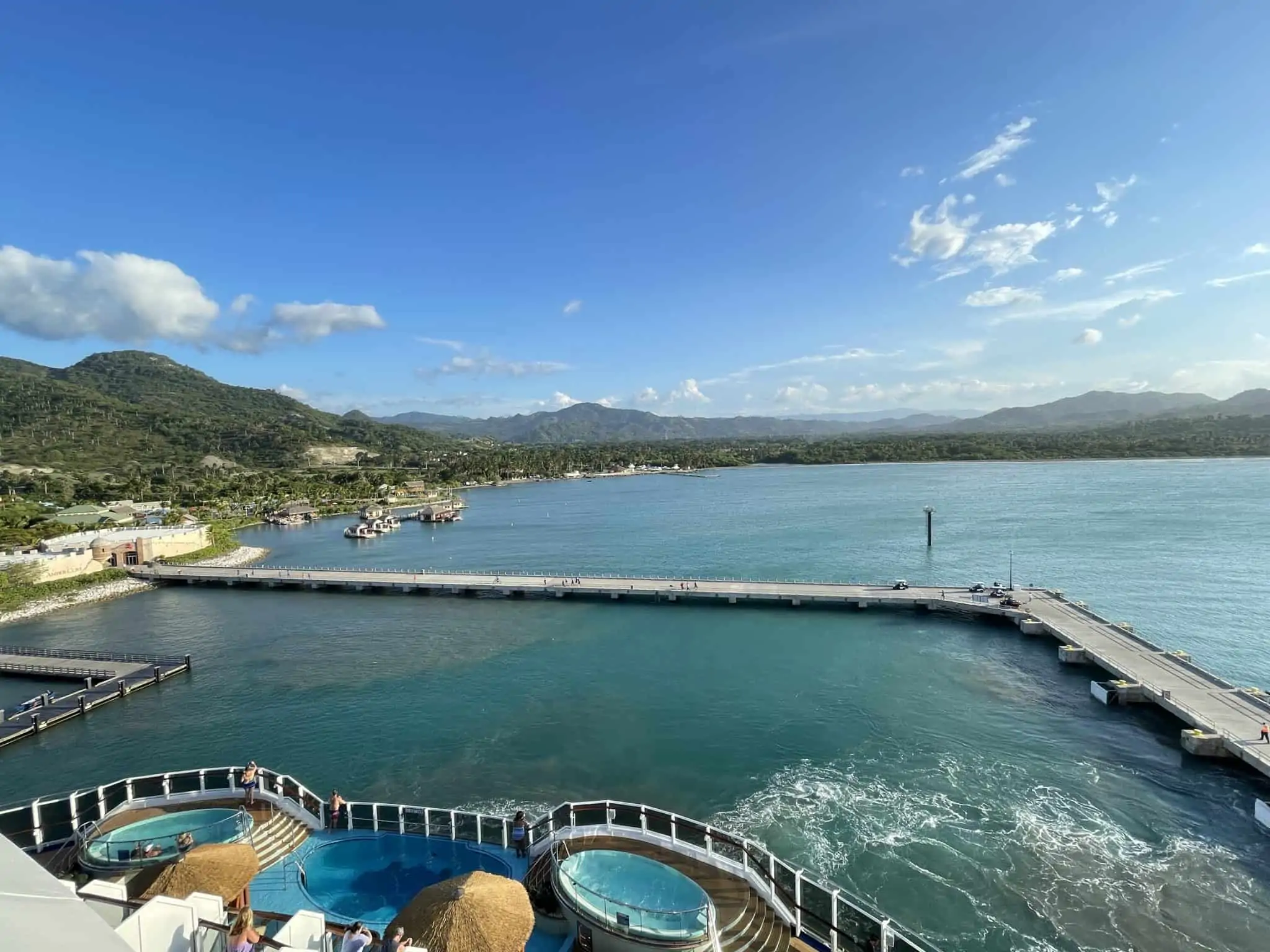 READ NEXT: Carnival Horizon Trip Report, Day 1: Carnival Cruising is Back
Pin it!