I recently sailed aboard Viking Sky in northern Europe, and I could go on and on with all of the little details that I love about Viking's ocean cruise ships. This was the best cruise I have ever taken, not only because of the itinerary but also because of the ship itself and the crew. With that in mind, I've gathered the five main things that I absolutely love about Viking Sky. 
1. It's Cozy (Everywhere!)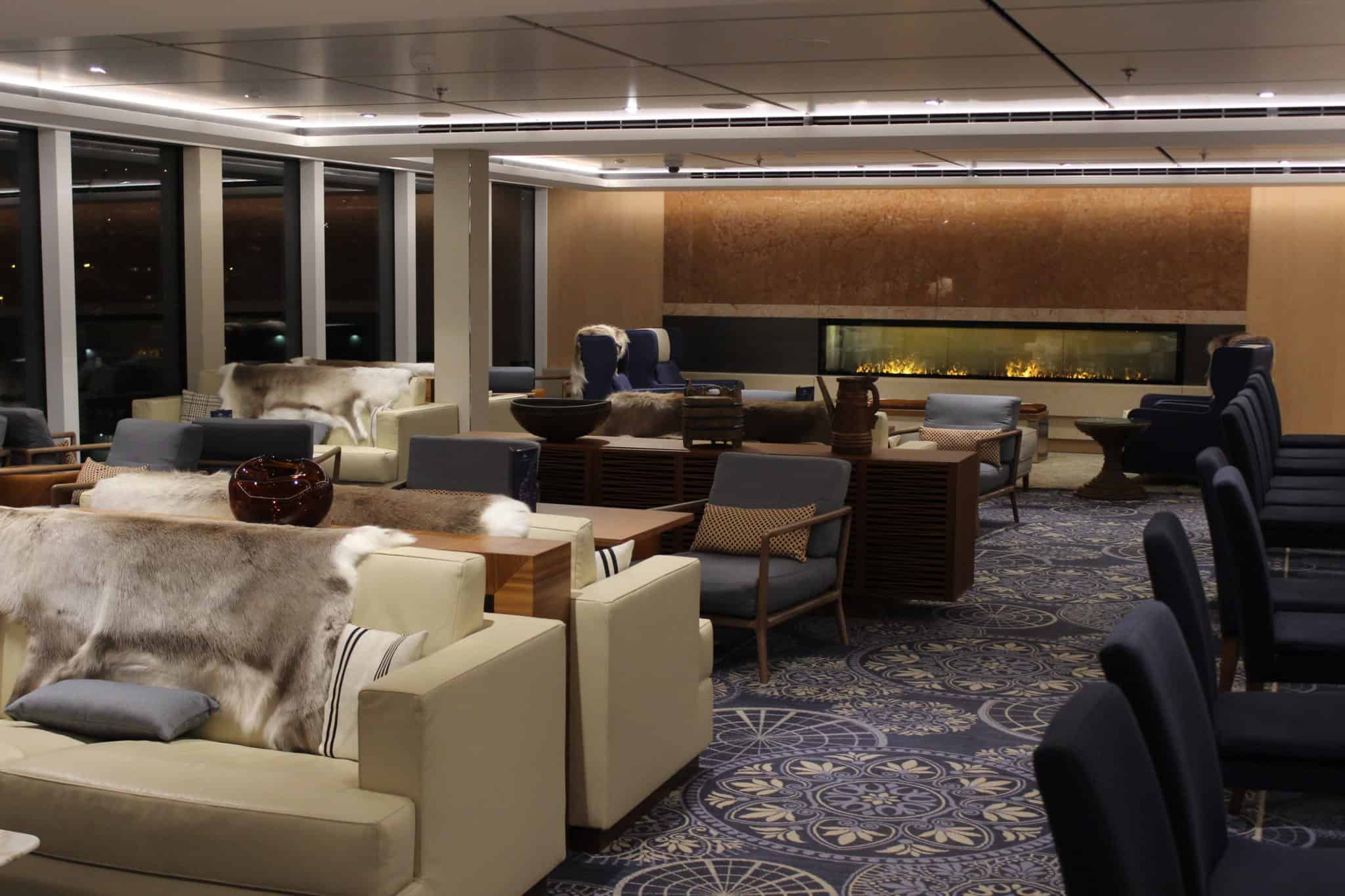 I heard a lot about how nice Viking's smaller ships were, their beautiful atmosphere, and how much space there was for everyone to sprawl out, but I never really heard about this particular detail until I was onboard: almost every public space is very cozy. There are pillows and throw blankets everywhere! In the evenings the loungers lining the sides of the pool deck had blankets on them, and there were pillows on nearly every couch across the ship. Even the theater had pillows and blankets scattered throughout, which proved useful for me when I went straight to the air-conditioned theater for a show directly after dinner in a dress! The style of the ship as a whole is very Scandinavian modern with natural tones throughout, which felt very home-like. In the Living Room (atrium) and Explorer's Lounge in particular, furniture was set up to promote conversation, making it very easy to find a quiet place to settle into the evening with friends.
2. No Kids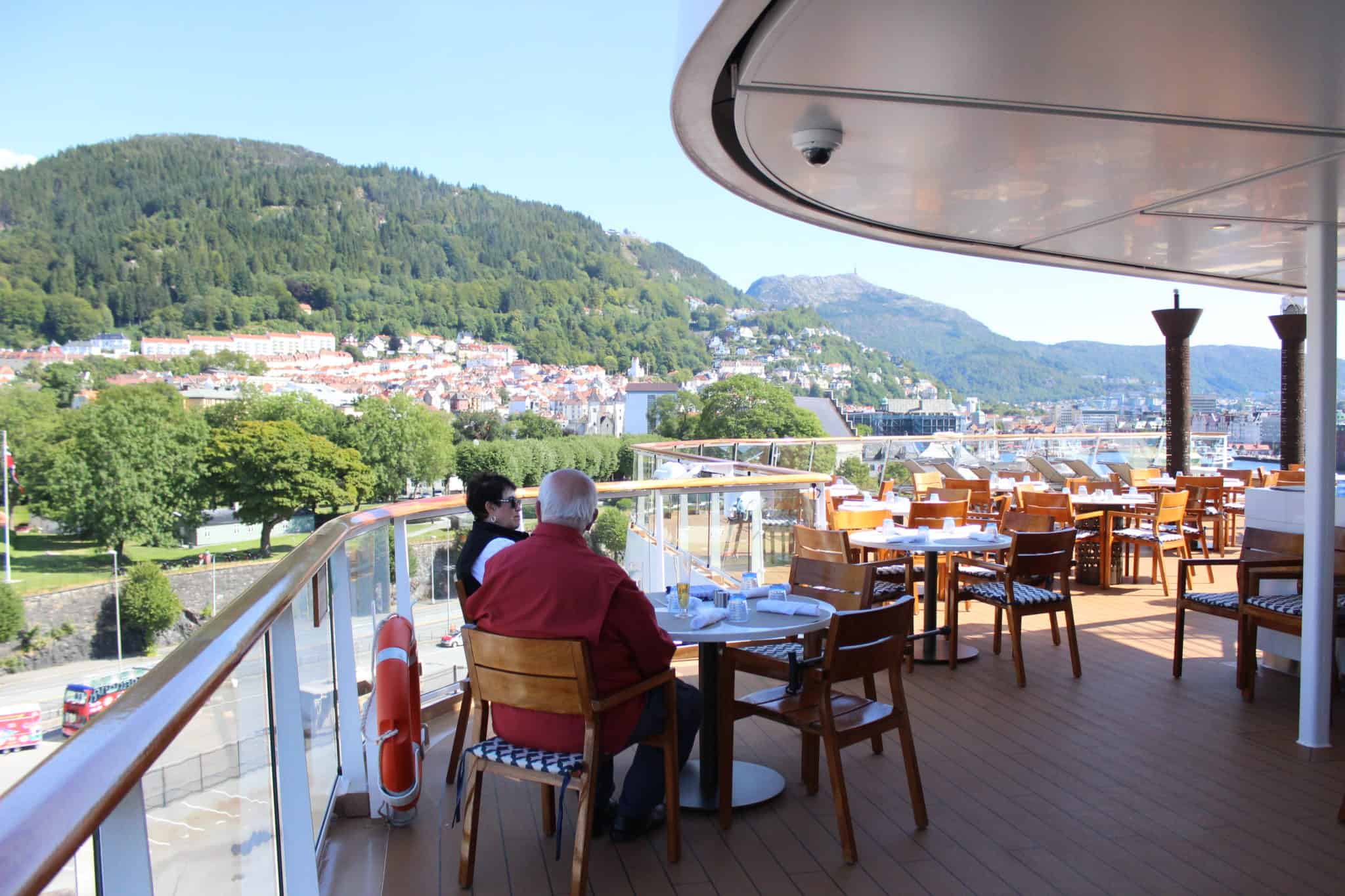 There are no kids allowed on Viking's ocean ships – everyone has to be 18 or older. This makes a huge difference in onboard atmosphere, and I got so used to it that it almost felt unusual seeing kids when we were in port sometimes! Many cruise lines have specific features intended to get families onboard, but Viking doesn't have any of that. This means that their core market is older, and I'm pretty sure I was the youngest person onboard. I only saw a handful of other 20-50 year olds, but I didn't mind at all. If you're sailing on Viking, you know that it's going to be more laid back and relaxed and that's partly the reason you're there. I love big-ship activities and amenities as much as the next person, but I actually loved this one more.
3. Small Size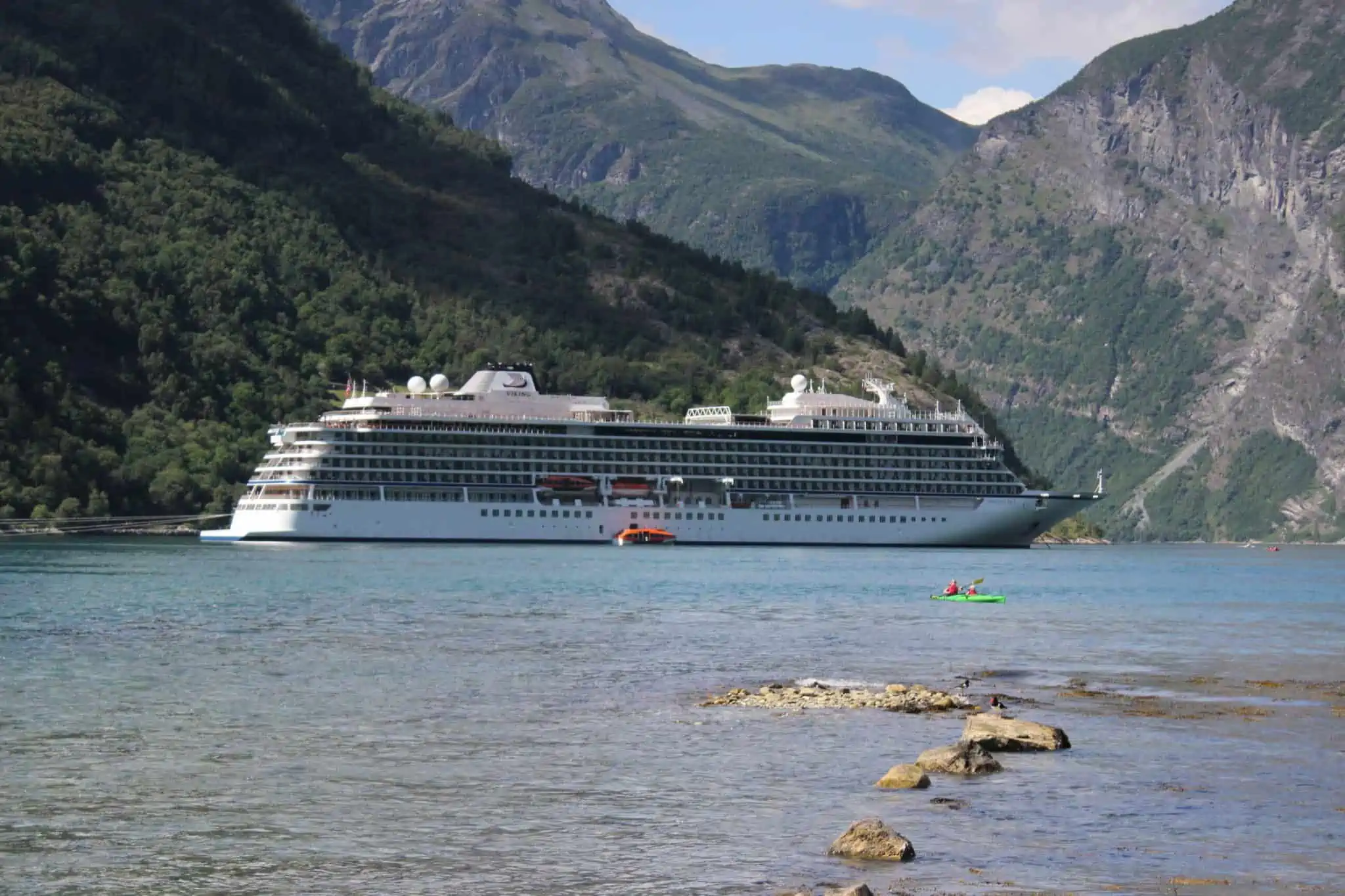 Right now among the mainstream cruising community, mega-sized ships are all the rage. And while they certainly have some pros, there's just something about a smaller vessel that makes my heart happy. It felt like my blood pressure lowered every time I stepped onto Viking Sky, out of the hustle and bustle of busy ports or excursions. Instead of feeling like I needed to make a checklist of all of the activities and amenities I needed to check out onboard, I was actually able to relax during evenings and sea days, knowing I had seen pretty much the whole ship already and knew what I liked and where I wanted to be. That isn't to say there's nothing to do, because there were plenty of events and activities scheduled. But it wasn't a mad rush like on the other cruises I've taken. Plus, the small size meant less walking to get around onboard and less guests than I'm used to. It was especially awesome because we often saw the same passengers again and again, enabling us to strike up more conversations and get to know and recognize people around the ship. This applied for crew, too! Speaking of crew…
4. Incredible Crew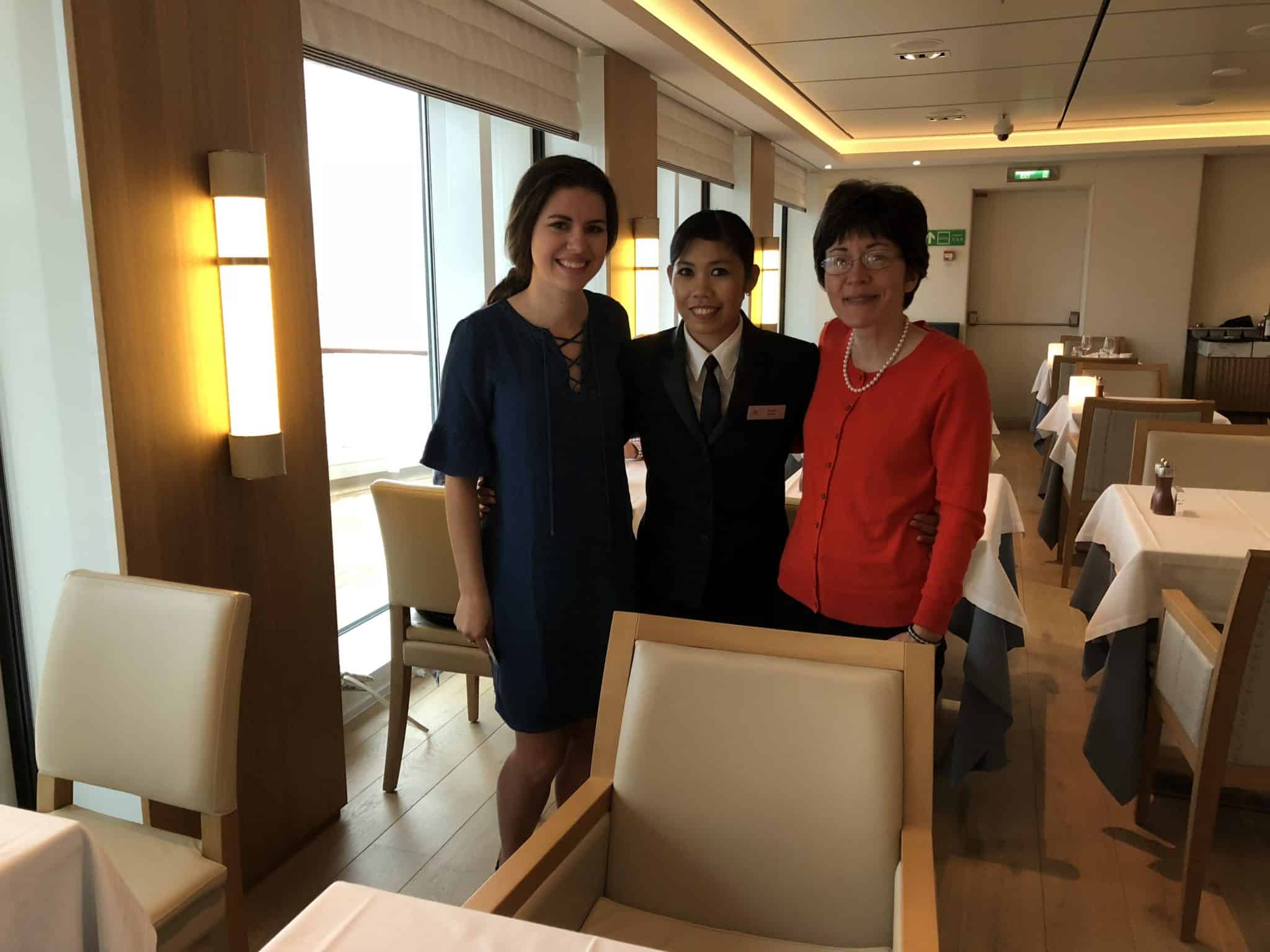 I can't speak highly enough of the amazing staff, crew, and officers onboard Viking Sky. I have never felt so taken care of, paid attention to, or enjoyed by a ship crew in my cruising experience thus far. Just within the first few days, I couldn't believe how many crew members already knew our names – many of whom I wasn't even sure I had met yet! Out on the decks and lounges, they were present but never pushy. They'd come by and see if you needed anything, and check in if you were in the same spot for a while. But they were not pushy at all. There was no trying to sell more and more drinks, there were no photographers coming into the dining room to take photos of you mid-meal, nothing like that.
Something else I want to say about the crew and Viking as a cruise line: they are full of little surprises. Sometimes someone would come around with a tray of smoothies, or ice cream floats, or some other little treat and pass them out just because. The morning we sailed into Geirangerfjord, servers were outside with mimosas (no extra charge!) for those of us who woke up early to take photos of the scenery. Champagne was passed out at the end of cruise party, again with no charge. I guess as a side note to an amazing crew who seem to genuinely enjoy working for Viking, I will say that Viking as a whole really seems to care about them back. They treat their crew well and aren't stingy towards the guests, either. It shows.
5. Spa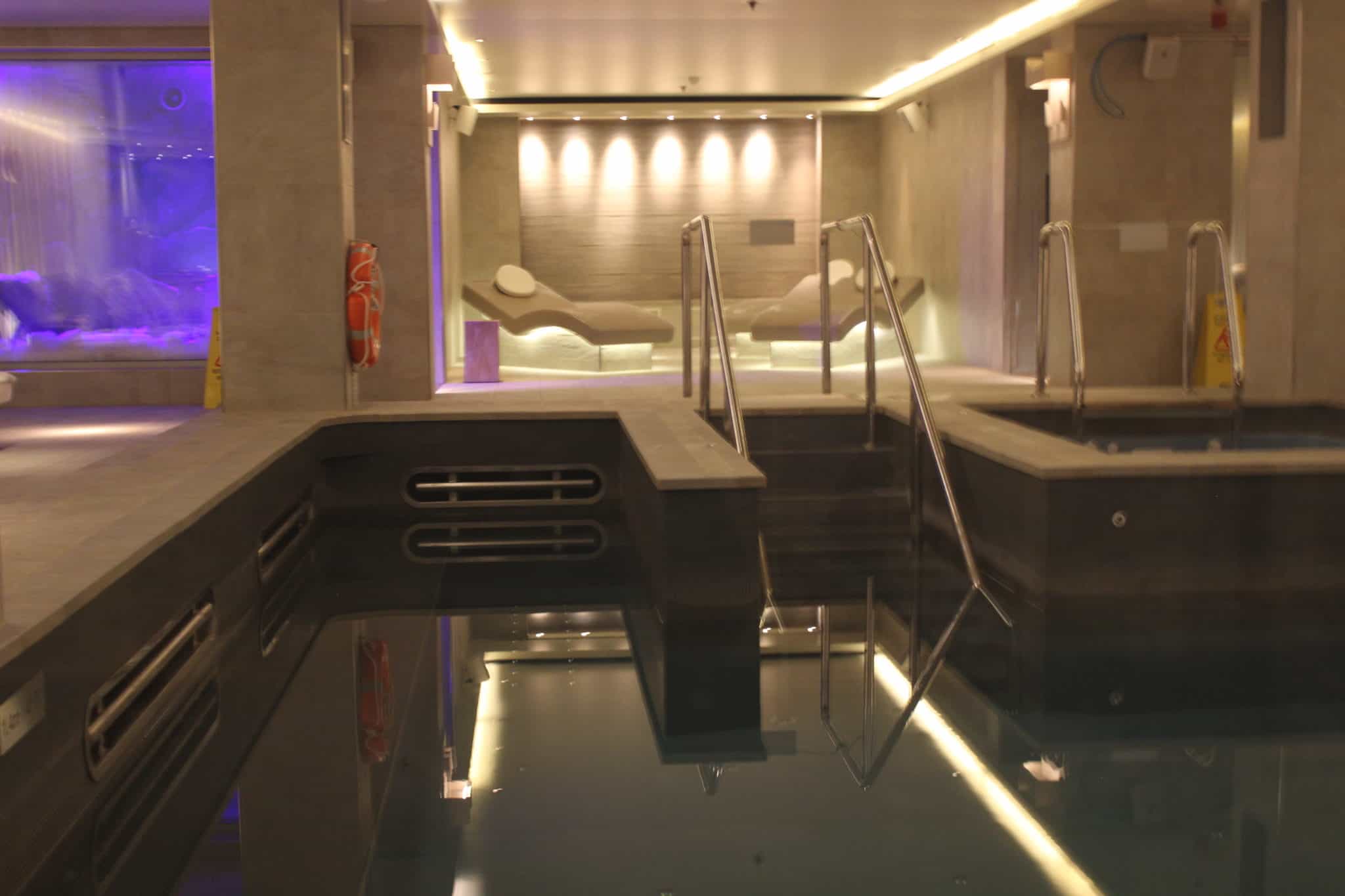 To be honest with you, I've never actually spent time in a cruise ship spa until this cruise. Therefore, I cannot compare, I can only tell you my experience on this ship. Unlike other cruise lines, use of spa facilities (not including treatments, massages, etc.) is included in the cost of your cruise. And Viking's ocean ship spa facilities are a cut above the rest, from what I know about the industry. The Nordic spa tradition is to transition from hot to cold and back again, to help detox and increase circulation. So the spa is full of hot and cold things. I'll just list the elements that Viking has here: dry sauna, steam room, warm whirlpool, hot tub, warm stone loungers, cold water bucket shower, rainfall shower, cold plunge pool, and a snow grotto – a room that actually produces real snow. You go back and forth from a hot element to a cold, and keep going as long as you'd like before spending some time relaxing afterwards. It's a wonderful experience, and I ended up spending quite a bit of time there. There were people on the cruise that went to the spa literally every day. It's just that enjoyable.
There you go! These are some top things I loved about Viking Sky, although I could go on for hours about all of the things that were just amazing on this cruise. The best thing is, these elements are universal across the Viking ocean fleet. So whether you're sailing Sky or another one of their vessels, you'll find the same things that I've talked about here. If you want to read my daily travel blogs from the cruise, click here for my pre-cruise thoughts and here for the first day. To find all of them, search "Viking Sky" here on the site.