[smart_track_player url="https://traffic.libsyn.com/cruiseradioshow/EPI349NOV1215.mp3″ title="Norwegian Escape Review" artist="Cruise Radio" social="true" social_twitter="true" social_facebook="true" social_gplus="true" ]
Having just returned from a two-night preview cruse aboard Norwegian Cruise Line's latest ship, the Escape, I wanna get one thing outta the way right up front, because it was something that was universally complained about when Breakaway launched: Yes, the balconies are bigger. Not invite-the-neighbors-over-for-limbo-contests bigger, but bigger. Having gotten that out of the way, let me answer a few of the other questions about the ship that have come up frequently!
1. How's The Food?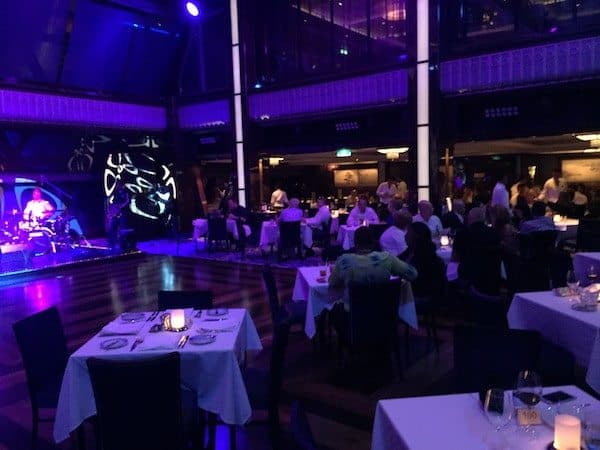 This one is tough, because as we all know, food is subjective. If 10 people eat at the buffet at the same time and then write reviews, it's likely they'll all walk away with a different impression. I'll admit that Norwegian's food has never really stood out to be as being particularly note-worthy, but they seem to have really hit the mark with the various Escape offerings. In the Manhattan Room — one of the ship's main dining rooms — the clam chowder was piping hot and chock-full of the tasty mollusks, while the steak and lobster were perfectly prepared and seasoned. Tough as it was to make room for it, the bread pudding was to die for!
2. Is there an adult's only area?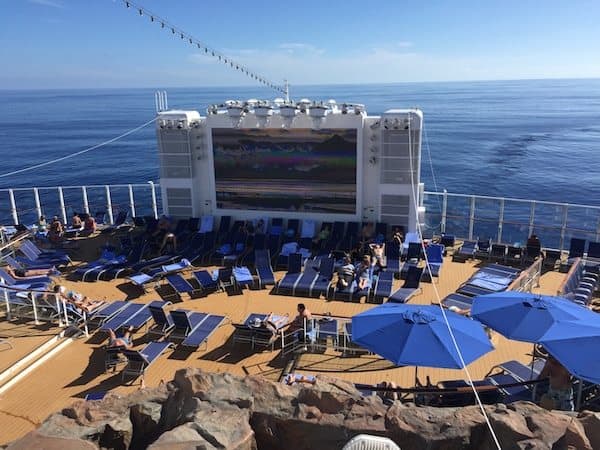 There certainly is, and it's gorgeous! Spice H20 is located at the very back of the ship, and it features everything you could need to make your getaway from the underage set. Want a cocktail? Head to the bar. Some sun? Plenty of loungers. Need to cool off? Step into the grotto. Best of all, the entire area offers gorgeous views of the ocean. If we'd change one thing here — just like on the Breakaway — it's the huge screen that fills the back of the space. Sure, it comes in handy when it's time for nighttime parties, but during the day, it'd be nice to have even more views of the water. Why look at a screen projecting gorgeous views when Mother Nature's putting on a show all around you?
3. Are there options different than on Norwegian's other ships?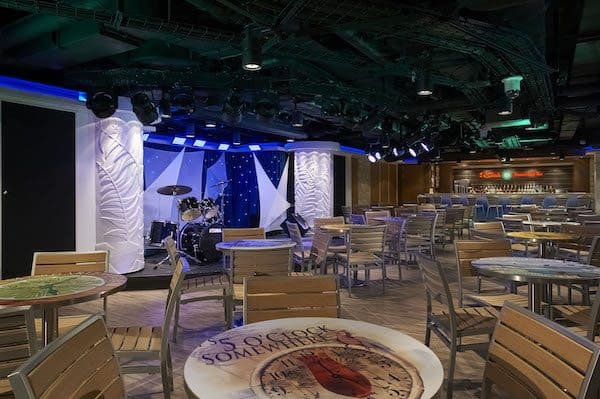 More than we could sample in the course of two days… and man, did we try! Thanks to new partnerships, Escape offers several venues that are unique to this ship… although we'd love to see them replicated on others. For example, Escape offers Norwegian's first wine bar, The Cellars, as a result of its collaboration with the Mondavi family. (One of my favorite things about this place? As with many other Escape bars and restaurants, you can choose to sit inside or outdoors on the Waterfront.) And Jimmy Buffet's 5 O'clock Somewhere bar offers great margaritas and live entertainment. Even the casino bar offers up something different via screens featuring skylines. (To be fair, this isn't exactly unique, given that one of the most popular venues on several Disney ships uses the same gimmick and name, the Skyline bar.)
4. Does it really snow on board?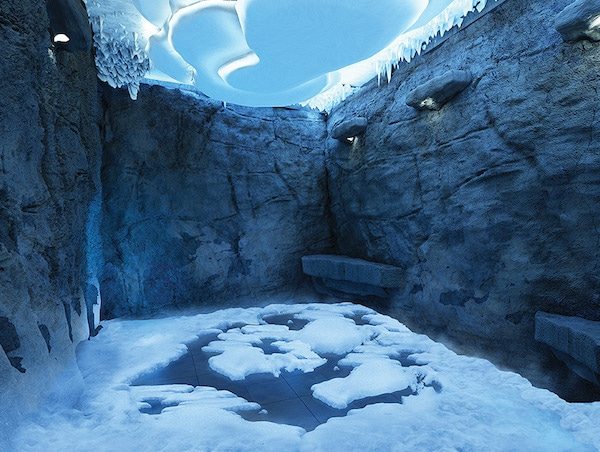 While East Coasters will find this tough to understand, those of us who don't spent several months of the year buried beneath the fluffy white stuff get a kick out of seeing it… especially in a spa. So in an NCL first, the thermal suite pass (which currently runs $199 a week) includes access to not only the usual heated loungers and hot tubs, but also a Snow Room! Kept at 14 degrees (brrrr!), it's meant to keep your circulation going after getting out of the steam room.
5. What's different about the water park?

At first glance, the deck-top water park features (and the rope course) seem pretty much the same as on Breakaway class ships. There are, however, a few differences. For one thing, if walking the plank (without pissing off a pirate) is your thing, there are not one but two opportunities to do so on Escape. (Meaning, in essence, you can scare the crap out of yourself and your family, standing safely far below, on both the port and starboard sides!) Also, the Escape's freefall slides actually venture out over the railing and above the water… although to be honest, the exhilarating ride is so quick, you're not likely to notice, especially if you have your eyes closed!
6. What's the pool area like?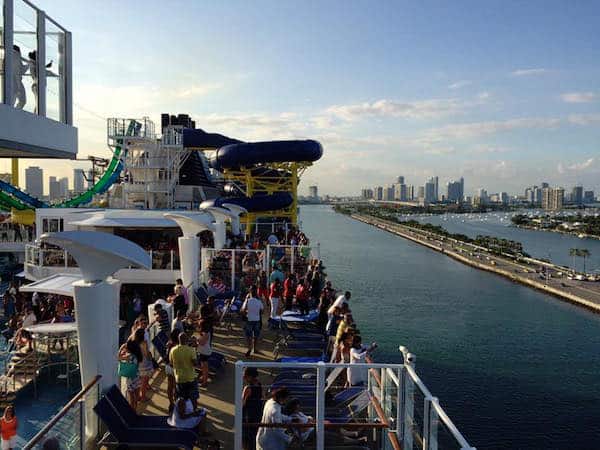 In a word, crowded… just like on every other megaship, no matter what line it is affiliated with. While Norwegian did add an extra deck around the pool area to try and alleviate some of the congestion, it's still the place to be on a beautiful sea day, which means it's where everyone wants to be. On the plus side, if you're looking to lay around and read a book or relax far from the maddening crowd, there are plenty of spots to do so, including the aforementioned Spice H20. Also, many of the venues along the Waterfront are closed during the day, but their seating areas are available and perfect for chillaxing!
7. Is Margaritaville really free?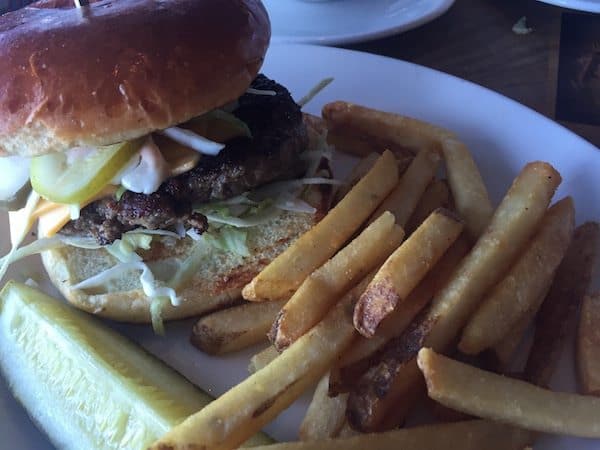 Aside from the Margaritas you might want to accompany your burger in paradise, yes. That said, the food still comes with a steep price that could put many people off: long lines. During my voyage, folks were waiting as long as two hours, which seems like an awfully long  time to wait when there are so many other free options on board! It seems inevitable that Norwegian will either have to scare away some potential diners with a surcharge or figure out a better way to feed the hungry hoards.
Final Thoughts
This is a gorgeous ship with a lot of venues and entertainment — heck, we didn't even discuss the two Broadway-style shows — that will appeal to a wide range of travelers, including foodies looking for venues not found on other lines. As will happen during inaugural sailings, there are still some kinks to be worked out, but Escape seems likely to prove very successful, especially with NCL's devoted crowd. And by offering a variety of experiences not available on any other ship, Escape will likely attract even those who normally only sail from their local homeports.
Watch Video Review