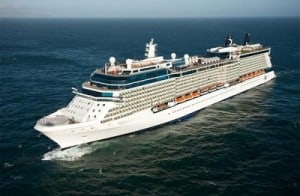 One of the most enjoyable aspects of Celebrity Cruises' modern luxury vacations is the authentic, personalized service onboard. Celebrity took that same individualized approach to the exploration of 13 of the world's most compelling ports of call when it introduced private shore excursions several years ago. Now, the program has expanded significantly to offer private shore excursions in over 70 ports of call around the world, offering even more ways for guests to make the most of their time ashore by enjoying the luxury and convenience of a private vehicle with a driver or a driver and a tour guide. By exploring a destination at their own pace, guests who opt for Celebrity's private shore excursion options also enjoy a more immersive port experience focused on the places that interest them most.
Now available in over 50 ports of call in Europe and over 20 ports of call throughout Alaska, Bermuda, the Caribbean, Hawaii, the Pacific Northwest and South America, Celebrity's private shore excursion arrangements give vacationers a way to personalize the way they experience some of the world's most compelling ports, in the comfort of a private car or van. These arrangements are available for purchase online pre-cruise, for either a half-day or full day of exploration. The day's itinerary is at the guest's discretion and is coordinated directly with the driver and/or guide on the day of the tour, so meals and visits to local attractions can be chosen on-the-spot.
Celebrity also offers customized arrangements in any destination it visits around the world. These arrangements allow guests to create their own full itinerary for the day, and, if they wish, include meals and entrance fees to local attractions. The itinerary, arranged in advance, can be highly flexible in terms of numbers of hours, and is offered in every one of Celebrity's ports and destinations worldwide.
Vehicles for both options generally include a car that seats up to three guests, a van that seats four to eight guests, or a minivan that seats eight to 10 guests; this varies in different regions, which may offer alternative transportation arrangements.
Private shore excursions can be booked online a minimum of four days before the cruise, at www.celebritycruises.com/shorex. Custom arrangements can be booked through Celebrity's shore excursions team by emailing [email protected] a minimum of 30 days before the cruise.
In addition to private shore excursion arrangements, Celebrity offers an extensive range of shore excursions taken with other cruise guests, including convenient shore excursion packages in Alaska and Europe.
Source: Celebrity Cruises
Subscribe to our Cruise News Updates.