No matter which way you like your drinks, Holland America's new partnership with Master Mixologist Dale DeGroff will bring something new and unique to the menu for you.  The 2015 James Beard Who's Who Inductee will be bringing a new menu of cocktails to the fleet, both mastered old favorites and some unique new creations.
Known as "King Cocktail" and having authored two best selling cocktail books, DeGroff knows his stuff when it comes to standing behind the bar.  His creations will debut aboard ms Eurodam this month, and reach the rest of the fleet by springtime.  They will be served in the Gallery Bar, as well as other bars and lounges including Explorer's Lounge, Ocean Bar, Tamarind Bar, and Crow's Nest. More casual bars like the Lido pool bar will also include DeGroff's notable concoctions.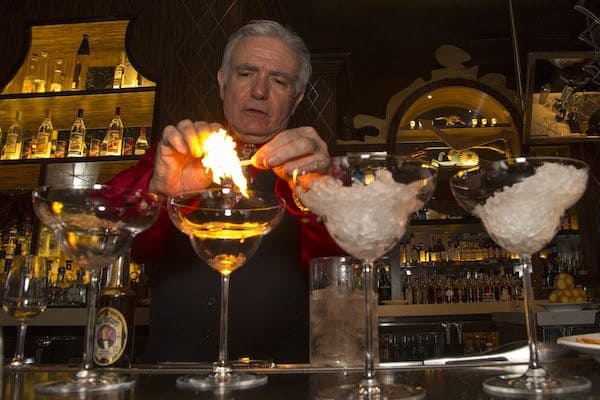 Some drinks on the menu will include:
Gallery Gimlet
Hemingway Daiquiri – a spin-off of Hemingway's favorite drink, the Papa Doble
Yuzu Margarita
Whiskey and Joe
The Ritz Cocktail – a popular drink at the legendary Rainbow Room where DeGroff created it as a tribute to the Ritz cocktails in Madrid and Paris; a champagne cocktail with a burst of flamed orange peel
Another Shade of Greyhound
"Slightly Less Than Perfect" Perfect Manhattan
In addition to creating these unique drinks, DeGroff will personally oversee staff training to ensure his cocktails are made with perfection.
About Dale DeGroff
DeGroff bartended for 30 years at various notable establishments including the famous Rainbow Room in New York City.  He has authored two bestselling books – The Essential Cocktail and The Craft of the Cocktail.  The master mixologist is also founding president of the Museum of the American Cocktail and a partner in the Beverage Alcohol Resource bar-training program.  He also produces his own aromatic bitters brand in partnership with renowned distiller Ted Breaux, and was inducted into the James Beach Who's Who of Food and Beverage in America last year.