The Jacksonville Port Authority welcomed their 2 millionth cruise passenger through the North Jacksonville terminal earlier today.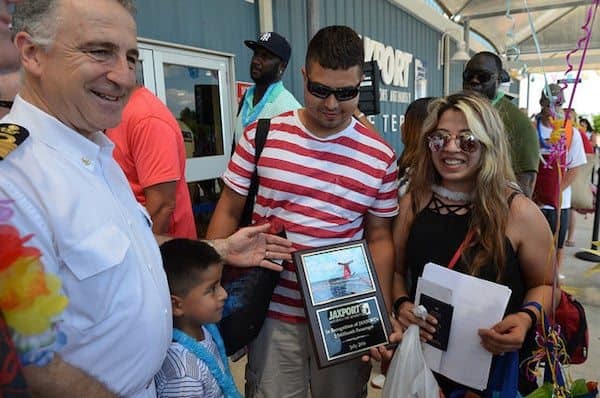 The lucky 2 millionth passenger was Carina Alejandro, from North Carolina.  There was a small ceremony for the milestone with Jaxport officials and Carnival Elation's Captain Gaetano Gigliotti, and they presented her with gifts and a commemorative plaque.  It's her very first cruise, and this honor is sure to make it one for the books.  On the four-day sailing to the Bahamas, she, along with her fiancé and son will receive the VIP treatment.  The voyage is also serving as a special occasion – her boss is getting married on board.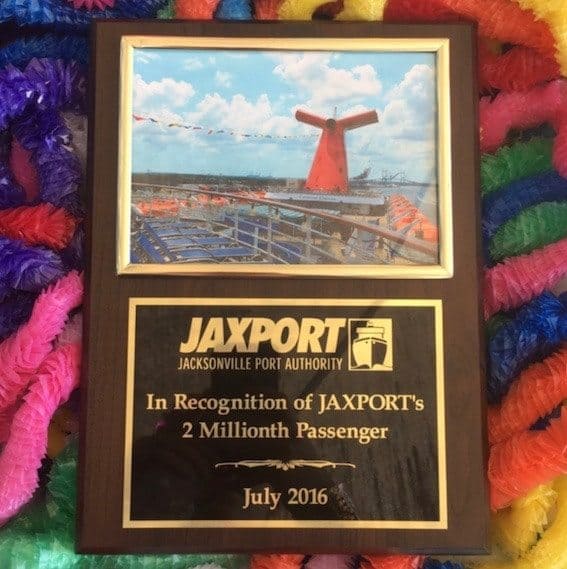 Christine Duffy, President of Carnival Cruise Line said this of today's special milestone: "We would like to congratulate Jaxport on the historic achievement of welcoming its 2 millionth cruise passenger today on the Carnival Elation.  It's only fitting that this distinction took place on a Carnival ship as we were the first cruise operator to launch year-round service from Jacksonville in 2004 and continue to be the only cruise operator sailing year round from Jaxport.  We look forward to welcoming additional guests to this convenient and centrally located homeport."
Carnival Elation is currently home-ported in Jacksonville, and carries just over 2,000 passengers.
Photos: JAXPORT