Mr. Sancho's is an extremely popular beach break destination for cruisers, and its prices and amenities have few local rivals. If you're cruising to Cozumel soon, Mr. Sanchos should be at the top of your list for a day at the beach.
To read updated 2023 pricing for Mr. Sancho's, click here.
Booking Mr. Sancho's
Although reservations for Mr. Sancho's are not required, they are recommended. It will help speed up your check-in process if you come with a print-out of your reservation confirmation. One thing I particularly like about their reservation system is that they only require a $5 deposit per pass at the time of booking, and then you pay the balance once you arrive. Although I've never canceled, their confirmation email states that you can receive a 100% refund of your deposit as long as you cancel within one day of your visit.
Getting There
Since Mr. Sancho's is a private beach club, you are on your own for transportation. But the good news is that the taxi system in Cozumel couldn't be set up any easier. Just on the other side of the shops found right off the Puerta Maya pier, there's a taxi hub with a constant stream of taxis to keep cruisers moving. A taxi ride to Mr Sancho's takes about 10 minutes and will cost $15 for 1-4 people, $20 for 1-5 people, or $32 for 6-8 people. Of course, if you wish, there's always the option of renting your own vehicle for the day to get there.
All-Inclusive Prices
To be clear, this review is about the all-inclusive space at Mr. Sancho's. However, Mr. Sancho's also serves pay-as-you-go customers. I don't recommend this, mostly because the all-inclusive day pass already offers incredible bang for your buck and because you won't have access to some of the best parts of the beach, like the swim-up pool bar. If you're still unconvinced, there are horror stories online from people who have racked up hefty tabs without realizing it through the pay-as-you-go option. Don't stress yourself with this possibility. The all-inclusive pass for adults is $55, for teens (12-17) is $40, and for kids (4-11) is $35.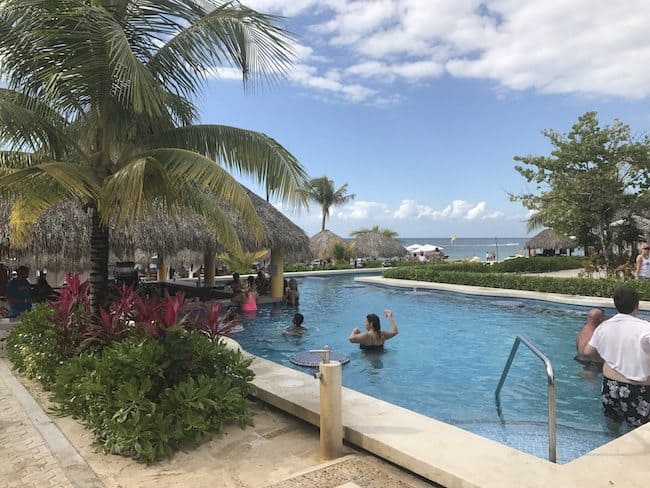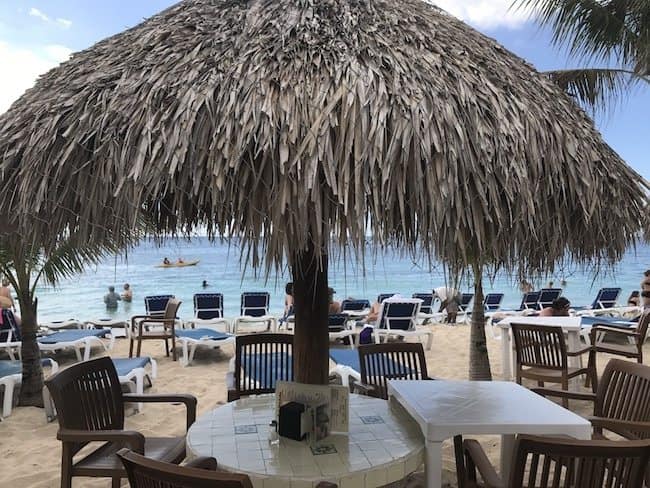 Amenities
With your all-inclusive day pass, Mr. Sancho's becomes an all-you-can-eat, all-you-can-drink resort complete with free wifi. There is plenty of prime waterfront beach space filled with lounge chairs, and just behind them are tables with beach umbrellas to keep you cool in the shade. A waiter will greet you upon your arrival and personally attend to you for the rest of the day, bringing you whatever drinks and food you'd like from the menu so that you don't even have to trouble yourself with the self-serve buffet (unless you'd like to, of course). Each drink on the menu is just as good as the next, especially the frozen ones like the "Dirty Monkey." Be sure to try the fried coconut shrimp, which come with a delicious orange dipping sauce, and to order some quesadillas as well. If you order chips, be sure to order several plates at once, as the serving doesn't come with very many. (Also, remember to tip your waiter at the end of the day, so include that into your costs when budgeting for Cozumel.)
Mr. Sancho's also features a swim-up pool bar that is exclusive to the all-inclusive guests as well as a hammock area and an area of the bar with swings. If you're feeling adventurous, kayaks are also available to use. There are always plenty lying around, so don't worry about there not being enough. If you walk down the beach for a minute, you'll also find a sand volleyball court. There's plenty of shopping on-site too if you'd like to purchase your souvenirs here rather than spending any time in town doing so.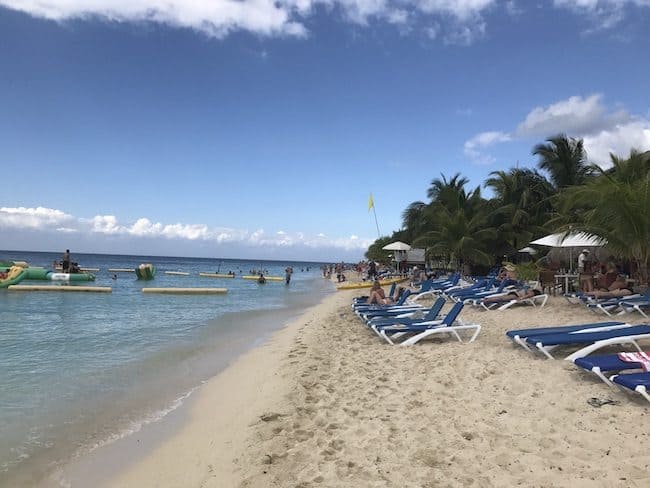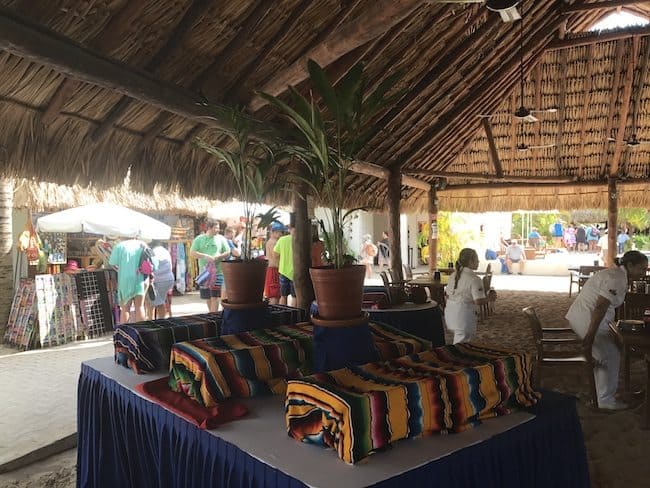 There are also cabanas that are available on a first-come, first-serve basis so long as they are not already reserved by someone through the romantic cabana package. There are also, of course, restrooms and lockers on-site as well located near the front entrance.
The few things not included in your day pass are snorkel equipment, towels (bring one from the ship!), shots of liquor, and the Starbucks products – because yes, there's also a Starbucks on-site now!
For-Fee Extras
Although these activities aren't included in your day pass, Mr. Sancho's features its own array of "excursions." These include access to the aquatic park for $12, a 30-minute horseback riding experience for $35, an ATV tour for $40, a 12-minute parasailing flight tour for $65, and a 30-minute wave runner ride for $72. Mr. Sancho's also offers a "Romantic Day at the Beach" package for couples available for purchase on their website for $230 that includes the all-inclusive pass as well as a private cabana, a 30-minute massage for each of you, and a rose "for your loved one." In addition to these activities, there are other services throughout the facility such as massages and pedicures (with the nibbling fish!) that can be purchased on-site.
Final Thoughts
All in all, Mr. Sanchos makes for the perfect beach day in Cozumel. If you're looking for a picturesque Caribbean beach that's not too crowded, offers the all-you-can-eat/drink experience, and isn't a budget buster, Mr. Sanchos is the place to go.