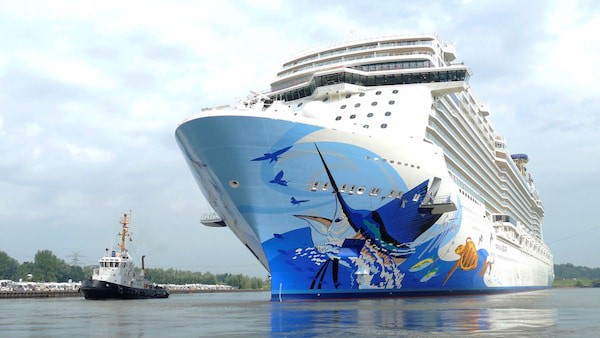 Norwegian Escape was floated out of MEYER WERFT's covered building dock II on Saturday, August 15 in Papenburg, Germany, where the 164,600-ton ship has been under construction since September 2014.
Beginning at approximately 9:15 AM local time, the 4,200 passenger vessel, with her signature hull artwork designed by famed marine wildlife artist and conservationist Guy Harvey, departed building dock II. Norwegian Escape is the first ship in the line's Breakaway Plus Class, measuring 1,098 feet in length and 136 feet wide.
Norwegian Escape's float out represents a major milestone in the vessel's construction, with the ship being well on her way to completion she will now move into the final phase of construction with delivery taking place on October 22, 2015.
Following the ship's float out, the next milestones will be mounting the ship's signature Norwegian Cruise Line funnel and taking thrills to new heights by adding a third story to Norwegian Escape's ropes course—due to be the largest at sea. Norwegian Escape's conveyance down the river Ems towards the North Sea is scheduled for September 16.
Source: Norwegian