Norwegian Cruise Line has announced the artist that will grace the hull of Norwegian Joy with his artwork.  Chinese artist Tan Ping will be putting his skills to the ultimate test, designing the exterior of the ship which will be launched in summer 2017.  The ship will home port in Shanghai and Beijing, and is the first vessel for the cruise line to be purpose-built for the Chinese market.
A printmaker, painter, and educator, Tan Ping is an expert in both the art and design worlds.  He has abstract paintings and copper plate etchings in The National Art Museum of China, Portland Art Museum in the US, Ludwig Museum in Germany, and The Shanghai Art Museum.  He also let a team of designers to complete the 2008 Beijing Olympic Games Image and Landscape Design Project.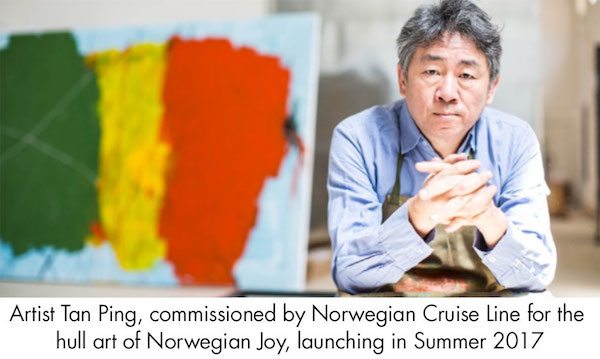 His subject for Norwegian Joy is the phoenix – a mythical bird believed to reign supreme over all other birds.  It's common in Chinese art, and can be found in various mediums throughout the centuries.  "The Phoenix symbolizes beauty and good luck in Chinese culture, and Norwegian Joy will bridge across the West and the East and bring Chinese people's best wish to the world and everyone in her path," Tan Ping said.
His design is simple, graceful, and represents movement and majestic poise.  The two most regal colors in China will be heavily used – red, which signifies joy, and yellow, which represents grandeur.  The design also includes hints of blue, representing the sea.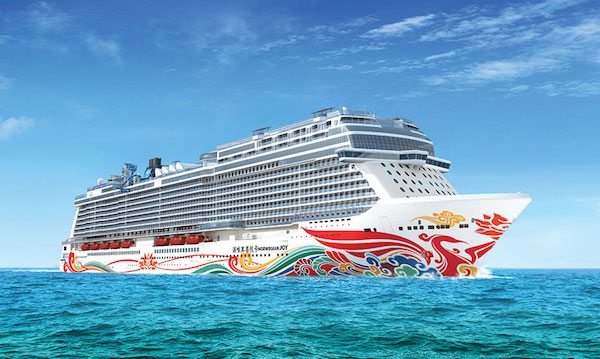 "This design is by far my largest artwork," remarked Tan. "Traveling worldwide on Norwegian Joy, I also expect that it will reach a far greater number of viewers than any of my previous works."
The ship will accommodate 3,850 guests, and feature the exclusive Haven area, a new Concierge category of staterooms, virtual reality gaming, a two-level racetrack, two multi-story waterslides, and much more.
photo and rendering: Norwegian Cruise Line