I could tell by the way the captain was hovering the Eurodam off the coast of the Dominican Republic that the captain was probably going to make a decision that not everyone would necessarily like. The Dominican Republic is a tender port — meaning that the ship has to anchor off shore and use smaller boats to shuttle passengers back and forth. The winds were high and the sea was rough, and that dangerous combination makes the whole tendering process darn near impossible.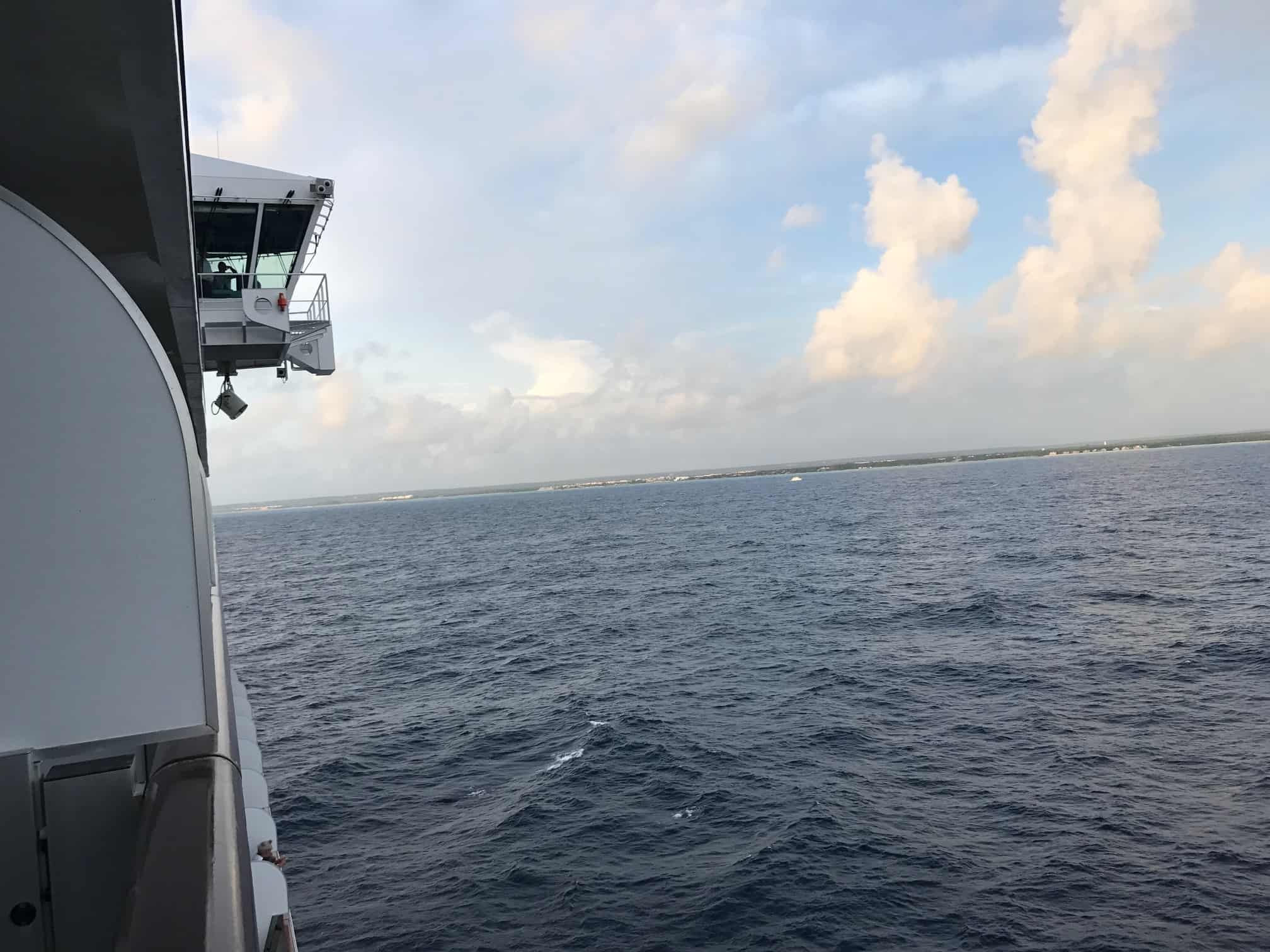 At right around 9 a.m., the announcement that I had been expecting finally was made. "Ladies and gentleman," boomed the voice of Captain John Scott over the PA system, "as you can see we are sailing away from Punta Cana. I made the decision to head to St. Thomas, because we couldn't get sheltered against the wind." I'm sure there were some passengers who were disappointed by this turn of events, but everyone I encountered during the course of the unexpected sea day seemed to take the news in stride. After all, they were still on vacation… and any day on a ship is better than one at a desk!
Because a ship is often moved from one itinerary to another over the course of their lifetimes, it's helpful if it is designed in such a way that it can adapt. One great thing about the Eurodam is that there is a retractable roof over the pool that is found mid-ship on the lido deck. That means even in inclement weather, you can still lounge by the pool or go for a swim without worrying about freezing your butt off when you get out of the water. (The aft pool and hot tubs are under the open sky, for those who might be purists… weather be damned.)
The breakfasts served in the main dining room continue to blow me away. This morning I went with salmon and a side of fruit. I passed on the bagel because I suspected that this unplanned sea day might result in a little more eating than I'd originally planned!
I'll admit that I was a little bummed, as I'd used the Eurodam's shore excursion kiosks (great for booking something when the desk is closed for whatever reason) to book a sail-and-snorkel excursion. Everything I read about the excursion — not to mention the incredible pics — left me thinking this was something I'd have really enjoyed. But hey, that's why there's always another cruise to be booked.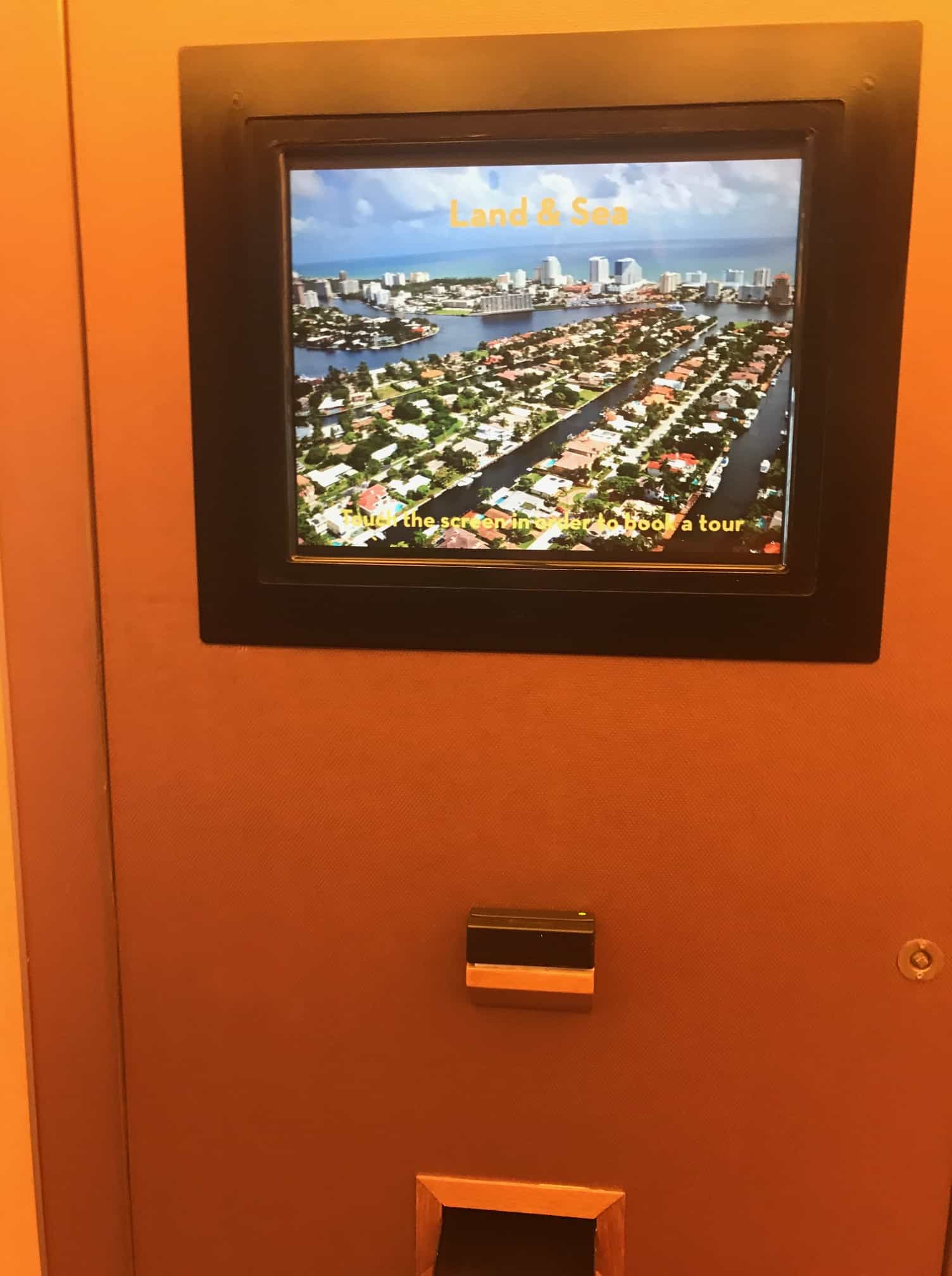 If not for the unexpected sea day, I probably wouldn't have had an opportunity on this particular cruise to visit America's Test Kitchen. For the uninitiated, this is a really cool hybrid of cooking class and presentation developed in conjunction with the folks at PBS. You don't just learn how to make a dish, you learn a lot of facts about why the dish works. There's even some unexpected science lessons along the way. Even the audio/visual presentation of the stage is cool, making it feel as if you've just stepped inside the television show.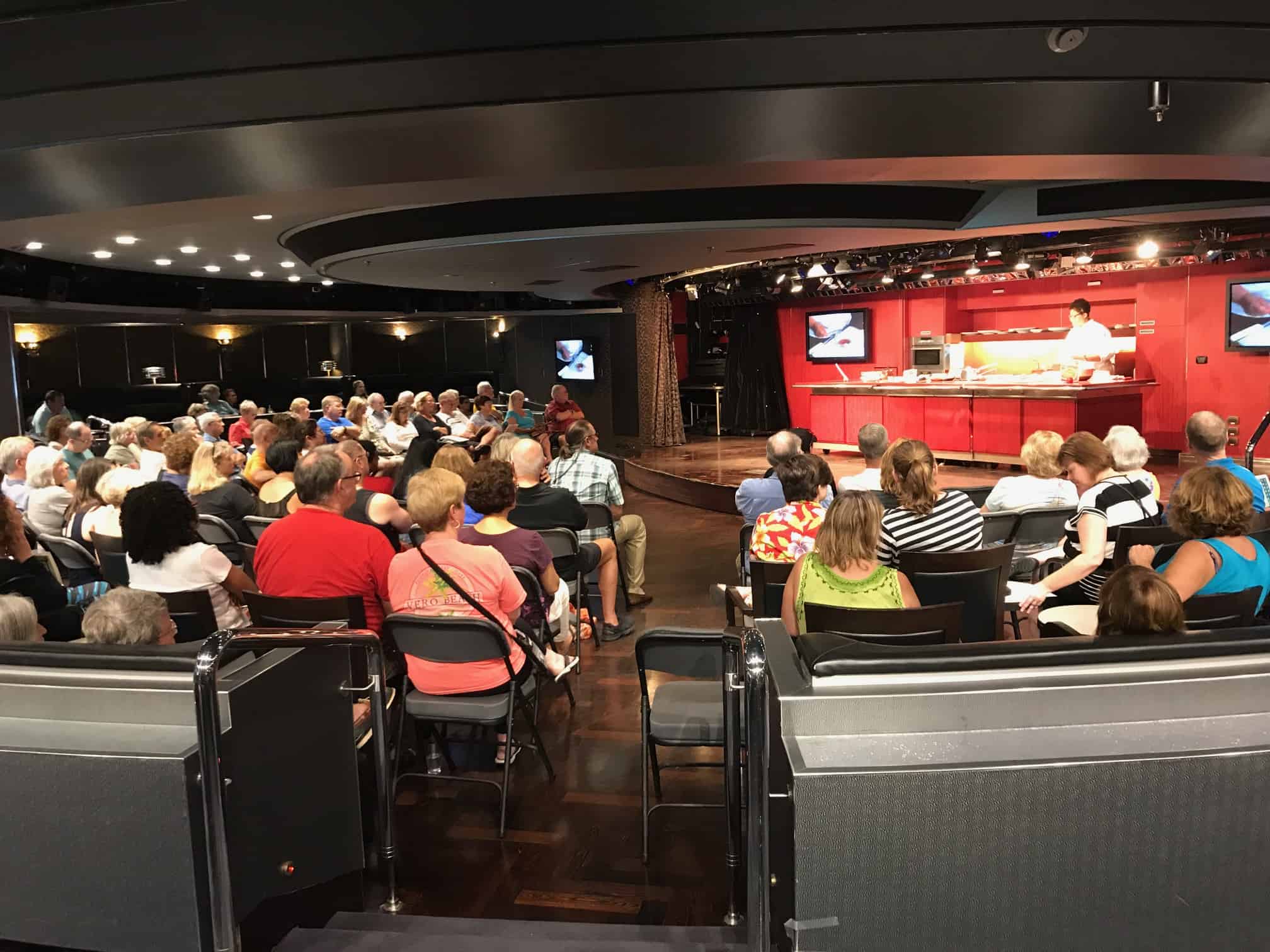 The next few hours were sort of a blur of day drinking, trivia — and no, we still didn't win — and reading. With that in mind, I'm going to jump ahead to the real highlight of the day… dinner at the Pinnacle Grill. (If you've been following along all week, you know how much I've been looking forward to this!)
Our reservation was for 6:30 p.m., and we were seated promptly and presented with menus which are broken down into first course, main and dessert. And then there are enough sides that it makes it downright difficult to decide which ones you want! If you're a wine snob, you might want to skip the next paragraph.
Now I openly and freely admit that I'm not really a wine person. I can tell a red from a white, but that's about it. Tonight, however, I was going to fake it. In looking at the wine list, I was shocked to see one that goes for $2,300 a bottle. Even more shocking? Finding out that it's ordered on a pretty regular basis! While it might have been fun to see if I could tell the difference between a $2,300 bottle of vino and one that sells for $59, I'm betting you can guess which one we went with.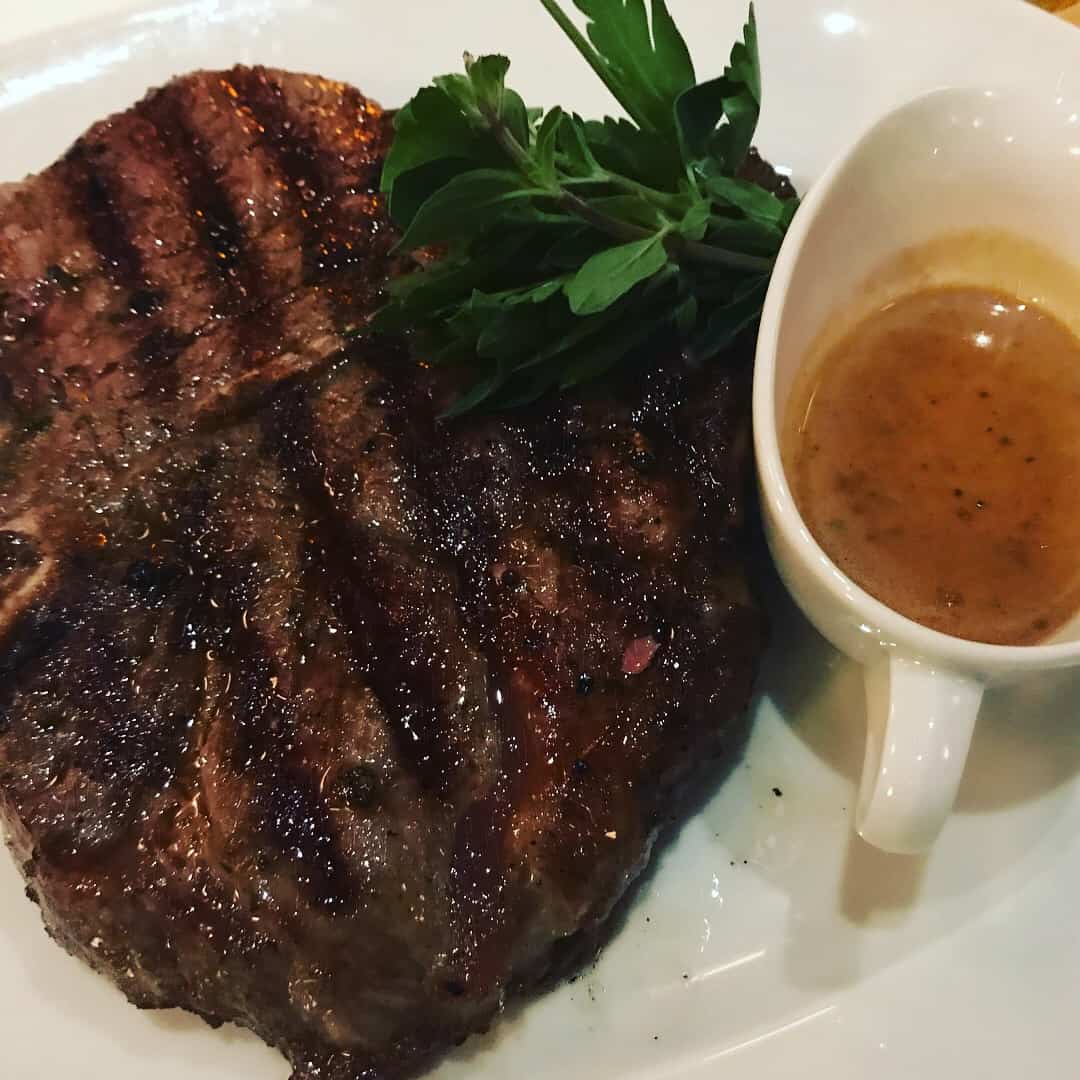 If you're a regular reader of my trip reports, you know that I've lost about 60 pounds this year. You'll also recall that I've been developing various techniques to try and keep myself from putting that weight back on while cruising. But tonight… well, the belt was going to be loosened and the diet dealt a severe blow. I wound up ordering the jumbo shrimp cocktail, the 23 ounce porterhouse steak and (for a well-worth-it upcharge of $15) Alaskan king crab legs. I'd like to tell you that I skipped dessert, but I'd be lying, because I went with the Pinnacle Souffle. Hey, every now and then you have to let yourself live a little… even when on a diet.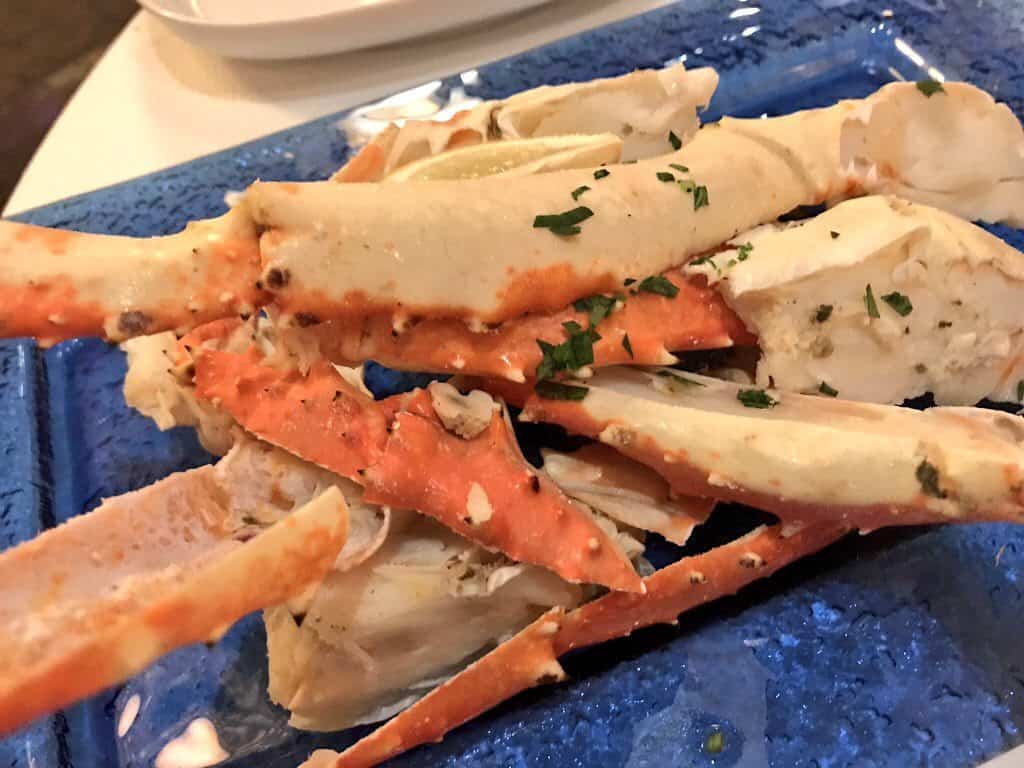 Tomorrow we arrive in St. Thomas, where I'll spend the day before flying home. I don't know what to expect when I get to the island. Yes, they are open to cruise ship guests, but what if they've opened prematurely? It's a tough call, given that the area relies heavily on tourism in general and cruise ship passengers in particular. Without the ships returning to port and pumping money into the local economy, the restoration process will be slowed down. As with Grand Turks before it, I'm nervous and excited about the visit, and looking forward to telling you what I find once we arrive in St. Thomas.
Missed yesterday's trip report? You can read it here.
Goodnight.