Earlier this year, I was invited to attend a christening ceremony of CroisiEurope's Miguel Torga. To be honest, about the only thing I knew about this European line going in was that they have over 40 ships sailing rivers around the world, and that this was the newest addition to their fleet. I'd heard people talk about the company and had attended CrosiEurope's presentations at the New York Times Travel Show. As a result, I'm familiar with the brand, but not what kind of experience they offer. That means that over the next few days, you and I will be finding out all there is to know about them together.
Where We'll Be Going
Here's the itinerary, in case you want to break out your maps and follow along.
Tuesday, I left Florida for Portugal via New York City and Madrid
Wednesday I arrived in Porto, Portugal
 Thursday, the Miguel Torga will be christened in the morning before we set sail on a two-night river cruise
Friday and Saturday, explore the ship and the port of Regua.
Sunday morning, fly home
Pre-Cruise Thoughts
Those of you familiar with my reviewing style know that this is generally where I fill you in on — while reminding myself about — the ship I'll be exploring and the destinations we're sailing to. This time around, we'll all be going in a little bit blind, as I'm not really too familiar with either. On the plus side, I did get to interview travel writer Chris Owen and pick his brain on a recent episode of River Cruise Radio, which you can listen to here.
Flights
While just about everybody on the planet prefers direct routes, this trip involved taking a JetBlue flight from Jacksonville to New York City's JFK, and then to a transfer on Iberia Airlines, which flew us into Porto, Portugal after laying over in Madrid.
Thanks to bad weather in New York City, the flight out of Jacksonville wound up being delayed. Arriving at JFK, I had to get from terminal five to terminal seven. Fortunately, I'm pretty familiar with this particular airport, so this wasn't a big deal. But for a first-timer, it could have proved more challenging.
The flight from New York City to Madrid was nice…actually it was really nice because I had the row to myself! It was billed as an eight-hour flight but only took seven and a half.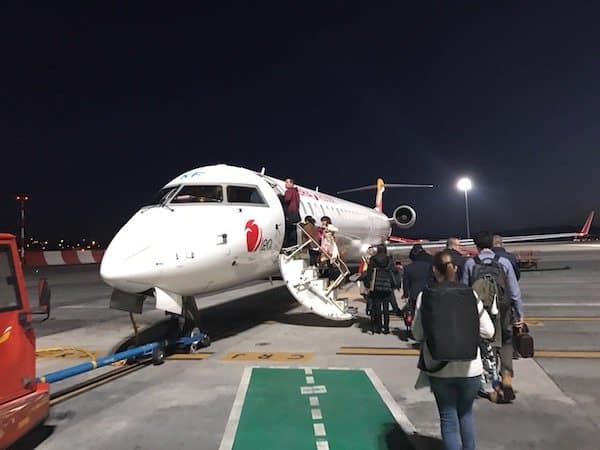 Transfers
Getting from the airport to the ship is very easy. The cruise line has representatives holding signs when you come out of the baggage claim area. From the Porto airport to the cruise terminal, it was about a 15 minute ride.
Arriving at the Ship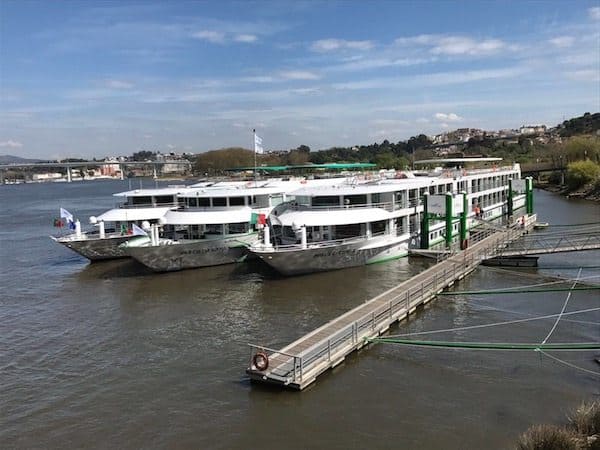 Upon crossing the bridge, I saw three ships tied up together, which isn't an uncommon sight on European rivers. It took a lot of winding roads to get down to the river bank. Embarkation was simple, with a crew member meeting me at the dock to take my luggage and bring me to guest relations. There, I was given a key before being taken to my stateroom on deck 3. I'll describe the stateroom in more detail in a later post, but the first impression was of a nice, cozy cabin… not huge, not tiny.
A Walk to Porto
The town of Porto is about a 10-15 minute walk from the ship. I was trying to think of a Caribbean port it reminds me of, but I couldn't come up with one. That's because Porto is a unique town filled with charm and built on the banks of the Douro River. I found a nice riverside café where I had roasted chicken, potatoes, and rice, all at the relatively inexpensive price of $16. Because of the time change, I ate at around 4:30 pm, so when dinner rolled around a couple hours later on the ship, I wasn't hungry.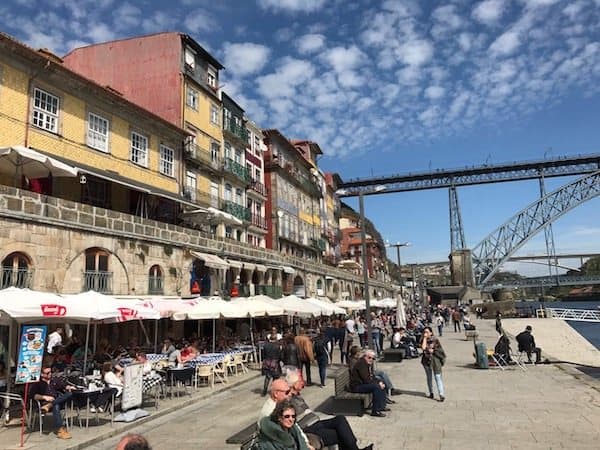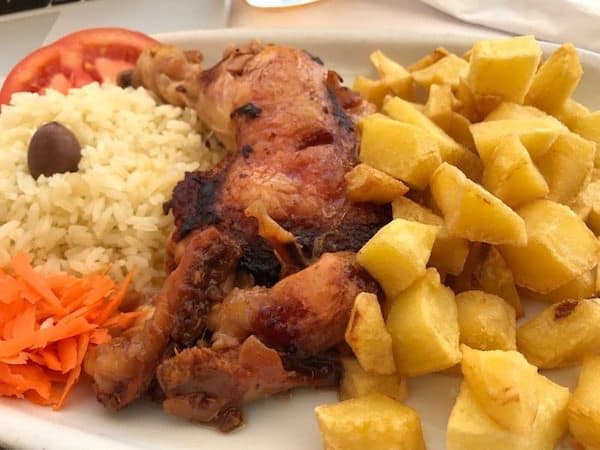 Coming Up
Tomorrow is the christening as well as a tour of the city, which I'm looking forward to exploring. The landscape is beautiful and the pictures I'll be posting definitely don't do it justice. Given that I suck at acclimation and have a big day tomorrow, it's time to call it a night.