Virgin Voyages, a brand that may have picked the worst time to launch a cruise ship, is finally sailing with passengers from her new home.
The Richard Branson-led, adults-only brand was originally slated to debut its first vessel, Scarlet Lady, in April 2020, until the industry was shut down worldwide a month earlier.
Tom McAplin, president and CEO of Virgin Voyages said of the occasion, "After many years in the making, we are excited to officially launch Scarlet Lady and welcome Sailors in the U.S. aboard for an unforgettable experience. With Michelin-starred dining, incredible spa, phenomenal on-board entertainment and amazing crew, our promise is to deliver a sophisticated, yet relaxed, adult-only experience — free of formality, where ordinary becomes extraordinary. We call this 'Setting Sail the Virgin Way.'"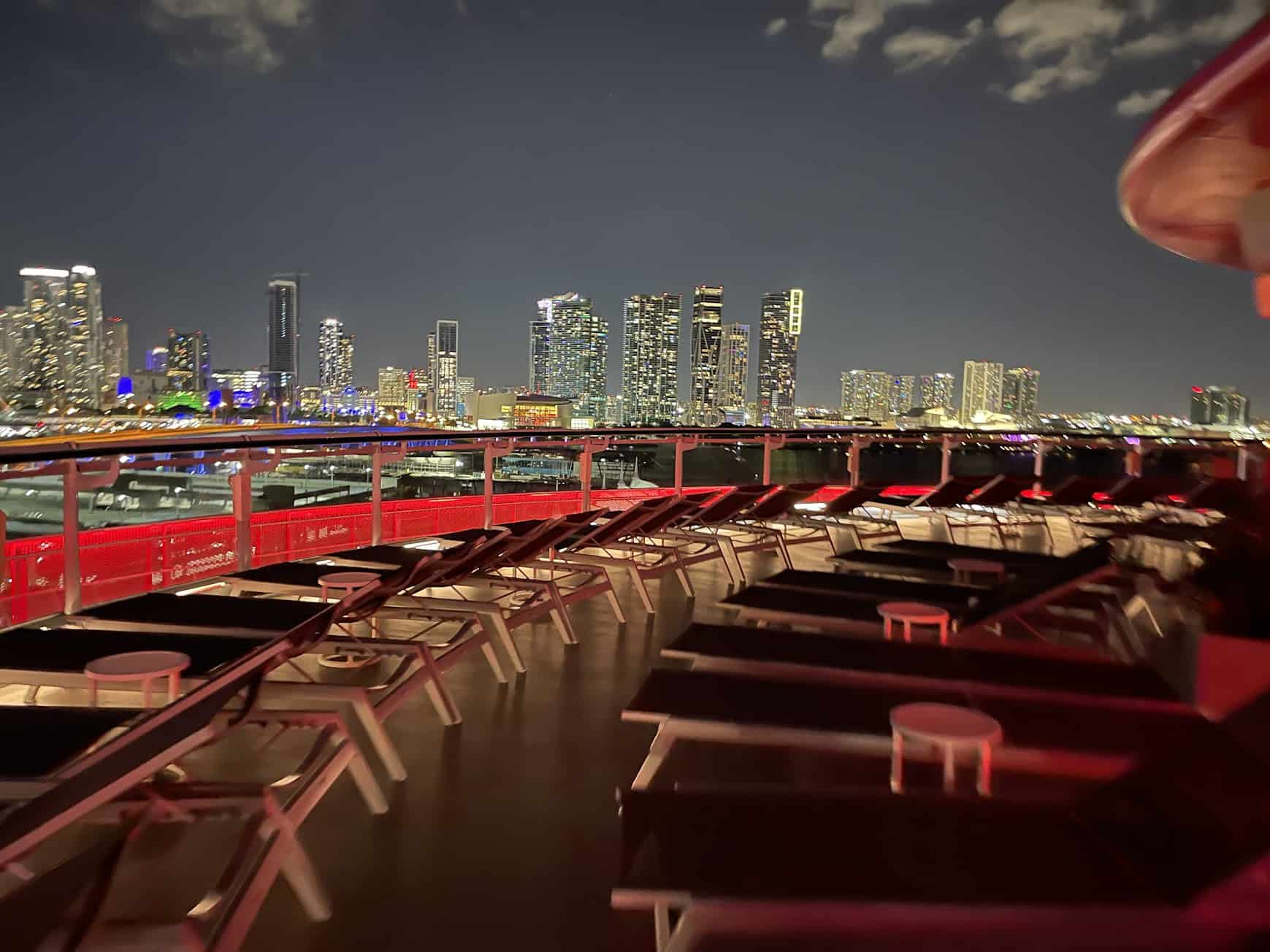 Today's voyage is a four-night "Fire and Sunset Soirees" itinerary that will stop at Nassau, Bahamas, as well as another Bahamian port that's new to most cruisers: Bimini.
Virgin Voyages partnered with hospitality company Resorts World to create a destination on Bimini that's exclusive to its passengers when its ship is docked there: The Beach Club at Bimini.
READ MORE: Construction Begins on Second Luxury MSC Ship
The resort-like club features massive lagoon-style swimming pools, an expansive beachfront, beachside yoga classes, locally-inspired food, and a full bar. In the evening (Virgin's ships will stay into the evening at Bimini), guests can enjoy bonfires on the beach, a DJ-led pool party, and acoustic musical performances.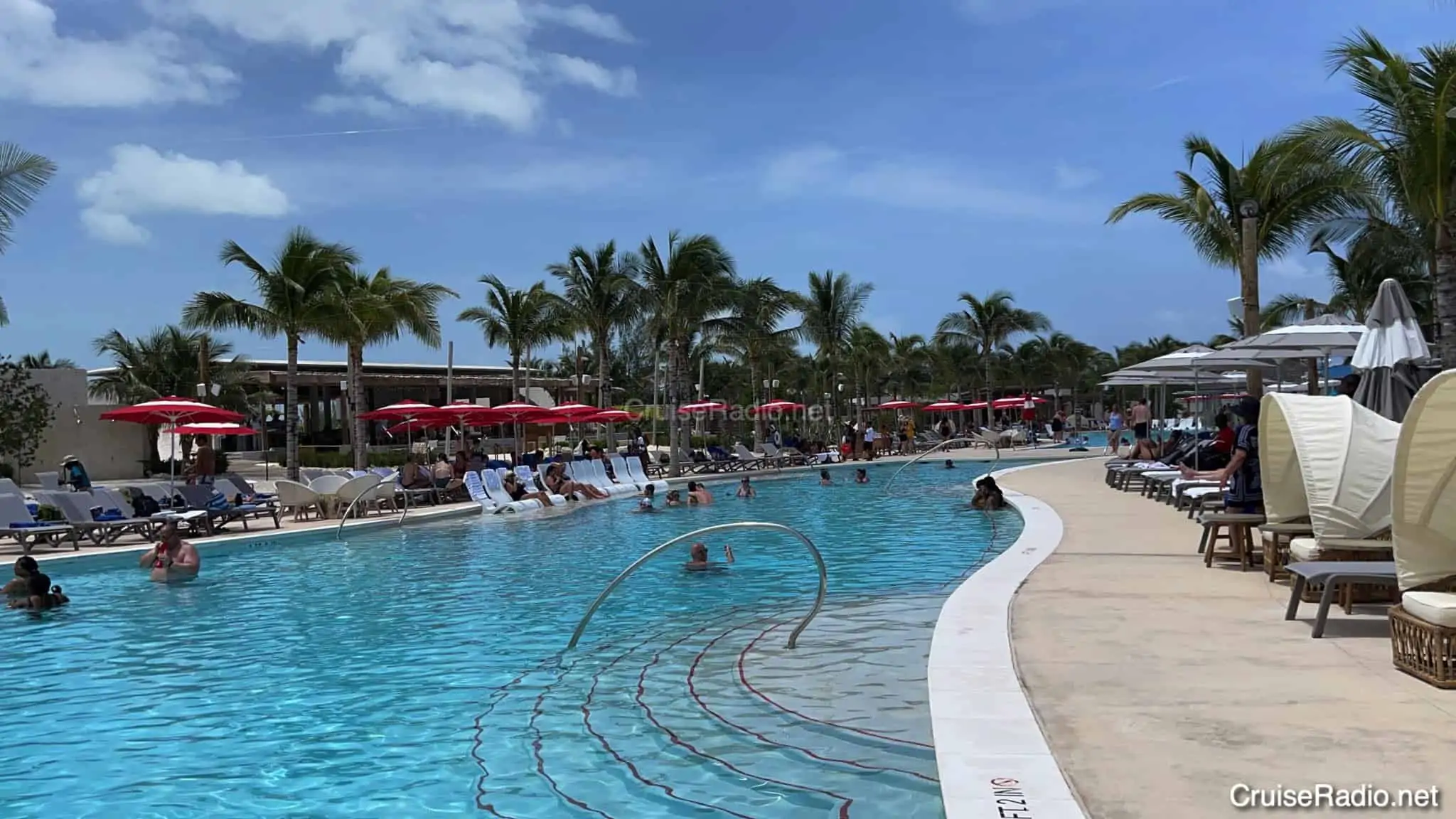 In addition to the four-night cruises, Scarlet Lady will also operate three different five-night itineraries from Miami: Riviera Maya sailings to Cozumel and Bimini, Mayan Sol voyages to Costa Maya and Bimini, and Dominican Daze cruises to Puerto Plata and Bimini.
Virgin Voyages has taken a more inclusive approach to its pricing, with all specialty restaurants, basic non-alcoholic drinks, non-streaming wifi, and gratuities built into the cruise fare.
Highlights of Scarlet Lady include a tattoo parlor, The Athletic Club adult playground, a record shop, nightclub, high-tech theater productions, a casino, and multiple bars and lounges.
The vessel features 1,330 cabins and 78 RockStar Quarters. These suites boast marble bathrooms, fully-stocked bars, RockStar Agents (concierge), private transfers, priority booking, and access to Richard's Rooftop — an exclusive deck just for those staying in the RockStar accommodations.
To sail, all passengers must be fully vaccinated and will be tested at the terminal prior to boarding.
READ NEXT: Virgin Voyages' Scarlet Lady: Quick Takes and First Impressions [PHOTOS]