We'll be honest – there's always the flipside of any coin (or method of travel) and cruise vacations are no exception.  Of course, we do believe that the benefits of cruising heavily outweigh the downfalls, but in the spirit of being impartial, we give you a list of some pros and cons of a cruise vacation.  We hope this will help you decide what vacation is right for you, and we certainly hope it's cruising!
11 Pros and Cons of Cruise Vacations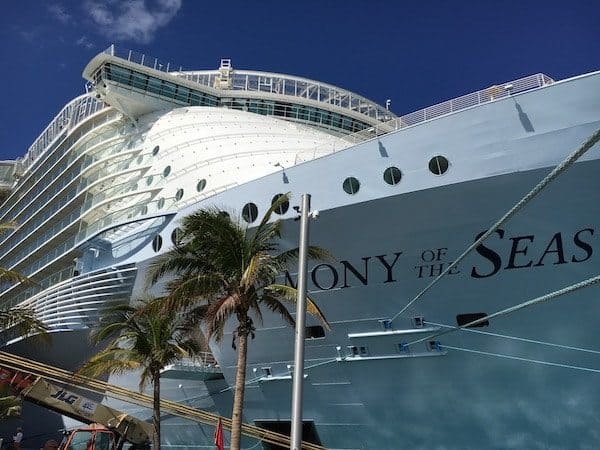 Pros of Cruise Vacations
1. Getting to Sample Cities
What better way to get the sampler of a region than to cruise through it? You get to visit different ports, each with their own quirks, amenities, and culture, while still returning to your cozy ship at the end of the day.  Hate a particular port?  Choose itineraries that don't stop there.  Love a port?  Make sure to book future cruises that include a call there or – if you want to get a deeper feel for it – head there for your whole vacation.
2. Dozens of Itineraries
This point is actually being modest; of all the cruise itineraries in the world, there are probably at least a hundred or more.  You aren't limited to just one type of cruise.  Go where you'd like to go. Want to go to Bermuda, Europe, Asia, Australia, Alaska, or the Caribbean? Then go. There's an itinerary for everyone.
3. Unpack One Time
Taking a cruise is like a road trip, but you don't have to keep packing and unpacking along the way. There's something awesome about unpacking once for the whole trip and not having to repack until it's time go home.  Sit back, relax, and let the crew take you and your floating home-away-from home to the destinations.
4. Cruise lines are consistent with each other.
Most of the cruise lines out there have the same process and basic concept of cruising. Entertainment, food, ports, and activities on the ship are fairly consistent.  Why does this matter to you?  For one main reason: it's easier to switch between lines if you find a different itinerary you like or want to try something new, and you'll still know basically what to expect.  The world is your oyster when it comes to cruise vacations.  Chances are if there is a place you want to go that touches a major river or ocean, there is a cruise line that stops there.
5. Variety of Dining Options
You may be thinking, how does this compete with a land-based vacation? There's always more restaurants ashore.  While this is true, how many choices could you have if you were staying at an all-inclusive resort? Or how much money would you spend trying a new cuisine each night at various restaurants in a city? Nowadays, large cruise ships tend to have a lot of venues on their ships, many of which are complimentary, and several more that only require a small cover charge.  Italian, Asian, Mexican, French, and even good old American comfort food – chances are there will be a very large variety of cuisines available to you on your cruise.
6. Options to Pick Your Accommodation
There are lots of choices when it comes to choosing a stateroom on a cruise ship.  You can splurge for a suite, opt for balconies (and save some money if you choose an obstructed view!), or go with a window, porthole, or interior cabin.  If you already have a good sense of how much a cruise will cost, you will always be able to find a stateroom to fit your budget.  Lots of ships also have cabins that grant special access to more intimate, private areas on the ship too, such as the Family Harbor staterooms on Carnival Vista that include a shared family lounge, The Haven on Norwegian Cruise Line that has several exclusive areas, or spa cabins on several lines that grant extra privileges in the onboard spa.
7. Meeting New Friends
Since everyone on the ship is sharing that ship for the duration of the voyage, you have a great chance of making some new friends along the way.  Whether it be the couple you're seating with for dinner, a family you click with by the pool, or a guest that is sitting near you at the bar, if you want to find friends on a cruise, you almost always will find them.  The best part is, you'll be able to see them again throughout the cruise, and maybe even stay in contact with them afterward.  I know people who have gone on future cruises with people they met on past ones.
8. Onboard Experiences
The crew on your ship want to make your vacation the best it can be, and you'll find a lot of special experiences during your cruise.  Whether it's chocolate covered strawberries that you find in your room for your anniversary, or even an amenity that the ship offers such as a mixology class or epic waterslide, there are lots of ways a cruise vacation is different from any land-based ones, and that makes it extra special.
Cons of Cruise Vacations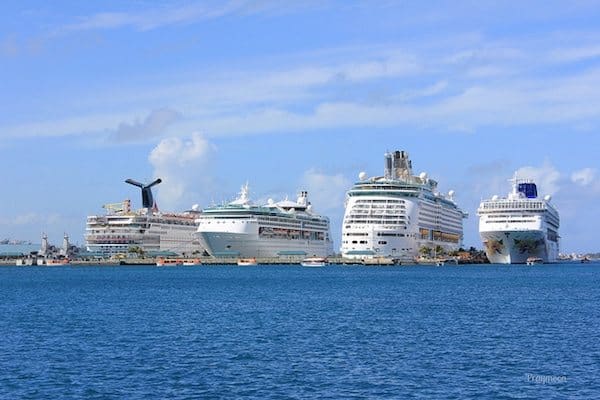 9. Slow Internet
Because cruise ships rely wholly on satellites for internet access, it tends to be quite a bit slower than the internet at home.  We would argue that a great aspect of any vacation, but especially a cruise, is that it's a great time to unplug and just enjoy spending time with your travel companions.  However, if you need to stay in contact with someone back home or need to be available if anyone back at the office has a problem, internet may be a necessity.  Just be patient with it, and don't use it anymore than you have to.  After all, you've got a vacation to enjoy!
10. Pricey Drink Packages
This is only a con if a drink package wouldn't be worth it to you.  If it would be and you plan on drinking quite a bit, it can be quite a deal.  When planning your cruise, see what beverage packages are offered and figure out whether one would be worth it for you.  If you only plan on drinking a few cocktails or glasses of beer a day, it definitely won't be worth it.  If you plan on drinking three at lunch and five after dinner, you may want to consider it.  Purchasing a package is based on personal preference, and each cruiser – and cruise line – will be different.  Drinks tend to be more expensive on a cruise ship, so keep that in mind.  It's also important to take into consideration that you probably won't utilize it as much on port days, and that if you buy a package, anyone else of legal drinking age in your cabin must purchase one as well.
11. Not Enough Time in Port
One downfall to being on a cruise instead of traveling on your own time is that there just isn't a whole lot of time in port.  A lot of times a ship will only be at any given port for maybe 10 hours, meaning you probably won't be able to squeeze too many activities into that time.  Or, if you're just having a relaxing beach day, last call to get back onto the ship will seem to come all too soon.  One way around this is to find itineraries that include an overnight stay in a port, which is exciting because then you get to experience nightlife there, too.
Final Thoughts
A cruise vacation just never seems to last long enough, does it? We hope you've found some of our points here helpful, and that they can aid you not only in deciding what vacation is right for you, but also give you some extra information about cruising that you may not have known before.  Happy sailing!