For cruise lovers, there are few things more exciting than a new ship. Even if we know we might never sail on the new vessel, we find ourselves wanting to know everything about it. So as MSC Cruises

takes official delivery of the MSC Meraviglia, 

we take a look at everything you could want to know about this major new player in the game.



1. She's coming to America… eventually.

MSC — which has primarily focused on the European market — is currently planning to mount a major push toward becoming a force to be reckoned with in America. So while the MSC Meraviglia will initially work the western Mediterranean waters, she's expected to sail out of Miami beginning in the fall of 2019. The currently-under-construction MSC Seaview is also slated to sail out of Miami in late 2017.
2. The "digital sky" is going to have a major wow factor.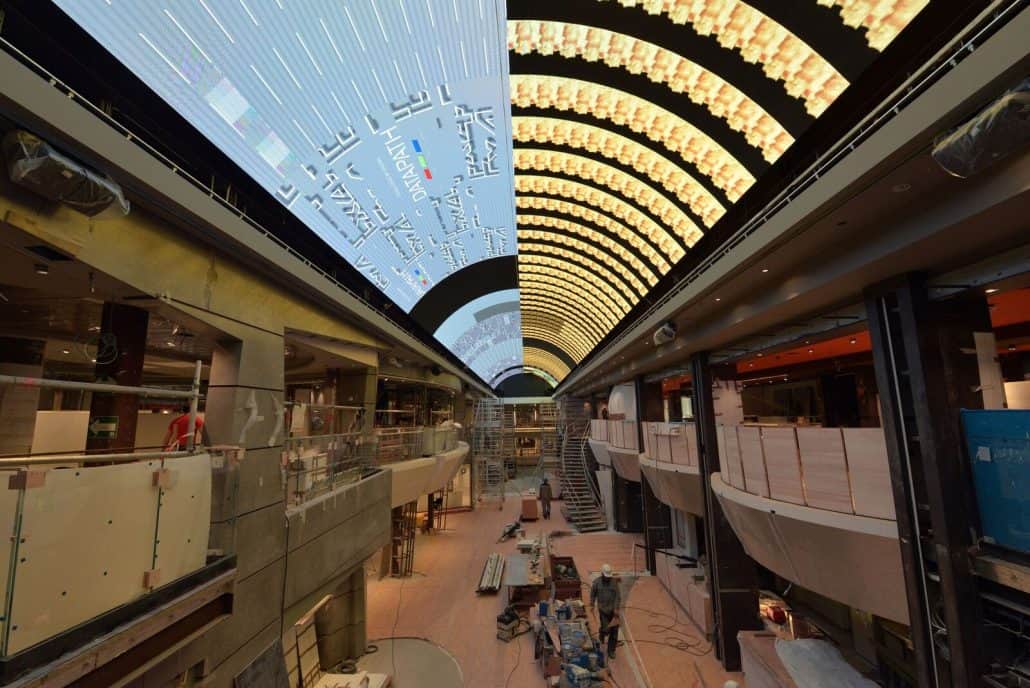 Much like the buzzworthy LED displays featured aboard the Carnival Vista, the promenade of the Meraviglia will feature the longest digital dome at sea, offering up a constantly-changing array of images while passengers shop, meander or party beneath it. Just how big is the dome? It comes in at an impressive 5,200 square feet! (Expect a lot of folks on the promenade to bump into each other as they tilt their faces — and iPhones — upwards to take in the view!)
3. You'll be able to shop and eat in the same space.

Among the many places to grab a bite aboard this ship will be Eataly, an Italian restaurant where you can not only have a fantastic meal, but then purchase some of those same tasty treats to take home for "friends.". (We put that in quotes because let's face it… odds are good you'll wind up devouring your purchases before disembarkation day!)
4. One of the pools will undergo a nightly transformation.
While MSC brags that the Meraviglia's main pool will feature "some of the most plentiful [space] to be found at sea" — not to mention some cool statues and loungers positioned right at the water's edge — it's the Horizon pool that will come alive at night as it morphs into the place to be for dancing and entertainment.
5. The buffet has amazing hours.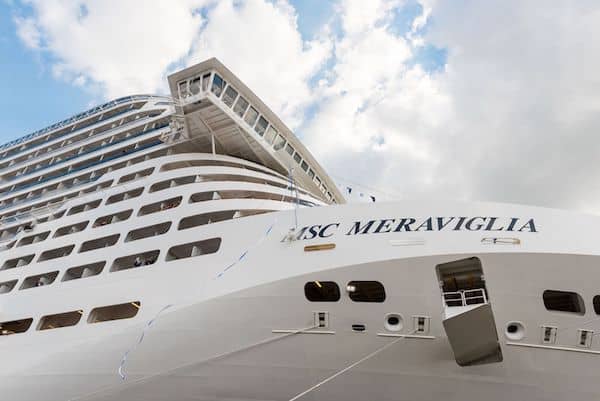 Believe it or not, the Marketplace Buffet will be open an astounding 20 hours a day with an emphasis on Mediterranean specialties and international dishes. There'll be something for everyone… no matter what time they find themselves wanting to graze.
6. Chocolate lovers will be in heaven.
Thanks to a partnership with award-winning pastry chef Jean-Phillipe Maury, Meraviglia will feature a venue called the Chocolate Bar. Not only will you be able to purchase a wide variety of melt-in-your-mouth confections, but an open kitchen will allow passengers to actually watch the treats being created. Plus, there will also be a Maury-created gourmet ice cream parlor and crepe venue on the promenade!
7. They have some pretty innovative staterooms.
The Wellness Suites within the Yacht Club — MSC's exclusive, ship-within-a-ship area — feature Technogym fitness equipment and a welcome kit that includes a t-shirt, shorts, and sports towel. For families or large groups, they have a series of interconnecting cabins which can — combined — hold up to 10 guests. But our favorite might be the duplex suite, a two-deck high stateroom featuring walk-in closets, two bathrooms, and a hot tub on the balcony.
8. There are two — yes two — Cirque Du Soleil shows.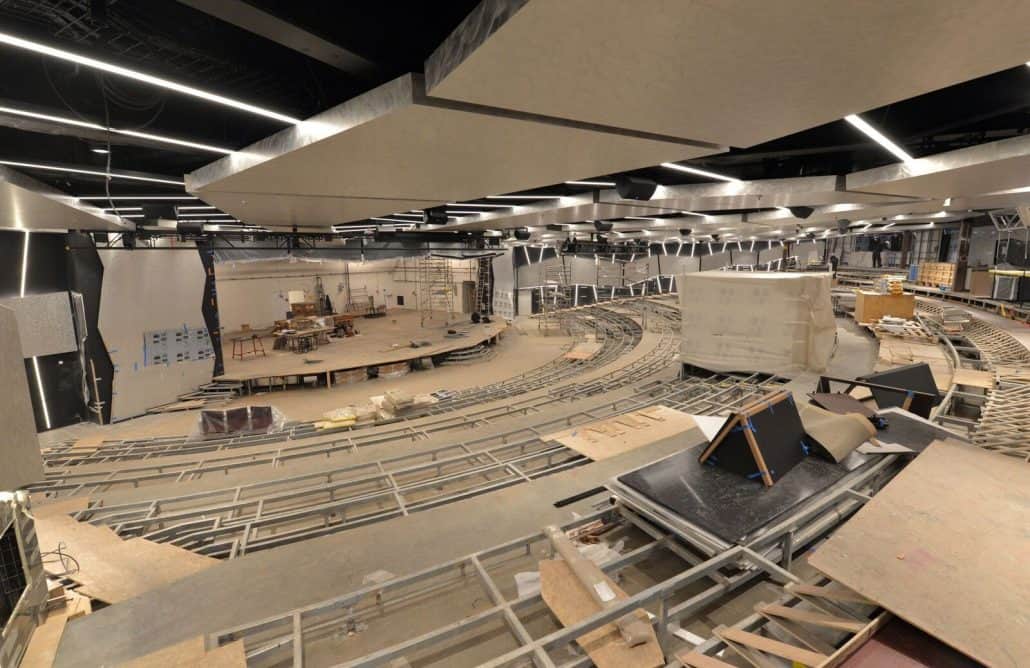 While on some ships, it can be tough to schedule a show because it is only playing two or three times the entire week, Meraviglia's Cirque shows will be performed twice a night, six nights a week in the specially-designed (and very cool looking) Carousel Lounge.
9. You can race a Formula 1 car… sort of.

Thanks to virtual reality, there will be two Formula 1 "cars" onboard allowing passengers to not only experience the rush, but do so while competing head-to-head with other guests. Got a family feud that needs settling? Put mom in one car, dad in the other… and may the best racer win!
10. "American-style" is a recurring theme.
As we mentioned before, MSC is preparing to make a major play for a big share of the American market, and that shows in the various venues — and how they are promoted — aboard the ship. Both the sports bar and steakhouse are marketed as "American style", with the latter even going so far as to say that its specialty cocktails have the oh-so-very American sounding "swagger."
11) The kids will be entertained.
Besides having the usual kids clubs, Meraviglia features a top-deck waterpark that's pretty darn impressive thanks to three water slides, numerous play areas, and a "Himalayan Bridge" (or, as we say here in the states, a ropes course). The ship also boasts a nice sports complex that is indoors, making it both a great venue for rainy days and yet another space that is converted into party central after dark.
Are you impressed by the Meraviglia? Will you consider booking a trip on this ship, whether during her European or American sailings?