20 Cruise Ships Recently Refurbished in Bahamas
Millions of cruise ship passengers head to the Bahamas each year to soak up the sun. But what many folks don't realize is that Freeport also happens to be where a lot of their favorite ships go when they need a little R&R. Of course, in the case of the vessels in question, that stands for "rust-removal and refurbishment!"
It turns out that the Bahamas is a popular dry dock destination, meaning that it's where ships who are due for a new paint job — think of it as a facelift — or repairs go. Want to find out if a ship you know swung through for a little nip/tuck in 2016? We compiled a list of the various vessels who enjoyed their own Bahamian vacation this year.
Carnival Cruise Line 
Carnival Fantasy
Carnival Magic 
Carnival Triumph 
Carnival Sunshine
Carnival Valor 
Carnival Liberty 
Carnival Splendor 
Holland America 

Maasdam
Veendam
Prinsendam 
Princess Cruises 
Royal Caribbean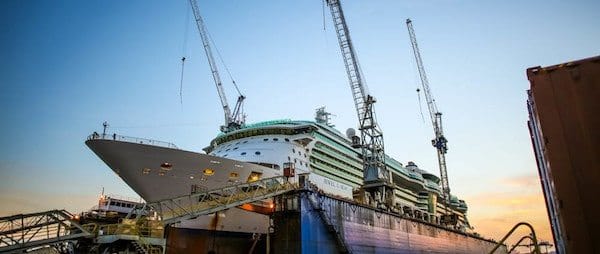 Empress of the Seas
Jewel of the Seas 
Liberty of the Seas 
Adventure of the Seas 
Majesty of the Seas
Azamara Club Cruises 
Celebrity Cruises 
MSC Cruises 

Fathom 
Over a dozen cruise ships are scheduled to be refit and refurbished at the Grand Bahama Shipyard in 2017.
Photos: Grand Bahama Shipyard