The very last morning of your cruise is typically the dreaded one – it's back to reality. While I don't have any tips for extending your vacation (unless you are doing a back-to-back cruise), I can tell you how to get off the ship a little bit faster.
If you haven't been on a cruise before, when it comes to disembarkation the cruise line will give you a luggage tag with a color or zone number on it, this tells you when you can get off the cruise ship and when your bags will be ready to pick up pier-side. 
Here are 5 cruise disembarkation tips:
1. Self-Assist
If you're wanting to get off the ship early, do self-assist, this allows you to do walk off the ship with your own luggage. It usually starts around 7 am and 20-30 minutes later you're on the pier. Keep in mind that you are responsible for all your belongings and the cruise line will not assist you.
2. Early Flights
If you have an early flight out, just register when the paperwork comes to your room and you'll be allowed to get off the ship earlier. Once on a cruise that ended in Venice they were starting airport transfers at 4 am.
3. Talk to guest relations.
If you don't have a flight and don't want to do self-assist and lug your bags around, contact guest relations (usually in person) and tell them that you'd love to disembark the ship a little earlier. Guest relations will usually give you the luggage tag you need to get off the cruise ship earlier.
4. Luggage Valet Program
A couple days before you disembark you'll have the option to do luggage valet from the cruise ship to the airport, where for a nominal fee (plus checked baggage cost) you'll be able to forward the bags to the airport and check them to your destination. This generally works in US ports of call and Vancouver, Canada. The cost of this varies per cruise line but I've seen it for around $20 per person.
5. Have customs documentation.
You know when you're in the airport and waiting for someone to get their stuff together to go through security? Well, it's the same thing when you're approaching the customs line. Have your documentation in hand and ready to go. It will make the line go a lot quicker for you and everyone behind you.
With these tips you should be able to slide off the ship a little bit earlier the next time you take a cruise vacation. Keep in mind that the early bird gets the worm, so as much as it may stink, plan your disembarkation before you get to the pier.
Subscribe to our Cruise Updates.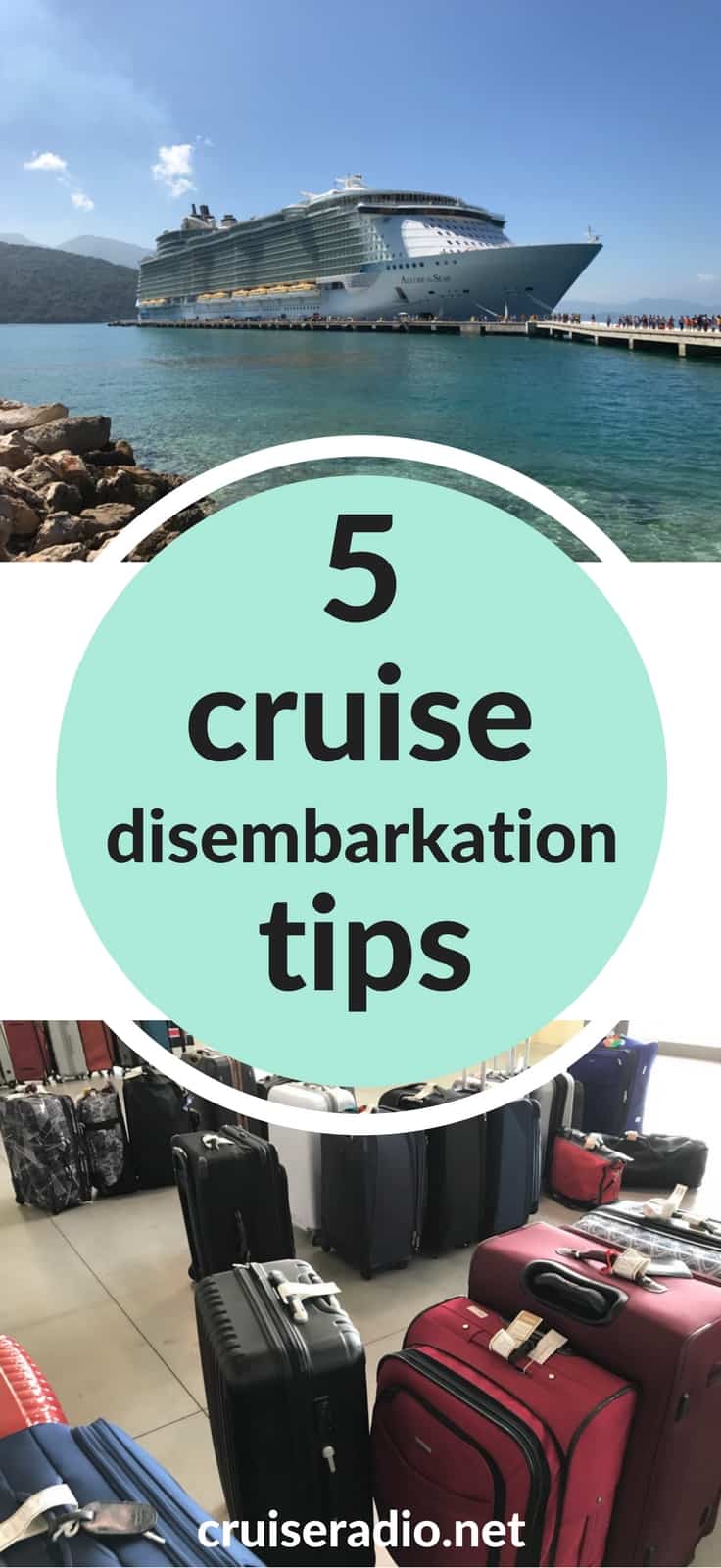 SaveSave