Norwegian Getaway is a great choice for families seeking a wide variety of dining venues and lounges, non-stop entertainment, and exciting activities for everyone. Norwegian Getaway's hallmarks include an oceanfront boardwalk lined with bars and restaurants, a massive waterpark and ropes course, top Broadway-style shows and entertainment, and some of the most extensive youth program facilities in the fleet. This amenity-packed ship delivers tons of fun for families with kids of all ages, from toddlers to young adults.
Here are seven of the many things families will love about Norwegian Getaway: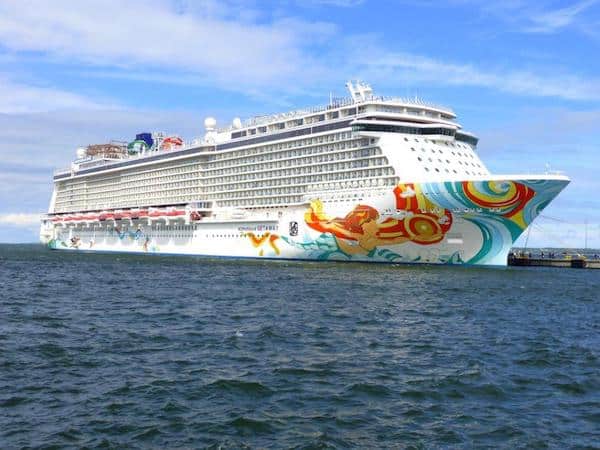 1. Extensive Choice of Family Accommodations
With over 2,000 staterooms, Norwegian Getaway has accommodations to fit every family's vacation budget. The ship offers a wide array of options, from sumptuous suites and villas to solo cabins for single multigenerational family members. Family members seeking VIP treatment can opt for posh suites and family villas in The Haven. These accommodations come with their own butler and private dining options at The Haven Restaurant. The Norwegian Breakaway also offers a number of Family Staterooms located near the youth club areas, connecting staterooms, and a variety of staterooms accommodating children in the same cabin.
2. Awesome Aqua Park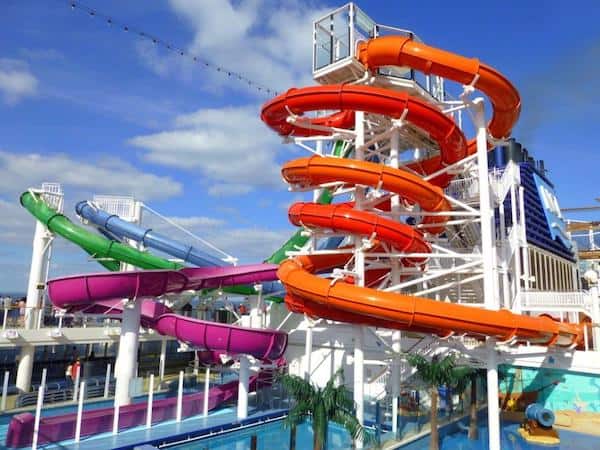 Norwegian Getaway's multi-story Aqua Park features five waterslides, two pools, and four hot tubs. This water park located atop the ship will appeal to families, thrill seekers, and kids at heart. The ship's multi-story waterslides include two of the fastest waterslides at sea. Don't miss plummeting almost straight down on The Whip and taking The Free Fall – pulling almost 4Gs. In addition to an adult pool, there's also a mini-waterpark area that's just the right size for little ones.
3. Huge Kids and Teen Spaces
Norwegian Getaway's Splash Academy youth area sprawls across two decks and is located close to the ship's family staterooms, upping the convenience factor for parents. Splash Academy features sections designed specifically for three age groups: Turtles for ages 3-5; Seals for ages 6-9; and Dolphins for ages 10-12. Splash Academy also offers activities for Guppies, tiny cruisers from 6 months up to 3 years of age. Parents with kids of this age can enjoy fun events and activities with their child. Located separately on Deck 16, Entourage is a high energy zone exclusively designed for teens ages 13-17.
4. Wide Array of Dining Options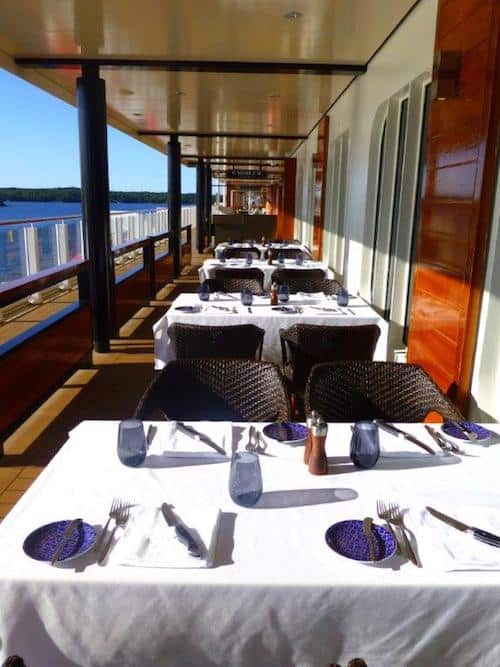 With 26 dining choices available onboard, families won't be bored with their dining alternatives on Norwegian Getaway. The Waterfront is a stunning quarter-mile outdoor promenade lined with a variety of seaside restaurants offering beautiful ocean views. Celebrity Iron Chef Geoffrey Zakarian has three seafood venues on Norwegian Getaway: Ocean Blue by Geoffrey Zakarian; Ocean Blue on The Waterfront; and The Raw Bar. 678 Ocean Place makes navigating Norwegian Getaway seamless, interconnecting three decks of dining and entertainment areas.
For variety, guests can sample cuisines from around the world, including French, Italian, Brazilian, and Far East delights such as Teppanyaki, Shanghai's Noodle Bar, and sushi at Wasabi. Those craving well-marbled steak should look no further than Cagney's Steakhouse, while Le Bistro is the place to go for a memorable French meal. Guests with a sweet tooth should make sure to save some room for treats from The Bake Shop. Families will be happy to know there's a Dolce Gelato shop on the ship, too.
Some Norwegian Getaway restaurants carry additional charges, but others including the popular O'Sheehan's Neighborhood Bar & Grill, Savor, Taste, Garden Café's casual buffet, Flamingo Bar & Grill, and the Tropicana Room are free of charge.
5. Outstanding Entertainment
Norwegian Getaway features live Broadway-style performances and tons of exciting nightly shows. One of the most popular shows is Million Dollar Quartet, a musical inspired by a one-night recording session that brought together music legends Elvis Presley, Johnny Cash, Jerry Lee Lewis, and Carl Perkins. Guests can also take in the ship's Cirque Dreams and Steam dinner show, enjoy nightly live blues performances at Fat Cats Jazz and Blues Club, the sizzling Burn The Floor dance show, live comedy at Headliners Comedy Club, Howl at the Moon dueling pianos show, and much more. Families will love Escape the Big Top, a fast-paced activity allowing them to solve challenges together and break a magician's spell.
6. Ropes Course Thrills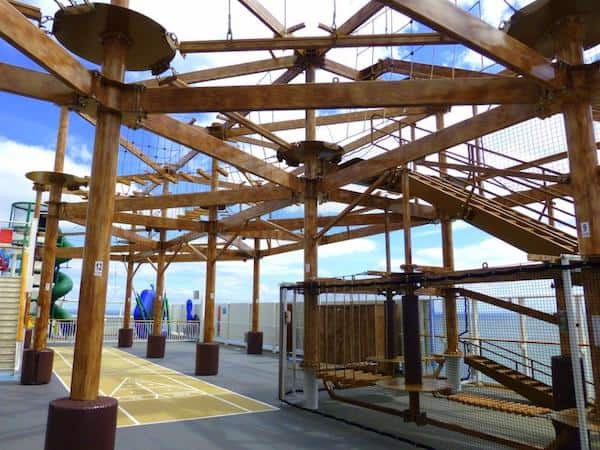 Norwegian Getaway's massive multi-level ropes course consists of over forty different components including a zip line. Adventurous guests can walk The Plank out to its end to find themselves standing eight feet out off the side of the ship. Not to be left out, there's even a pint-sized ropes course for younger kids who aren't yet 48-inches tall. Norwegian Getaway's Sports Complex also features a nine-hole miniature golf course located right beneath the ropes course, a huge rock climbing wall, a bungee trampoline and spider web, a 24-foot enclosed climbing cage, a basketball court, and more.
7. Non-Stop Fun for Parents and Young Adults
Norwegian Getaway offers several adults-only venues aboard the ship. Located on Deck 16, Miami-themed Spice H2O is the place to go both day and night. This area features two hot tubs, a calming double waterfall, sun loungers, a large video screen, a bar and lounge area, and plenty of space for dancing. Deck 17 is home to the private Vibe Beach Club, an exclusive oasis for sunning and relaxing for guests 18 and older. Norwegian Getaway's world-class Mandarin Spa, Salon & Fitness Center is popular with adults as well. Guests can choose from the vessel's huge collection of bars and lounges ranging from Bliss Ultra Lounge to the expansive Bar at the Atrium with its two-story LED screen. Lounges such as the Sugarcane Mojito Bar and Fat Cats Jazz and Blues Club offer live entertainment. Located on 678 Ocean Place, Prime Meridian is a classy spot to enjoy a signature cocktail. Adult guests also enjoy cooling off in the SVEDKA/Inniskillin Ice Bar inspired by Scandinavia's ice hotels. It's truly a memorable experience.
For more information about Norwegian Getaway, visit ncl.com.
Nancy Schretter is Managing Editor of the Family Travel Network.
Photos: Nancy Schretter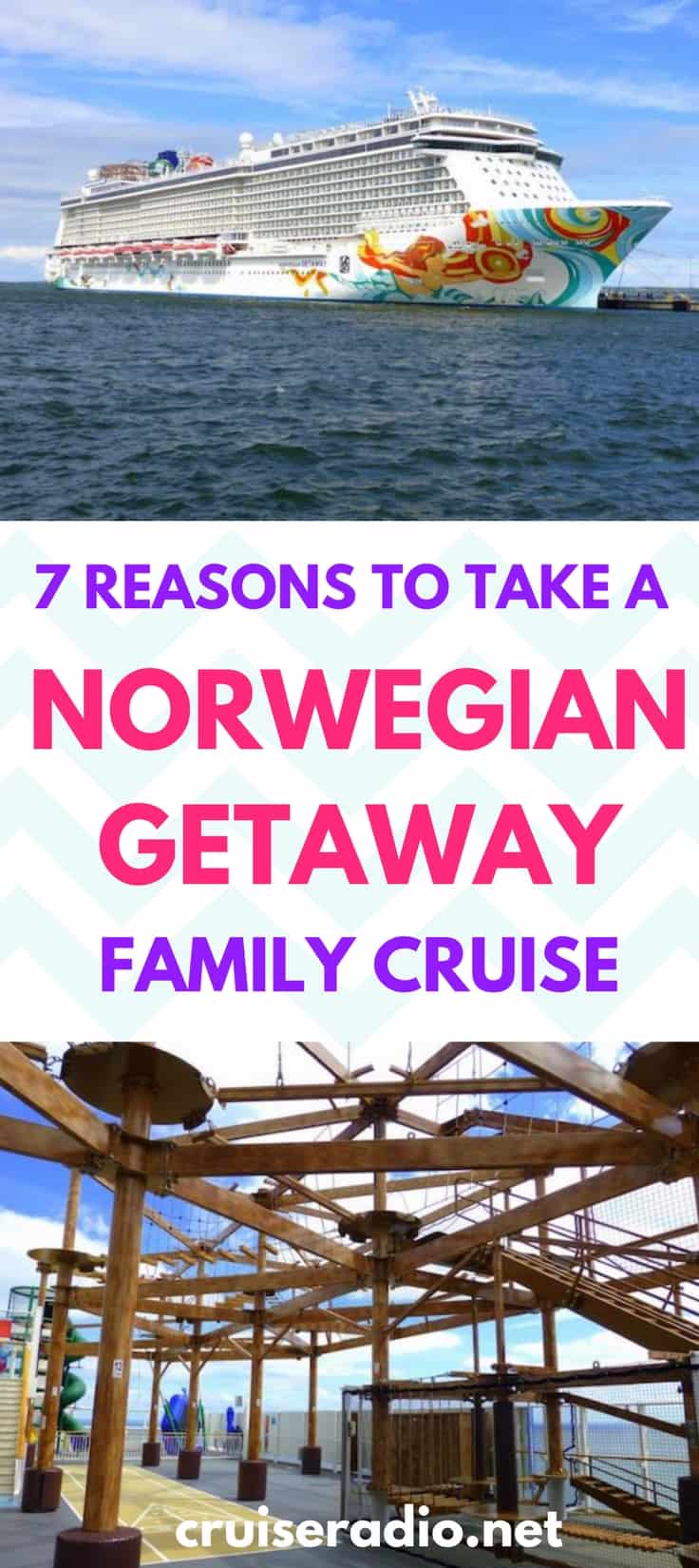 SaveSave