You know how people say, "This ain't your grandma's fill-in-the-blank"?
Well, for a long time, many people thought that Holland America was your grandma's cruise line!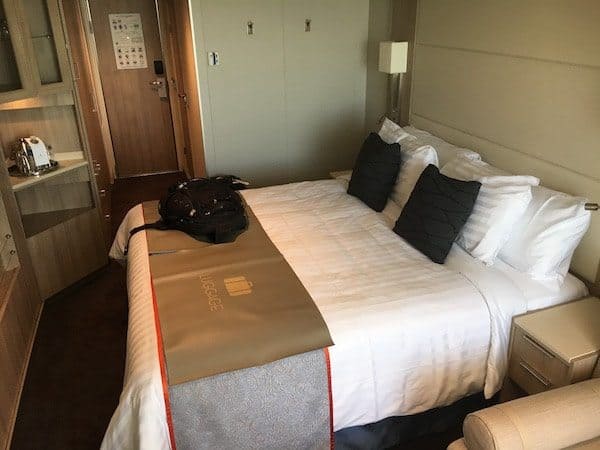 And this was far from an insult, as the company has long embraced both its Dutch heritage and reputation for being a more traditional-leaning cruise line. But if our recent voyage upon the fleet's newest ship, ms Koningsdam, is any indication, it would appear that Holland America has managed to do the darn-near impossible by continuing to embrace tradition while making itself appealing to a wider audience, including those much younger than the passengers who've comprised their core audience in the past. So what's different? Let's take a look.
1. The Public Areas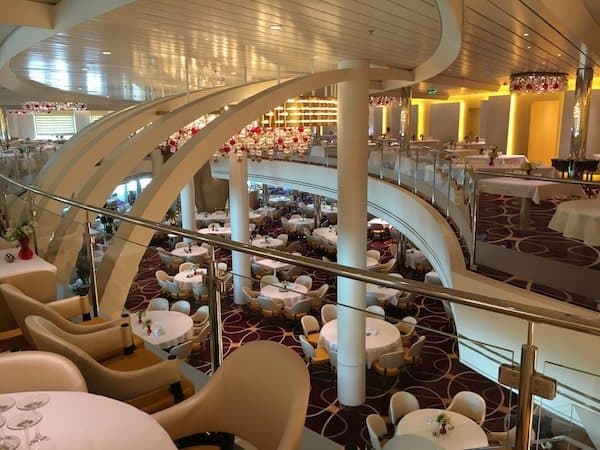 On many ships, these spaces can feel both cramped and difficult to navigate, looking more like a jigsaw puzzle than a comfy space to spend some time. Koningsdam, however, is designed for comfortable lounging and extended conversations, especially in venues such as the Queen's Lounge and the Crow's Nest (which may feature some of the best indoor views you'll find anywhere on board). This openness even extends to the corridors, particularly on decks two and three, which are wider than one expects to find on a cruise ship, helping to alleviate the claustrophobic feeling that can sometimes be found in the hallways outside one's stateroom.
2. The Lido Deck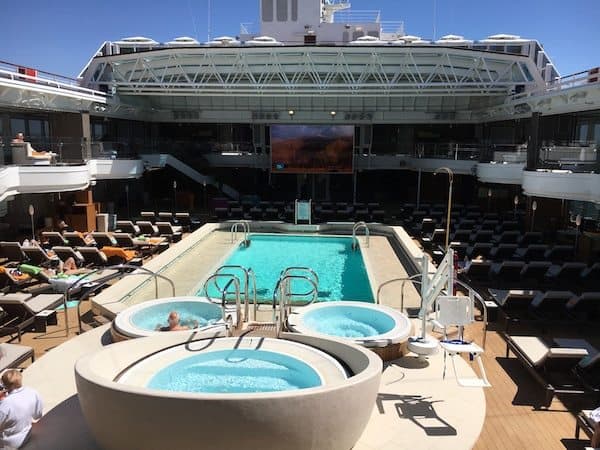 Take a quiet walk poolside on the lido deck and you'll find a two-story covered pool area with lounge chairs divided by privacy curtains, a gourmet burger joint (appropriately named Dive-In) and the New York Deli and Pizza. Stroll to the back of the ship, and you'll find a second swimming area, the Sea View pool. And if all that walking back and forth between the two pools leaves you parched, there's a bar conveniently located between them!
3. Food, Food and More Food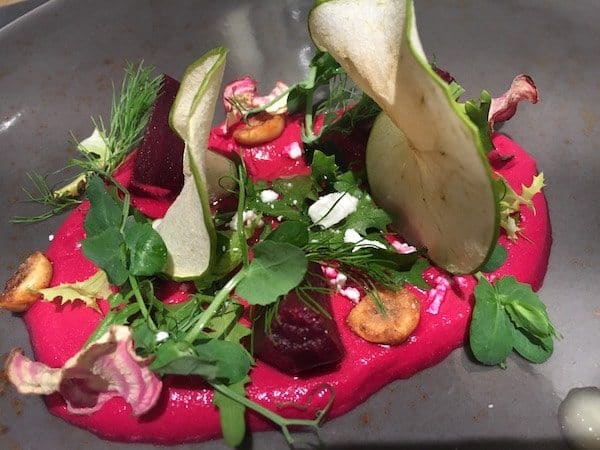 You don't have to be a foodie to enjoy all the food options on this ship. One dining venue that stood out to me was Tamarind, an Asian fusion restaurant that embraces Asian gastronomy. Other standouts were the French seafood restaurant Sel de Mar (which translates to "sea salt") and the Culinary Arts Center (presented by Food & Wine magazine and featuring a farm-to-table concept as well as hands-on cooking classes and visits from celebrity chefs). And of course, no modern cruise ship can set sail without a steakhouse! Aboard Koningsdam, that would be the gold-bedecked Pinnacle Grill. And unique to this ship is the Dutch Café, on deck 3, which embraces the line's heritage with unique food and drink items. You can also get to know more about Holland America's home country by chatting to the staff, who are Dutch nationals.
4. Music Walk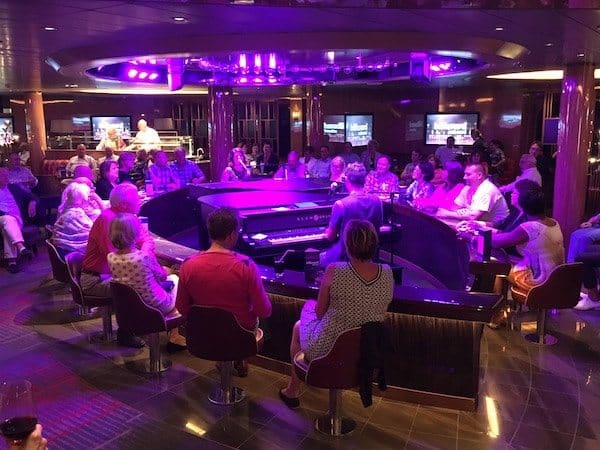 One of the Koningsdam's most unique offerings is this multi-stage entertainment district featuring Lincoln Center Stage, BB King's Blues Club and Billboard Onboard. This is basically heaven for a music lover such as myself. And while I feared that the proximity of the spaces might result in a disastrous cacophony of sounds, with the dueling pianos from Billboard Online drowning out Lincoln Center's chamber music, this is never an issue thanks to careful scheduling.
5. World Stage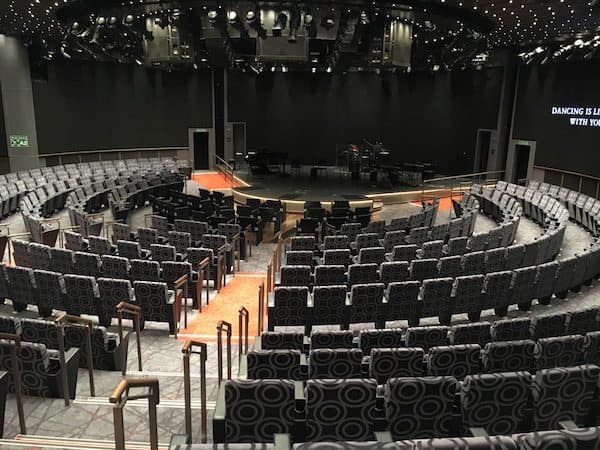 One of the coolest theaters at sea, this space is constantly evolving thanks to a flexibility which allows it to go from traditional seating to in-the-round, depending on the needs of the entertainment being presented. A technological marvel, a 250 foot long, 270 degree LED screen surrounds the audience and transports them to… well, pretty much anywhere. During my sailing, I was able to take in both a BBC Earth nature show which was scored by a live orchestra and a Billboard Top Hits concert featuring tunes from groups as diverse as The Beach Boys and Madonna.
6. Blend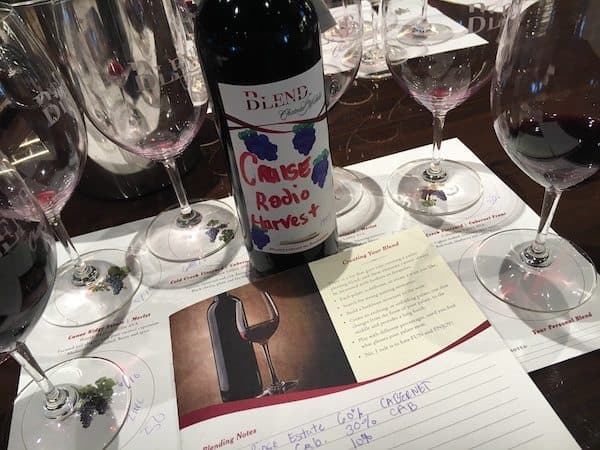 Ever walk up to a bartender and say, "Surprise me"? Well, how about walking into this first-at-sea venue and crafting your own wine, which you can later enjoy at dinner or maybe while sitting on your balcony? With the help of an expert wine blender, guests get the chance to sit around a tasting table and then create their own completely unique blend (thus, obviously, the name!) The experience costs $129 for an hour-long class, but allows you to walk away having had one of the most unique experiences you'll ever have on a cruise ship!
7. An Emphasis on Technology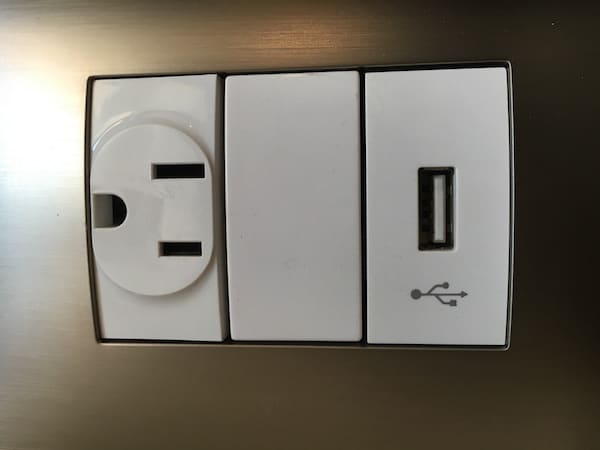 World Stage is obviously a major example of how technology has been incorporated into the Koningsdam's design, but that same attention filters down to little details that can mean a lot. For example, anyone who travels with as many devices (and chargers) as me will appreciate that there were five outlets (two bedside) and three USB plugs (again, two bedside) in the stateroom. The television is also fully interactive, and even access to the cabin is done via a simple tap of your keycard.
With so many new partnerships and advancements, I'm curious to see if Holland America brings in a younger demographic with this new ship.
Koningsdam will spend the summer sailing out of Amsterdam before repositioning to Port Everglades for the winter.
Pin this!