Disney Cruise Line's island Castaway Cay is among the best of cruise line private islands anywhere.  The pristine white sand beaches and crystal clear blue water attract cruise guests back again and again.  In true Disney spirit, there's also a ton to do there, and there will be something for everyone.  Whether you enjoy sporty activities, thrilling adventures, or want to relax for a day, Castaway Cay's got something for you.  Here's eight things you can do while you're in the Bahamian destination for a day.
1. Be a Beach Bum
There's literally a beach for every age on Castaway Cay.  If you want to stay with your littles and enjoy some family time in the water, there's the Family Beach.  This beach is closest to all of the action and is full of loungers and plenty of waterfront for a day of frolicking in the waves.  There's also a huge floating platform within swimming distance from shore that two water slides, a dumping water bucket, and other water features.  For a quieter beach scene, adults 18+ can head to Serenity Bay to enjoy some alone time, and even get a relaxing massage.
2. Play in the Water Park
Aside from the Pelican Plunge floating platform mentioned above, there's also a play area for kids on land called Spring-a-Leak.  Designed to look like the remnants of a washed-away beach dwelling, there's dripping pipes, hissing misters, and broken plumbing that will provide plenty of cooling-off fun for the kids.
3. Run a 5k
Not a lot of people realize that each and every time a ship calls in Castaway Cay, there's a 5k in the morning on the island.  Kids and adults alike can register once they board the cruise, and there's no additional cost to sign up.  You hop off the ship with the group, and are able to be on the island before almost everyone else.  Participants can run, jog, walk, whatever – it's more of a completion 5k versus a race.  Once you're finished, you earn a rubber medal to show your efforts!  Then, you have the rest of the day to cool off and enjoy the island.  I think it's a really neat way to start your Castaway Cay day bright and early, and get in a good bit of exercise too.
4. Take a Glass Bottom Boat Tour
One of the excursions that is offered on Castaway Cay is a glass bottomed boat tour.  Guests will board the boat and then venture to the northern side of the island to its barrier reef system.  Through viewing windows in the bottom, guests will be able to see vibrant tropical fish, coral, and other sea creatures in the clear waters.  This one-hour tour is the perfect way to see a bit of underwater life, especially for young kids or adults who may not want to venture into snorkeling.
5. Ride Bikes
For active guests, renting a bike for an hour or two might just be the perfect way to get a feel for the island.  There are bike paths throughout, and it's a great way to combine exercise with sightseeing…because who wants to ride a stationary bike in the gym when you can explore a tropical island instead?!
6. Do Yoga
One fitness class included in your cruise fare is a morning yoga session on the beach.  Those that participate will be some of the first off the ship (along with the 5k participants!) and are able to enjoy a peaceful session in the adults-only area of Serenity Bay.  If beginning your morning with one of the most relaxing practices sounds appealing, this activity is right up your alley.
7. Try Parasailing
If thrills is the name of your game and you're willing to splurge for it, consider the parasailing excursion.  Shortly after disembarking the cruise ship you'll make your way to Marges Barges and be escorted to a boat after a safety briefing.  Once out on the water, guests will be able to parasail for five to seven minutes high in the sky – making for killer island views and a memory that's sure to stick around forever.
8. Go Snorkeling
I could hardly mention a lineup of activities in Castaway Cay without mentioning a tropical vacation classic: snorkeling.  The snorkeling area is located off of the Family Beach, and features two trails that guests can follow through their snorkeling adventures.  The first is Discover Trail, and the second is the Explorer Trail for more experienced snorkelers.  You'll see tropical fish, ocean floor fauna, and even some fun installations by Disney themselves. (Be sure to look out for the hidden Mickey!)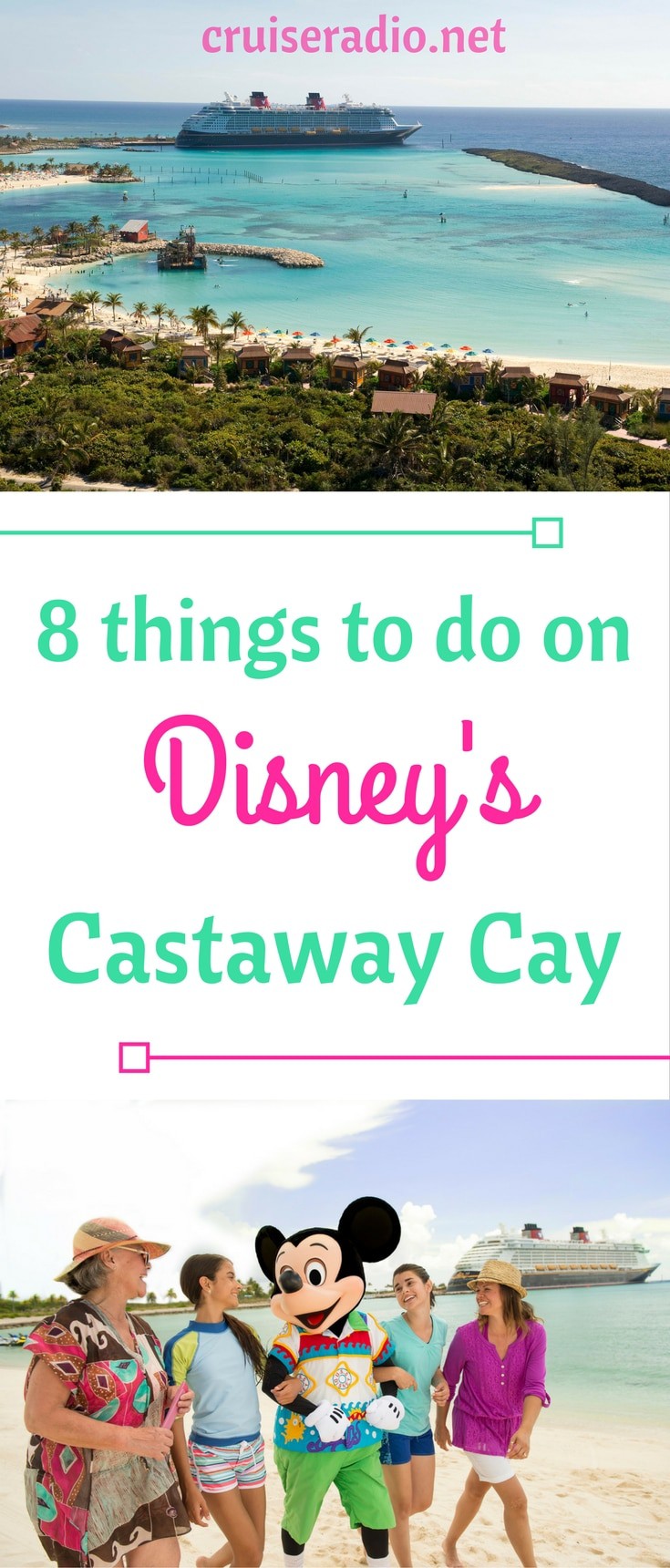 Photos used in Pinterest image: Disney Cruise Line