Disney cruise ships stand as far as cruise ships go. With over 25 years in the cruise industry, Disney Cruise Line appeals to both first-time cruisers and Disney enthusiasts.
Keep reading to learn about Disney Cruise ships, their unique features, and adult activities onboard.
The Evolution of Disney Cruise Line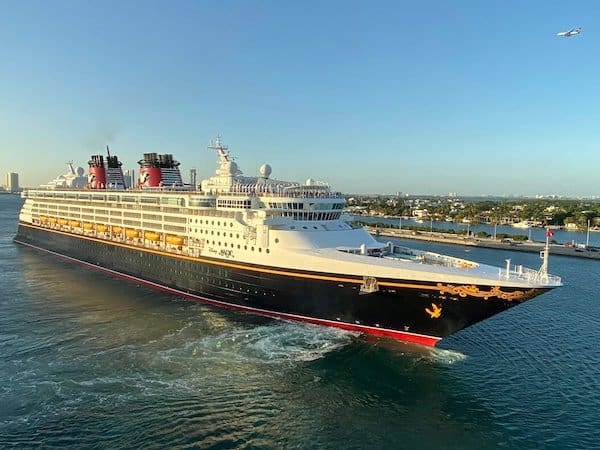 Disney Cruise Line has come a long way since its first ship in July 1998, marking its 25th anniversary in July 2023. The first voyage of the Disney Magic set sail from Port Canaveral, marking a new and thrilling chapter for Disney.
Following the success of Disney Magic, the Disney Wonder embarked on its maiden voyage in 1999, and Disney has since added more ships to its fleet.
The latest acquisition, Disney Adventure, was recently acquired and is expected to debut in late 2025, with Singapore as its home base.
Disney Cruise Ships by Size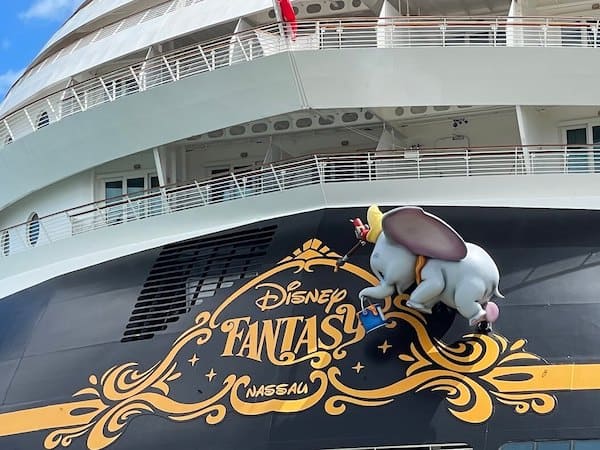 The Disney Cruise Line fleet currently has five ships, one under construction and one undergoing renovations.
From smallest to largest, the fleet consists of:
Disney Magic
Disney Wonder
Disney Dream
Disney Fantasy
Disney Wish
Disney Treasure is currently under construction
Disney Adventure is currently under construction
Disney Magic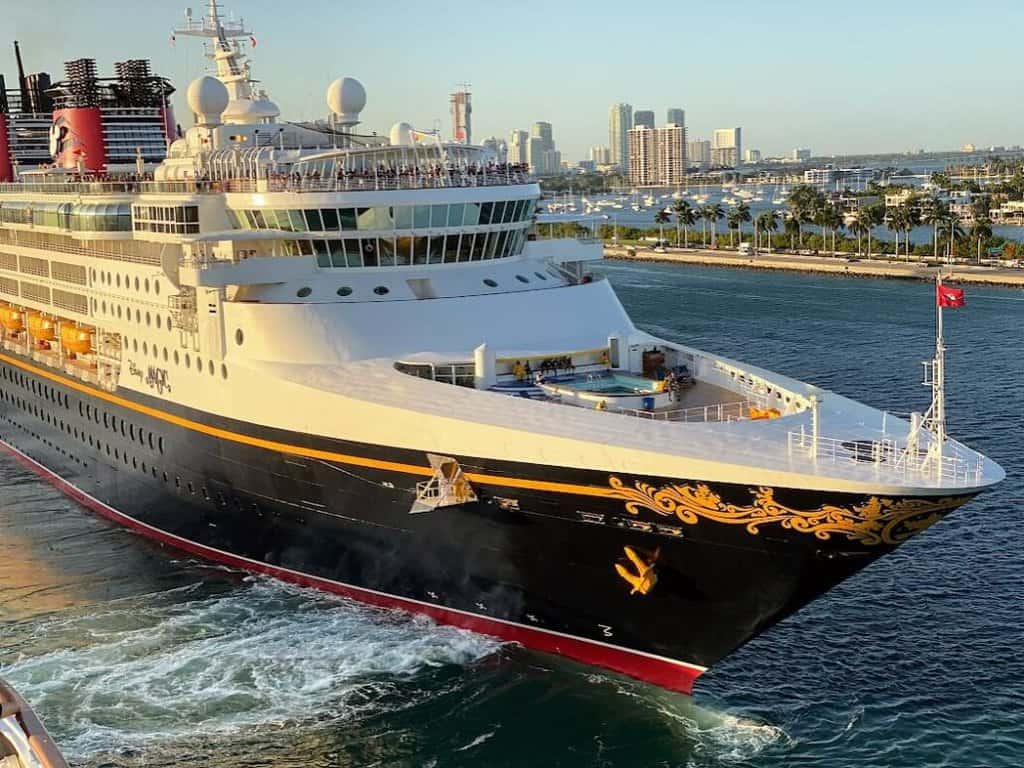 Launched: 1998
Size: 83,969 GRT
Shipyard: Fincantieri in Italy
Length: 984 feet
Passenger capacity: 2,713
Passenger staterooms: 875
The first and oldest cruise ship, Disney Magic, had its first voyage 25 years ago on July 30, 1988. The cruise set out from Port Canaveral to the Bahamas.
Not only was this the flagship for Disney when it launched, but it was also the first vessel to visit Disney's private island in The Bahamas called Castaway Cay.
Although all Disney ships are great options, some exclusive features on Disney Magic make it stand out.
Other than bragging rights to say you sailed on Disney's first-ever cruise ship, you will also be able to experience the AquaDunk. At this thrilling water slide, you will stand on a platform with anticipation, waiting for it to release and send you plunging three stories. From personal experience, you will keep wanting to go back.
RELATED: Disney Cruise Line vs. Carnival Cruise Line, Which is Better?
Disney Magic is also the only Disney cruise with itineraries visiting Europe, with transatlantic voyages heading to Greece, Spain, the British Isles, and Norway. The Disney Magic is also the only ship that includes the Avengers Academy, allowing fans to fly with the one and only Iron Man.
While a cruise with Disney is an excellent experience with your kids and for teens with kids clubs and the Oceaneer Club, if you're hoping for some time away, there are plenty of adult-only amenities you can check out.
On deck 9, you will find the Quiet Cove Pool, or you can also enjoy some me time at the adults-only spa, Senses Spa & Salon. Palo is the perfect spot for date night, giving you an adults-only high-end dining experience with some of the best signature pizza and sparkling wine.
After dinner, you can head to the Fathoms nightclub, Keys Piano Bar, or O'Gills Irish Pub.
Disney Wonder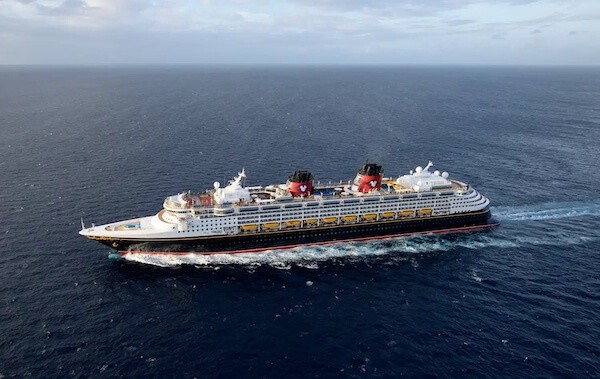 Launched: 1999
Size: 84,130 GRT
Shipyard: Fincantieri in Italy
Length: 984 feet
Passenger capacity: 2,713
Passengers staterooms: 875
The second cruise ship to join the Disney fleet, the Disney Wonder, was on August 15, 1999, initially sailing for 3-4 nights to the Bahamas and the Caribbean. It now has an extensive range of itineraries with cruises heading to Alaska, the Mexican Riviera, and Hawaii. The ship will sail to Australia and New Zealand starting in October 2023.
When boarding the Disney Wonder, you will be welcomed by a bronze Princess Ariel and The Little Mermaid decor. On the bow, you will find Steamboat Willie Mickey.
For an exciting meal, you can head to Tiana's Place for dinner and a show featuring Princess Tiana herself.
On the Disney Wonder, the adult district "After Hours" has a collection of 18+ venues and lounges. You can enjoy a beer at Crown & Fin Pub, dance the night away at Azure Nightclub, or enjoy a unique evening at the Cadillac Lounge, a unique lounge with a retro automotive vibe.
Disney Dream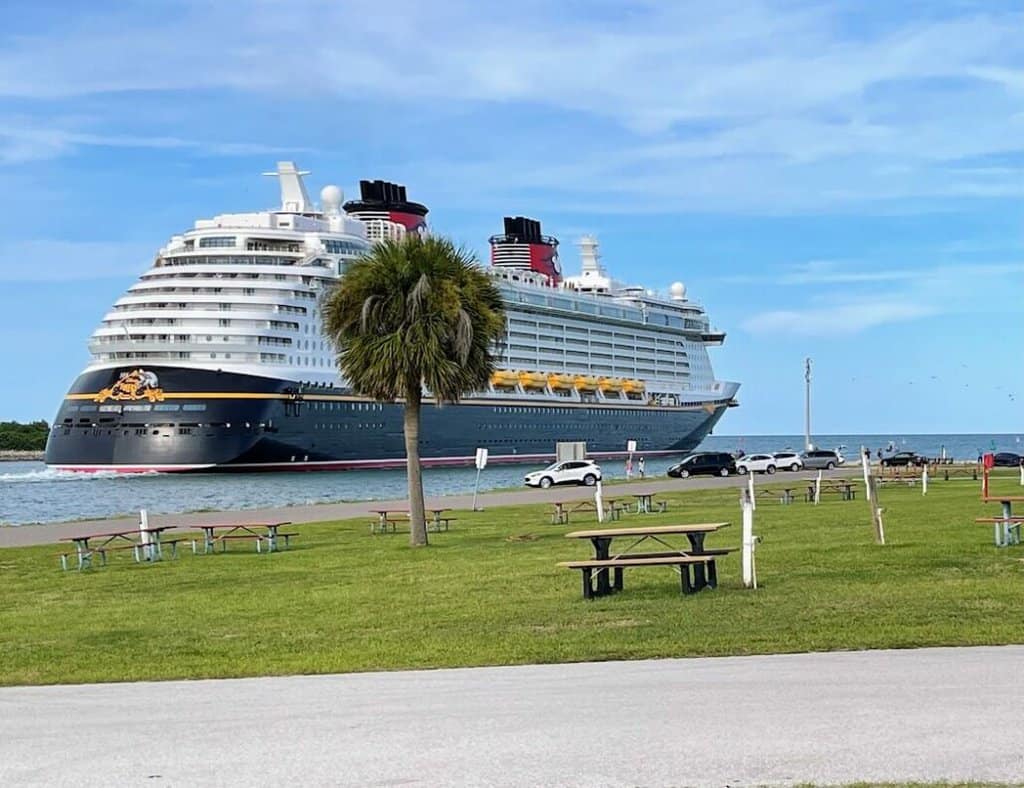 Launched: 2011
Size: 123,000 GRT
Shipyard: Meyer Werft in Germany
Length: 1,115 feet
Passenger capacity: 4,000
Passenger staterooms: 1,250
The third ship of the Disney fleet, the Disney Dream, first set out from Port Canaveral on January 26, 2011, to the Bahamas. Disney Dream is tied with the Fantasy for the 2nd largest ship in the Disney fleet.
Each voyage on the Disney ships is unique and exciting. While the Disney Dream is the sister ship and shares many commonalities with Disney Fantasy, they still have some features that make them unique.
Aboard the Disney Dream, you will find Admiral Donald Duck, and the stern character is Sorcerer Mickey. With a golden atrium, you will be in awe of the Swarovski crystal chandelier.
To enjoy quality time without the kids, you can head to the adults-only area aboard the Disney Dream, "The District." The District is themed based on taking guests on a virtual journey to various cities worldwide.
Each lounge reflects the ambiance of different cities, from The District Lounge resembling sophisticated lounges in New York to Pink: Wine and Champagne Bar transporting you to Paris.
Disney Fantasy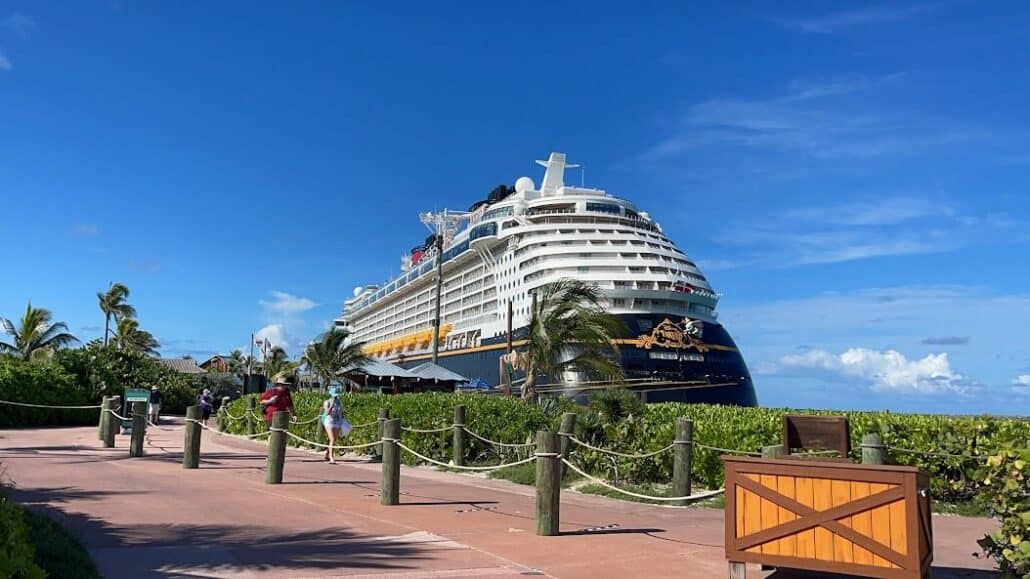 Launched: 2012
Size: 129,750 GRT
Shipyard: Meyer Werft in Germany
Length: 1,114 feet
Passenger capacity: 4,000
Passenger staterooms: 1,250
Setting out for the first time on March 31, 2012, the Disney Fantasy's maiden voyage was from Port Canaveral to the Bahamas, with a capacity for 4,000 passengers. At 1,114 feet long, the Disney Fantasy has a gross registered tonnage of 129,750.
Disney Fantasy has a unique theme of art nouveau with an incredible statue of Mademoiselle Minnie Mouse in the lobby.
On Disney Fantasy, you also have the option to book a Pixar-themed cruise on specific dates available. Pixar Day at Sea is a fantastic experience offered only on Disney Fantasy to have a one-of-a-kind experience with all your favorite Pixar monsters, toys, and characters.
Disney Fantasy's adult-only district, "After Hours," has unique features to enjoy some time away from the kids.
Inspired by the London nightlife scene, "The Tube" has a vibrant and energetic setting for dancing, "Skyline" showcases panoramic views of famous skylines from all over the world, and Irish Pub "O'Gills" is the perfect spot to grab a beer and get to know other cruise goers.
Disney Wish (Triton Class)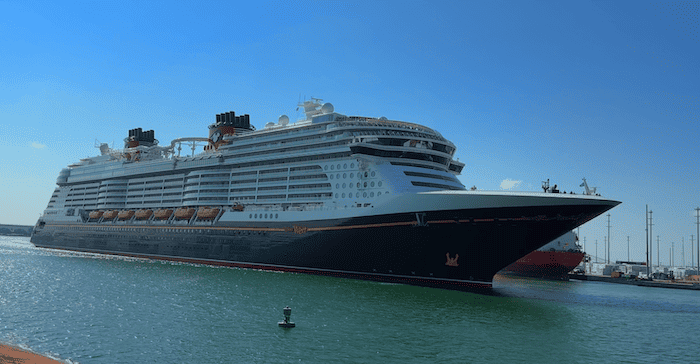 Launched: 2022
Size: 144,000 GRT
Shipyard: Meyer Werft in Germany
Length: 1,119 feet
Passenger capacity: 4,000
Passenger staterooms: 1,254
As of 2023, the fifth and newest ship in service is the Disney Wish, embarking on its maiden voyage in July 2022. This is the first Disney ship powered by LNG (liquefied natural gas), a much cleaner burning fuel.
The Disney Wish was named after the Make-A-Wish foundation and named all children a part of the organization, the godchildren of the ship.
This is the first in the Disney fleet to showcase Minnie as the bow medallion character, and guests can meet her in her captain's uniform. The ship also features a water roller coaster called the Aquamouse.
RELATED: Disney Wish Dining Guide by Venue
While on the other Disney ships, the adults-only area is grouped into a specific district, the Wish has 18+ venues. With two adult-only restaurants, Remy and Palo, you can sit back and relax while enjoying a child-free meal.
You will find a Beauty and the Beast-inspired lounge on one part of the ship, the Triton Lounge on a different deck, and a Star Wars-inspired lounge on another.
While many adult-only venues exist, Disney Wish spread them apart, making a unique change from the past ships' layouts.
You can also visit the Hyperspace Lounge, a Star Wars-themed lounge offering the world's most expensive cocktail at $5,000.
Disney Treasure (coming in December 2024 )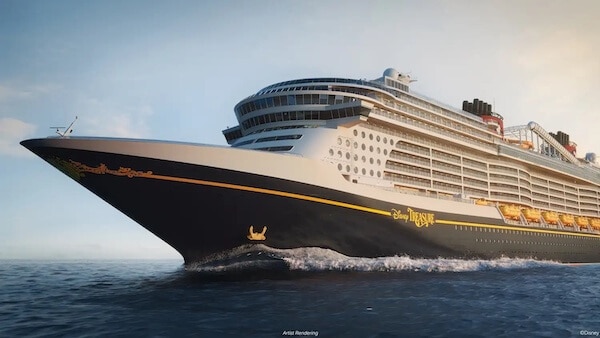 Size: 144,000 GRT
Shipyard: Meyer Werft in Germany
Length: 1,119 feet
Passenger capacity: 4,000
In September 2022, Disney announced their new ship, the Disney Treasure. The ship is estimated to start services in 2024 as part of the Wish class. It has a gross registered tonnage of 144,000, and at 1,114 feet, it can hold 4,000 passengers.
Set to debut in December 2024, Disney Cruise Line's new ship, Disney Treasure, aims to bring the enchantment of Disney theme parks to the high seas.
Inspired by Walt Disney's love for travel and adventure, the ship will feature a variety of themed eateries, attractions, and accommodations that draw from iconic Disney World and Disneyland rides and areas.
Among the unique offerings are a Periscope Pub inspired by the classic "20,000 Leagues Under the Sea" attraction, a Jungle Cruise-themed lounge called Skipper Society, and a luxurious two-story Tomorrow Tower Suite.
Disney Treasure will offer seven-night Caribbean itineraries departing from Port Canaveral in Florida.
Disney Adventure (Coming in late 2025)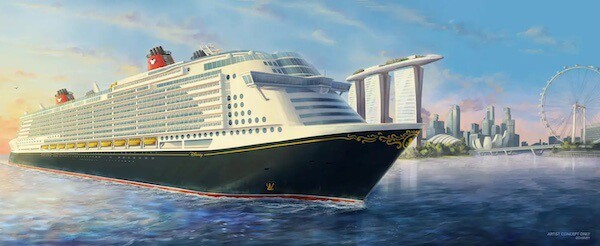 Size: 208,000 GRT
Shipyard: MV Meyer Werften
Length: 1,1122 feet
Passenger capacity: Approximately 6,000
Originally named the Global Dream, Disney purchased the ship after Genting Hong, the original company, declared bankruptcy. Disney reportedly bought the ship for 40 million euros but plans to invest 1 billion euros into renovations.
It is currently undergoing renovations at Meyer Werft. Disney plans to run itineraries with the new ship homeporting in Singapore. It has a capacity for 6,000 passengers and is sure to be one of Disney's most iconic ships in the fleet yet.
FAQs
What is the difference between the Disney Cruise ships?
Disney cruise ships offer a variety of design layouts and amenities that are specific to each ship, including distinct restaurants, entertainment, dining rooms, staterooms, activities, and beloved characters that can be found throughout the vessel.
Which Disney cruise ships are bigger?
The Disney Wish (144,000 GRT) is the largest cruise ship in the Disney fleet. However, upcoming vessel Disney Adventure (208,000 GRT) will surpass its size.
Which is the smallest Disney cruise ship?
The Disney Magic and Disney Wonder are the smallest ships in the Disney fleet, being 40% smaller than the Disney Wish.
What makes Disney cruise ships so unique? 
You will not find a casino on any Disney cruise ship. Every Disney ship has rotational dining, meaning you'll never have two of the same dining experiences back to back. Disney also offers these nights like Pirate Night and Masquerade Night, which is topped off by evening fireworks at 9:00 p.m. 
Why are Disney Cruises so expensive?
Disney cruise ships are expensive because of the exceptional entertainment, dining, larger staterooms, and premium experiences that come with the Disney brand. Every sailing includes meet-and-greet opportunities with Disney characters, themed parties, rotational dining, and an evening capped off with fireworks.