Whenever the topic of stateroom categories comes up, you will inevitable hear people saying, "What does it matter? You're only going to be in the room to sleep!" And while that may be true for many cruisers, for those like me, the stateroom represents something more than simply a place in which to lay one's head. It is a refuge.
At home, I don't have a lot of time to just… chillax. To spend hours laying in bed, claiming to be reading a book when in reality I'm sleeping. But on this trip in particular, I'm taking a different approach to cruising. I'm enjoying more of the nightlife, which means during the day, I want to sleep in. So having a balcony room, complete with a view and fresh air, has proven crucial.
A Whole New World
You'll remember that back on day one, I made a big deal about the importance, to me, of getting a pass to the Vibe Beach Club. Today, as we sailed into Florida, those efforts paid off in spades. For the uninitiated, Vibe is an adult's-only section of the ship with its own bar and hot tubs. It is also an adult's-only zone. So when finally I rousted myself midafternoon and ventured out of my cabin, this was where I went.
The cost varies, but on this trip, a Vibe pass cost $99 per person. They also have cabanas available which run around $350 for two people, but I went with the simpler (and cheaper) option. You'd be hard pressed to find a more peaceful place to spend an afternoon or evening than Vibe, with comfy loungers, music, cocktails and, if sought out, pleasant company. Located high atop the massive ocean liner, Vibe also offers a fantastic space from which to watch the sunset.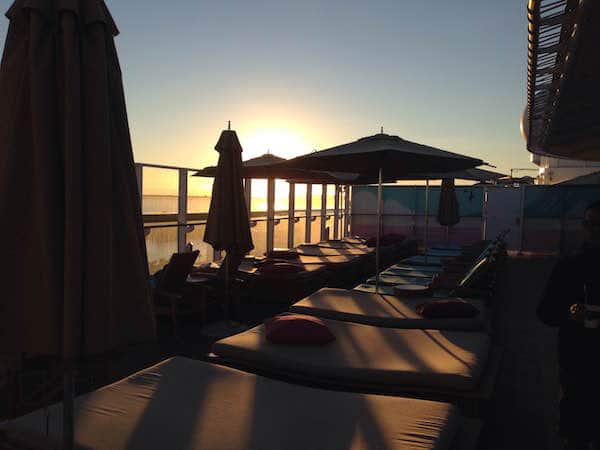 Dinner & A Show, Part 3
Having spent a little too much time drinking at Bliss nightclub the night before, I wasn't particularly feeling like food was going to be my best friend. So at lunchtime, I did a quick pass through the buffet – which was incredibly packed around 1 pm – to grab a few nibbly bits to hold me over until dinner. This proved a wise decision, as I dined in the Manhattan Club dining room.
One of three main dining rooms aboard the Breakaway, all of which features the same menu, the Manhattan Supper Club feels just a little more upscale. Plus, as an added treat, it features live entertainment. During part of the evening, there was a singer, and later, a performance by the Burn The Floor dance troupe. This is a surprisingly kid-friendly environment, despite feeling more upscale. When the singer performed Abba's Dancing Queen, parents and kids hit the dance floor, and despite my curmudgeonly (and slightly feigned) disdain for all things kid related, it was beyond fun watching families groove to the tunes.
Food-wise, I went in hungry and was not disappointed. I ordered three starters: A salmon tartare, a sausage salad, and a crab cake, each of which was spot-on. Main course-wise, I went with a lamb dish that was perfectly prepared and hit the spot. Dessert? Who has room?
If there's one area where The Manhattan Room lacks, and this seems to be true across all of the venues at which one does not pay an additional fee, it is in regard to beverage service. It ain't easy getting a second glass of wine or cocktail in the main dining rooms!
Happy Holidays
While wandering around the ship before dinner, I noticed that Christmas had surreptitiously made its way to the Breakaway. Elves had placed wreaths and tasteful Christmas trees all around the ship. Thankfully, the holiday music which can be inescapable this time of year has not yet made its way onto the playlists aboard!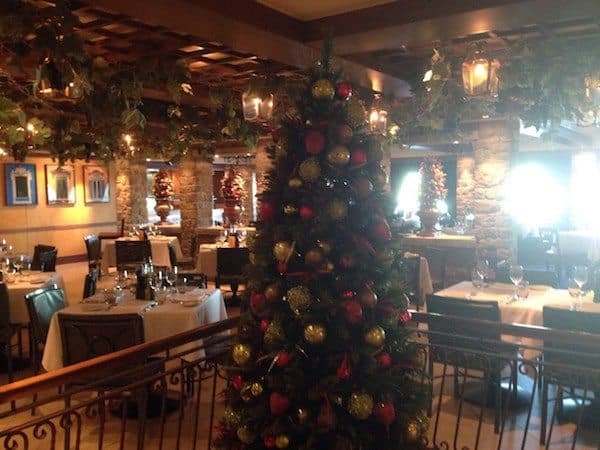 Despite the ever-present temptation presented by the casino, I opted to call it an early night, what with tomorrow being my very favorite stop on this particular itinerary: Great Stirrup Cay. The private island has been closed for renovations for a while now, and also suffered some minor damages when Hurrican Matthew decided to pay a visit, so I'm looking forward to seeing what the destination has in store for us tomorrow.
Q: What's the deal with Norwegian's program CruiseNext?
A: Essentially, this is Norwegian's way of encouraging passenger loyalty and offering them a reward in exchange. People get a little confused, because it's often badly explained in chat rooms and on message boards, so let's see if we can fix that. Essentially, passengers onboard NCL ships are given the opportunity to purchase up to four CruiseNext certificates. Each certificate costs $250 dollars and is, generally speaking, good for up to 4 years. You are basically putting a deposit down on a future cruise without necessarily saying exactly when or where you're going to go. A nice perk of the certificates is that they are transferable to friends and family. Here's where the confusion sometimes arises: When you purchase a CruiseNext certificate, you receive essentially a credit toward the cruise you are currently on. So if you buy a $250 certificate, you get a $100 credit toward your on-board account. The more certificates you buy, the more onboard credit you receive. Also, NCL often offers additional rewards to people who not only buy a CruiseRewards certificate, but, at the time of purchase, select a cruise toward which to apply it. Terms and conditions vary depending upon the current offers, but generally speaking, if you, for example, book a cruise for next winter and later decide to change to a different NCL ship or a different date, you are allowed a certain number of times to do so without penalty.
Follow our other blogs: