Not even Mother Nature was going to rain on Carnival Cruise Line's parade as the company's luminaries gathered Sunday evening to officially name the latest member of the fleet, Carnival Celebration.
Carnival Celebration, Then and Now
"A lot of us were actually on the original Celebration," said brand ambassador John Heald, who played host for the event, held in the new ship's stunning atrium as it sat docked in Miami. The captain, he revealed, had worked on the deck, while Heald joked that he himself was "the aerobics instructor."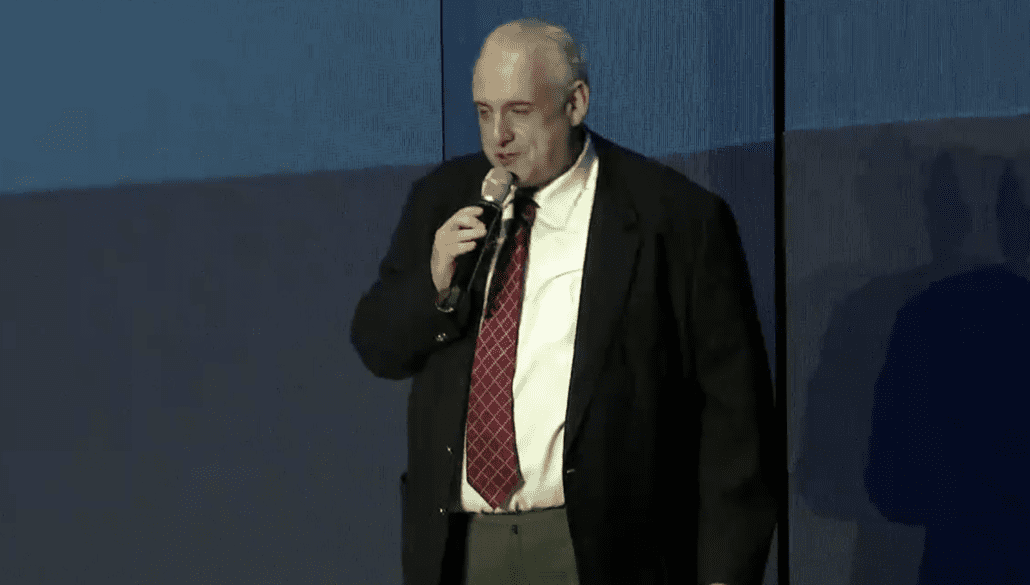 The event kicked off with several performances — including one which saw a duo flying high above the gathered audience — and a blessing from Father Gale Nelson, head of the Miami division of Big Brothers/Big Sisters.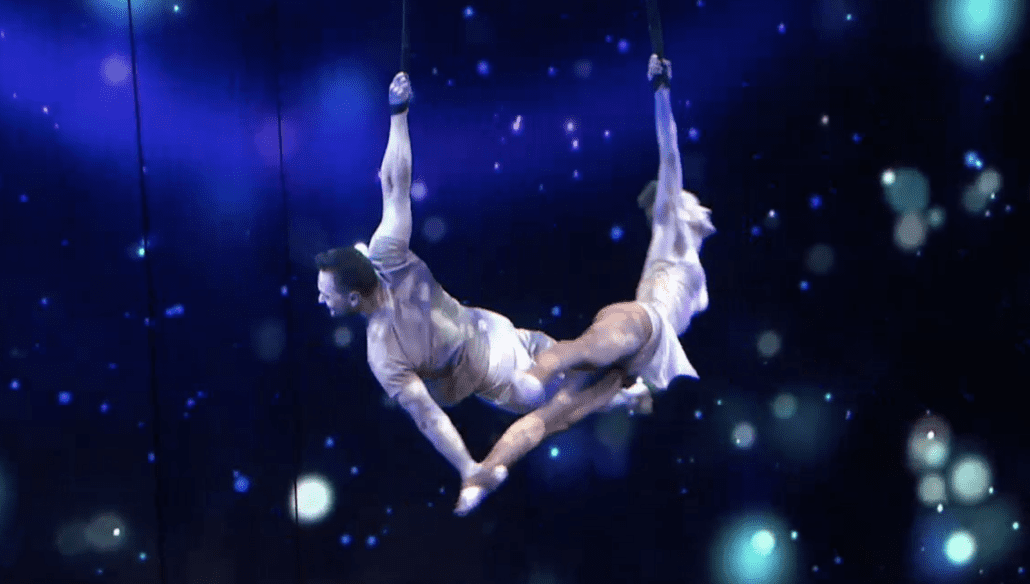 Heald then introduced Carnival Cruise Line's president, Christine Duffy, saying, "She didn't wait for her ship to come in, she swam out and got it and brought cruising back."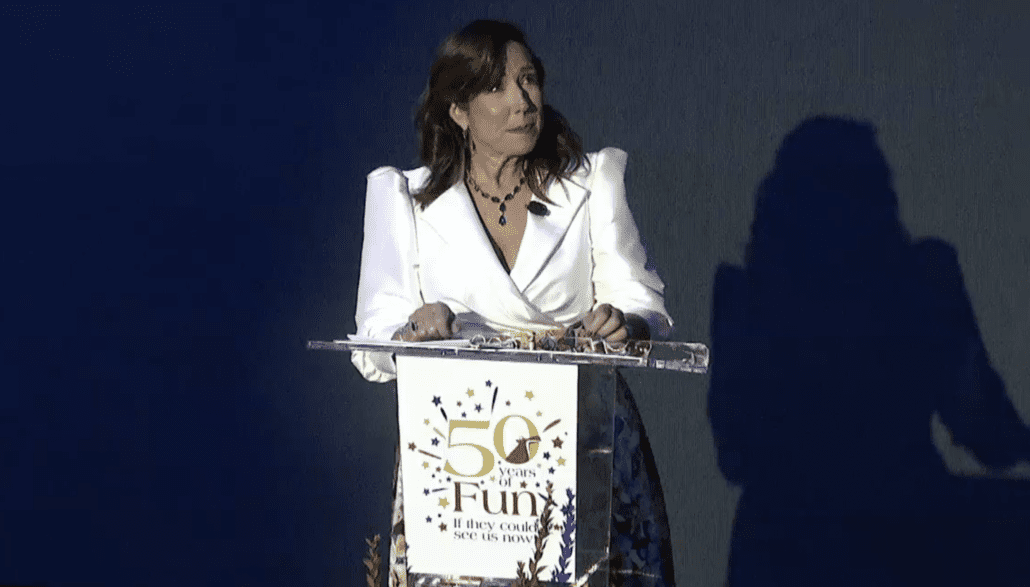 Speaking of the differences between the new and old versions of Celebration, Duffy quipped, "While they share the same name, I think that's about it!" As it turns out, however, that's not entirely true. In fact, Duffy pointed out that there are 50 crew members on the current ship who also worked on her namesake!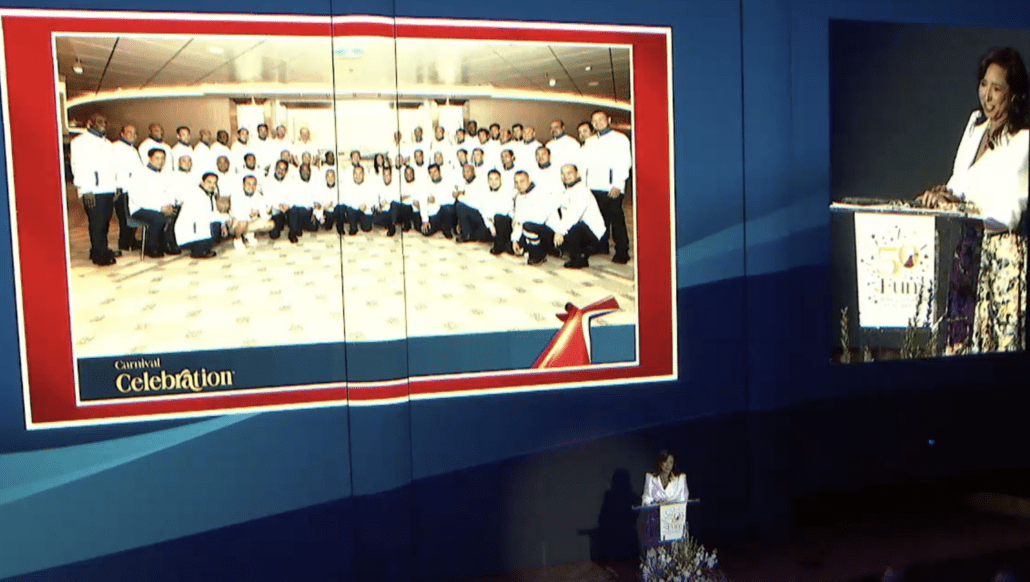 "Look at her," exclaimed Duffy when an image of the original Celebration was shown on the screens. "She's so cute! And that was considered a big ship at the time!"
What's In a Name?
"Little did we know when we said we were going to name this ship Celebration just how much we would have to celebrate this evening," admitted Duffy. Because, of course, that announcement came at a time of great uncertainty for the industry, with no one knowing exactly when ships might sail again.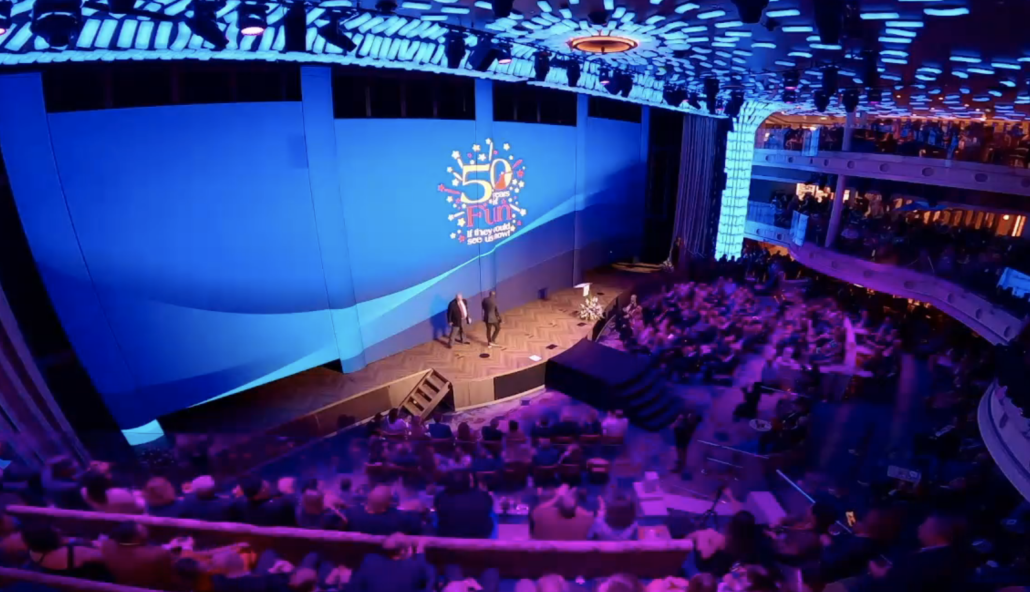 On top of that, there were plenty of other reasons for Duffy and company to be in a festive mood. For one thing, there were over 200 passengers on board who had not only done the transatlantic sailing, but would be remaining on the ship to do her first official sailing out of Miami the next morning. Plus, during the transatlantic, those guests had raised a record-breaking $60,000 for St. Jude Children's Research Hospital.
Rain, Rain, Go Away
As buckets of rain continued to pour from the sky, the damp weather became something of a theme in Duffy's speech. She pointed out that when last she'd seen the Celebration guests in Southampton, the weather in London had been rainy and gloomy. She'd assured them they were heading for "the Sunshine State" and the weather would definitely be better there.
Or perhaps not, as it turned out.
Upon further reflection, she noted that the weather at the Meyer Turku shipyard at which Celebration had been built was also not known for its great weather.
Passing the Torch
When it came time for the official naming, Cassidy Gifford was brought up on stage to do the honors. And it was a very special occasion, as Cassidy's mom, the iconic Kathie Lee Gifford, is perhaps one of the best known godmothers of all time, having been featured in Carnival Cruise Line ads for years.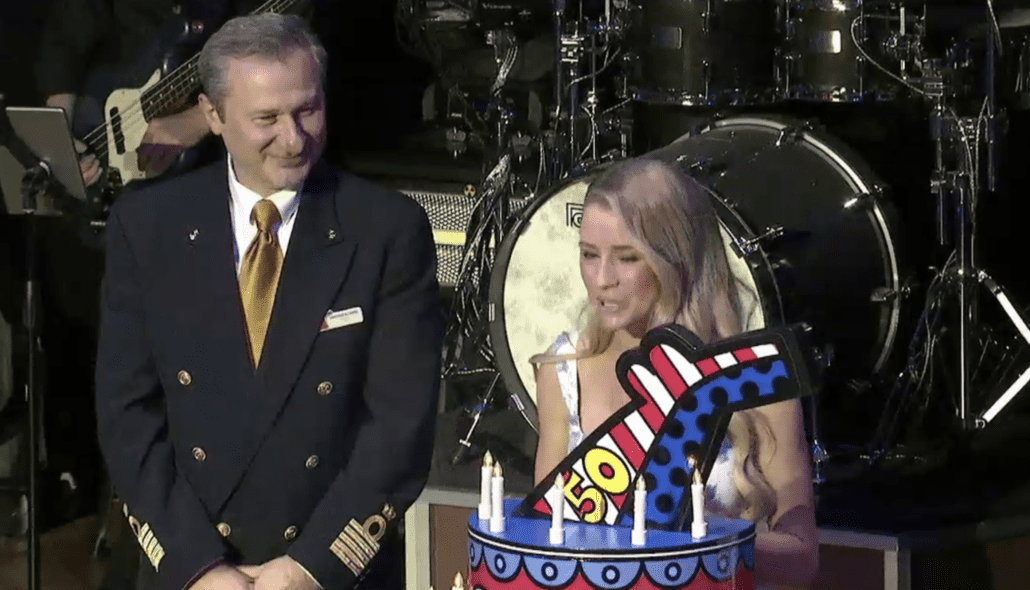 Once Cassidy had read the traditional maritime blessing and pulled a lever which sent a bottle of champagne crashing into the side of the ship, the real fun began. Before long, mom Kathie Lee had joined the band on stage to sing "If They Could See Me Now," a tune long associated with her ad campaigns for the cruise line.
Although that was the end of the naming ceremony, the party was only just beginning. Invited guests would soon be enjoying a dinner, and the evening was slated to end with a special performance by Kool & The Gang who would, of course, be singing their hit song "Celebration."
READ NEXT: Royal Caribbean Names Godmother of Wonder of the Seas