This January, I had the opportunity to experience the Carnival Chef's Table during my seven-night cruise aboard Carnival Celebration.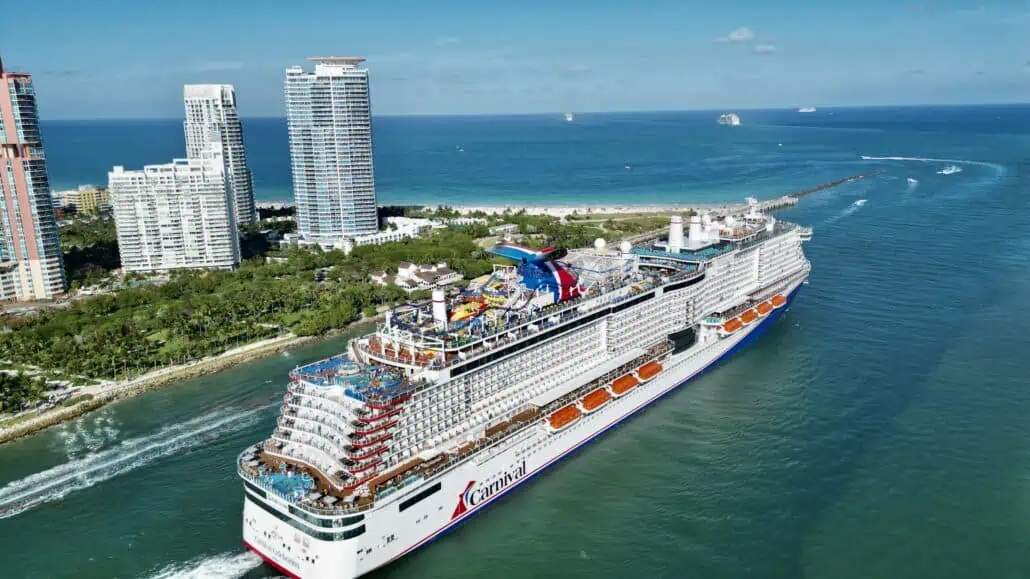 I'd never experienced The Chef's Table on any cruise line before, and had never had a meal quite so extensive before — so I was brand new to any and everything related to this type of dining event. Here, I'm going to go over my thoughts of The Chef's Table on Carnival Celebration and give you details on the cost, menu, and more.
The Cost & How to Book Carnival Chef's Table
The current cost for The Chef's Table on Carnival Celebration is $99 per person, not including an automatic gratuity of 18 percent (A total of $117 per guest).
This price is always subject to change, so be sure to look into the exact cost for your voyage for the most up-to-date information.
You can make reservations online prior to your sailing, or you can make them once on board at Guest Services if there are any spots still available (but Chef's Table fills up quickly!). If you wait until you're onboard there is a chance you might not get a reservation due to limited seating where the experience takes place.
Meeting Point
Once you are confirmed for the Carnival Chef's Table, you'll receive a letter in your cabin welcoming you to the experience and telling you where your meeting point is. On Carnival Celebration, at least currently, the meeting point is at the JavaBlue Café.
Once you arrive, a crew member from the Chef's Table will sign you in and give you a health form to fill out. It's super quick, basically asking the same basic health questions that you are usually asked when you check in for the cruise or arrive at the terminal. I assume these are asked because everyone doing Chef's Table sits at one big table and will be in close proximity with each other for an extended period of time.
Once everyone arrives, you are escorted as a group over to the Carnival Kitchen, which is located on the same deck not far from the café.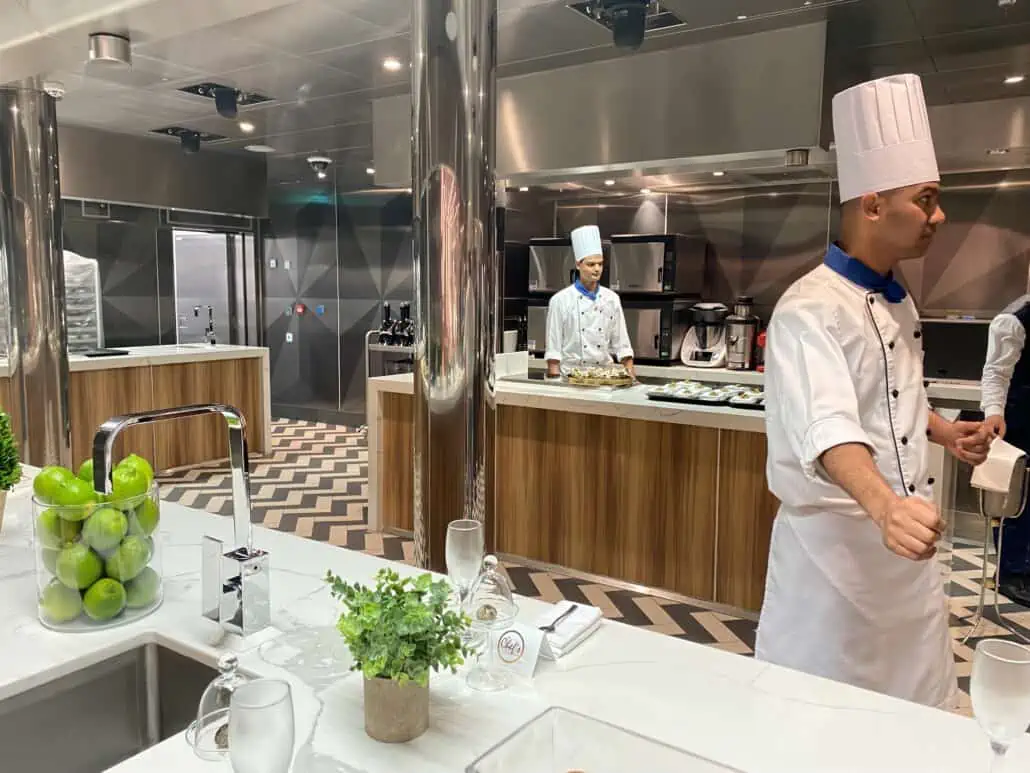 Carnival Kitchen
If you're unfamiliar with the Carnival Kitchen venue, it's where cooking classes are held throughout the cruise. Multiple cooking stations are positioned on kitchen islands throughout one side of the room so that guests can follow along with the chefs as they learn how to cook and bake various dishes.
For Chef's Table, everyone gathered around these cooking stations to little place settings that were already ready when we arrived. This is where we were served multiple bite-sized nibbles as a bit of a prelude to the actual meal later on. Executive Chef Karan Singh hosted the entire evening, including at Carnival Kitchen, where he explained each bite that we were eating. We then gathered over at a table for a quick demo from another chef on how to make Carnival's famous warm chocolate melting cake.
(Note: My pre-meal experience was held inside the Carnival Kitchen venue, it could be held in the galley if there is a cooking class scheduled.)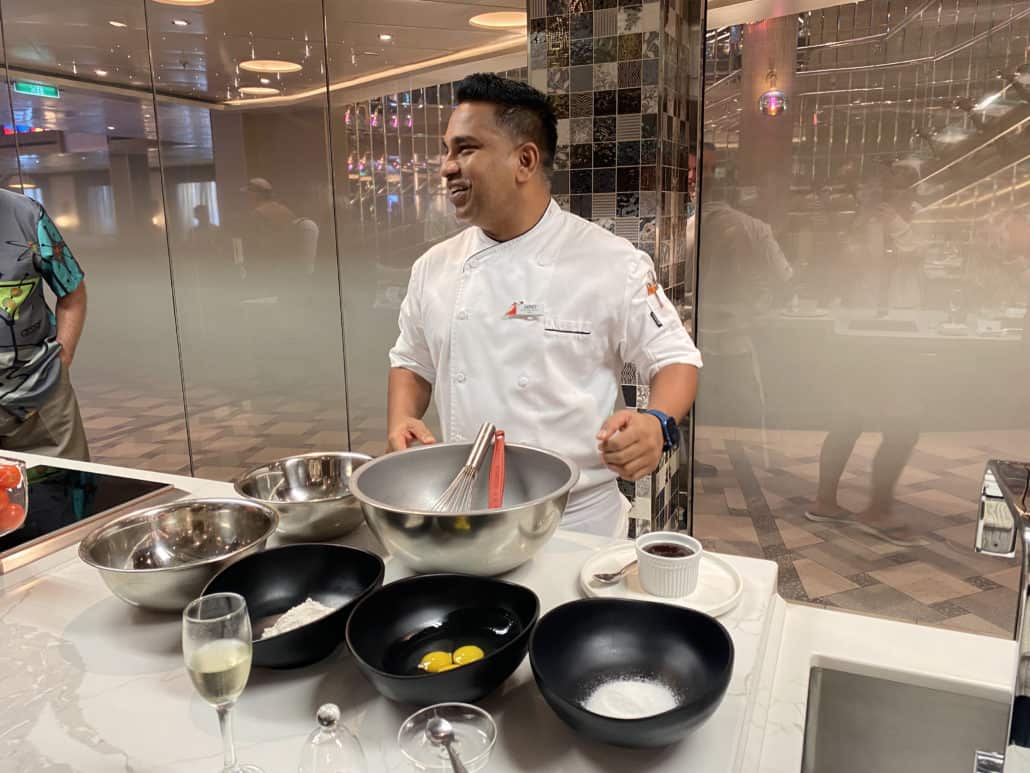 If you're curious, here are the four bites we tried while in the Carnival Kitchen:
Tajin salmon, balsamic pearl, amaranth
Savory rosemary cookies, corn milk horchata
Shrimp cracker, beetroot, popcorn shrimp, garlic aioli
Dehydrated mushrooms, truffled white chocolate, mint moss
After that, it was time to head behind closed doors through one of the ship's main galleys to the Chef's Table dining room.
Carnival Chef's Table Dining Room & Menu
The Chef's Table dining room is located right in the middle of the action in the galley, but it is a separate room which means you won't have to strain your ears to hear over the hustle and bustle of the kitchen. Glass windows on one end of the dining room means you can take a peek at the action without being distracted from your exquisite meal.
The dining room is beautiful, with a long glass "chandelier" made of upside-down champagne glasses, very cushy comfortable chairs, and a prep area to the side where you can see chefs put finishing touches on dishes before they're presented.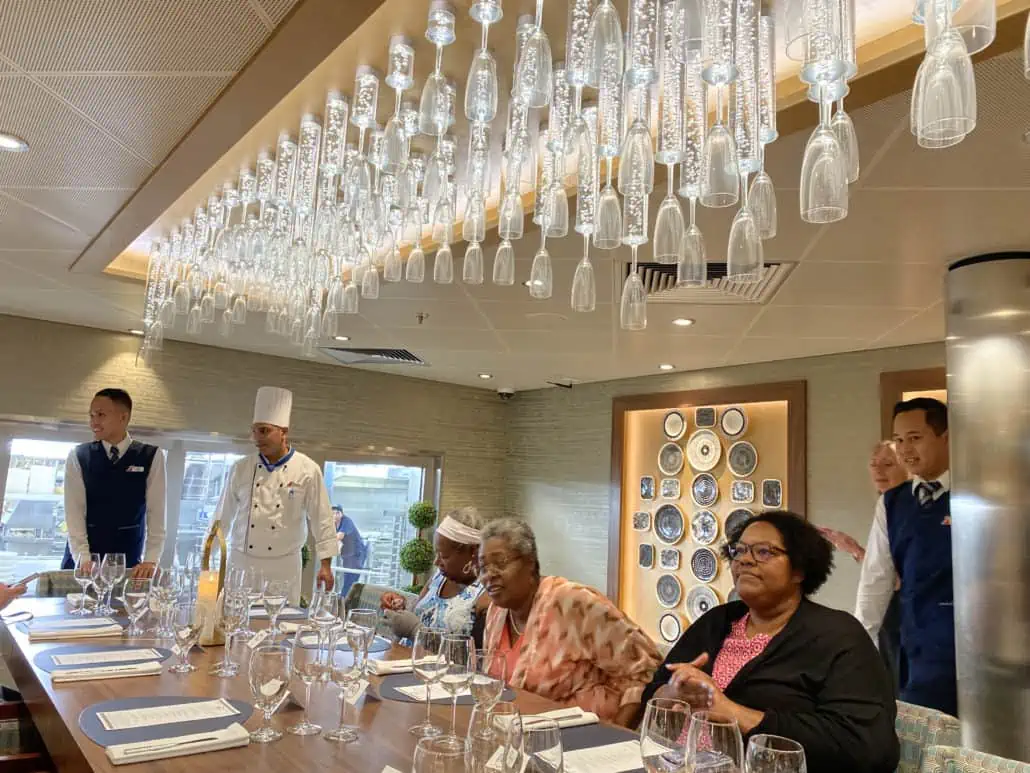 Each course was explained to us prior to eating it, and served to everyone at the same time. This kept everyone on the same page, and the explanations were very helpful because even though we all had a paper keepsake menu in front of us, there were many terms I'd never heard of and ways of mixing the different ingredients and flavors together that I would have been lost on if it wasn't explained.
The meal started off with wine bread (I'd never even heard of that!) in a wooden box with honey butter that was shaped like a rose. A great start to an exquisite meal!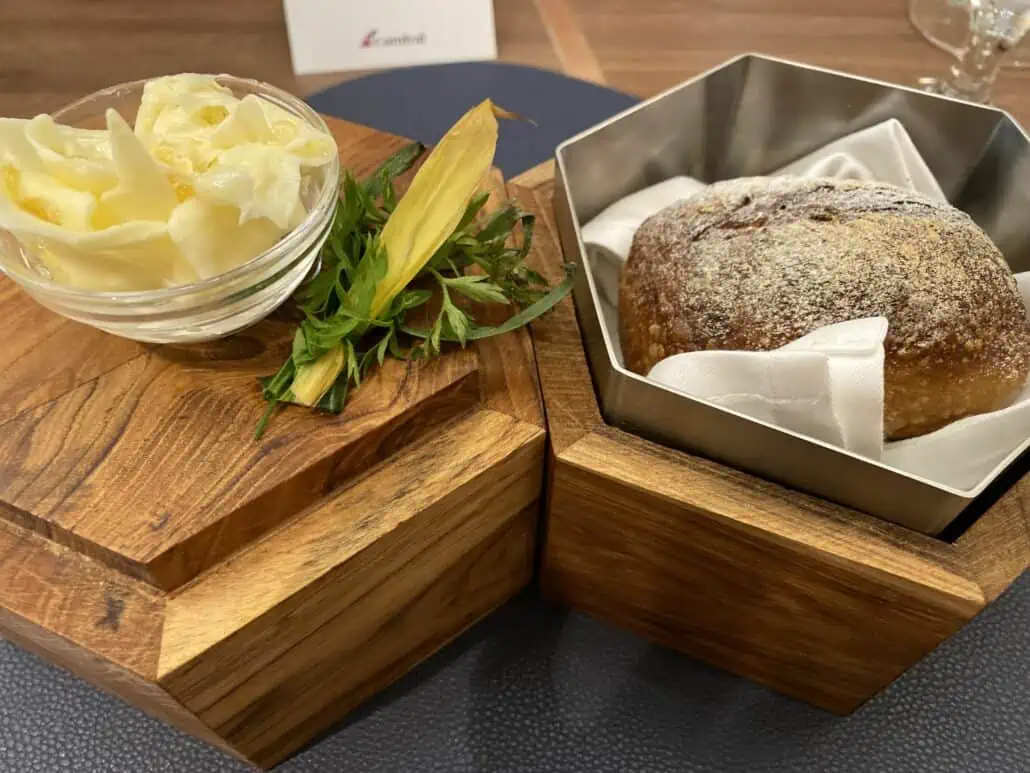 I don't want to go into too much detail about each dish we had during the Chef's Table aside from (spoiler alert!) showing you the menu and just a few photos, because I think some of it should be left as a fun surprise if you decide to do Chef's Table yourself. But without further ado, here's the menu:
Steak Tartare at Your Table: Aerated hollandaise, mushroom, thyme oil, passion fruit, double beer batter fries
Petite Harvest Greens: 20+ types of seasonal vegetables
Garlic Rubbed Spot Shrimp: Sweet potato croissant, limoncello sabayon, balsamic nage, gruyère, and parmesan beignets
Pan Seared Black Cod: Saffron beurre blanc, grilled asparagus, spring peas, parmesan carrot, lemon relish
Herb Crusted Lamb: Balsamic onion, asparagus, sweet peppers coulis, sourdough pumpkin bites, maple dijon glaze
Beef Short Rib: 12-hours braised, smoky red chimichurri, 30-layers black garlic dauphinoise
Passion Fruit Celebration: Dark chocolate sphere, berries compote, raspberry petal passion fruit tea
Sweet Treat: Baileys molded choclate | Uji matcha pinnacle | Raspberry glazed bonbon | Chocolate cocoa sable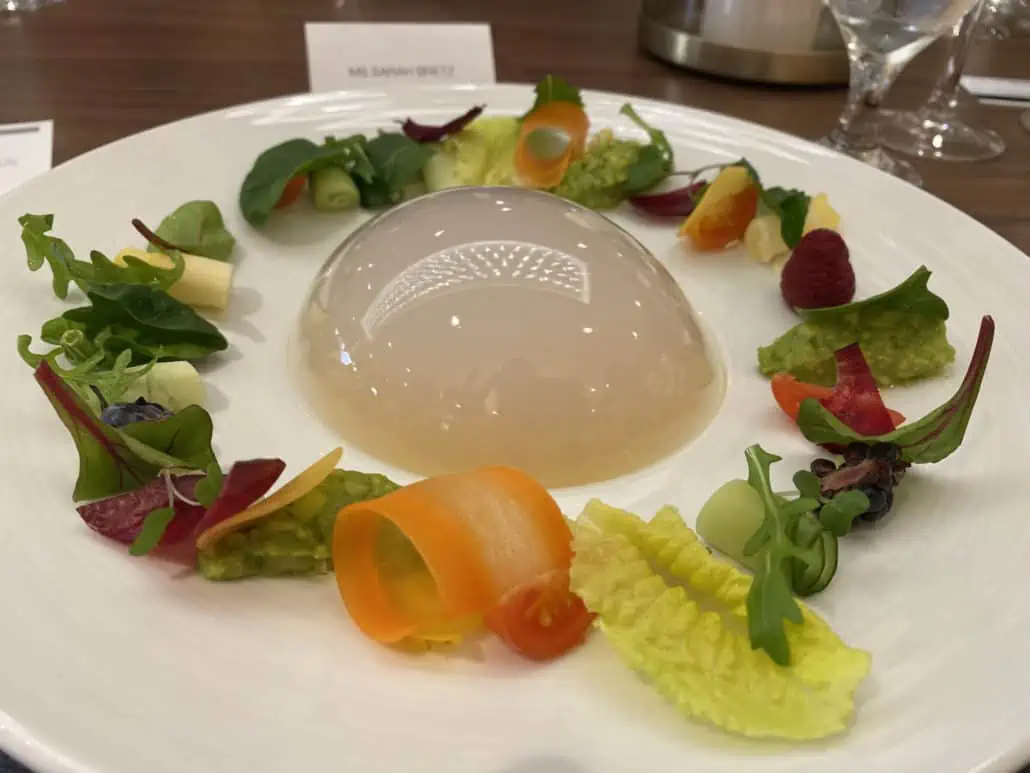 Partway through the meal, the ship's resident sleight-of-hand magician came in to perform some tricks for us. He was very funny and witty, and most of his tricks involved one or many of us in some way. Everyone around the table was seriously amazed by his talent, and he had us laughing and in awe pretty much the entire time he was there.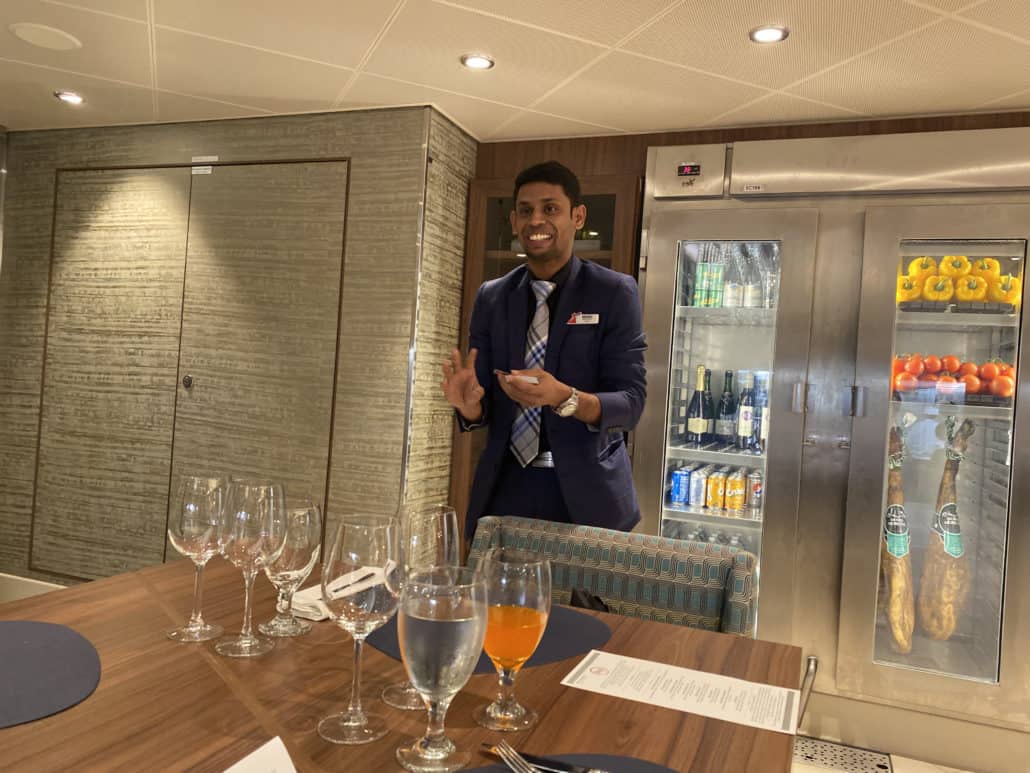 I want to also mention that wine was part of the Carnival Chef's Table experience, with a few wines we could choose from throughout the meal. The options were limited, but it was nice to have the accompaniment. When it came time for the dessert courses, we were offered dessert wine as well.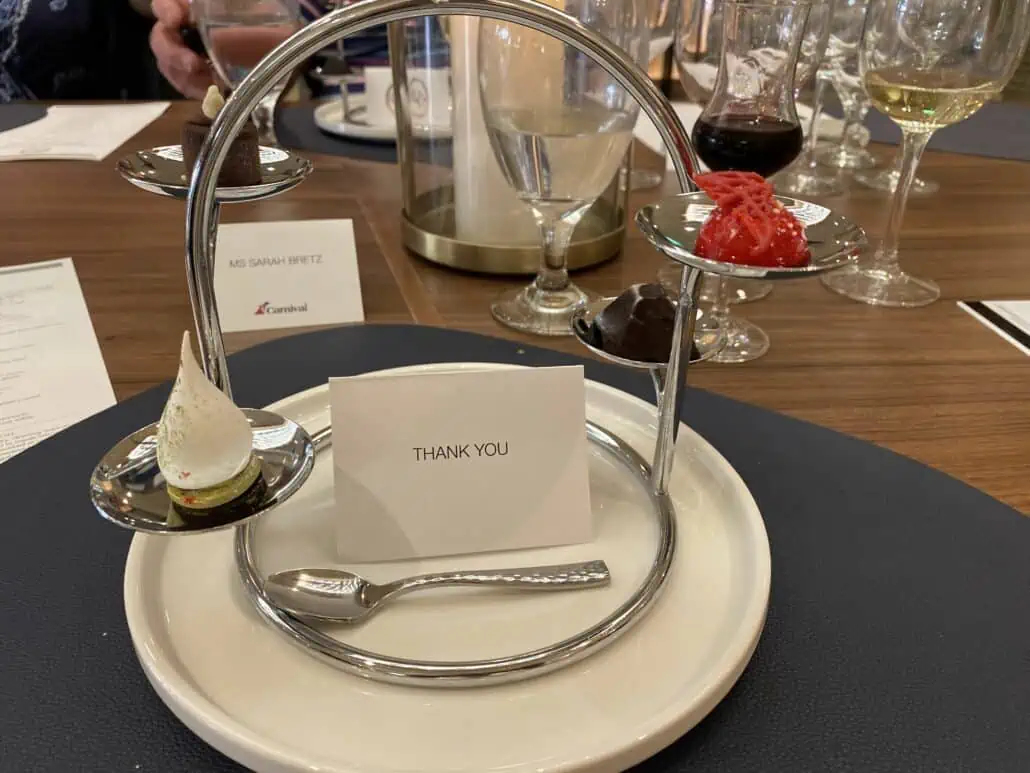 Final Thoughts of the Carnival Chef's Table
I really enjoyed my experience with the Chef's Table on Carnival Celebration. I had an idea of what to expect going into it just from hearing about Chef's Table for years on various cruise lines and ships, but actually taking part myself was a nice treat. I'm the first person to admit that I'm not a huge foodie, but — to my surprise — I liked almost everything on the menu here. I think I was expecting there to be dishes with "weirder" and scary ingredients if that makes sense, but instead I found that the courses used more normal ingredients, just in really unusual and surprising ways.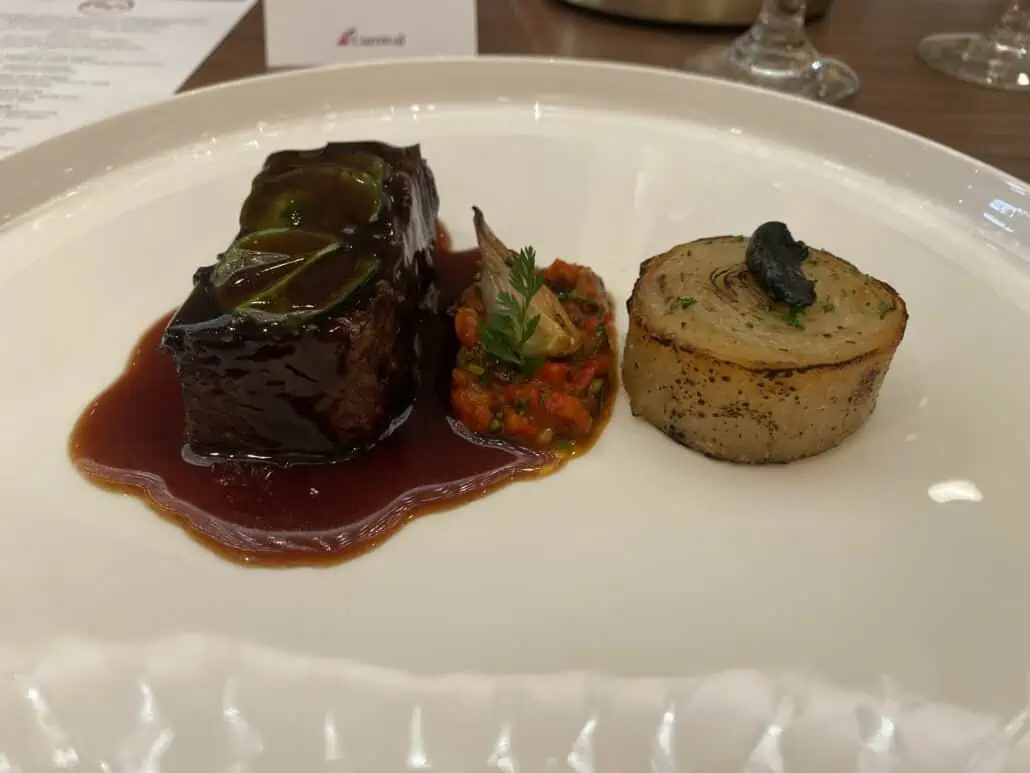 If you're a huge foodie, the Carnival Chef's Table is totally something you should do at least once. The experience is very intimate and elegant, and it's a great way to try unique dishes and get to know some fellow passengers. If you're not a foodie, like me, I'd suggest looking into the menu to make sure the dishes (especially the ingredients) would be something you'd even be willing to try and weigh whether you think the experience would be worth the cost. Keep in mind, though, that something may sound crazy on paper but it isn't actually so intimidating in person.
Overall, I'd recommend Carnival's Chef's Table and I now hope there will be more chef's table experiences at sea in my future.
READ NEXT: Carnival Celebration Dining Guide: Which Restaurants Are Complimentary?
Pin it!