Carnival Cruise Line believes that, just like in a marriage or a strong friendship, loyalty matters. So it's not surprising that when Skift's newly revamped Business of Loyalty Newsletter talked to several big wigs at the cruise line, they found out that the company monitors its loyalty program very carefully…  and just might be making changes to it in the future.
Skift reports that Kathy Tan Mayor, chief marketing officer for Carnival, has been looking for ways to get passengers better perks in a shorter time period "so they don't feel like they're waiting a lifetime to appreciate a benefit."
The Current Program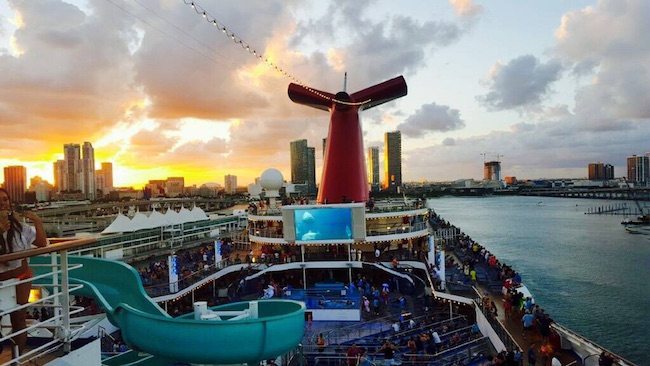 Like the loyalty programs run by most major cruise lines, Carnival's VIFP — that's Very Important Fun person — offers a series of increasingly valuable rewards based on points accrued with each cruise. Passengers — whether past, present or future — can sign up for the program and immediately begin working their way up the color-coded ladder.

The current loyalty levels are Blue (for first-time cruisers), Red (from your second sailing until you've earned 24 points), Gold (25-74 points), Platinum (75-199 points) and Diamond (for those who've amassed 200 points or more). Obviously, the higher the level, the better the rewards, ranging from offers and a newsletter at the Blue level to unlimited laundry and priority restaurant reservations for those at the top of the heap.
What They're Considering Changing

Having done a whole lot of research into these areas, Mayor believes there's a certain point at which people go from someone who is taking a cruise to someone for whom cruising has become a preferred type of vacation. "The third [sailing] is what we believe the tipping point is," she told Skift news editor Hannah Sampson, adding that the line "should be designing the loyalty program to hand you more from the first cruise to the second and the second cruise to the third."
This makes sense on numerous levels. After all, if the rewards you get at the lower levels aren't particularly attractive, it might be tempting to give another line a try. Your loyalty to the brand has not yet been established, and it's more like you went on a first date and are still deciding whether or not to commit. But by offering sweeter incentives at the lower levels, newbies would have more reasons to go on a second date, as it were.

The line is also looking to develop new partnerships as well as expand those already in existence, all as a way of making Carnival the brand people think of when they think of cruising. By making sure people have the best experience possible, Carnival hopes that ultimately, cruisers will want to sail with them again not only because of the perks they might receive by doing so, but because of the quality of the experience.
The last change to the VIFP program was in 2015.
Listen:
[smart_track_player url="https://traffic.libsyn.com/cruiseradioshow/EPI439JUN2917.mp3″ title="Cruise Line Loyalty Debate + Cruise News" artist="Cruise Radio" social_linkedin="true" social_email="true" ]
How important are the perks offered by a cruise line's loyalty program when you are deciding with whom to sail? What perks would you like to see added to Carnival's current lineup?