It seems like the most natural fit in the word: a seafood shack aboard a ship cruising through the ocean. But does the reality live up to the idea? I had a chance to sample the food at Carnival's Seafood Shack when it debuted on the Carnival Vista last year. With the eatery being introduced to an ever-expanding roster of ships in the Carnival fleet, this seems like a great time to talk about how the food is… and what it will cost you!
What makes Seafood Shack unique?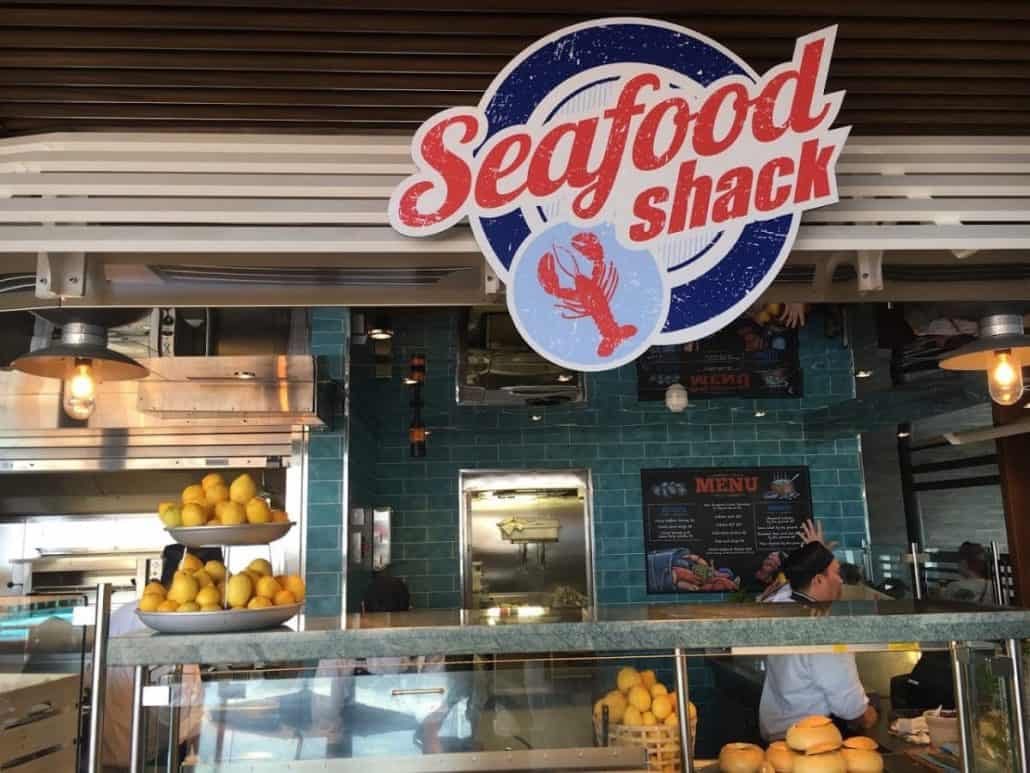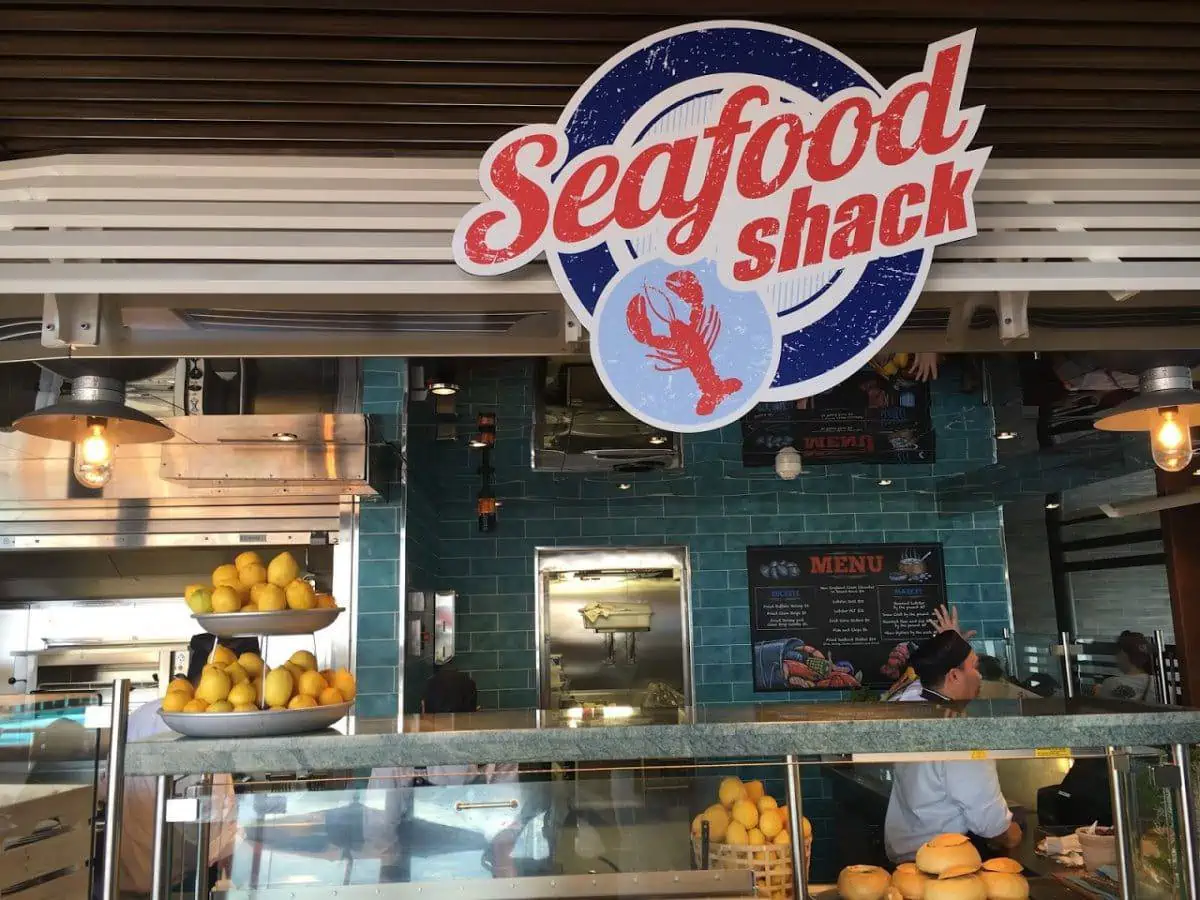 Inspired by a New England seaside eatery, the Seafood Shack has fresh fish on display along with an open-air kitchen that allows guests to watch their meal being prepared right in front of them. As an added bonus, it's actually located outside, giving you fresh air and gorgeous views of the very ocean from which your meal was caught!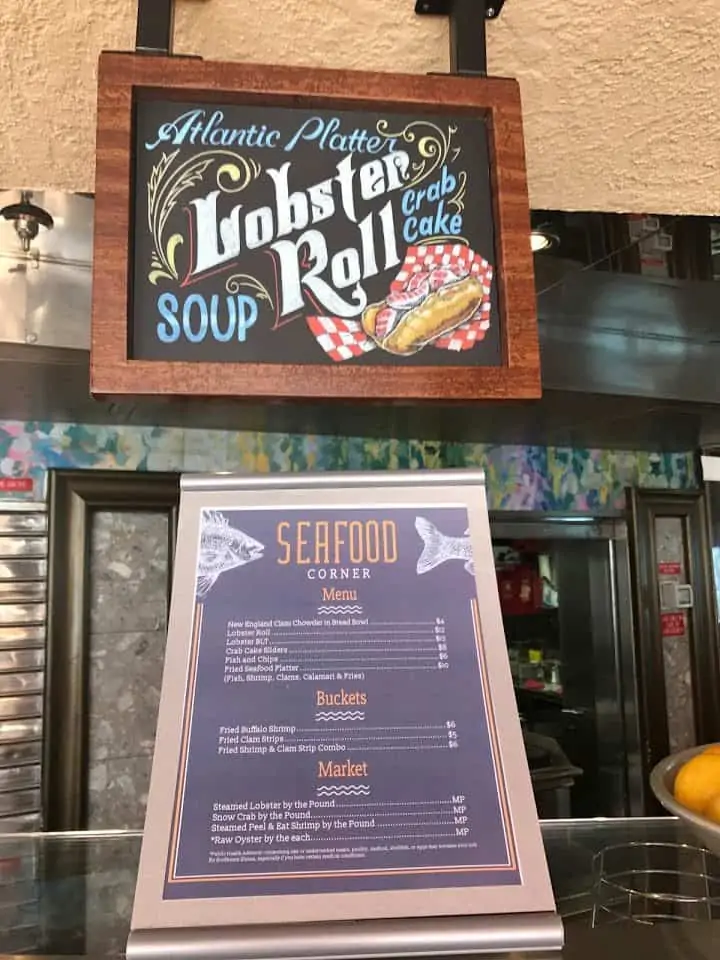 Reminiscent of more than a few of the New England seafood shacks I've visited over the years, there's no table service here. Instead, you walk up to the bar, place your order and then are given a pager. There is plenty of outdoor seating surrounding the Seafood Shack, but you can also take your food into the nearby Lido Marketplace (which is convenient if you happen to want to pick up something to go with your order). There also happens to be a drink and soft-service ice cream station steps away from where you order, so you've got pretty much everything you could want or need available to you!
What's on the menu?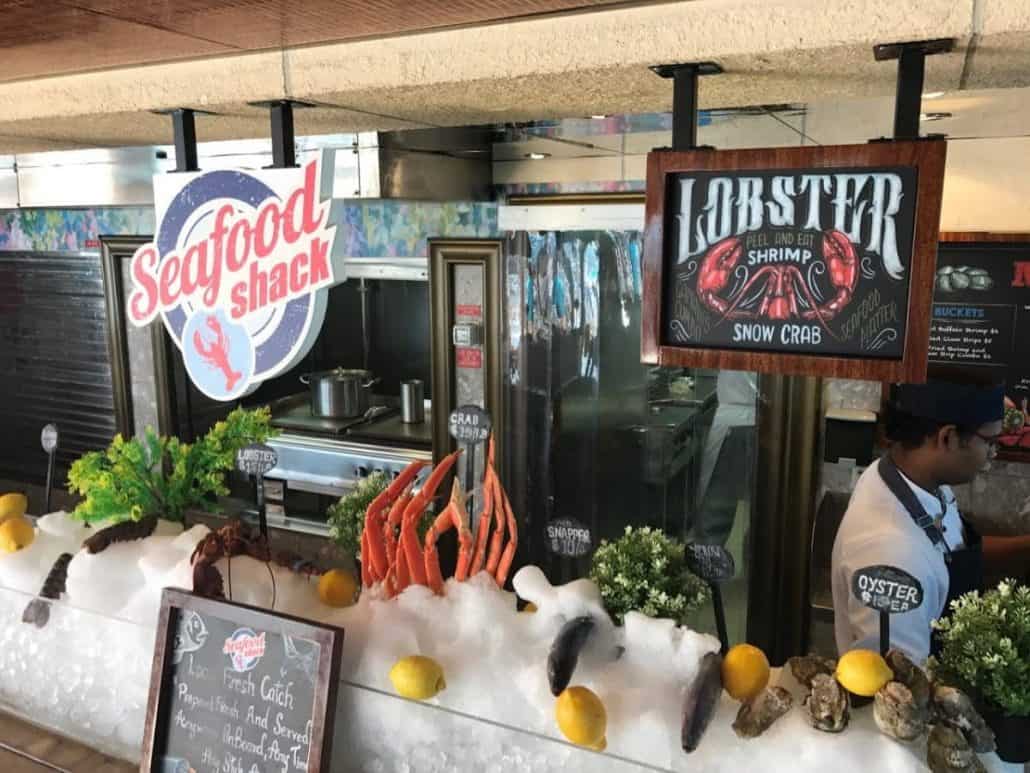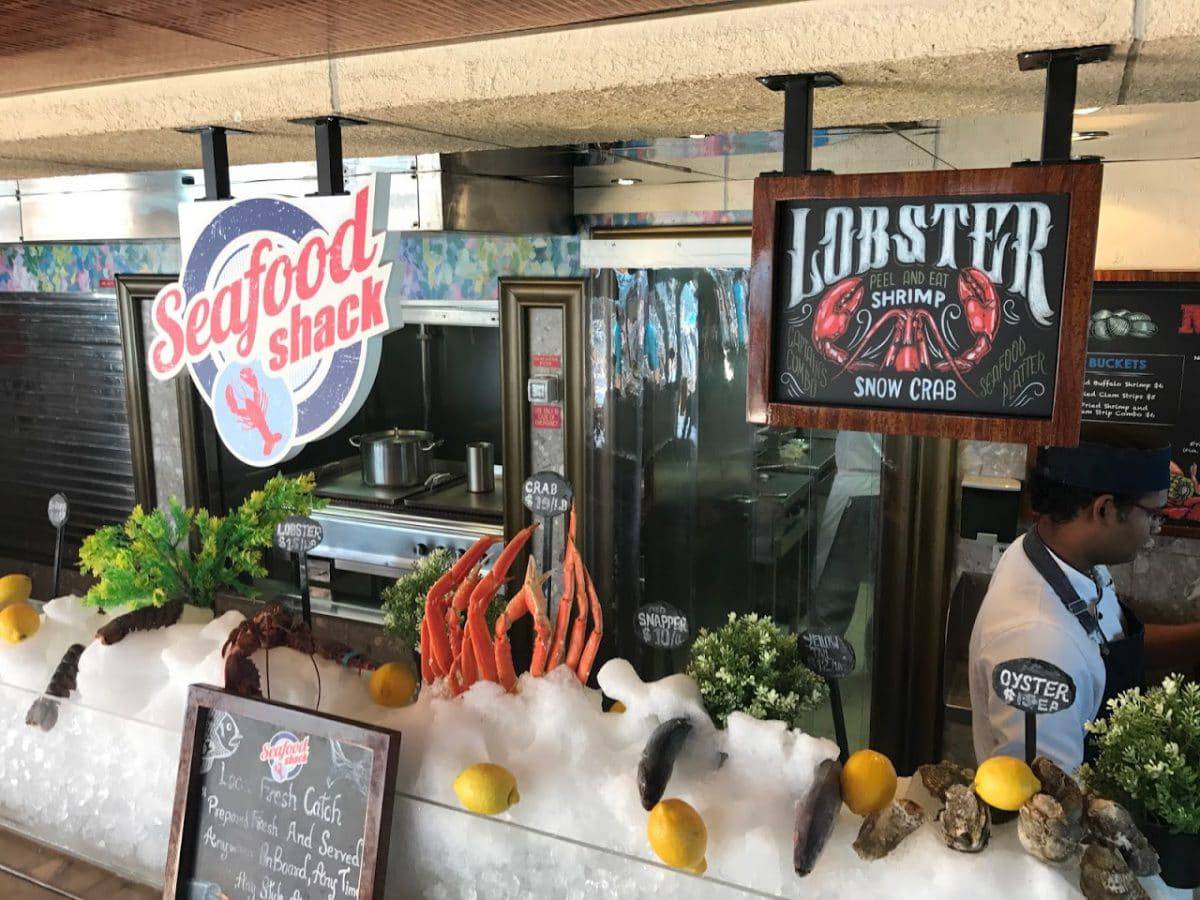 This is pretty much a seafood lover's paradise. Want a whole fish or maybe some crab legs? You can get either here, and then have it cooked to order. The menu also includes such traditional fare as clam strips, fried shrimp, lobster rolls and chowder. Feeling hungry? Try the fried seafood platter, featuring fish, shrimp and clam strips.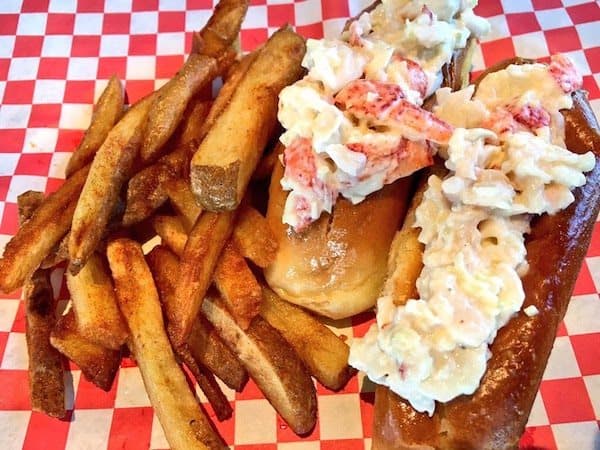 Needless to say, I visited more than once during my cruise… all in the name of research, of course! Among the items I tried were a bucket of buffalo fried shrimp ($6), clam chowder in a bread bowl ($4) and my favorite item on the menu, the lobster roll ($12), featuring nice hunks of fresh Maine lobster served with a side of seasoned french fries. It should be noted that each order includes a gratuity charge.
You can see the full menu here.
Final thoughts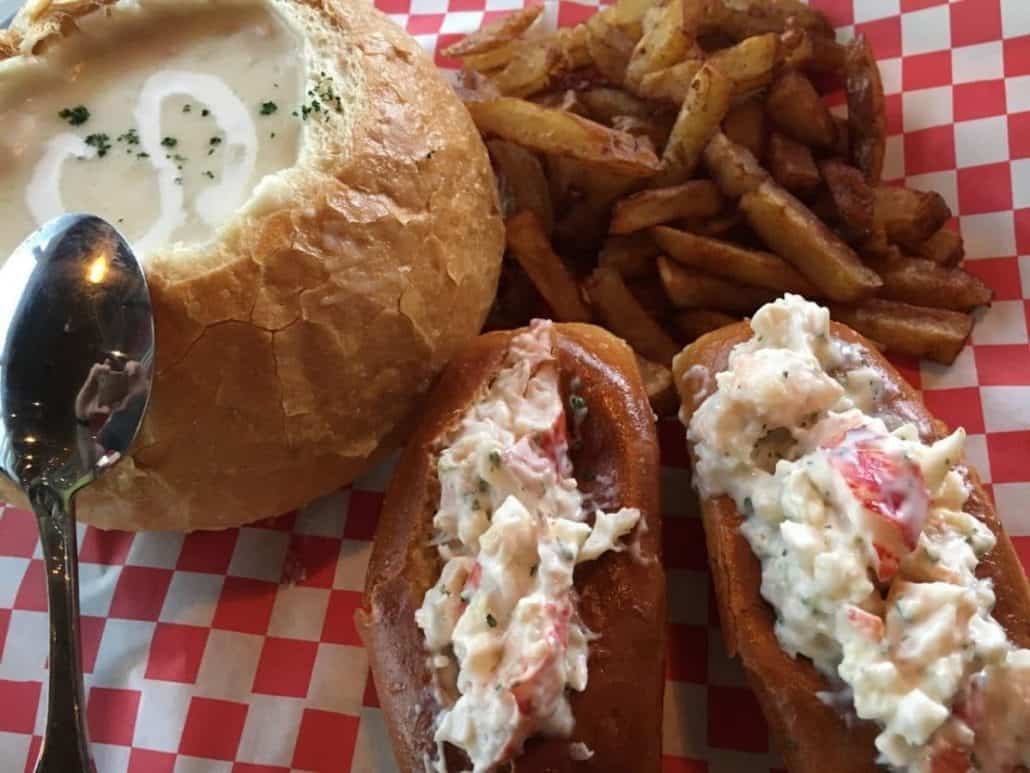 Given the venue's popularity, it's not surprising to see it being installed on more ships. During my recent sailing on board the Carnival Liberty, I noticed that the area of the ship previously used as an outdoor grill area had been converted to a Seafood Shack. It seems likely that over time, the Fish & Chips stations which many ships previously offered will be replaced by the Seafood Shacks. And while some will grouse about a for-fee venue replacing a complimentary one, the quality of food and relatively low cost should prove popular with the majority of cruisers. Personally? Having downed about 12 lobster rolls during my Vista cruise, I'd have to say I'm totally on board — pun intended — with the change.
Currently, Seafood Shack can be found on Carnival Conquest, Freedom, Glory, Liberty, Triumph, Valor, and Victory.