Carnival Cruise Line previewed their new Fleet Operations Center (FOC) in Miami today – the largest and most advanced facility of its kind in the cruise industry.
The 35,000 square foot space is designed for hands-on, round-the-clock monitoring and support of the line's 26 ships. It's been designed with a state-of-the-art tracking and analysis platform, that enables real-time information sharing between the ships and the shoreside teams that are there to support fleet operations and ensure everything runs smoothly.
It was unveiled during a ribbon-cutting ceremony and demonstration of the 74-foot-long video wall composed of 57 LED screens. The wall displays the status and details on all ships in real time, including weather, itinerary updates, safety, engine, and environmental information. Ports, guest operations, and a slew of other functions are also monitored.
Seating at the facility is arranged in open "pods" aligned with Carnival's ship classes, which encourages constant collaboration and integration between departments – bringing the key of communication to the forefront and making it as streamlined as possible.
"In designing the FOC, we combined best practices from the military, government and industry to achieve a generational leap in facility design, sophisticated technology and utilization, creating the largest and most advanced fleet operations center in the industry," said Carnival Cruise Line President Christine Duffy. "Nothing is more important than the safety of our guests and crew, and this new facility enhances our already comprehensive approach to safety and operational excellence."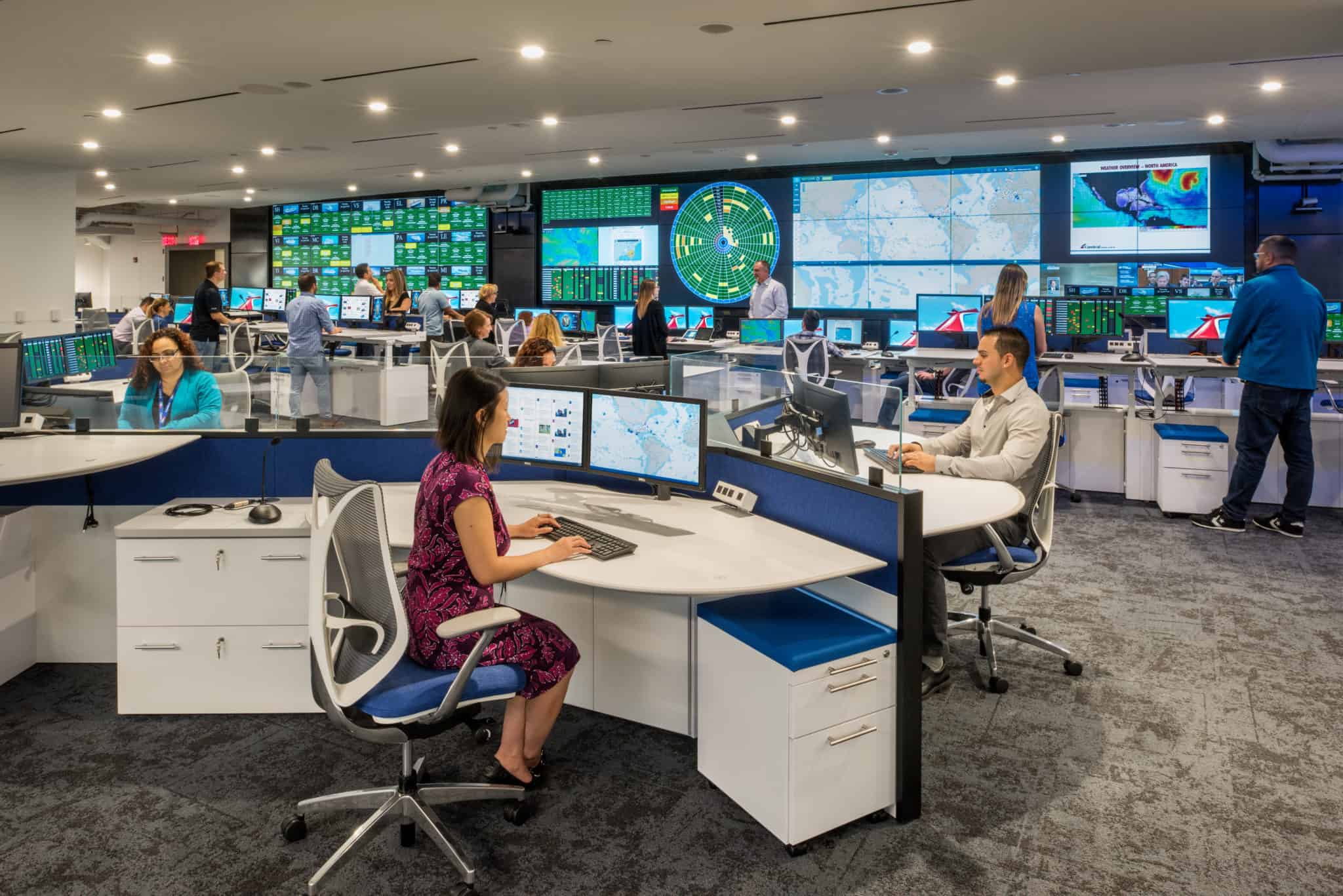 Carnival also built proprietary software applications "Neptune" and "Argos." Argos is a knowledge management tool that gathers information from thousands of data points and practices rules-based decision making and predictive alerting, which are gathered into a visual dashboard so that support teams can see the situation of each ship in a number of areas. Nepture captures and provides analytics for dozens of parameters for navigational safety from each ship, focusing on the following areas:
Nautical operations and safety, including the capability to see radar visuals, stability conditions, webcams from each ship, GPS location, routing, weather data, and more.
Procedural optimization and efficiency, including speeds, navigational data, and engine conditions.
Sustainability, including fuel and energy usage, emissions levels, water, and waste management.
The southern Florida facility is the third and largest in Carnival Corporation's global FOC network, complementing those in Seattle and Hamburg, Germany – where Neptune was first policed. This new location is primarily for Carnival Cruise Line, but includes the ability to monitor the entire 103-ship fleet among the company's nine operating lines.