Carnival Cruise Line has announced the initial lineup for Carnival LIVE in 2017.  Artists will be aboard seven different ships departing from five US homeports.
Carnival LIVE brings the best in live music and comedy to the sea, providing guests the unique opportunity to see some of their favorite performers aboard their ship, in a more intimate setting than usual.  The shows are held in the main show lounges, which range in capacity from 900 to 1,300 – meaning there's never a bad seat in the house.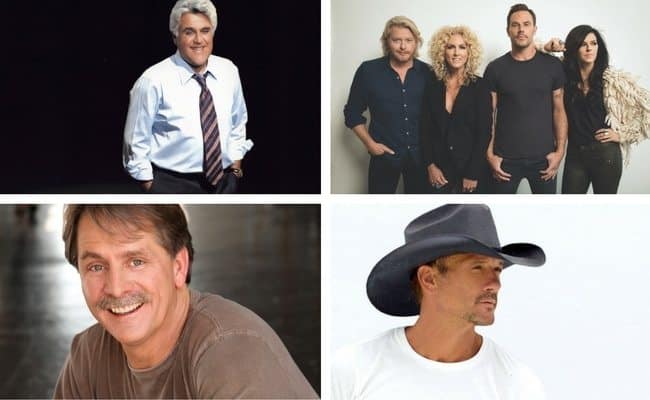 Musical Artists
Triple Grammy Award winner Tim McGraw will bring his signature brand of country music to two ships, with a performance aboard Carnival Breeze on March 2, and aboard Carnival Valor on March 3 while the ships are docked in Nassau, Bahamas.
Platinum recording group Little Big Town will be doing shows in Nassau as well, aboard Carnival Dream on May 11, and Carnival Valor on May 12.
Comedians
Jeff Foxworthy is known as one of the most successful comedians in the country, and is the largest selling comedy recording artists in history.  Famous for his "you might be a redneck if…" jokes, his comedy explores everyday family interactions and human nature.  He'll perform two shows: one aboard Carnival Freedom on June 21, and another aboard Carnival Ecstasy on June 22, while the vessels are in Nassau.
Television Hall of Fame member and longtime host of The Tonight Show Jay Leno will entertain guests with his observational humor aboard Carnival Victory May 3, and Carnival Vista on May 4.  Leno does upwards of 200 shows a year, and currently hosts "Jay Leno's Garage" on CNBC.
Details
Carnival LIVE tickets range from $30 to $80 for general admission, and $100 to $300 for VIP which includes seating in the first five rows, a photo op, and a commemorative concert pass.
For a full listing of Carnival LIVE performances, visit carnival.com/CarnivalLIVE.
artist photos: Carnival Cruise Line