With the immense excitement for the debut of Carnival's newest and biggest ship — Carnival Mardi Gras — we bring you a video of everything we know about the deck plans of the anticipated vessel so far.
Watch Video Tour of Carnival Mardi Gras
So this ship's deck plans begin on deck four, where you'll find interior cabins, oceanview cabins, and Family Harbor staterooms (which have a dedicated lounge for passengers). Going right along with the theme of families, this deck also features Camp Ocean: an educational and entertaining venue for kids ages 2-11, and Dr. Suess' Bookville: a whimsical library for kids.
Moving onto deck five you'll be able to relax and unwind in the Cloud 9 Spa, especially if you are staying in one of the Cloud 9 Spa staterooms. Deck five also has both balcony and cove balcony staterooms (standard size is 44 square feet).  The Chef's Table is also in the back of this deck, with more venues/public areas to be revealed.
Due to the size of the ship, there will be six distinct zones:
Grand Central: Atrium
French Quarter: New Orleans themed
La Piazza: Italian themed
Summer Landing: Back of the ship where Guy's Pig and Anchor will be
Lido Deck: Pool, entertainment, etc.
Ultimate Playground: Where guests can brave the Bolt: Ultimate Sea Coaster 187 feet above seas level and traveling at speeds up to 40 miles-per-hour.
Deck six includes Grand Central, Punchliner Comedy Club, Piano Bar 88, Cloud 9 Fitness Center, Mardi Gras Theatre, and the French Quarter (features new jazz bar, restaurant venue called Flamingo's, and Cherry on Top).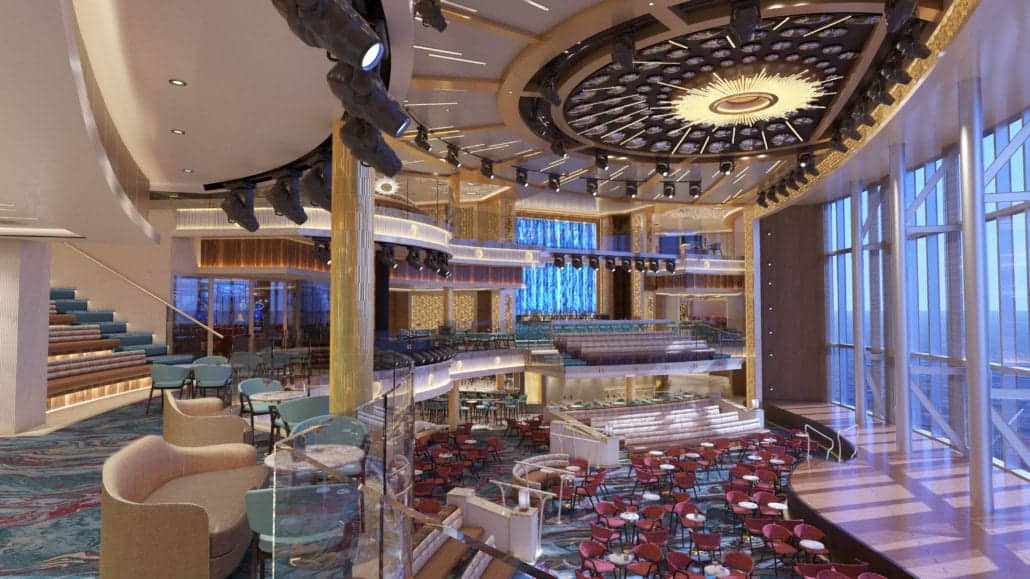 The Mardi Gras theatre's second deck is on deck seven, along with the Casino, Limelight Lounge Alchemy Bar (with a bit of a makeover), and Fahrenheit 555.
The ever-popular Havana staterooms are located up on deck eight, along with the exclusive Havana lounging area. And, you won't have to travel very far for dinner after your afternoon of relaxing as this deck also has Havana Bar, JiJi Asian Kitchen, and Bonsai Teppanyaki and Sushi Express. Another distinct zone is found on deck eight — Summer Landing — and will feature Guys Pig and Anchor Smokehouse | Brewhouse, as well as plenty of outdoor seating and pool access.
Decks nine through 15 will be all staterooms and specialty suites, while deck 16 continues the fun with the Lido neighborhood. The Lido deck, like any other Carnival ship, will be where the main pool, hot tubs, BlueIguana Cantina, and other bars/restaurant venues are found.
Deck 17 will be the hot spot for teen passengers, with the Circle C, arcade, and Club O2 venues, as well as Guy's Burger Joint. There are more spa cabins on 17 as well.
Carnival's adults-only Serenity Deck is on the top deck of Carnival Mardi Gras, quite the juxtaposition from the other side of the deck which is where the Ultimate Playground and the roller coaster will be found.
If you are excited about this new ship, you're definitely not the only one. Carnival broke all-time sales records when they started accepting bookings in January.
Which deck are you ready to explore?