Cruisers aboard the Carnival Horizon report that a new brunch menu has popped up. What does it feature… and what didn't make the cut? We've got the details!
What They're Testing on Carnival Horizon
For many Carnival cruisers, sea day brunch is a must-do, with some advising to go early to avoid the inevitable crowds and others suggesting it's better to go late for the same reason. But no matter when people show up, one thing is assured: plenty of good food. Now comes word that there appears to be a new brunch menu being tested aboard the Carnival Horizon.
The sections now offered are: Fresh-Pressed Juices; Bread Basket; Cereals & Such; Burgers, Etc.; Brunch Classics; Mains; Pasta; Sides; Desserts and a kids menu. There are also several for-fee items, including a Lobster Benedict for $12; 1 pound of peel-and-eat shrimp for $10; and 2 pounds of garlic crab for $15.
A Closer Look At The Brunch Menu
Looking closer at the various categories, the Brunch Classics include exactly what you might expect: Huevos Rancheros, Eggs Benedict, Omelettes, Fritattas, Panchetta Scrambled (served carbonera style, with black pepper, pecorino, pancetta, grilled sourdough bread and greens) and the basic "Eggs Any Style."
If you'd rather order from the Mains selections, your choices include a Mediterranean Salad (with kale and romaine lettuces), the more traditional Caesar Salad, Steak & Eggs, Fried Chicken and a Salmon Super Food Salad (featuring grilled salmon, roasted sweet potato, turmeric cauliflower, and edamame with a ginger dressing).
READ MORE: Carnival's Green Eggs & Ham Breakfast Review
The burger options (all of which are served with fries) include Voyage (topped with hashed-brown potatoes, bacon, house-made pickles a fried egg, sharp cheddar cheese); the Aft Deck (with smoked brisket, quattro formaggi cheese, home-made pickle, batter-fried onion crisps and BBQ sauce) and the Cantina (with smashed avocado, Monterrey jack cheese,  pico de gallo, onion and salsa verde).
The Pasta section lists Brunch Spaghetti (topped with roasted tomatoes, ham florentine, and a fried soft-boiled egg) as well as Fettuccine with arugula pesto, roasted peppers and almonds.
The fresh-pressed juices come in a variety of flavors, pressed to order, and cost $5 each while the desserts offered are Banana Cream Pie, 7-Layer Chocolate Cake and an assortment of cookies. You can also order the Signature Tower of Bagels with an assortment of toppings and, from the kids menu, items such as Mac & Cheese, Mozzarella Sticks and the item no children's menu can be without: Chicken Nuggets.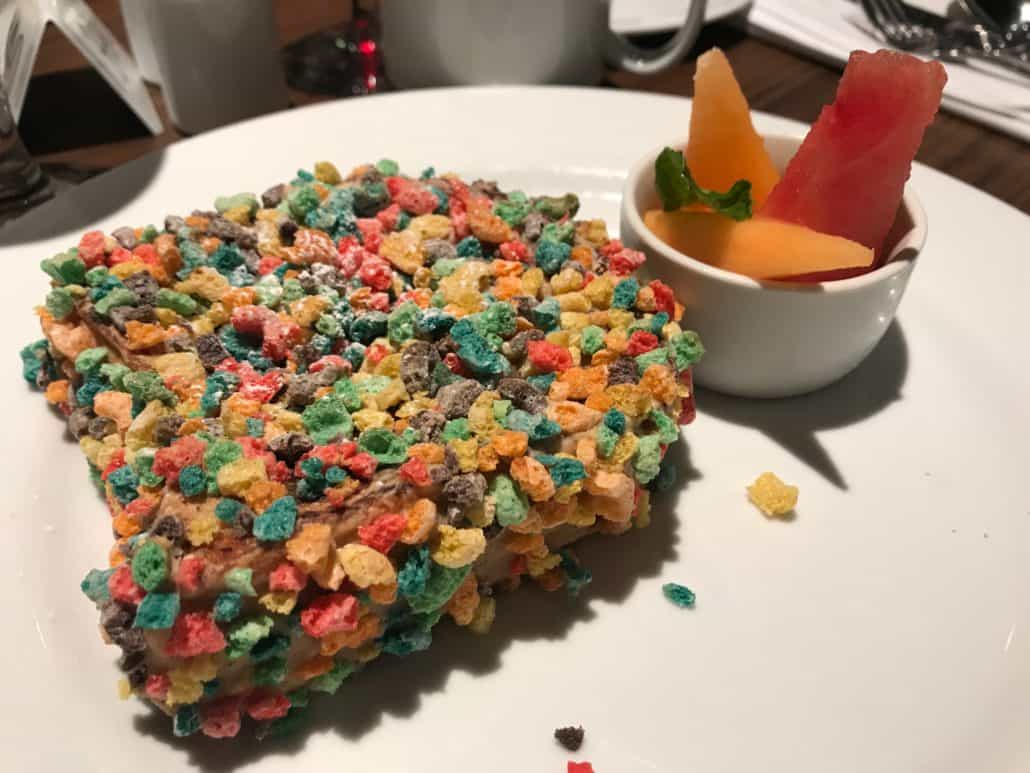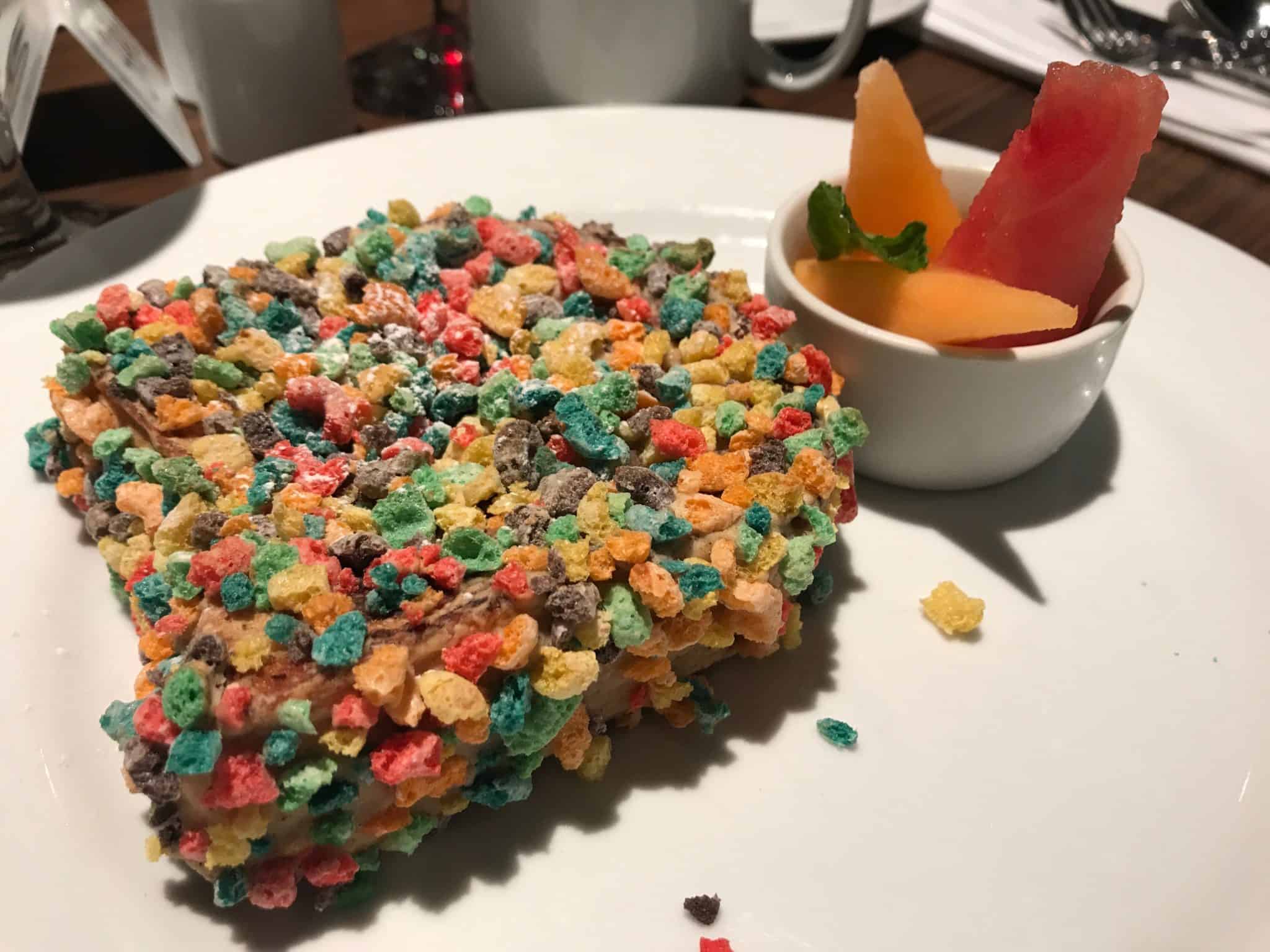 What's Missing From The Menu
As usually happens when a new menu is introduced, reactions on social media are mixed. While most love the wide-ranging selection of offerings, some are focusing on what's missing. Among the most-missed items from the brunch menu currently offered across the fleet are the cereal-crusted French toast, the mac & cheese, and the wildly-popular Flamin' Tomato Soup.
No word yet on whether or not this menu might eventually be rolled out across the fleet.
What do you think of the brunch menu?