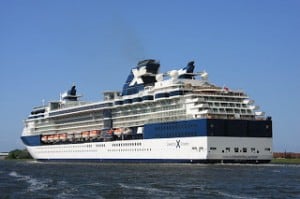 The Solsticizing is almost all complete. Celebrity Constellation entered a scheduled dry dock period on Wednesday to add the full complement of Solstice Class-inspired features and attributes guests love.
In 2010, Celebrity Constellation got a mini-Solstice makeover, followed by the full Solsticizing for the rest of the Millennium class ships. Now, Celebrity Constellation is back to get the full makeover. At the completion of this dry dock, Celebrity Constellation will feature:
AquaClass accommodations – a total of 107 staterooms (37 entirely new; 70 converted from ConciergeClass) – with exclusive access to the Mediterranean-themed "Blu" specialty restaurant and complimentary access to the Persian Garden and Relaxation Room in the ship's revitalizing AquaSpa
66 entirely new staterooms (17 oceanview, 12 inside and 37 AquaClass)
Spacious new verandas accompanying the ship's eight luxurious Celebrity Suites, complete with 24/7 butler service
The hip Celebrity iLounge – with Apple workstations, informative classes on the latest products and technologies, and a retail store.
Full Wi-Fi capability throughout the ship
Michael's Club, the trendy craft beer experience
New mattresses custom-designed for Celebrity by Reverie in every stateroom and suite
New color schemes, new carpeting and new upholstery reflective of the Solstice Class
Celebrity Constellation re-enters service on May 5th with a 15-night Transatlantic voyage from Miami to Amsterdam, Netherlands. The newly Solsticized ship will offer Scandinavian, Russian and Baltic vacations.
Subscribe to our Cruise Updates.
Related articles