There's been a lot of buzz about the Celebrity Summit since her recent refurbishment, and with good reason. The multi-million dollar makeover completely transformed much of the ship, helping the nearly 20-year-old vessel do what all of us wish we could: eradicate signs of aging while morphing into something sleek, modern, and eye-catching.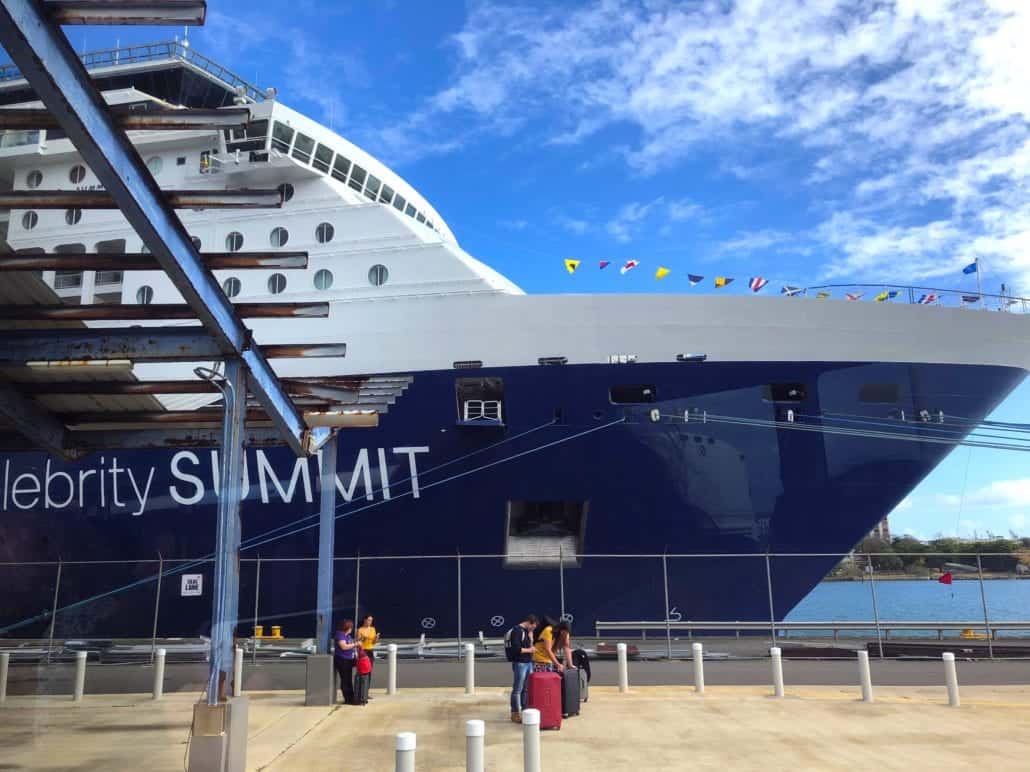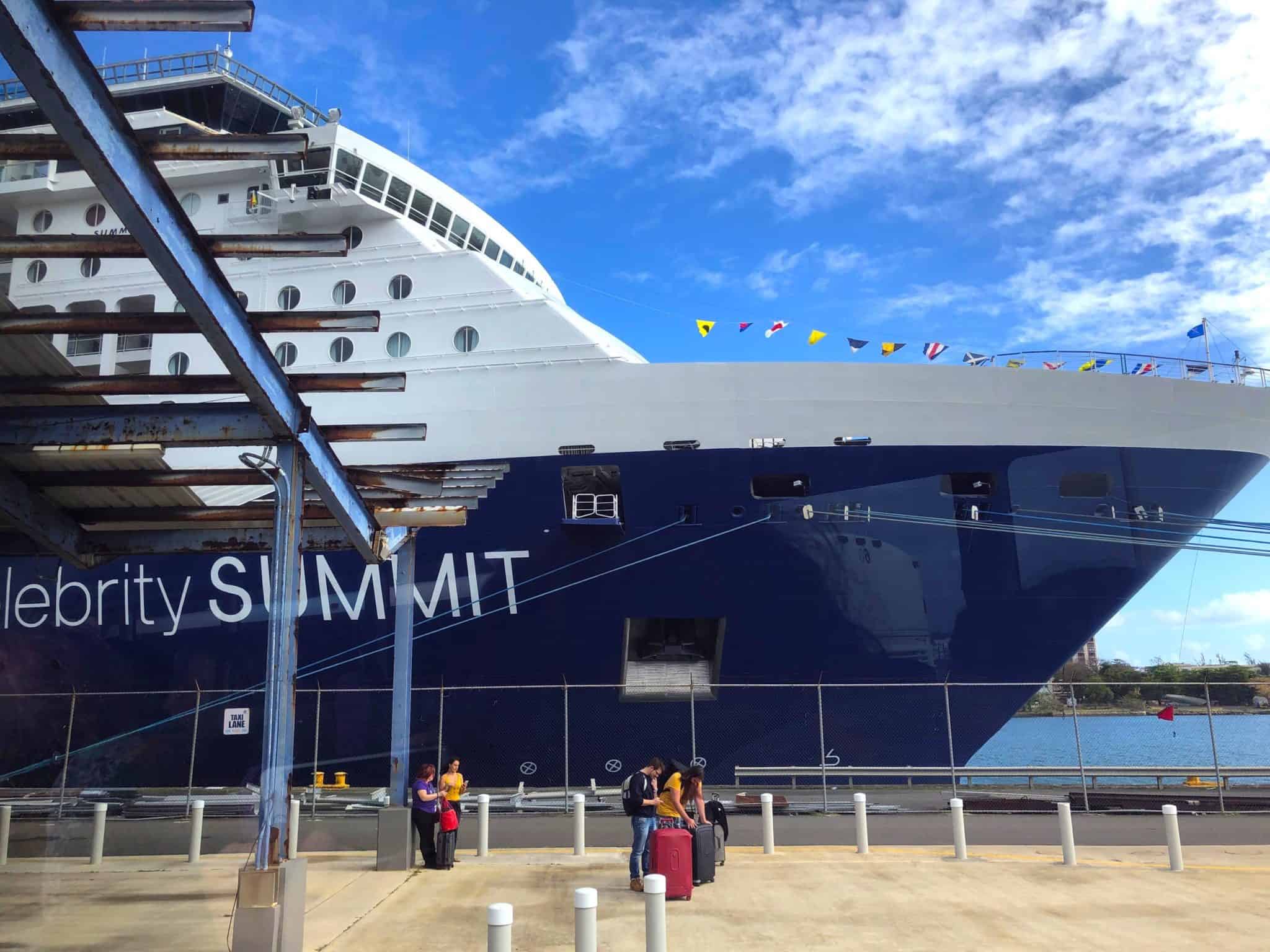 Those are just words, and we all know they say a picture is worth a thousand of those. While thinking back on our recent trip aboard the revitalized ship, we picked some photos which we think beautifully illustrate just how big a transformation the ship underwent.
After all, Celebrity Summit was one of the first Celebrity cruise ships to get the new Edge Revolution treatment.
READ MORE: Celebrity Summit Cruise Review (2019)
If you've been thinking about booking a Celebrity Summit cruise, this should help solidify your decision. And if you haven't been considering the ship… get ready to be tempted.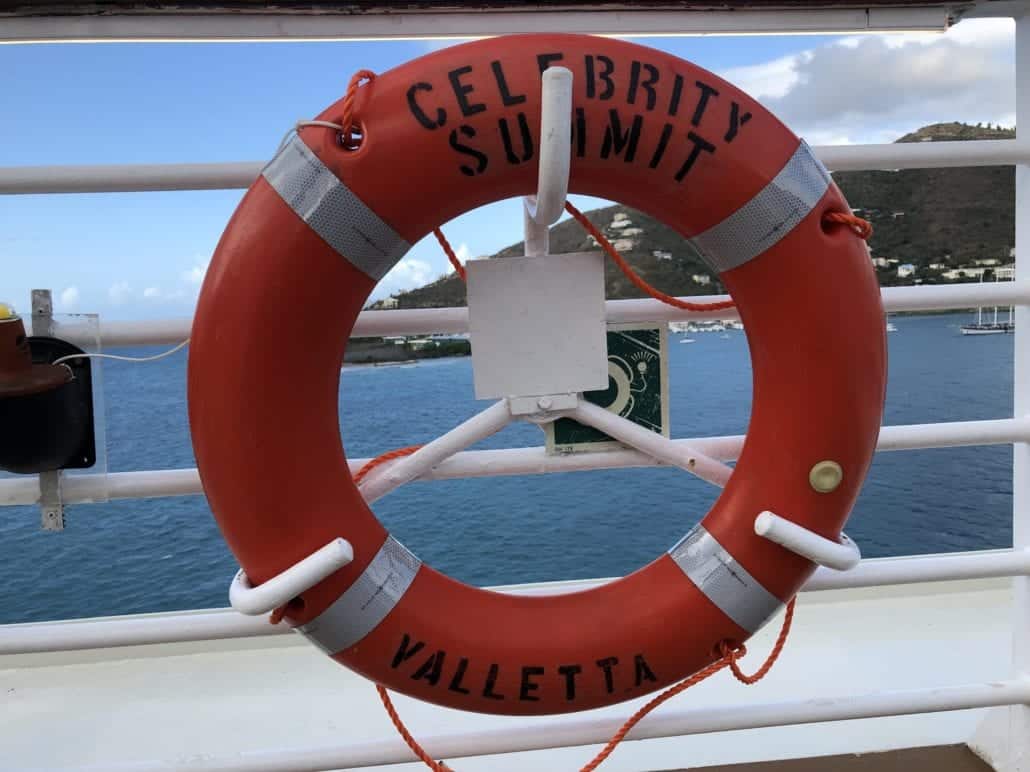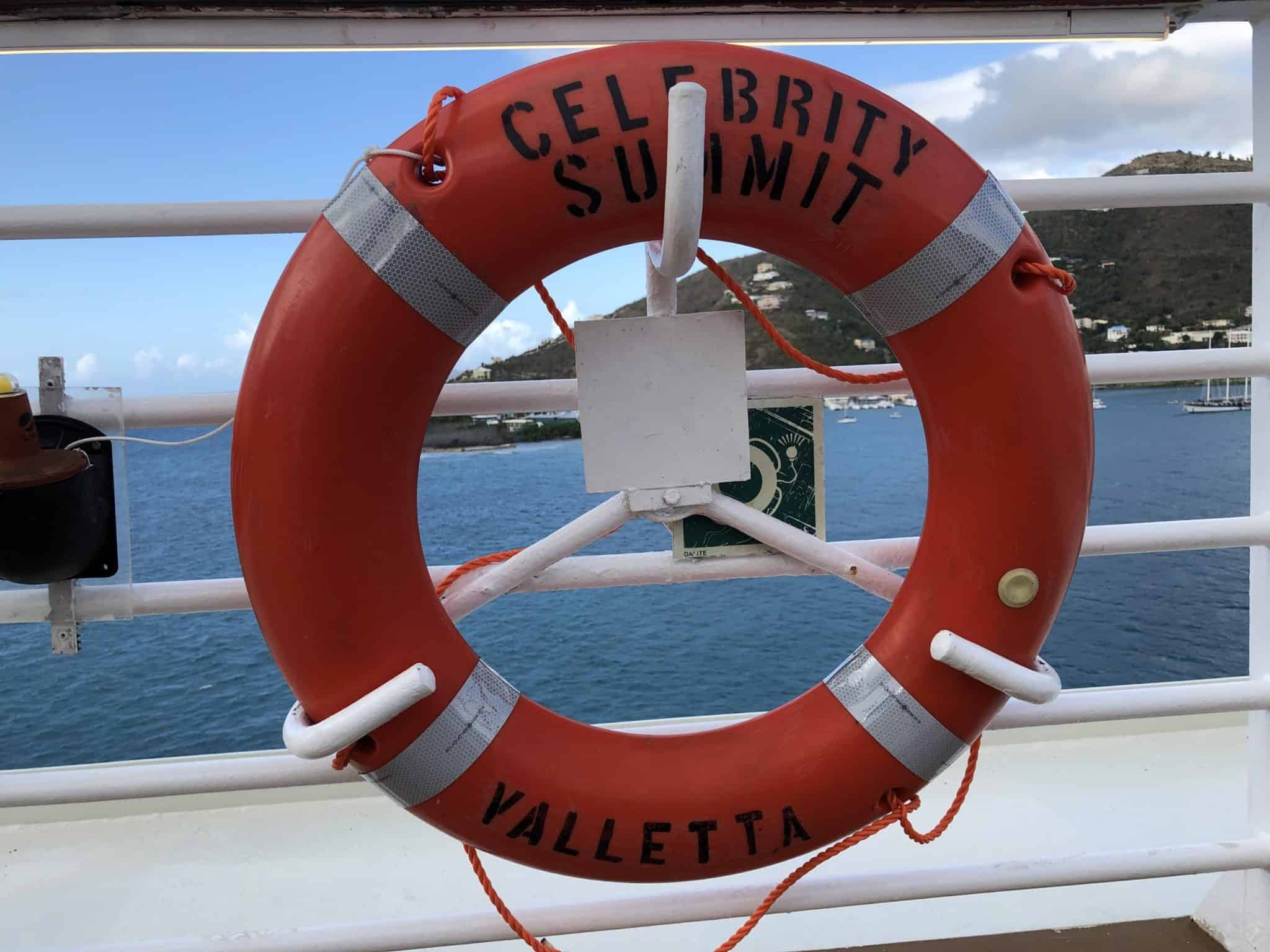 While some people insist they don't spend a lot of time in their stateroom, we're big believers that whether you're simply using it as a place to nap or whiling away the hours within its walls, it needs to be a comfortable environment. And comfort doesn't simply refer to the bedding (although the cashmere mattresses have that covered), but rather, the overall look and feel of each cabin.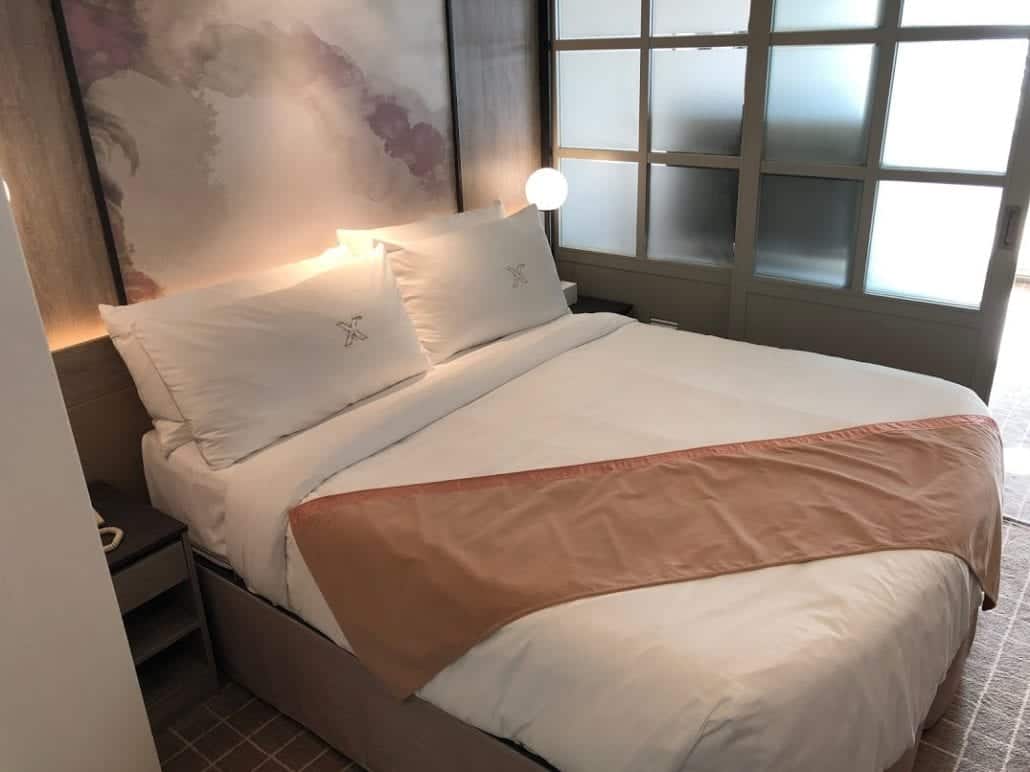 And while we'd love to suggest you spend as much time as possible disconnecting from the real world, we also realize that, well, you're likely to have a couple of devices which need to be plugged in. Being tech lovers, we get that… and we're very appreciative of the fact that the designers of the staterooms took our needs into account. Sure, the lighting fixture pictured below is attractive…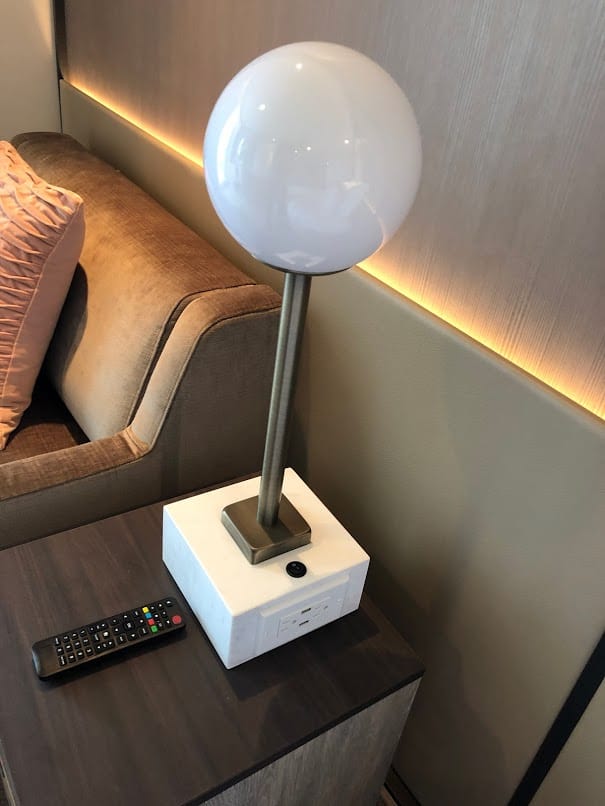 … but more importantly, see what's built into its base?
That's right, USB ports: perfect for keeping your phone, kindle or other device charged. (All the better to take advantage of the ship's improved internet capabilities.)
READ MORE: 7 Celebrity Summit Dry Dock Changes (2019)
Meanwhile, perhaps our favorite of the ship's many improvements had to do with the main dining room, also known as the Cosmopolitan Restaurant. While the space already had a great view, the entire venue is now worthy of those killer windows.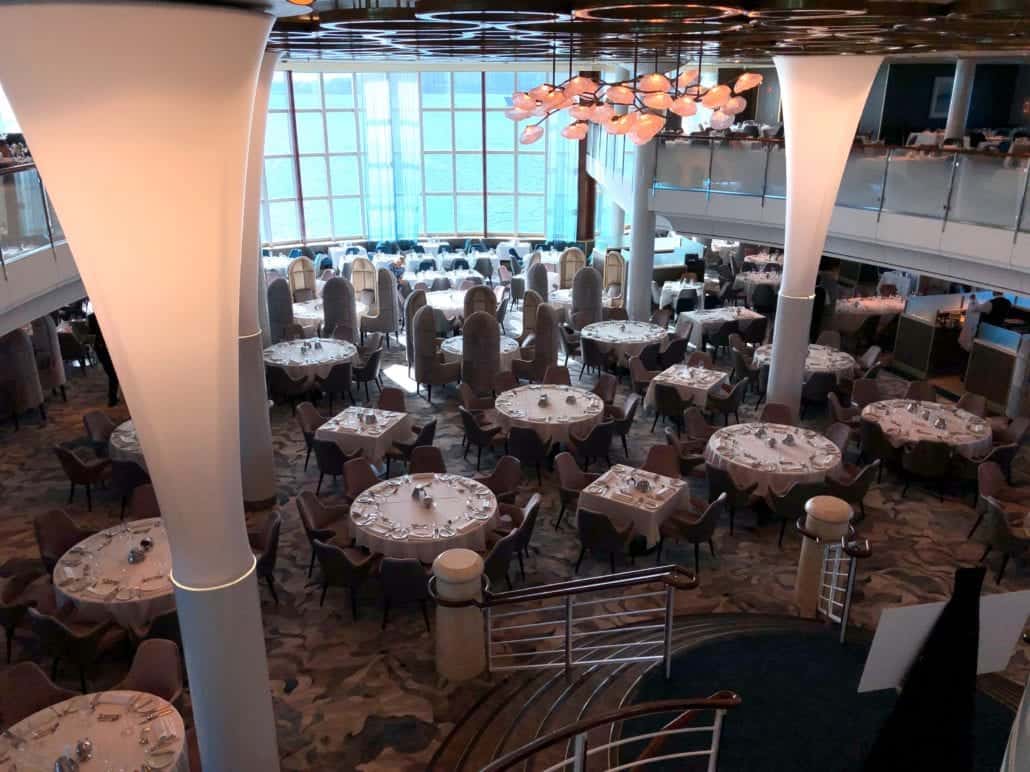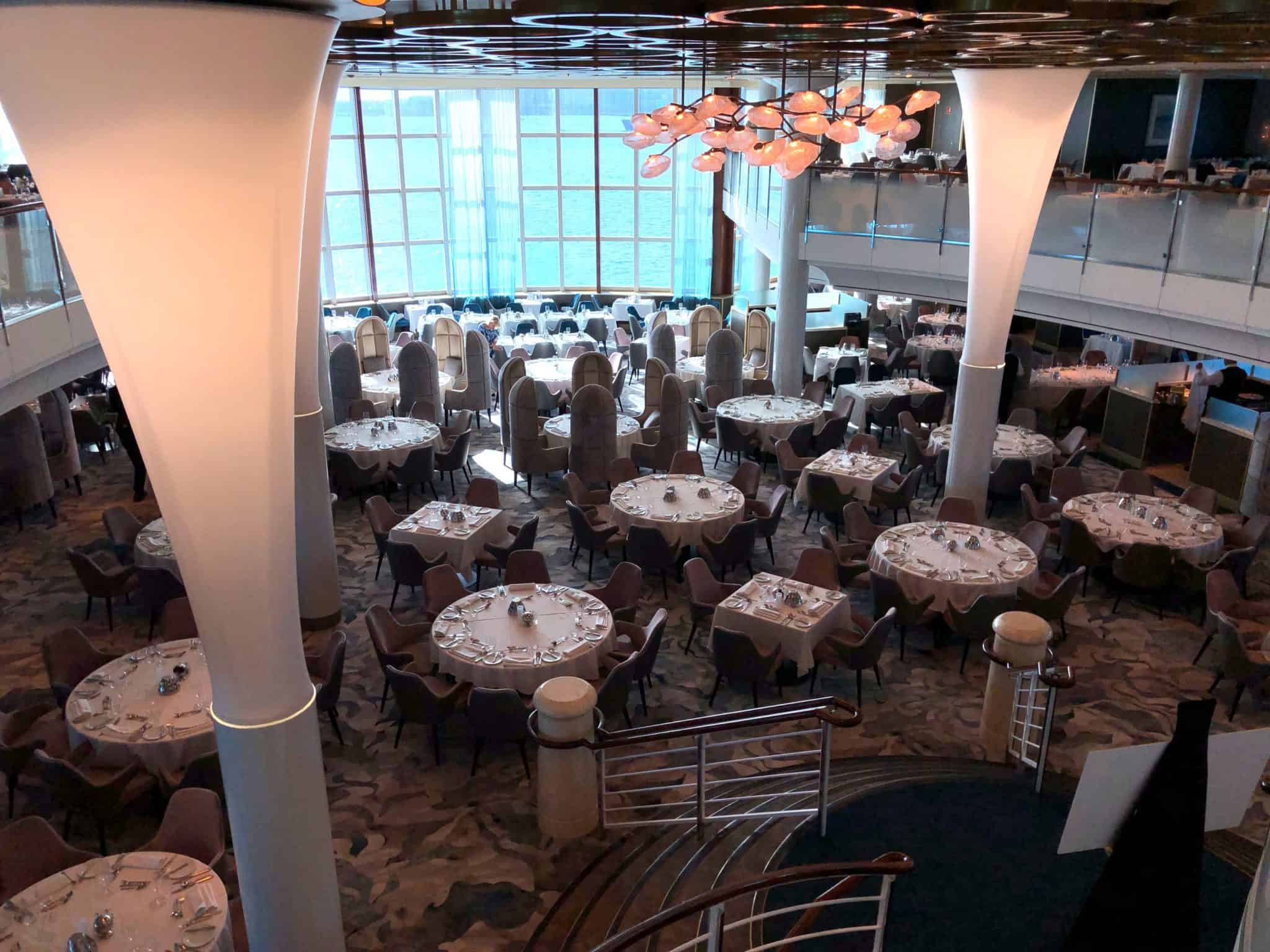 And since we're showing pics of things we love, we'd be remiss if we didn't include these cool dramatic highback chairs. Somehow they manage to feel both modern and like a throw-back to another era.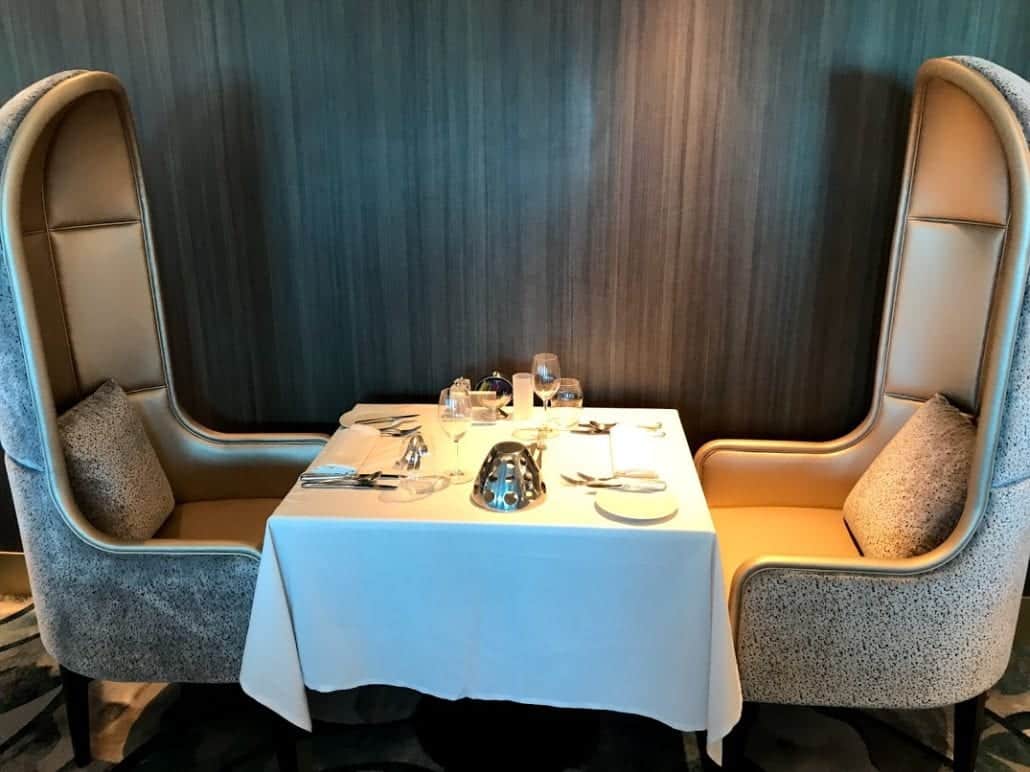 Speaking of comfortable spaces, the all-new Retreat Sundeck, which is for the exclusive use of suite guests, has a whole slew of places perfect for soaking up the sun. (Okay, as you can tell from the below photo, the sun wasn't being particularly cooperative during our visit, but that didn't make it any less tempting to sprawl out on those huge pillows!)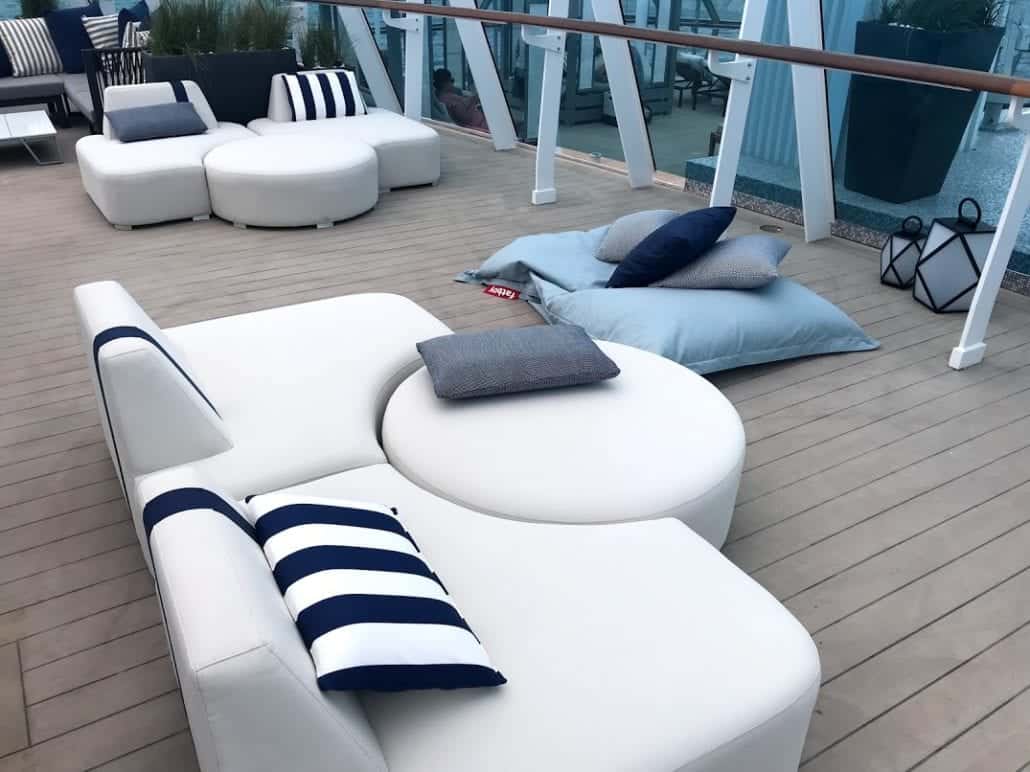 While the Rooftop Terrace isn't new to Celebrity Summit, that doesn't mean it isn't worth taking a look at, right? Day or night, the versatile space is perfect for hanging out, whether enjoying a drink, taking in the views or watching a movie on the ginormous screen.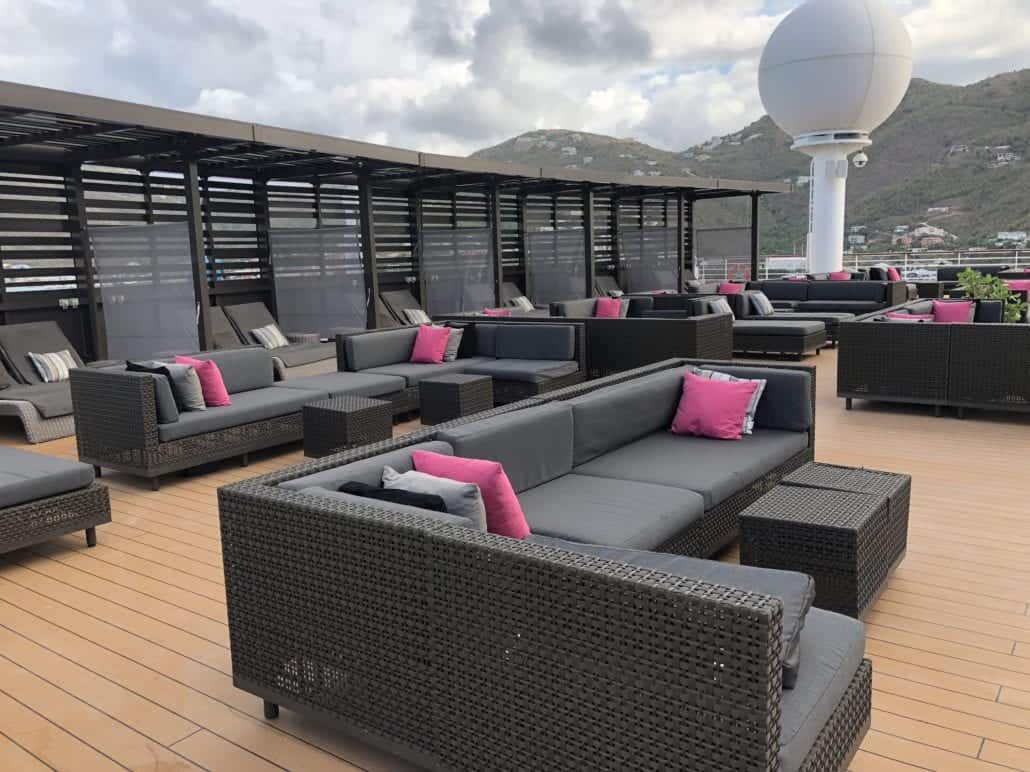 But if you really want to picture yourself aboard this ship, visualize yourself hanging at the re-imagined Sunset Bar. Maybe you're having a drink with old friends, maybe you're having a drink with new friends, perhaps you're enjoying a little live music. One thing you're definitely doing is relaxing — this space makes it pretty much impossible to do anything else.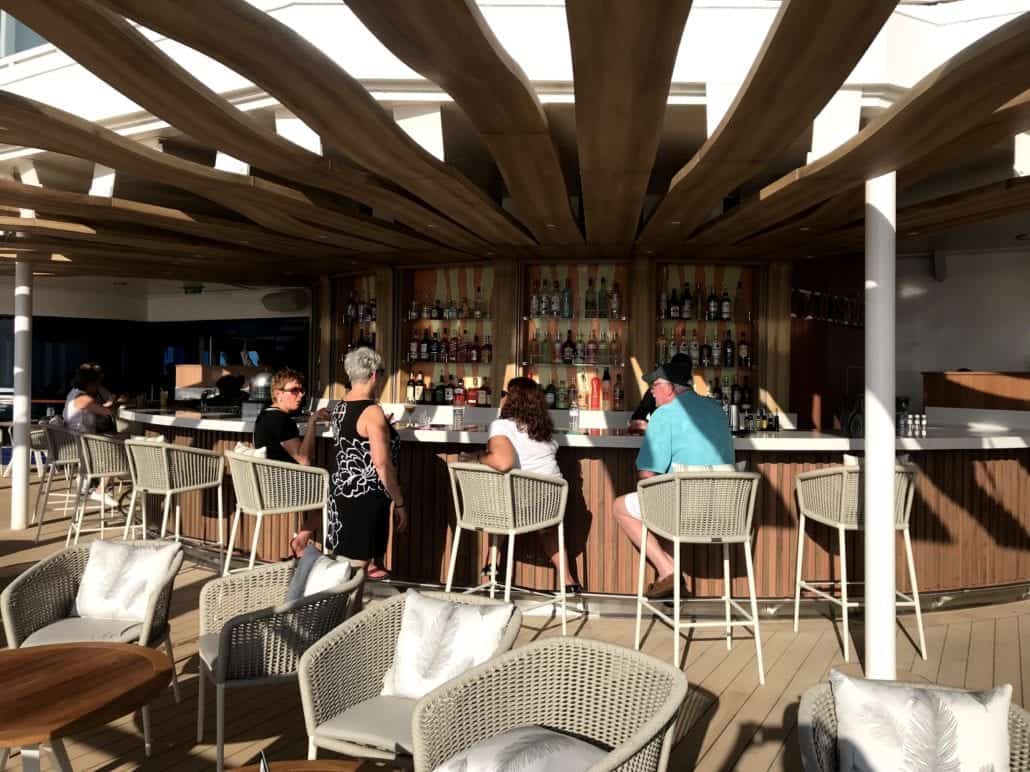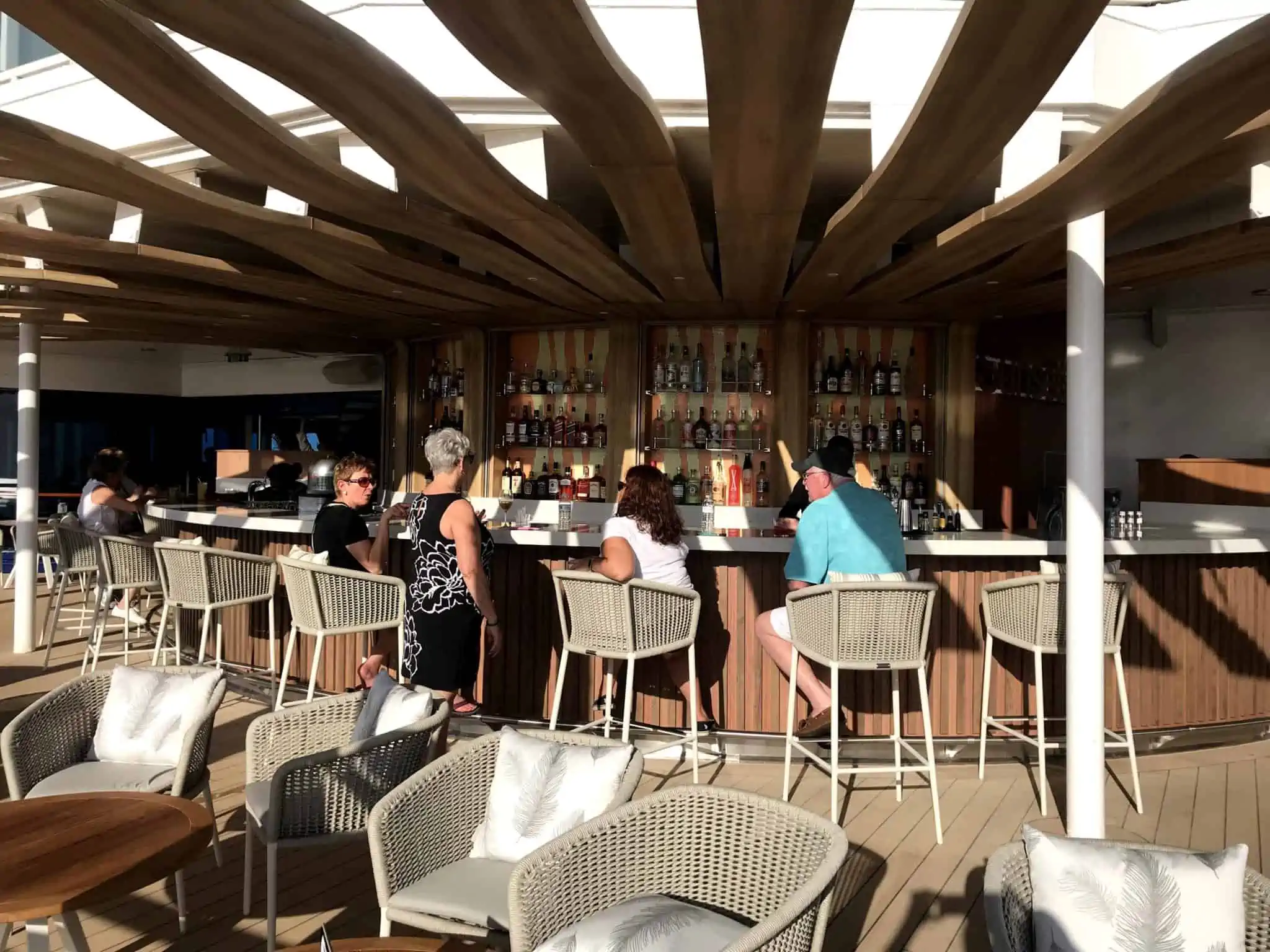 These are just some of the highlights we found while exploring the Celebrity Summit. Here's hoping you enjoyed taking this virtual vacation with us, and that you'll soon find time to enjoy all this amazing ship has to offer for yourself.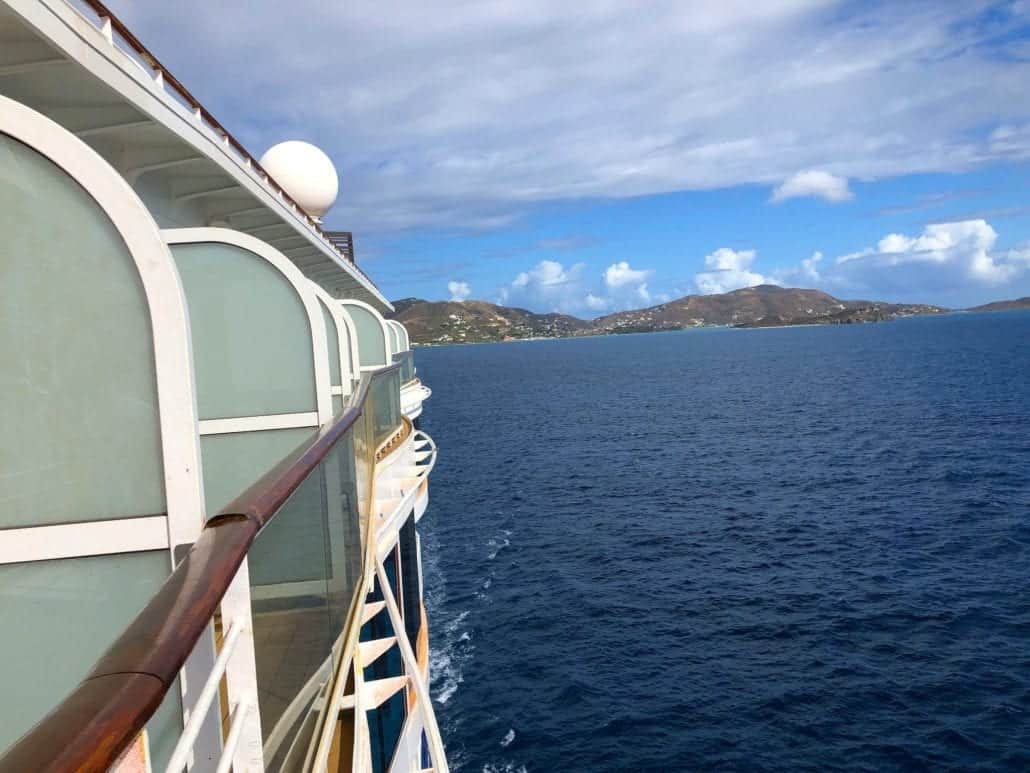 Summit will spend the summer months sailing from Cape Liberty (Bayonne), New Jersey offering Bermuda and Canada New England cruises. In the 2019-2020 winter season, the ship will reposition back to San Juan to do Southern Caribbean cruises.