I woke up this morning to the thrusters of the ship shaking like an earthquake but if it means I'll get to be in Nassau soon, I'll take it. Last night I stayed out til three am so I wasn't feeling like breakfast, I did have a banana and a glass of milk and then got off the ship. The NCL White Hot Party rocked!
Carnival Miracle (pictured right) was docked next to us from New York City, they recently just added some cool new features to their ship and you can read about it all here. There was also a yacht in Nassau that had a helicopter on it, a huge helicopter, I mean who does that?!
Festival Plaza in Nassau has free wifi so I jumped on with my phone for a few minutes to upload some images then headed to Starbucks to work for a couple hours. My friend Tim told me about a place called Conch Fritters that I must try in Nassau, so I headed there after working a couple hours in Nassau. The food was really good and priced reasonably. I wound up getting a local Kalik beer and cracked conch basket with fresh potato slices, it ran about $19.  It said they took credit cards on the door but wound up not taking any and they had to run it across the street, weird but whatever.
Some friends I met on the sailing hired a cab and took a full day tour around Nassau, Paradise Island and Cable beach, they were telling me things about the island that even I didn't know (and I've been there a couple dozen times). There were six of them and they each paid $25 per person and the kids went free. Not a bad deal for having your own driver. Besides the over-priced Atlantis resort, Nassau is a real salt-of-the-earth type place. Great people and their prison system is so strict that it makes folks not want to do bad. I'm sure crime happens there but where doesn't it?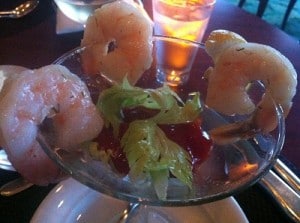 Back on the ship I met up with some friends that I met and I tried an innovative creation called a Corona-Rita. It was a Corona and margarita in a glass, for $10. It was actually pretty good. I'm not a huge beer person so it made it go down a lot smoother. On the topic of booze, if you want to buy a bottle onboard it's $136 (for Jack Daniels). They actually charge you by the shot and there's like 22 shots in a bottle. On Holland America, you can get the same bottle for $36. You pay for convenience though so whatever.
Dinner was in Cagney's Steakhouse. This was my second time there and I noticed that the menu was a little different and the lobster add on was $8. There were probably about 10 tables in there and we sat for 13 minutes before someone even came over to our table and acknowledged us. The food was just okay. My steak in the main dining room tasted equally as good. The whole overall experience was just alright, not horrible but nothing to write home about (but I am anyway).
Tomorrow is back to Miami. Can't wait to see the disembarkation process.
Video of NCL Hot White Party:
Subscribe to our Cruise News Updates.