We're always saying that cruises are a great bang for your buck. But are they still as good a deal if you wind up paying twice? Probably not… and that's exactly what's happened to some cruisers who recently returned from their vacations to find that they'd been charged twice for their trip.
What They're Saying

We've all had the experience of going to guest relations on the final night of the cruise to complain about having been charged for something erroneously. Royal Caribbean has gained something of a reputation on Cruise Critic message boards, where posters routinely complain about being charged for bottles of water they didn't actually drink. But imagine finding out, as numerous Cunard Line guests did this weekend, that rather than being asked to pay for a mini-bar raid which may or may not have happened, you're being charged for a trip you already paid for.
"We are aware there has been an error within our payment system this morning where balances have been recharged and are showing as 'pending' on the statements of a number of guests," Cunard said in a statement to their various travel partners. "We would like to sincerely [apologize] and reassure our guests that we are working as fast as possible on a resolution. We will issue an update as soon as we possibly can."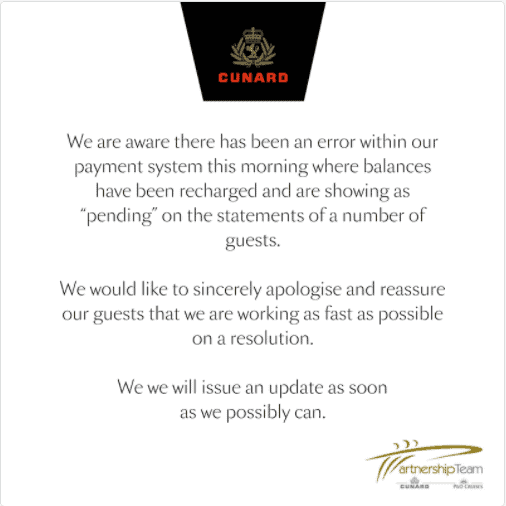 It appears some passengers have been contacted via email by their booking agents with regards to the situation. Understandably concerned that a letter regarding payments might be a phishing effort, the son of one passenger reached out to Cunard via Twitter to find out if the message was, in fact, from the cruise line. "We can confirm," Cunard responded via the social media site, "that this communication is genuine."
What You Should Do

Obviously, it is always important to check your final statements carefully for discrepancies. In this case, passengers who are booked on Cunard may want to keep a close eye on the credit cards they used to pay for their present or future trips until more information becomes available about the situation. No word yet as to whether passengers on affiliated lines such as Carnival, Princess, or Seabourn have been impacted.
Photo: Cunard